Abstract
Pesticide spraying operation is associated with the increased risk of adverse health effects among sprayers who do not follow safe farm work practices. A study was conducted among pesticide sprayers in North India to evaluate the clinical and subclinical variations in their vital health parameters before and after the pesticide spraying season. Blood cholinesterase levels, pulmonary function test, nerve conduction velocity and self-reported symptoms were studied among 18 eligible and consenting male sprayers. Mean acetylcholinesterase activity was reduced by 55 % in the post-exposure assessment (P < 0.001) as compared to pre-exposure levels. Mean forced expiratory volume in 1 s was 20 % lower in the post-exposure assessment as compared to the pre-exposure level (P < 0.05). No significant change was observed in the motor and sensory nerve conduction velocity in the median nerve of sprayers before and after the spraying activity. Also, no significant variation was observed with respect to self-reported symptoms except weakness in arms and legs (P < 0.05). The significant decline in lung function and acetylcholinesterase level after pesticide exposure reflects the strongly negative effect of exposure to pesticides during spraying activity. More longitudinal studies among pesticide sprayers must be undertaken to further substantiate the cause–effect relationship between pesticide exposure and its subclinical effects. There is a strong necessity to minimise the exposure through the use of personal protective equipment in pesticide sprayers.
Access options
Buy single article
Instant access to the full article PDF.
US$ 39.95
Tax calculation will be finalised during checkout.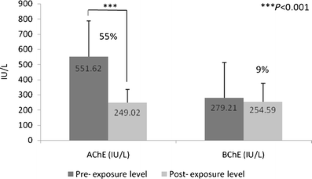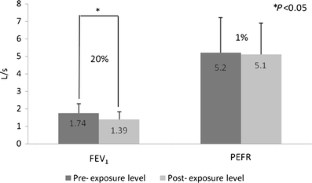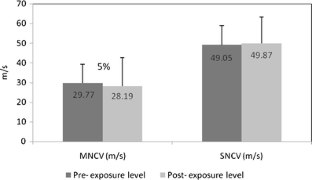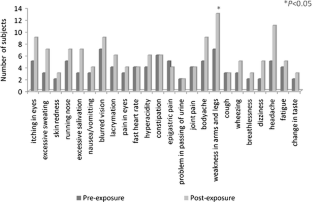 References
Bayrami M, Hashemi T, Malekirad AA, Ashayeri H, Faraji F, Abdollahi M (2012) Electroencephalogram, cognitive state, psychological disorders, clinical symptom, and oxidative stress in horticulture farmers exposed to organophosphate pesticides. Toxicol Ind Health 28:90–96

Chakraborty S, Mukherjee S, Roychoudhury S, Siddique S, Lahiri T, Ray MR (2009) Chronic exposures to cholinesterase-inhibiting pesticides adversely affect respiratory health of agricultural workers in India. J Occup Health 51(6):488–497

Chambers JE, Chambers HW (1989) An investigation of acetylcholinesterase inhibition and aging and choline acetyltransferase activity following a high level acute exposure to paraoxon. Pest Biochem Physiol 33:125–131

Ellman GL, Curtney KD, Andrews V, Featherstone RM (1961) A new and rapid colorimetric determination of acetyl cholinesterase activity. Biochem Pharmacol 7:88–95

Engel LS, Keifer MC, Checkoway H, Robinson LR, Vaughan TL (1998) Neurophysiological function in farm workers exposed to organophosphate pesticides. Arch Environ Health 53:7–14

Fareed M, Pathak MK, Bihari V, Reddy MMK, Patel DK, Mathur N, Kuddus M, Kesavachandran CN (2010) Hematological and biochemical alterations in sprayers occupationally exposed to mixture of pesticides at a mango plantation in Lucknow, India. Toxicol Environ Chem 92(10):1919–1928

Hatjian BA, Mutch E, Williams FM, Blain PG, Edwards JW (2000) Cytogenetic response without changes in peripheral cholinesterase enzymes following exposure to a sheep dip containing diazinon in vivo and in vitro. Mutat Res 20;472(1–2):85–92

Hernandez AF, Casado I, Pena G, Gil F, Villanueva E, Pla A (2008) Low level of exposure to pesticides leads to lung dysfunction in occupationally exposed subjects. Inhal Toxicol 20(9):839–849

Kesavachandran C, Rastogi SK, Mathur N (2006a) Health status among pesticide applicators at a mango plantation in India. J Pest Safety Edu 8:1–9

Kesavachandran C, Singh VK, Mathur N, Rastogi SK, Siddiqui MK, Reddy MM, Bharti RS, Khan AM (2006b) Possible mechanism of pesticide toxicity related oxidative stress leading to airway narrowing. Redox Rep 11:159–162

Kimura J (1983) Electrodiagnosis in diseases of nerve and muscle: principles and practice. Davis, Philadelphia

Lakew K, Mekonnen Y (1998) The health status of northern Omo State farm workers exposed to chlorpyrifos and profenofos. Ethiop Med J 36(3):175–184

Lander F, Pike E, Hinke K, Brock A, Nielsen JB (1992) Anti-cholinesterase agents uptake during cultivation of greenhouse flowers. Arch Environ Contam Toxicol 22(2):159–162

Lopez-Carillo L, Lopez-Cervantes M (1993) Effect of exposure to organophosphate pesticides on serum cholinesterase levels. Arch Environ Health 48(5):359–363

Lu JL (2007) Acute pesticide poisoning among cut-flower farmers. J Environ Health 70(2):38–43

MAP (2007) India's role in world agriculture. Monitoring agri-trade policy. News Letter 3–07, pp 1–11. http://ec.europa.eu/agriculture/publi/map/03_07.pdf. Accessed 10 July 2012

Maroni M, Catenacci G, Galli D, Cavallo D, Ravazzani G (1990) Biological monitoring of human exposure to acephate. Arch Environ Contam Toxicol 19(5):782–788

Miller MR, Hankinson J, Brusasco V, Burgos F, Casaburi R, Coates A, Crapo R, Enright P, van der Grinten CP, Gustafsson P, Jensen R, Johnson DC, MacIntyre N, McKay R, Navajas D, Pedersen OF, Pellegrino R, Viegi G, Wanger J (2005) ATS/ERS task force. Standardisation of spirometry. Eur Respir J 26(2):319–338

Ngowi AV, Maeda DN, Partanen TJ, Sanga MP, Mbise G (2001) Acute health effects of organophosphorus pesticides on Tanzanian small-scale coffee growers. J Expo Anal Environ Epidemiol 11(4):335–339

Nigg HN, Knaak JB (2000) Blood cholinesterases as human biomarkers of organophosphorus pesticide exposure. Rev Environ Contam Toxicol 163:29–111

Pathak MK, Fareed M, Bihari V, Mathur N, Srivastava AK, Kuddus M, Kesavachandran CN (2011a) Cholinesterase levels and morbidity in pesticide sprayers in North India. Occu Med 61(7):512–514

Pathak MK, Fareed M, Bihari V, Reddy MMK, Patel DK, Mathur N, Kuddus M, Kesavachandran CN (2011b) Nerve conduction studies in sprayers occupationally exposed to mixture of pesticides in a mango plantation at Lucknow, North India. Toxicol Environ Chem 93:188–196

Peiris-John RJ, Ruberu DK, Wickremasinghe AR, van der Hoek W (2005) Low-level exposure to organophosphate pesticides leads to restrictive lung dysfunction. Respir Med 99(10):1319–1324

Salameh P, Waked M, Baldi I, Brochard P (2005) Spirometric changes following the use of pesticides. East Mediterr Health J 11(1–2):126–136

Singh VK, Jyoti RMMK, Kesavachandran C, Rastogi SK, Siddiqui MKJ (2007) Biomonitoring of organochlorines, glutathione, lipid peroxidation and cholinesterase activity among pesticide sprayers in mango orchards. Clin Chim Acta 377:268–272

Srivastava AK, Gupta BN, Mathur AK, Mathur N, Mahendra PN, Bharti RS (1991) The clinical and biochemical study of pesticide sprayers. Hum Exp Toxicol 10(4):279–283

Stefanidou M, Athanaselis S, Velonakis M, Pappas F, Koutselinis A (2003) Occupational exposure to cholinesterase inhibiting pesticides: a Greek case. Int J Environ Health Res 13(1):23–29

Tinoco-Ojanguren R, Halperin DC (1998) Poverty, production, and health: inhibition of erythrocyte cholinesterase via occupational exposure to organophosphate insecticides in Chiapas, Mexico. Arch Environ Health 53(1):29–35
Acknowledgments
Manoj Kumar Pathak acknowledges the Council of Scientific and Industrial Research (Govt. of India) for the Senior Research Fellowship provided for the project. Mr. Ritul Kamal, a technical assistant, is hereby acknowledged for the statistical analysis of the study.
Additional information
Responsible editor: Philippe Garrigues
About this article
Cite this article
Pathak, M.K., Fareed, M., Srivastava, A.K. et al. Seasonal variations in cholinesterase activity, nerve conduction velocity and lung function among sprayers exposed to mixture of pesticides. Environ Sci Pollut Res 20, 7296–7300 (2013). https://doi.org/10.1007/s11356-013-1743-5
Received:

Accepted:

Published:

Issue Date:
Keywords
Pesticides

Seasonal variation

Cholinesterase

Nerve conduction velocity

Lung function