Abstract
Nanocomposite hydrogels based on poly(methacrylamide-co-acrylic acid) and nano-sized montmorillonite were prepared by aqueous dispersion and in situ radical polymerization. Optimum sorption conditions were determined as a function of montmorillonite content, contact time, pH, and temperature. The equilibrium data of Cu2+ and Ni2+ conformed to the Freundlich and Langmuir isotherms in terms of relatively high regression values. The maximum monolayer adsorption capacity of the nanocomposite hydrogel (with 3 wt% montmorillonite content), as obtained from the Langmuir adsorption isotherm, was found to be 49.26 and 46.94 mg g−1 for Cu2+ and Ni2+, respectively, at contact time = 60 min, pH = 6.8, adsorbent dose = 100 mg/ml, and temperature = 318 K. Kinetic studies of single system indicated that the pseudo-second order is the best fit with a high correlation coefficient (R 2 = 0.97–0.99). The result of five times sequential adsorption–desorption cycle shows a good degree of desorption and a high adsorption efficiency.
Access options
Buy single article
Instant access to the full article PDF.
USD 39.95
Price excludes VAT (USA)
Tax calculation will be finalised during checkout.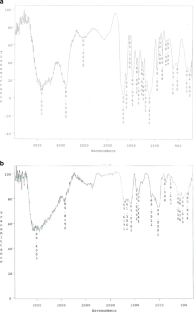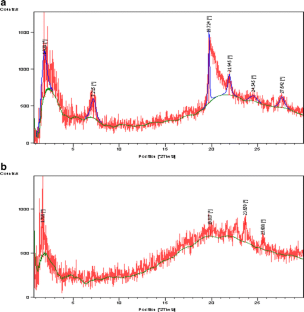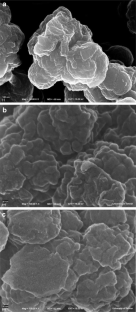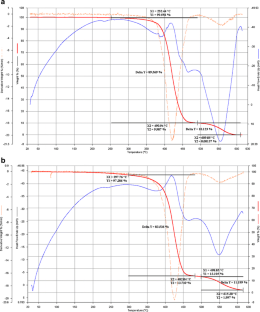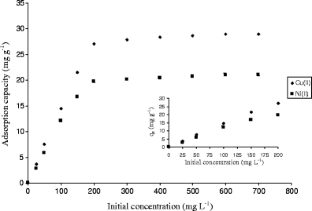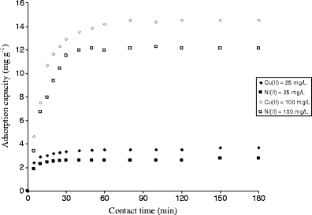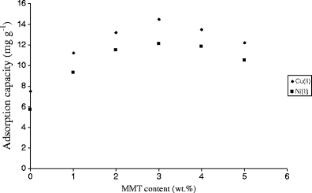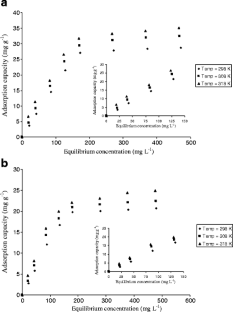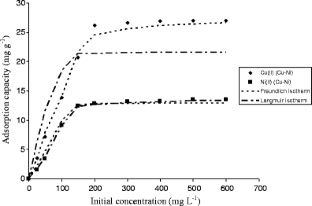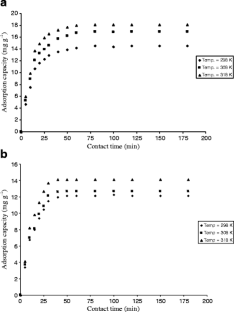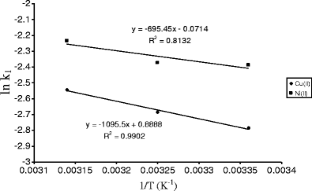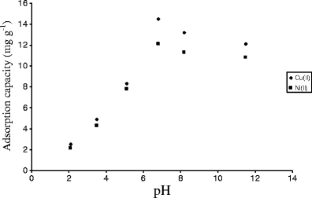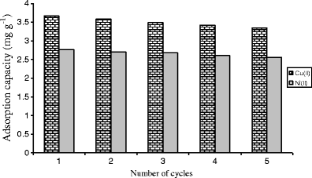 References
Agrawal A, Sahu KK (2010) Problems, prospects and current trends of copper recycling in India: an overview. Res Conserv Rec 54:401–416

Akbal F, Camc S (2011) Copper, chromium and nickel removal from metal plating waste water by electrocoagulation. Desalination 269:214–222

Al E, Güçlü G, İyim TB, Emik S, Özgümüş S (2008) Synthesis and properties of starch-graft-acrylic acid/Na-montmorillonite superabsorbent nanocomposite hydrogels. J Appl Polym Sci 109:16–22

Amara M, Kerdjoudj H, Bouguelia A, Trari M (2008) A combination between membrane selectivity and photoelectrochemistry to the separation of copper, zinc and nickel in aqueous solutions. J Membrane Sci 312:125–131

Argun ME (2008) Use of clinoptilolite for the removal of nickel ions from water: kinetics and thermodynamics. J Hazard Mater 150:587–595

Barati A, Norouzi H, Sharafoddinzadeh S, Davarnejad R (2010) Swelling kinetics modeling of cationic methacrylamide-based hydrogels. World Appl Sci J 11:1336–1341

Bhardwaj D, Sharma M, Sharma P, Tomar R (2012) Synthesis and surfactant modification of clinoptilolite and montmorillonite for the removal of nitrate and preparation of slow release nitrogen fertilizer. J Hazard Mater 227–228:292–300

Bhattacharyya KG, Sen Gupta S (2007) Adsorptive accumulation of Cd(II), Co(II), Cu(II), Pb(II) and Ni(II) from water on montmorillonite: influence of acid activation. J Colloid Interf Sci 310:411–424

Brodziak-DopieraŁa B, Kwapuliński J, Sobczyk K, Kowol J (2011) The occurrence of nickel and other elements in tissues of the hip joint. Ecotox Environ Safe 74:630–635

Demirbilek C, Özdemir Dinç C (2012) Synthesis of diethylaminoethyl dextran hydrogel and its heavy metal ion adsorption characteristics. Carbohyd Polym 90:1159–1167

Donat R, Akdogan A, Erdem E, Cetisli H (2005) Thermodynamics of Pb2+ and Ni2+ adsorption onto natural bentonite from aqueous solutions. J Colloid Interf Sci 286:43–52

Erdem E, Karapinar N, Donat R (2004) The removal of heavy metal cations by natural zeolites. J Colloid Interf Sci 280:309–314

Fukui H, Yamamoto M, Sasaki S, Sato S (1994) Possible involvement of peripheral 5-HT4 receptors in copper sulfate-induced vomiting in dogs. Eur J Pharmacol 257:47–52

Futalan CM, Kan C, Dalida ML, Hsien K, Pascua C, Wan M (2011) Comparative and competitive adsorption of copper, lead and nickel using chitosan immobilized on bentonite. Carbohyd Polym 83:528–536

Ghaee A, Shariaty-Niassar M, Barzin J, Zarghan A (2012) Adsorption of copper and nickel ions on macroporous chitosan membrane: equilibrium study. Appl Surf Sci 258:7732–7743

Giannopoulou I, Panias D (2007) Copper and nickel recovery from acidic polymetallic aqueous solutions. Miner Eng 20:753–760

Gupta VK, Ali I, Saini VK (2007a) Defluoridation of wastewaters using waste carbon slurry. Water Res 41:3307–3316

Gupta VK, Jain R, Varshney S (2007b) Electrochemical removal of the hazardous dye Reactofix Red 3 BFN from industrial effluents. J Colloid Interf Sci 312:292–296

Gupta VK, Mittal A, Malviya A, Mittal J (2009) Adsorption of carmoisine A from wastewater using waste materials—bottom ash and deoiled soya. J Colloid Interf Sci 335:24–33

Gupta VK, Rastogi A, Nayak A (2010) Biosorption of nickel onto treated alga (Oedogonium hatei): application of isotherm and kinetic models. J Colloid Interf Sci 342:533–539

Gupta VK, Agarwal S, Saleh T (2011a) Synthesis and characterization of alumina-coated carbon nanotubes and their application for lead removal. J Hazard Mater 185:17–23

Gupta VK, Agarwal S, Saleh T (2011b) Chromium removal by combining the magnetic properties of iron oxide with adsorption properties of carbon nanotubes. Water Res 45:2207–2212

Gupta VK, Gupta B, Rastogi A, Agarwal S, Nayak A (2011c) A comparative investigation on adsorption performances of mesoporous activated carbon prepared from waste rubber tire and activated carbon for a hazardous azo dye-Acid Blue 113. J Hazard Mater 186:891–901

Gupta VK, Ali I, Saleh T, Nayak A, Agarwal S (2012) Chemical treatment technologies for waste-water recycling—an overview. RSC Adv 2:6380–6388

Ho YS, McKay G (1999) Pseudo-second order model for sorption process. Process Biochem 34:451–465

Hou H, Zhou R, Wu P, Wu L (2012) Removal of Congo red dye from aqueous solution with hydroxyapatite/chitosan composite. Chem Eng J 211–212:336–342

Hua S, Yang H, Wang W, Wang A (2010) Controlled release of ofloxacin from chitosan–montmorillonite hydrogel. Appl Clay Sci 50:112–117

Ijagbemi CO, Baek MH, Kim DS (2010) Montmorillonite surface properties and sorption characteristics for heavy metal removal from aqueous solutions. J Hazard Mater 174:746–755

Kayaalt Z, Mergen G, Söylemezoğlu T (2010) Effect of metallothionein core promoter region polymorphism on cadmium, zinc and copper levels in autopsy kidney tissues from a Turkish population. Toxicol Appl Pharm 245:252–255

Keane MA (1998) The removal of copper and nickel from aqueous solution using Y zeolite ion exchangers. Colloid Surfaces A: Physicochem Eng Aspects 138:11–20

Knobeloch L, Ziarnik M, Howard J, Theis B, Farmer D, Anderson H, Proctor M (1994) Gastrointestinal upsets associated with ingestion of copper-contaminated water. Environ Health Persp 102:958–961

Langergren S (1898) Zur theorie der sogenannten adsorption geloster stoffe, Kungliga Svenska Vetenskapsakademines. Handlingar 24:1–39

Li A, Liu RF, Wang AQ (2005) Preparation of starch-graft-poly(acrylamide)/attapulgite superabsorbent composite. J Appl Polym Sci 98:1351–1357

Li P, Kim NH, Hui D, Rhee KY, Lee JH (2009) Improved mechanical and swelling behavior of the composite hydrogels prepared by ionic monomer and acid-activated Laponite. Appl Clay Sci 46:414–417

Li W, Zhang S, Shan X (2007) Surface modification of goethite by phosphate for enhancement of Cu and Cd adsorption. Colliods Surf A 293:13–19

Limparyoon N, Seetapan N, Kiatkamjornwong S (2011) Acrylamide/2-acrylamido-2-methylpropane sulfonic acid and associated sodium salt superabsorbent copolymer nanocomposites with mica as fire retardants. Polym Degrad Stabil 96:1054–1063

Liu PS, Li L, Zhou NL, Zheng J, Wei SH, Shen J (2007) Waste polystyrene foam-graft-acrylic acid/montmorillonite superabsorbent nanocomposite. J Appl Polym Sci 104:2341–2349

López F, Martínez-Lage JF, Hernández-Palazón J, López R, Alarcón E (2004) Actividad de la cobre-zinc superóxido dismutasa en un modelo de lesión cerebral isquémica global sin hipotensión arterial. Neurocirugía 15:151–158 (in Spanish)

Metzgeroth G, Back W, Schultheis B, Maywald O, Kuhn C, Hehlmann R, Hastka J (2007) Intestinal-type adenocarcinoma situated in the nasopharynx. Cytopathology 18:59–63

Molinari R, Poerio T, Argurio P (2008) Selective separation of copper (II) and nickel (II) from aqueous media using the complexation–ultrafiltration process. Chemosphere 70:341–348

Mollai H, Sharma R, Pe-Piper G (2009) Copper mineralization around the Ahar batholith, north of Ahar (NW Iran): evidence for fluid evolution and the origin of the skarn ore deposit. Ore Geol Rev 35:401–414

Ni Y, Ge X, Zhang Z (2005) Preparation and characterization of ZnS/poly(AAm-co-AAc) dendritically nanocomposites by γ-irradiation. Mater Sci Eng 119:51–54

Nüket Tirtom V, Dinçer A, Becerik S, Aydemir T, Çelik A (2012) Comparative adsorption of Ni(II) and Cd(II) ions on epichlorohydrin crosslinked chitosan–clay composite beads in aqueous solution. Chem Eng J 197:379–386

Oldenquist G, Salem M (1999) Parental copper sulfate poisoning causing acute renal failure. Nephrol Dial Transpl 14:441–443

Paulino AT, Guilherme MR, Reis AV, Tambourgi EB, Nozaki J, Muniz EC (2007) Capacity of adsorption of Pb2+ and Ni2+ from aqueous solutions by chitosan produced from silkworm chrysalides in different degrees of deacetylation. J Hazard Mater 147:139–147

Pośpiech B, Walkowiak W (2007) Separation of copper(II), cobalt(II) and nickel(II) from chloride solutions by polymer inclusion membranes. Sep Purif Technol 57:461–465

Pourjavadi A, Ayyari M, Amini-Fazl MS (2008) Taguchi optimized synthesis of collagen-g-poly(acrylic acid)/kaolin composite superabsorbent hydrogel. Eur Polym J 44:1209–1216

Ramachandra Reddy B, Neela Priya D (2005) Process development for the separation of copper(II), nickel(II) and zinc(II) from sulphate solutions by solvent extraction using LIX 84 I. Sep Purif Technol 45:163–167

Saleh T, Gupta VK (2011) Fictionalization of tungsten oxide into MWCNT and its application for sunlight-induced degradation of rhodamine B. J Colloid Interf Sci 362:337–344

Saleh T, Agarwal S, Gupta VK (2011) Synthesis of MWCNT/MnO2 and their application for simultaneous oxidation of arsenite and sorption of arsenate. Appl Catal B-Environ 106:46–53

Saleh T, Gupta VK (2012a) Photo catalyzed degradation of hazardous dye methyl orange by use of a composite catalyst consisting of multi-walled carbon nanotubes and titanium dioxide. J Colloid Interf Sci 371:101–106

Saleh T, Gupta VK (2012b) Column with CNT/magnesium oxide composite for lead (II) removal from water. Environ Sci Pollut Res 19:1224–1228

Samitz MH, Katz SA (1975) Nickel dermatitis hazards from prostheses. Brit J Dermatol 92:287–290

Schaumlöffel D (2012) Nickel species: analysis and toxic effects. J Trace Elem Med Bio 26:1–6

Shirsath SR, Hage AP, Zhou M, Sonawane SH, Ashokkumar M (2011) Ultrasound assisted preparation of nanoclay Bentonite–FeCo nanocomposite hybrid hydrogel: a potential responsive sorbent for removal of organic pollutant from water. Desalination 281:429–437

Sprynskyy M, Buszewski B, Terzyk AP, Namiesnik J (2006) The study of selection mechanism of heavy metals (Pb, Cu, Ni and Cd) on clinoptilolite. J Colloid Interf Sci 304:21–28

Swayampakula K, Boddu VM, Nadavala SK, Abburi K (2009) Competitive adsorption of Cu(II), Co(II) and Ni(II) from their binary and tertiary aqueous solutions using chitosan-coated perlite beads as biosorbent. J Hazard Mater 170:680–689

Szabó K, Balogh I, Gergely A (1985) Endogenous nickel release in injured patients: a possible cause of myocardial damage. Injury 16:613–620

Tempkin MI, Pyzhev V (1940) Kinetics of ammonia synthesis on promoted iron catalyst. Acta Phys Chim USSR 12:327–356

Tessier DM, Pascal LE (2006) Activation of MAP kinases by hexavalent chromium, manganese and nickel in human lung epithelial cells. Toxicol Lett 167:114–121

Tsekova K, Todorova D, Dencheva V, Ganeva S (2009) Biosorption of copper (II) and cadmium (II) from aqueous solutions by free and immobilized biomass of Aspergillus niger. Bioresour Technol 101:1727–1731

Uğuzdoğan E, Baki DE, Sermet Kabasakal O (2010) The use of polyethyleneglycolmethacrylate-co-vinylimidazole (PEGMA-co-VI) microspheres for the removal of nickel(II) and chromium(VI) ions. J Hazard Mater 177:119–125

Wang L, Zhang J, Wang A (2008) Removal of methylene blue from aqueous solution using chitosan-g-poly(acrylic acid)/montmorillonite superadsorbent nanocomposite. Colloid Surface A: Physicochem Eng Aspects 322:47–53

Wang X, Zheng Y, Wang A (2009) Fast removal of copper ions from aqueous solution by chitosan-g-poly(acrylic acid)/attapulgite composites. J Hazard Mater 168:970–977

Xu K, Tan Y, Chen Q, An H, Li W, Dong L, Wang P (2010) A novel multi-responsive polyampholyte composite hydrogel with excellent mechanical strength and rapid shrinking rate. J Colloid Interf Sci 345:360–368

Xu Z, Ren T, Xiao C, Li H, Wu T (2011) Nickel promotes the invasive potential of human lung cancer cells via TLR4/MyD88 signaling. Toxicology 285:25–30

Yan H, Yang L, Yang Z, Yang H, Li A, Cheng R (2012) Preparation of chitosan/poly(acrylic acid) magnetic composite microspheres and applications in the removal of copper(II) ions from aqueous solutions. J Hazard Mater 229–230:371–380

Zendehdel M, Barati A, Alikhani H (2010) Synthesis and characterization of poly (AAm-co-AAc)/NaA nanocomposite and removal of methylene blue with it. J Iran Chem Res 3:161–165

Zendehdel M, Barati A, Alikhani H (2011a) Removal of heavy metals from aqueous solution by poly(acrylamide-co-acrylic acid) modified with porous materials. Polym Bull 67:343–360

Zendehdel M, Kalateh Z, Alikhani H (2011b) Efficiency evaluation of NaY zeolite and TiO2/NaY zeolite in removal of methylene blue dye from aqueous solutions. Iran J Environ Health Sci Eng 8:265–273

Zhang D, Wang D, Duan J, Ge S (2009) Research on the long time swelling properties of poly (vinyl alcohol)/hydroxyapatite composite hydrogel. J Bionic Eng 6:22–28

Zhang J, Wang Q, Wang A (2007) Synthesis and characterization of chitosan-g-poly(acrylic acid)/attapulgite superabsorbent composites. Carbohyd Polym 68:367–374

Zheng Y, Hua S, Wang A (2010) Adsorption behavior of Cu+2 from aqueous solution onto starch-g-poly(acrylic acid)/sodium humate hydrogels. Desalination 263:170–175

Zheng Y, Huang D, Wang A (2011) Chitosan-g-poly(acrylic acid) hydrogel with crosslink polymeric networks for Ni2+ recovery. Anal Chim Acta 687:193–200

Zou W, Han R, Chen Z, Jinghua Z, Shi J (2006) Kinetic study of adsorption of Cu(II) and Pb(II) from aqueous solutions using manganese oxide coated zeolite in batch mode. Colloid Surface A: Physicochem Eng Aspects 279:238–246
Acknowledgments
The authors thank the Arak University Research Fund for providing financial support of this work.
Additional information
Responsible editor: Vinod Kumar Gupta
About this article
Cite this article
Barati, A., Asgari, M., Miri, T. et al. Removal and recovery of copper and nickel ions from aqueous solution by poly(methacrylamide-co-acrylic acid)/montmorillonite nanocomposites. Environ Sci Pollut Res 20, 6242–6255 (2013). https://doi.org/10.1007/s11356-013-1672-3
Received:

Accepted:

Published:

Issue Date:

DOI: https://doi.org/10.1007/s11356-013-1672-3
Keywords