Abstract
Heavy fuel oil and ash samples were collected from the Assiut thermal power plant in Egypt and subjected to gamma spectrometry analysis for natural radioactivity contents. Considerable results were observed where the ash contains nearly 1,000 times natural radionuclides more than raw oil. The results were confirmed by measuring the samples via using different devices in different institutions. All ash samples had radium equivalent activities and external hazard index values more than 370 Bq/kg and unity respectively. The mean absorbed dose rate was10,650 nGy/h which is nearly 190 times higher than the global average value of 55 nGy/h. The corresponding annual external effective dose is estimated to be 13 mSv/year, which is nearly 30 times higher than that in areas of natural background radiation (0.46 mSv/year).
Access options
Buy single article
Instant access to the full article PDF.
USD 39.95
Price excludes VAT (USA)
Tax calculation will be finalised during checkout.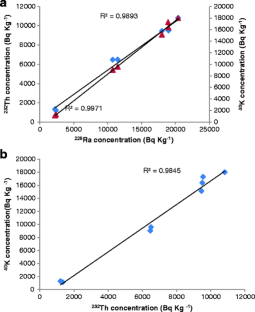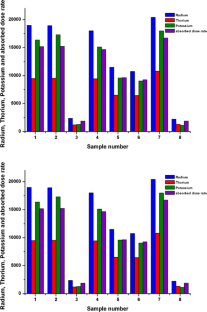 References
Baba A (2000) Leaching characteristics of wastes from Kemerkoy (Mugla-Turkey) power plant. Global Nest: the Int 2:51–57

Baba A, Kaya A, Bırsoy Y (2003) The effect of Yatagan thermal power plant (Mugla, Turkey) on the quality of surface and ground waters. Water Air Soil Pollut 149:93–111

Bem H, Wieczorkowski P, Budzanowski M (2002) Evaluation of technologically enhanced natural radiation near the coal-fired power plants in the Lodz region of Poland. J Environ Radioact 61:191

Beretka J, Mathew PJ (1985) Natural radioactivity of Australian building materials, industrial wastes, and byproducts. Health Phys 48:87–95

Cevik U, Damla N, Nezir S (2007) Radiological characterization of Cayırhan coal-fired power plant in Turkey. Fuel 86:2509–2513

GENIE-2000 (1997) Basic Spectroscopy (Standalone) V1.2A Copyright (c), Canberra Industries

Gulec N, Gunal Calci B, Erler A (2001) Assessment of soil and water contamination around an ash-disposal site: a case study from the Seyitomer coal fired power thermal plant in western Turkey. Environ Geol 40(3):331–334

Heidrich Craig (2003) Ash Utilisation—an Australian perspective. International Ash Utilization Symposium, Center for Applied Research, University of Kentucky, Paper #3

Karangelos DJ, Petropoulos NP, Anagnostakis MJ, Hinis EP, Simopoulos SE (2004) Radiological characteristic and investigation of the radioactive equilibrium in the ashes produced in lignite-fired power plants. J Environ Radioact 77:233

Kevin R Henke (2005) Trace element chemistry of fly ashes from co-combusted petroleum coke and coal. World Of Coal Ash (WOCA), April 11–15, Lexington, KY, Proceedings, Paper 117

Khan AJ, Prasad R, Tyagi RK (1992) Measurement of radon exhalation rate from some building materials. Nuclear Tracks and Radiation Measurements 20:609–610

Krisiuk EM, Tarasov SI, Shamov VP, Shalak NI, Lisachenko EP, Gomelsky LG (1971) A study of radioactivity in building materials. Research Institute for Radiation Hygiene, Leningrad

Leung KC, Lau SY, Poon CB (1990) Gamma radiation dose from radionuclides in Hong Kong soil. J Environ Radioact 11:279–290

Mahmoud F, Bady A, Hassanien M, Hassanien M, Adel M, Kamal El-Deen B, Hussein AM (2011) Study of solid waste and ashes content of radioactive and heavy metals in Assiut thermal power plant. Journal of engineering science 39:1335–1342

Mahur AK, Kumar R, Sengupta D, Prasad R (2008) Estimation of radon exhalation rate, natural radioactivity and radiation doses in fly ash samples from Durgapur thermal power plant, West Bengal, India. J Environ Radioact 99:1289–1293

Pandit GG, Sahu SK, Puranik VD (2011) Natural radionuclides from coal fired thermal power plants-estimation of atmospheric release and inhalation. Radioprotection 46:173–179

Sijakova-Ivanova T, Panov Z, Blazev K, Zajkova-Paneva V (2011) Investigation of fly ash heavy metals content and physico chemical properties from thermal power plant, Republic of Macedonia. IJEST 3:8219–8225

U.S. Geological Survey (1997) Radioactive elements in coal and fly ash: abundance, forms, and environmental significance," (PDF), U.S. Geological Survey Fact Sheet FS-163-97

UNSCEAR (1988) Sources and effects of ionizing radiation. United Nations Scientific Committee on the Effect of Atomic Radiation, United Nations, New York

UNSCEAR (1993) Exposure from natural sources of radiation. United Nations, New York

UNSCEAR (2000) Effects and risks of ionizing radiations. United Nations, New York

UNSCEAR (2008) Report to General Assembly. Annex B: Report to General Assembly with Scientific Annexes. Sources and Effects of Ionizing Radiation.United Nations Sales Publications No. E.10.Xi.3. United Nations, New York I: 1220

Yang Y (2005) Radioactivity concentrations in soils of the Xiazhuang granite area. China Appl Radiat Isot 63:255–259
Additional information
Responsible editor: Philippe Garrigues
About this article
Cite this article
El-Gamal, H., Farid, M.EA., Abdel Mageed, A.I. et al. Considerable hazards produced by heavy fuel oil in operating thermal power plant in Assiut, Egypt. Environ Sci Pollut Res 20, 6331–6336 (2013). https://doi.org/10.1007/s11356-013-1670-5
Received:

Accepted:

Published:

Issue Date:

DOI: https://doi.org/10.1007/s11356-013-1670-5
Keywords
Natural radioactivity

Radiation hazards

Heavy oil

Thermal power plant