Abstract
An environmentally friendly and inexpensive substitute to the widely used poly(vinyl alcohol) (PVA) has been developed from soy proteins for textile warp sizing. Textile processing is the major source of industrial water pollution across the world, and sizing and desizing operations account for nearly 30 % of the water consumed in a textile plant. PVA is one of the most common sizing agents used for synthetic fibers and their blends due to PVA's easy water solubility and ability to provide desired sizing performance. However, PVA does not degrade and is a major contributor to pollution in textile effluent treatment plants. Although considerable efforts have been made to replace PVA with biodegradable sizing materials, the performance properties provided by PVA on synthetic fibers and their blends have been unmatched so far. Soy proteins are inexpensive, biodegradable, and have been widely studied for potential use in food packaging, as resins and adhesives. In this research, the potential of using soy proteins as textile sizing agents to replace PVA was studied. Polyester and polyester/cotton rovings, yarns, and fabrics sized with soy protein showed a considerably better improvement in strength and abrasion resistance compared to commercially available PVA-based size. Soy protein size had a 5-day biochemical oxygen demand /chemical oxygen demand ratio of 0.57 compared to 0.01 for PVA indicating that soy protein sizes were easily biodegradable in activated sludge. The total and ammonia nitrogen released from the proteins also did not adversely impact the biodegradability. Good sizing performance and easy biodegradability demonstrate that soy protein-based sizes have potential to replace PVA-based sizes leading to substantial benefits to the textile industry and the environment.
Access options
Buy single article
Instant access to the full article PDF.
USD 39.95
Price excludes VAT (USA)
Tax calculation will be finalised during checkout.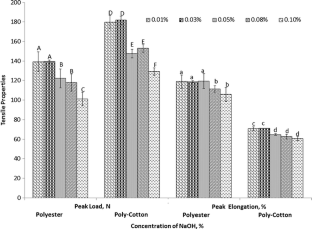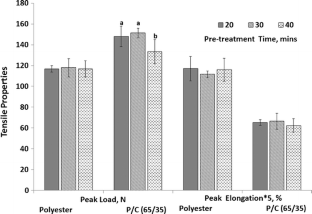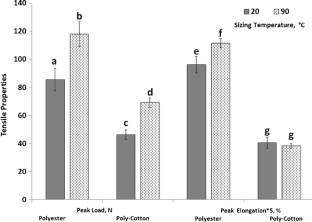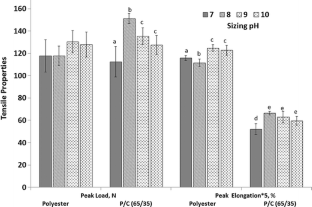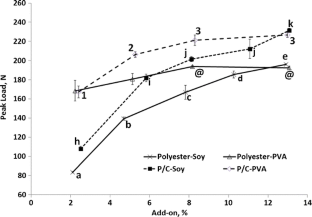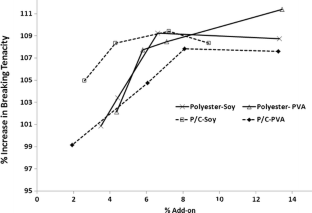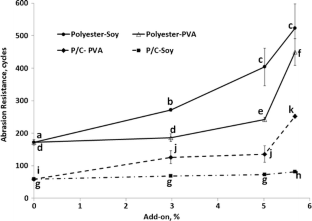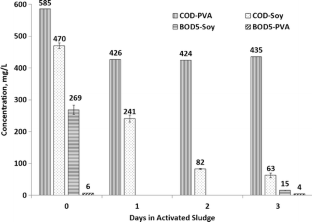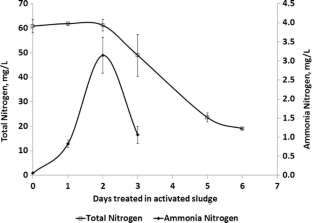 References
Bisschops I, Spanjers H (2003) Literature review on textile wastewater characterization. Environ Technol 24:1399–1411

Cacho JW (1980) CMC warp sizing vs. polyvinyl alcohol. Text Chem Color 12(4):28–32

Cai Z, Qiu Y, Zhang C, Hwang Y, Marian M (2003) Effect of atmospheric plasma treatment of desizing of PVA on cotton. Text Res J 73(8):670–675

Du G, Liu L, Song Z, Hua Z, Zhu Y, Chen J (2007) Production of polyvinyl alcohol-degrading enzyme with Janthinobacterium sp. and its application in cotton fabric desizing. Biotechnol J 2(6):752–758

Gartiser S, Wallrabenstein M, Stiene G (1998) Assessment of several test methods for the determination of the anaerobic biodegradability of polymers. J Environ Polym Degrad 6:159–173

Goswami BC, Anandjiwala RD, Hall DM (2004) Textile Sizing. Marcel Dekker, New York

Lin SH, Lan WJ (1993) Ultrafiltration recovery of polyvinyl alcohol from desizing wastewater. J Environ Sci Health A30(7):1377–1386

Liu RR, Tian Q, Yang B, Chen JH (2010) Hybrid anaerobic baffled reactor for treatment of desizing wastewater. Int J Environ Sci Technol 7:111–118

Matos J, Rosales M, Garcia A, Nieto-Delgado C, Rangerl-Mendez JR (2011) Hybrid photoactive materials from municipal sewage sludge for the photocatalytic degradation of methylene blue. Green Chem 13:3431–3439

Mohamed EZ, Amr A, Knittel D, Schollmeyer E (2010) Synthesis and application of new sizing and finishing additives based on carboxymethyl cellulose. Carbohydr Polym 81:769–774

Moreau JP (1981) Polymeric sizing agents for cotton yarns. Text Chem Color 13(12):22–27

Moreland JE (1980) Polyvinyl alcohol warp sizes. Text Chem Color 12(4):21–23

Narayana JHS (1993) Modern trends in the sizing of blended yarns. Indian Text J 103(6):32–36

Opwis K, Knittel D, Kele A, Krefeld ES (1999) Enzymatic recycling of starch-containing desizing liquors. Starch 51(10):348–353

Ramesh Babu B, Parande AK, Raghu S, Kumar TP (2007) Cotton textile processing: waste generation and effluent treatment. J Cotton Sci 11:141–153

Reddy N, Yang Y (2011a) Potential of plant proteins for medical application. Trends Biotechnol 29(10):490–498

Reddy N, Yang Y (2011b) Completely biodegradable soyprotein–jute biocomposites developed using water without any chemicals as plasticizer. Ind Crop Prod 33:35–41

Rongrong L, Xujie L, Qing T, Bo Y, Jihua C (2011) The performance evaluation of hybrid anaerobic baffled reactor for treatment of PVA-containing desizing waste water. Desalination 271:287–294

Saravanan D, Selvakumar R, Velmurugan S, Ramachandran T (2009) Quality work practices in sizing mills. Text Mag 50(8):38–41

Sawhney APS, Sachinvala ND, Calamari TA (2005) Approaches for reducing or eliminating warp sizing in weaving: an interim report. AATCC Rev 5(9):23–25

Schonberger H, Baumann A, Keller W (1997) Study of microbial degradation of polyvinyl alcohol(PVA) in waste water treatment plants. Am Dyestuff Rep 86(8):9–10

Sun W, Tian J, Chen L, He S, Wang J (2012) Improvement of biodegradability of PVA containing wastewater by ionizing radiation treatment. Environ Sci Pollut Res 19:3178–3184

Vassallo JC (2005) Spun sizing chemicals and their selection. AATCC Rev 5(12):25–28

Xu H, Jiang Q, Reddy N, Yang Y (2011) Hollow nanoparticles from zein for potential medical applications. J Mater Chem 21:18227–18235

Zhu Z, Qiao Z, Zhang L, Hong Y, Wang T (2012) Effects of molecular structure and molar content of acrylate units on aerobic biodegradability of acrylate copolymeric sizing agents. Text Res J 82:889–898. doi:10.1177/0040517512436825
Acknowledgments
Financial support for this work was partially from the Agricultural Research Division at the University of Nebraska-Lincoln, USDA Hatch Act, Multi-State Project S1054 (NEB 37-037) and Chinese National High Technology Research and Development Program 863 Project (2013AA06A307), the Fundamental Research Funds for the Central Universities (Item No. 2011D10543), the Doctoral Dissertation Innovation Program BC201040 of Donghua University, and the China Scholarship Council. We thank Jorge Samayoa and Brad Barber with the Lincoln Waste Water Treatment Facility for their help in the activated sludge studies.
Additional information
Responsible editor: Philippe Garrigues
About this article
Cite this article
Chen, L., Reddy, N. & Yang, Y. Soy proteins as environmentally friendly sizing agents to replace poly(vinyl alcohol). Environ Sci Pollut Res 20, 6085–6095 (2013). https://doi.org/10.1007/s11356-013-1601-5
Received:

Accepted:

Published:

Issue Date:

DOI: https://doi.org/10.1007/s11356-013-1601-5
Keywords
Sizing

Poly(vinyl alcohol)

Biodegradation

Proteins

Ammonia

Cohesion