Abstract
Total suspended particulate (TSP) samples were collected during dust, haze, and two festival events (Holi and Diwali) from February 2009 to June 2010. Pollutant gases (NO2, SO2, and O3) along with the meteorological parameters were also measured during the four pollution events at Agra. The concentration of pollutant gases decreases during dust events (DEs), but the levels of the gases increase during other pollution events indicating the impact of anthropogenic emissions. The mass concentrations were about two times higher during pollution events than normal days (NDs). High TSP concentrations during Holi and Diwali events may be attributed to anthropogenic activities while increased combustion sources in addition to stagnant meteorological conditions contributed to high TSP mass during haze events. On the other hand, long-range transport of atmospheric particles plays a major role during DEs. In the dust samples, Ca2+, Cl−, NO3 −, and SO4 2− were the most abundant ions and Ca2+ alone accounted for 22 % of the total ionic mass, while during haze event, the concentrations of secondary aerosols species, viz., NO3 −, SO4 2−, and NH4 +, were 3.6, 3.3, and 5.1 times higher than the normal days. During Diwali, SO4 2− concentration (17.8 μg m−3) was highest followed by NO3 −, K+, and Cl− while the Holi samples were strongly enriched with Cl− and K+ which together made up 32.7 % of the total water-soluble ions. The ion balances indicate that the haze samples were acidic. On the other hand, Holi, Diwali, and DE samples were enriched with cations. The carbonaceous aerosol shows strong variation with the highest concentration during Holi followed by haze, Diwali, DEs, and NDs. However, the secondary organic carbon concentration follows the order haze > DEs > Diwali > Holi > NDs. The scanning electron microscope/EDX results indicate that KCl and carbon-rich particles were more dominant during Holi and haze events while DE samples were enriched with particles of crustal origin.
Access options
Buy single article
Instant access to the full article PDF.
USD 39.95
Price includes VAT (USA)
Tax calculation will be finalised during checkout.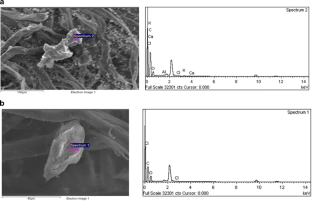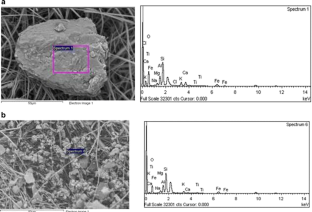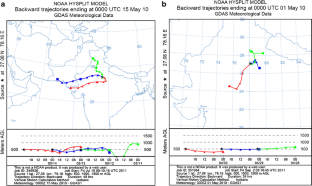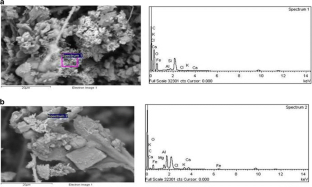 References
Agarwal A, Upadhyay VK, Sachdeva K (2011) Study of aerosol behavior on the basis of morphological characteristics during festival events in India. Atmos Environ 45:3640–3644

Ali K, Budhavant KB, Safai PD, Rao PSP (2012) Seasonal factors influencing in chemical composition of total suspended particles at Pune, India. Sci Total Environ 414:257–267

Andreae MO (1983) Soot carbon and excess fine potassium: long-range transport of combustion-derived aerosols. Science 220:1148–1151

Arimoto R, Duce RA, Savoie DL, Prospero JM, Talbot R, Cullen JD, Tomza U, Lewis NF, Ray BJ (1996) Relationships among aerosol constituents from Asia and the North Pacific during Pem-West A. J Geophys Res 101:2011–2023

Arimoto R, Zhang XY, Huebert BJ, Kang CH, Savoie DL, Prospero JM, Sage SK, Schloesslin CA, Khaing HM, Oh SN (2004) Chemical composition of atmospheric aerosols from Zhenbeitai, China, and Gosan, South Korea, during ACE-Asia. J Geophys Res 109:D19S04. doi:10.1029/2003JD004323

Askary HE, Gautam R, Singh RP, Kafatos M (2006) Dust storms detection over the Indo-Gangetic basin using multi sensor data. Adv Space Res 37(4):37–61

Attri AK, Kumar U, Jain VK (2001) Formation of ozone by fireworks. Nature 411:1015

Barman SC, Singh R, Negi MPS, Bhargava SK (2008) Ambient air quality of Lucknow City (India) during use of fireworks on Diwali Festival. Environ Monit Assess 137:495–504

Birch ME, Cary RA (1996) Elemental carbon-based method for monitoring occupational exposures to particulate diesel exhaust: methodology and exposure issues. Analyst 121:1183–1190

Brown SG, Herckes P, Ashbaugh L, Hannigan MP, Kreidenweis SM, Collett JL Jr (2002) Characterization of organic aerosol in Big Bend National Park, Texas. Atmos Environ 36(38):5807–5818

Cao JJ, Lee SC, Zhang XY, Chow JC, An ZS, Ho KF, Watson JG, Fung K, Wang YQ, Shen ZX (2005) Characterization of airborne carbonate over a site near Asian dust source regions during spring 2002 and its climatic and environmental significance. J Geophys Res 110:D03203. doi:10.1029/2004JD005244

Cao JJ, Lee SC, Chow JC, Watson JG, Ho KF, Zhang RJ, Jin ZD, Shen ZX, Chen GC, Kang YM, Zou SC, Zhang LZ, Qi SH, Dai MH, Cheng Y, Hu K (2007) Spatial and seasonal distributions of carbonaceous aerosols over China. J Geophys Res 112:D22S11. doi:10.1029/2006JD008205

Castro LM, Pio CA, Harrison RM, Smith DJT (1999) Carbonaceous aerosol in urban and rural European atmospheres: estimation of secondary organic carbon concentrations. Atmos Environ 33:2771–2781

Chameides WL, Yu H, Liu SC, Bergin M, Zhou X, Mearns L, Wang G, Kiang CS, Saylor RD, Luo C, Huang Y, Steiner A, Giorgi F (1999) Case study of the effects of atmospheric aerosols and regional haze on agriculture: an opportunity to enhance crop yields in China through emission controls? Proc Natl Acad Sci U S A 96:13626–13633

Chang SC, Lin TH, Young CY, Lee CT (2010) The impact of ground level fireworks (13 Km long) display on the air quality during the traditional Yanshui Lantern Festival in Taiwan. Environ Monit Assess. doi:10.1007/s10661-010-1347-1

Chen LWA, Chow JC, Doddridge BG, Dickerson RR, Ryan WF, Mueller PK (2003) Analysis of a summertime PM2.5 and haze episode in the mid-Atlantic region. J Air Waste Manag Assoc 53:946–956

Choi JC, Lee M, Chun YS, Kim JY, Oh SN (2001) Chemical composition and source signature of spring aerosol in Seoul, Korea. J Geophys Res 106(D16):18067–18674

Chow JC, Watson JG, Kuhns H, Etyemezian V, Lowenthal DH, Crow D, Kohl SD, Engelbrecht JP, Green MC (2004) Source profiles for industrial, mobile, and area sources in the Big Bend Regional Aerosol Visibility and Observational study. Chemos 54:185–208

Cong Z, Kang S, Dong S, Zhang Y (2009) Individual particle analysis of atmospheric aerosols at Nam Co, Tibetan plateau. Aerosol Air Qual Res 9:323–331

Dan M, Zhuang G, Li X, Tao H, Zhuang Y (2004) The characteristics of carbonaceous species and their sources in PM2.5 in Beijing. Atmos Environ 38:3443–3452

Dentener FJ, Carmichael GR, Zhang Y, Lelieveld J, Crutzen PJ (1996) Role of mineral aerosol as a reactive surface in the global troposphere. J Geophys Res 101(D17):22869–22889

Deshmukh DK, Deb MK, Suzuki Y, Kouvarakis GN (2011) Water-soluble ionic composition of PM2.5–10 and PM2.5 aerosols in the lower troposphere of an industrial city Raipur, the eastern central India. Air Qual Atmos Health. doi:10.1007/s11869-011-0149-0

Dey S, Tripathi SN, Singh RP, Holben BN (2004) Influence of dust storms on the aerosol optical properties over the Indo-Gangetic basin. J Geophys Res 109:D20211. doi:10.1029/2004JD004924

Doyle M, Dorling D (2002) Visibility trends in the UK 1950–1997. Atmos Environ 36:3161–3172

Drewnick F, Hings SS, Curtius J, Eerdekens G, Williams J (2006) Measurement of fine particulate and gas-phase species during the New Year's fireworks 2005 in Mainz, Germany. Atmos Environ 40:4316–4327

Du H, Kong H, Cheng T, Chen J, Du J, Li J, Xia X, Leng C, Huang G (2011) Insights into summertime haze pollution events over Shanghai based on online water-soluble ionic composition of aerosols. Atmos Environ 45:5131–5137

Duan F, Liu X, Yu T, Cachier H (2004) Identification and estimate of biomass burning contribution to the urban aerosol organic carbon concentrations in Beijing. Atmos Environ 38:1275–1282

Duan FK, He K, Ma Y, Jia Y, Yang F, Lei Y, Tanaka S, Okuta T (2005) Characteristics of carbonaceous aerosols in Beijing, China. Chemosphere 60(3):355–364

Duan J, Tan J, Cheng D et al (2007) Sources and characteristics of carbonaceous aerosol in two largest cities in Pearl River Delta Region, China. Atmos Environ 41:2895–2930

Dwivedi AK, Tripathi BD, Shashi (2008) Effect of ambient air sulphur dioxide on sulphate accumulation in plants. J Environ Biol 29:377–379

Echalar F, Gaudichet A, Cachier H, Artaxo P (1995) Aerosol emissions by tropical forest and savanna biomass burning: characteristic trace elements and fluxes. Geophys Res Lett 22(22):3039–3042. doi:10.1029/95GL03170

Episona AJF, Rodriguez MT, Alvarez FF (2004) Source characterization of fine urban particles by multivariate analysis of trace metal speciation. Atmos Environ 38:873–886

Fang GC, Lin SC, Chang SY, Lin CY, Chou CCK, Wu YJ, Chen YC, Chen WT, Wu TL (2011) Characteristics of major secondary ions in typical polluted atmospheric aerosols during autumn in Central Taiwan. J Environ Manage 92:1520–1527

Feng Y, ChenY GH, Zhi G, Xiong S, Li J, Sheng G, Fu J (2009) Characteristics of organic and elemental carbon in PM2.5 samples in Shanghai, China. Atmos Res 92:434–442

Finlayson-Pitts BJ, Pitts JN (1986) Formation of sulfuric and nitric acids in acid rain and fogs. Atmospheric chemistry: fundamental and experimental techniques. Wiley, New York, pp 702–705

Goudie AS, Middleton NJ (2001) Saharan dust storms: nature and consequences. Earth Sci Rev 56:179–204

Guerzoni S, Chester R, Dulac F, Herut B, Loye Pilot MD, Measures C, Mignon C, Molinari E, Rossini P, Saydam C, Soudine A, Ziveri P (1999) The role of atmospheric deposition in the biogeochemistry of the Mediterranean Sea. Prog Oceanog 44:147–190

Harrison RM, Perry R (1986) Handbook of air pollution analysis, 2nd edn. Chapman Hall, New York

Herckes P, Chang H, Lee T, Collett JL (2007) Air pollution processing by radiation fogs. Water Air Soil Poll 181:65–75

Hirai K, Yamazaki Y, Okada K, Furuta S, Kubo K (2000) Acute eosinophilic pneumonia associated with smoke from fireworks. Intern Med Jpn 39:401–403

Hou B, Zhuang G, Zhang R, Liu T, Guo Z, Chen Y (2011) The implication of carbonaceous aerosol to the formation of haze: revealed from the characteristics and sources of OC/EC over a mega-city in China. J Hazard Mater 190:529–536

Hu M, He L, Zhang Y, Wang M, Kim YP, Moon KC (2002) Seasonal variation of ionic species in fine particles at Qingdao, China. Atmos Environ 36:5853–5859

Husain L, Ghauri B, Yang K, Khan AR, Rattigan OV (2004) Application of the SO4 2−/Se tracer technique to study SO2 oxidation in cloud and fog on a time scale of minutes. Chemosphere 54:177–183

Ikegami M, Okada K, Zaizen Y, Makino Y, Jensen JB, Gras JL, Harjanto H (2001) Very high weight ratios of S/K in individual haze particles over Kalimantan during the 1997 Indonesian forest fires. Atmos Environ 35:4237–4243

Joly A, Smargiassi A, Kosatsky T, Fournier M et al (2010) Characterization of particulate exposure during firework displays. Atmos Environ 44:4325–4329

Kang CM, Lee HS, Kang BW, Lee SK, Sunwoo Y (2004) Chemical characteristics of acidic gas pollutants and PM2.5 species during hazy episodes in Seoul, South Korea. Atmos Environ 38:4749–4760

Karar K, Gupta AK, Kumar A, Biswas AK, Devodatta S (2005) Statistical interpretation of week day/week end differences of ambient gaseous pollutant, vehicular traffic and metrological parameter in urban region of Kolkata. J Environ Sci Eng 47:164–175

Katsumi T, Hasegawa S, Numata O, Yazaki S, Matsunaga M, Boku N, Hiura M, Ino H (2000) Influence of emission from rice straw burning on bronchial asthma in children. Pediatr Int 42:143–150

Kim YP, Moon KC, Lee JH, Baik NJ (1999) Concentrations of carbonaceous species in particles at Seoul and Cheju in Korea. Atmos Environ 33:2751–2758

Kim KW, Kim YJ, Oh SJ (2001) Visibility impairment during Yellow Sand periods in the urban atmosphere of Kwangju, Korea. Atmos Environ 35:5157–5167

Kim KN, Park JH, Kim YP (2009) Chemical composition change in TSP due to dust storm at Gosan, Korea: do the concentration anthropogenic species increase due to dust storm? Water Soil Air Poll 204:165–175

Kulshrestha UC, Saxena A, Kumar N, Kumari KM, Srivastava SS (1998) Chemical composition and association of size differentiated aerosols at a suburban site in a semi-arid tract of India. J Atmos Chem 29:109–118

Kulshrestha UC, Rao TN, Azhaguvel S, Kulshrestha MJ (2004) Emissions and accumulation of metals in the atmosphere due to crackers and sparkles during Diwali festival in India. Atmos Environ 38:4421–4425

Kumar A, Sudheer AK, Goswami V, Bhushan R (2012) Influence of continental outflow on aerosol chemical characteristics over the Arabian Sea during winter. Atmos Environ 50:182–191

Leon JF, Legrand M (2003) Mineral dust sources in the surroundings of the north Indian Ocean. Geophys Res Lett 30(6):1309. doi:10.1029/2002GL016690

Li W, Bai Z (2009) Characteristics of organic and elemental carbon in atmospheric fine particles in Tianjin, China. Particuology 7:432–437

Li J, Posfai M, Hobbs PV, Buseck PR (2003) Individual aerosol particles from biomass burning in southern Africa: 2. Composition and aging of inorganic particles. J Geophys Res 108(D13):8484. doi:10.1029/2002JD002310

Li XX, Cao JJ, Chow J, Han YM, Lee SC, Watson J (2008) Chemical characteristics of carbonaceous aerosols during dust storms over Xi'an in China. Adv Atmos Sci 25(5):847–855. doi:10.1007/s00376-008-0847-1

Meng Y, Wang S, Zhao X (2000) An analysis of air pollution and weather conditions during heavy fog days in Beijing area. Chin Weather 26:40–42

Meng ZY, Jiang XM, Yan P, Lin WL, Zhang HD, Wang Y (2007) Characteristics and sources of PM2.5 and carbonaceous species during winter in Taiyuan, China. Atmos Environ 41:6901–6908

Moorty OP (2000) Diwali toxicity. J Forensic Med Toxicol 17:23–26

Mori I, Nishikawa M, Tanimura T, Quan H (2003) Change in the size distribution and chemical composition of kosa (Asian dust) aerosol during long-range transport. Atmos Environ 37:4253–4263

Murr LE, Bang JJ (2003) Electron microscope comparisons of fine and ultra-fine carbonaceous and non-carbonaceous, airborne particulates. Atmos Environ 37:4795–4806

Okada K, Ikegami M, Zaizen Y, Makino Y, Jensen JB, Gras JL (2001) The mixture state of individual aerosol particles in the 1997 Indonesian haze episode. J Aer Sci 32:1269–1279

Park SS, Kim YJ, Fung K (2001) Characteristics of PM2.5 carbonaceous aerosol in the Sihwa industrial area, Korea. Atmos Environ 35:657–665

Park SS, Kim YJ, Fung K (2002) PM2.5 carbon measurements in two urban areas: Seoul and Kwangju, Korea. Atmos Environ 36:1287–1297

Park SH, Song CB, Kim MC, Kwon SB, Lee KW (2004) Study on size distribution of total aerosol and water-soluble ions during an Asian dust storm event at Jeju Island, Korea. Environ Monit Assess 93:157–183

Parmar RS, Satsangi GS, Kumari M, Lakhani A, Srivastava SS, Prakash S (2001) Study of size distribution of atmospheric aerosol at Agra. Atmos Environ 35:693–702

Pease PP, Tchakerian VP, Tindale NW (1998) Aerosols over the Arabian Sea: geochemistry and source areas for aeolian desert dust. J Arid Environ 39:477–496

Posfai M, Gelencser A, Siminics R, Arato K, Li J, Hobbs PV, Buseck PR (2003) Individual aerosol particles from biomass burning in southern Africa: 1. Composition and size distributions of carbonaceous particles. J Geophys Res 108(D13):8483

Prasad AK, Singh RP (2007) Changes in aerosol parameters during major dust storm events (2001–2005) over the Indo-Gangetic Plains using AERONET and MODIS data. J Geophys Res 112:D09208. doi:10.1029/2006JD007778

Prospero JM, Ginoux P, Torres O, Nicholson SE, Gill TE (2002) Environmental characterization of global sources of atmospheric soil dust identified with the Nimbus 7 Total Ozone Mapping Spectrometer (TOMS) absorbing aerosol product. Rev Geophys 40(1):1002. doi:10.1029/2000RG000095

Ram K, Sarin MM (2010a) Spatio-temporal variability in atmospheric abundances of EC, OC and WSOC over Northern India. J Aer Sci 41:88–98

Ram K, Sarin MM (2010b) Day–night variability of EC, OC, WSOC and inorganic ions in urban environment of Indo-Gangetic Plain: implications to secondary aerosol formation. Atmos Environ. doi:10.1016/j.atmosenv.2010.09.055

Ram K, Sarin MM, Hegde P (2008) Atmospheric abundances of primary and secondary carbonaceous species at two high-altitude sites in India: sources and temporal variability. Atmos Environ 42:6785–6796

Ram K, Sarin MM, Tripathi SN (2010) A 1 year record of carbonaceous aerosols from an urban site in the Indo-Gangetic Plain: characterization, sources and temporal variability. J Geophys Res 115:D24313. doi:10.1029/2010JD014188

Ram K, Sarin MM, Sudheer AK, Rengarajan R (2012) Carbonaceous and secondary inorganic aerosols during wintertime fog and haze over urban sites in the Indo-Gangetic Plain. Aerosol Air Qual Res 12:355–366

Ravindra K, Mor S, Kaushik CP (2003) Short-term variation in air quality associated with firework events: a case study. J Environ Monit 5:260–264

Reilly JE, Rattigan OV, Moore KF, Judd C, Eli Sherman D, Dutkiewicz VA, Kreidenweis SM, Husain L, Collett JL Jr (2001) Drop size-dependent S(IV) oxidation in chemically heterogeneous radiation fogs. Atmos Environ 35:5717–5728

Rengarajan R, Sarin MM, Sudheer AK (2007) Carbonaceous and inorganic species in atmospheric aerosols during wintertime over urban and high altitude sites in North India. J Geophys Res 112. doi:10.1029/2006JD008150

Rengarajan R, Sudheer AK, Sarin MM (2011) Aerosol acidity and secondary organic aerosol formation during wintertime over urban environment in western India. Atmos Environ 45:1940–1945

Safai PD, Budhavant KB, Rao PSP, Ali K, Sinha A (2010) Source characterization for aerosol constituents and changing roles of calcium and ammonium aerosols in the neutralization of aerosol acidity at a semi-urban site in SW India. Atmos Res 98:78–88

Sandradewi J, Prevot SH, Weingartner E, Schmidhauser R, Gysel M, Baltensperger U (2008) A study of wood burning and traffic aerosols in an Alpine valley using a multi-wavelength Aethalometer. Atmos Environ 42:101–112

Sarkar S, Khillare PS, Jyethi DS, Hasan A, Parween M (2010) Chemical speciation of respirable suspended particulate matter during a major firework festival in India. J Hazard Mater 184:321–330

Satsangi A, Pachauri T, Singla V, Lakhani A, Kumari Maharaj K (2010) Carbonaceous aerosols at a suburban site in Indo-Gangetic plain. Ind J Radio Space Phy 39:218–222

Satsangi A, Pachauri T, Singla V, Lakhani A, Kumari KM (2012) Organic and elemental carbon aerosols at a suburban site. Atmos Res 113:13–21

Schichtel BA, Husar RB, Falke SR, Wilson WE (2001) Haze trends over the United States, 1980–1995. Atmos Environ 35:5205–5210

Shen ZX, Cao JJ, Arimoto R, Zhang RJ, Jie DM, Liu SX, Zhu CS (2007) Chemical composition and source characterization of spring aerosol over Horqin sand land in northeastern China. J Geophys Res 112:D14315. doi:10.1029/2006JD007991

Shen Z, Cao J, Arimoto R, Han Z, Zhang R, Han Y, Liu S, Okudae T, Nakaoe S, Tanaka S (2009) Ionic composition of TSP and PM2.5 during dust storms and air pollution episodes at Xi'an, China. Atmos Environ 43:2911–2918

Singh DP, Gadi R, Mandal TK, Dixit CK, Singh K, Saud T, Singh N, Gupta PK (2010) Study of temporal variation in ambient air quality during Diwali festival in India. Environ Monit Assess 169:1–13. doi:10.1007/s10661-009-1145-9

Srivastava AK, Tiwari S, Devara PCS, Bisht DS, Srivastava MK, Tripathi SN, Goloub P, Holben BN (2011) Pre-monsoon aerosol characteristics over the Indo-Gangetic Basin: implications to climatic impact. Ann Geophys 29:789–804

Steinhauser G, Sterba JH, Foster M, Grass F, Bichler M (2008) Heavy metals from pyrotechnics in New Years Eve snow. Atmos Environ 42:8616–8622

Sudheer AK, Sarin MM (2008) Carbonaceous aerosols in MABL of Bay of Bengal: influence of continental outflow. Atmos Environ 42:4089–4100

Sun YL, Zhuang GS, Tang AH, Wang Y, An ZS (2006) Chemical characteristics of PM2.5 and PM10 in haze-fog episodes in Beijing. Environ Sci Technol 40:3148–3155

Talbot RW, Harris RC, Browell EV, Gregory GL, Sabacher DI, Beck SM (1986) Distribution and geochemistry of aerosols in the tropical north Atlantic troposphere: relationship to Saharan dust. J Geophys Res 91(D4):5173–5182

Tan J, Duan J, He K, Ma Y, Duan F, Chen Y, Fu J (2009) Chemical characteristics of PM2.5 during a typical haze episode in Guangzhou. J Environ Sci 21:774–781

Tan J, Guo S, Ma Y, Duan J, Cheng Y, He K, Yang F (2011) Characteristics of particulate PAHs during a typical haze episode in Guangzhou, China. Atmos Res 102:91–98

Tare V, Tripathi SN, Chinnam N, Srivastava AK, Dey S, Manar M, Kanawade VP, Agarwal A, Kishore S, Lal RB, Sharma M (2006) Measurements of atmospheric parameters during Indian Space Research Organization Geosphere Biosphere Program Land Campaign II at a typical location in the Ganga Basin: 2. Chem Prop J Geophys Res 111:D23210. doi:10.1029/2006JD007279

Tiwari S, Srivastava AK, Bisht DS, Safai PD, Parmita P (2012) Assessment of carbonaceous aerosol over Delhi in the Indo-Gangetic Basin: characterization, sources and temporal variability. Nat Haz 61:521–531

Tripathi AK, Gautam M (2007) Biochemical parameters of plants as indicators of air pollution. J Environ Biol 28:127–132

Turpin BJ, Huntzicker JJ (1995) Identification of secondary organic aerosol episodes and quantification of primary and secondary organic aerosol concentrations during SCAQS. Atmos Environ 29:3527–3544

Vecchi R, Bernardoni V, Cricchio D, Alessandra AD, Fermo P, Lucarelli F, Nava S, Piazzalunga A, Valli G (2008) The impact of fireworks on airborne particles. Atmos Environ 42:1121–1132

Venkataraman C, Reddy CK, Josson S, Reddy MS (2002) Aerosol size and chemical characteristics at Mumbai, India during INDOEX-IFP (1999). Atmos Environ 36:1979–1991

Vine H (1987) Windblown materials and W. African soils: an explanation of the 'ferralitic soil over loose sandy sediments' profile. Geol Soc Spec Publication 35:171–183

Wang Y, Zhuang G, Sun Y, An Z (2005) Water-soluble part of the aerosol in the dust storm season—evidence of the mixing between mineral and pollution aerosols. Atmos Environ 39:7020–7029

Wang Y, Zhuang G, Sun Y, An Z (2006) The variation of characteristics and formation mechanisms of aerosols in dust, haze, and clear days in Beijing. Atmos Environ 40:6579–6591

Wang Y, Zhuang G, Xu C, An Z (2007) The air pollution caused by the burning of fireworks during the lantern festival in Beijing, China. Atmos Environ 41:417–431

Washington R, Todd M, Middleton NJ, Goudie AS (2003) Dust storm source areas determined by the total ozone monitoring spectrometer and surface observations. Ann Assoc Am Geogr 93:297–313

Watson JG (2002) Visibility: science and regulation. J Air Waste Manage Assoc 52:628–713

Xiao H, Liu C (2004) Chemical characteristics of water soluble components in TSP over Guiyang, SW China, 2003. Atmos Environ 38:6297–6306

Xu L, Chen X, Chen J, Zhang F, He C, Zhao J, Yin L (2012) Seasonal variations and chemical compositions of PM2.5 aerosol in the urban area of Fuzhou, China. Atmos Res 104–105:264–272

Yadav S, Rajamani V (2006) Air quality and trace metal chemistry of different size fractions of aerosols in N–NW India—implications for source diversity. Atmos Environ 40:698–712

Yadav AK, Kumar K, Kasim A, Singh MP, Parida SK, Sharan M (2003) Visibility and incidence of respiratory diseases during the 1998 haze episode in Brunei Darussalam. Pure Appl Geophy 160:265–277

Yamasoe MA, Artaxo P, Miguel AH, Allen AG (2000) Chemical composition of aerosol particles from direct emissions of vegetation fires in the Amazon Basin: water soluble species and trace elements. Atmos Environ 34:1641–1653

Yang H, Yu JZ, Ho SSH, Xu J, Wu W-S, Wan CH, Wang X, Wang L (2005) The chemical composition of inorganic and carbonaceous materials in PM2.5 in Nanjing, China. Atmos Environ 39:3735–3749

Yang F, Chen H, Du J, Yang X, Gao S, Chen J, Geng F (2012) Evolution of the mixing state of fine aerosols during haze events in Shanghai. Atmos Res 104–105:193–201

Yao X, Chan CK, Fang M, Cadle S, Chan T, Mulawa P, He K, Ye B (2002) The water-soluble ionic composition of PM2.5 in Shanghai and Beijing, China. Atmos Environ 36:4223–4234

Ye BM, Ji XL, Yang HZ, Yao XH, Chan CK, Cadle SH, Chan T, Mulawa PA (2003) Concentration and chemical composition of PM2.5 in Shanghai for a 1-year period. Atmos Environ 37:499–510

Yu X, Zhu B, Yin Y, Yang J, Li Y, Bu X (2011) A comparative analysis of aerosol properties in dust and haze-fog days in a Chinese urban region. Atmos Res 99:241–247

Zhang R, Arimoto R, An J, Yabuki S, Sun J (2005) Ground observations of a strong dust storm in Beijing in March 2002. J Geophys Res 110:D18S06. doi:10.1029/2004JD004589

Zhang Q, Zhang J, Xue H (2010a) The challenge of improving visibility in Beijing. Atmos Chem Phys 10:7821–7827

Zhang Z, Engling G, Lin CY, Chou CK et al (2010b) Chemical speciation, transport and contribution of biomass burning smoke to ambient aerosol in Guangzhou, a mega city of China. Atmos Environ 44:3187–3195

Zhang M, Wang X, Chen J, Cheng T, Wang T, Yang X, Gong Y, Geng F, Chen C (2010c) Physical characterization of aerosol particles during the Chinese New Year's firework events. Atmos Environ 44:5191–5198

Zhang F, Zhao J, Chen J, Xu Y, Xu L (2011) Pollution characteristics of organic and elemental carbon in PM2.5 in Xiamen, China. J Environ Sci 23(8):1342–1349

Zhao J, Zhang F, Xu Y, Chen J, Yin L, Shang X, Xu L (2011) Chemical characteristics of particulate matter during a heavy dust episode in a coastal city, Xiamen, 2010. Aerosol Air Qual Res 11:300–309
Acknowledgments
The authors are grateful to the Director, Dayalbagh Educational Institute Agra; Head, Department of Chemistry for facilities provided; Dr. Shyam Prasad and Mr. Vijay Khedekar, National Institute of Oceanography; Goa for SEM–EDX analysis of aerosol samples; and the Department of Science and Technology, DST project no. SR/S4/AS: 273/07, New Delhi for financial assistance.
Additional information
Responsible editor: Gerhard Lammel
About this article
Cite this article
Pachauri, T., Singla, V., Satsangi, A. et al. Characterization of major pollution events (dust, haze, and two festival events) at Agra, India. Environ Sci Pollut Res 20, 5737–5752 (2013). https://doi.org/10.1007/s11356-013-1584-2
Received:

Accepted:

Published:

Issue Date:
Keywords
Pollution events

Organic carbon

Elemental carbon

Dust

Haze

SEM/EDX