Abstract
Land use in east China tends to change from paddy rice to vegetables or other high-value cash crops, resulting in high input rates of organic manures and increased risk of contamination with both heavy metals (HMs) and antibiotics. This investigation was conducted to determine the accumulation, distribution and risks of HMs and tetracyclines (TCs) in surface soils and profiles receiving different amounts of farmyard manure. Soil samples collected from suburbs of Hangzhou city, Zhejiang province were introduced to represent three types of land use change from paddy rice to asparagus production, vineyards and field mustard cultivation, and divided into two portions, one of which was air-dried and sieved through 2-, 0.3- and 0.149-mm nylon mesh for determination of pH and heavy metals. The other portion was frozen at −20 °C, freeze-dried and sieved through a 0.3-mm nylon mesh for tetracyline determination. HM and TC concentrations in surface soils of 14-year-old mustard fields were the highest with total Cu, Zn, Cd and ∑TCs of 50.5, 196, 1.03 mg kg−1 and 22.9 μg kg−1, respectively, on average. The total Cu sequence was field mustard > vineyards > asparagus when duration of land use change was considered; oxytetracycline (OTC) and doxycycline were dominant in soils used for asparagus production; OTC was dominant in vineyards and chlortetracycline (CTC) was dominant in mustard soils. There were positive pollution relationships among Cu, Zn and ∑TCs, especially between Cu and Zn or Cu and ∑TCs. Repeated and excessive application of manures from intensive farming systems may produce combined contamination with HMs and TCs which were found in the top 20 cm of the arable soil profiles and also extended to 20–40 cm depth. Increasing manure application rate and cultivation time led to continuing increases in residue concentrations and movement down the soil profile.
Access options
Buy single article
Instant access to the full article PDF.
US$ 39.95
Tax calculation will be finalised during checkout.
Subscribe to journal
Immediate online access to all issues from 2019. Subscription will auto renew annually.
US$ 79
Tax calculation will be finalised during checkout.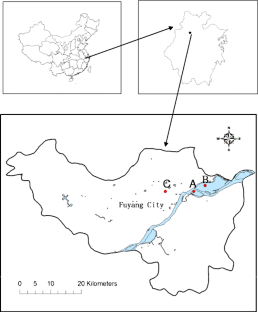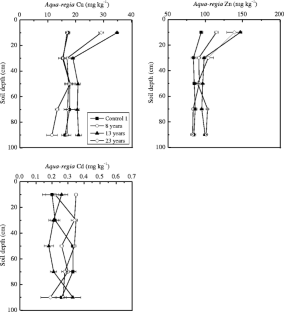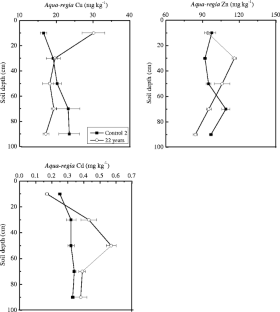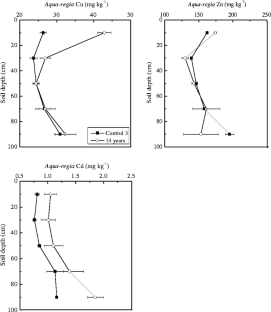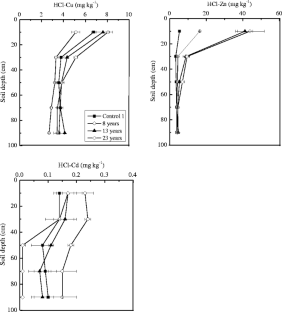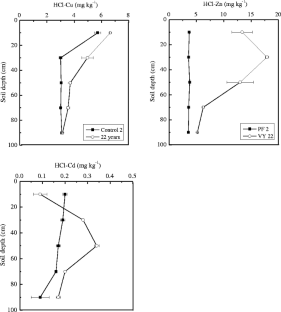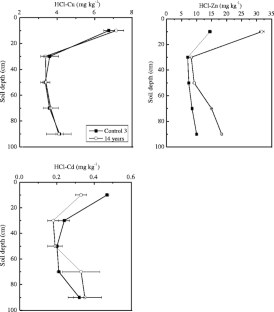 References
Abaye DA, Lawlor K, Hirsch PR, Brookes PC (2005) Changes in the microbial community of an arable soil caused by long-term metal contamination. Eur J Soil Sci 56:93–102

Arthur JR, Bremner I, Chesters JK (1982) Trace elements in animal nutrition. Inorg Biochem 3:344–371

Berenguer P, Cela S, Santiveri F, Boixadera J, Lloveras J (2008) Copper and zinc soil accumulation and plant concentration in irrigated maize fertilized with liquid swine manure. Agron J 100:1056–1061

Blackwell PA, Kay P, Ashauer R, Boxall ABA (2009) Effects of agricultural conditions on the leaching behaviour of veterinary antibiotics in soils. Chemosphere 75:13–19

Bolan NS, Adriano DC, Mahimairaja S (2004) Distribution and bioavailability of trace elements in livestock and poultry manure by-products. Crit Rev Env Sci Tech 34:291–338

Bound JP, Voulvoulis N (2004) Pharmaceuticals in the aquatic environment—a comparison of risk assessment strategies. Chemosphere 56:1143–1155

Boxall ABA, Kolpin DW, Halling-Sorensen B, Tolls J (2003) Are veterinary medicines causing environmental risk? Environ Sci Technol 37:286A–294A

Brambilla G, Patrizii M, De Filippis SP, Bonazzi G, Mantovi P, Barchi D, Migliore L (2007) Oxytetracycline as environmental contaminant in arable lands. Anal Chim Acta 586:326–329

Chee-Sanford JC, Mackie RI, Koike S, Krapac IG, Lin YF, Yannarell AC, Maxwell S, Aminov RI (2009) Fate and transport of antibiotic residues and antibiotic resistance genes following land application of manure waste. J Environ Qual 38:1086–1108

Chen YS, Zhang HB, Luo YM, Song J (2012a) Occurrence and assessment of veterinary antibiotics in swine manures: a case study in East China. Chinese Sci Bull 57:606–614

Chen YS, Zhang HB, Luo YM, Song J (2012b) Occurrence and dissipation of veterinary antibiotics in two typical swine wastewater treatment systems in east China. Environ Monit Assess 184:2205–2217

Cooperative Research Group on Chinese Soil Taxonomy. Chinese Soil Taxonomy. Science Press, Beijing, 2001, p. 83.

Fernandez-Calvino D, Novoa-Munoz JC, Lopez-Periago E, Arias-Estevez M (2008) Changes in copper content and distribution in young, old and abandoned vineyard acid soils due to land use changes. Land Degrad Dev 19:165–177

Halling-Sorensen B, Nielsen SN, Lanzky PF, Ingerslev F, Lutzhoft HCH, Jorgensen SE (1998) Occurrence, fate and effects of pharmaceutical substances in the environment—a review. Chemosphere 36:357–394

Hamscher G, Paweizick HT, Hoper H, Nau H (2006) Different behaviour of tetracyclines and sulfonamides in sandy soils after repeated fertilization with liquid manure. Environ Toxicol Chem 24:861–868

Hamscher G, Sczesny S, Hoper H, Nau H (2002) Determination of persistent tetracycline residues in soil fertilized with liquid manure by high-performance liquid chromatography with electrospray ionization tandem mass spectrometry. Anal Chem 74:1509–1518

Hu XG, Zhou QX, Luo Y (2010) Occurrence and source analysis of typical veterinary antibiotics in manure, soil, vegetables and groundwater from organic vegetable bases, northern China. Environ Pollut 158:2992–2998

Huang S, Liao QL, Hua M, Wu XM, Bi KS, Yan CY, Chen B, Zhang XY (2007) Survey of heavy metal pollution and assessment of agricultural soil in Yangzhong district, Jiangsu Province, China. Chemosphere 67:2148–2155

Kirchmann H, Thorvaldsson G (2000) Challenging targets for future agriculture. Eur J Agron 12:145–161

Knapp CW, Dolfing J, Ehlert PAI, Graham DW (2010) Evidence of increasing antibiotic resistance gene abundances in archived soils since 1940. Environ Sci Technol 44:580–587

Kornegay ET, Hedges JD, Martens DC, Kramer CY (1976) Effect of soil and plant mineral levels following application of manures of different copper levels. Plant Soil 45:151–162

Kumpiene J, Lagerkvist A, Maurice C (2008) Stabilization of As, Cr, Cu, Pb and Zn in soil using amendments—a review. Waste Manage 28:215–225

Kumar K, Gupta SC, Baidoo SK, Chander Y, Rosen CJ (2005a) Antibiotic uptake by plants from soil fertilized with animal manure. J Environ Qual 34:2082–2085

Kumar K, Gupta SC, Chander Y, Singh AK (2005b) Antibiotic use in agriculture and its impact on the terrestrial environment. Adv Agron 87:1–54

Li YW, Wu XL, Mo CH, Tai YP, Huang XP, Xiang L (2011) Investigation of sulfonamide, tetracycline, and quinolone antibiotics in vegetable farmland soil in the Pearl River Delta area, Southern China. J Agric Food Chem 59:7268–7276

Lopes C, Herva M, Franco-Uria A, Roca E (2011) Inventory of heavy metal content in organic waste applied as fertilizer in agriculture: evaluating the risk of transfer into the food chain. Environ Sci Pollut R 18:918–939

Martinez JL (2008) Antibiotics and antibiotic resistance genes in natural environments. Science 321:365–367

McGrath SP, Cunliffe CH (1985) A simplified method for the extraction of the metals Fe, Zn, Cu, Ni, Cd, Pb, Cr, Co and Mn from soils and sewage sludges. J Sci Food Agric 36:794–798

Nicholson FA, Chambers BJ, Williams JR, Unwin RJ (1999) Heavy metal contents of livestock feeds and animal manures in England and Wales. Bioresource Technol 70:23–31

Nicholson FA, Smith SR, Alloway BJ, Carlton-Smith C, Chambers BJ (2003) An inventory of heavy metals inputs to agricultural soils in England and Wales. Sci Total Environ 311:205–219

Phillips I, Casewell M, Cox T, De Groot B, Friis C, Jones R, Nightingale C, Preston R, Waddell J (2004) Does the use of antibiotics in food animals pose a risk to human health? A critical review of published data. J Antimicrob Chemother 53:28–52

Pinamonti F, Stringari G, Gasperi F, Zorzi G (1997) The use of compost: its effects on heavy metal levels in soil and plants. Resource Conserv Recycl 21:129–143

Poulsen HD (1998) Zinc and copper as feed additives, growth factors or unwanted environmental factors. J Anim Feed Sci 7:135–142

Sarmah AK, Meyer MT, Boxall ABA (2006) A global perspective on the use, sales, exposure pathways, occurrence, fate and effects of veterinary antibiotics (VAs) in the environment. Chemosphere 65:725–759

Sassman SA, Lee LS (2005) Sorption of three tetracyclines by several soils: assessing the role of pH and cation exchange. Environ Sci Technol 39:7452–7459

Shi Z, Wang RC, Huang MX (2002) Detection of coastal saline land use with multi-temporal Landsat images in Shangyu City, China. Environ Manage 30:142–150

State Environmental Protection Administration of China, SEPA, Environmental Quality Standards for Soils (GB15618-1995), 1995, www.sepa.gov.cn/english/index.php3.

Tolls J (2001) Sorption of veterinary pharmaceuticals in soils: a review. Environ Sci Technol 5:3397–3406

Tufft LS, Nockels CF (1991) The effects of stress, Escherichia coli, dietary ethylene diamine tetraacetic acid, and their interaction on tissue trace elements in chicks. Poultry Sci 70:2439–2449

Veeken A, Hamelers B (2002) Sources of Cd, Cu, Pb and Zn in biowaste. Sci Total Environ 300:87–98

Voundi Nkana JC, Tonye J (2003) Assessment of certain soil properties related to different land-use systems in the Kaya watershed of the humid forest zone of Cameroon. Land Degrad Dev 14:57–67

Wei X, Wu SC, Nie XP, Yediler A, Wong MH (2009) The effects of residual tetracycline on soil enzymatic activities and plant growth. J Environ Sci Health Part B 44:461–471

Wu LH, Tan CY, Liu L, Zhu P, Peng C, Luo YM, Christie P (2012) Cadmium bioavailability in surface soils receiving long-term applications of inorganic fertilizers and pig manures. Geoderma 173–174:224–230

Zhao L, Dong YH, Wang H (2010) Residues of veterinary antibiotics in manures from feedlot livestock in eight provinces of China. Sci Total Environ 408:1069–1075

Zhou QX, Zhang QR, Sun TH (2006) Technical innovation of land treatment systems for municipal wastewater in northeast China. Pedosphere 16:297–303

Zhou SL, Liao FQ, Wu SH, Zhang HF, Ren K (2008) Heavy metals contents in soil profiles of typical agricultural lands in Yixing, Jiangsu Province, China. Chinese Sci Bull 53:177–187
Acknowledgements
This research was supported by the National Natural Science Foundation of China (Project 40930739) and the National High-Technology Research and Development Program of China (Project 2012AA06A204).
Additional information
Responsible editor: Philippe Garrigues
About this article
Cite this article
Wu, L., Pan, X., Chen, L. et al. Occurrence and distribution of heavy metals and tetracyclines in agricultural soils after typical land use change in east China. Environ Sci Pollut Res 20, 8342–8354 (2013). https://doi.org/10.1007/s11356-013-1532-1
Received:

Accepted:

Published:

Issue Date:
Keywords
Heavy metals

Tetracyclines

Farmyard manure

Land use change

Cropping systems

Correlation analysis