Abstract
The assessment of general condition of fish in the moderately contaminated aquatic environment was performed on the European chub (Squalius cephalus) caught in September 2009 in the Sutla River in Croatia. Although increases of the contaminants in this river (trace and macro elements, bacteria), as well as physico-chemical changes (decreased oxygen saturation, increased conductivity), were still within the environmentally acceptable limits, their concurrent presence in the river water possibly could have induced stress in aquatic organisms. Several biometric parameters, metallothionein (MT), and total cytosolic protein concentrations in chub liver and gills were determined as indicators of chub condition. Microbiological and parasitological analyses were performed with the aim to evaluate chub predisposition for bacterial bioconcentration and parasitic infections. At upstream river sections with decreased oxygen saturation (∼50 %), decreased Fulton condition indices were observed (FCI: 0.94 g cm−3), whereas gonadosomatic (GSI: 2.4 %), hepatosomatic (HSI: 1.31 %), and gill indices (1.3 %) were increased compared to oxygen rich downstream river sections (dissolved oxygen ∼90 %; FCI: 1.02 g cm−3; GSI: 0.6 %; HIS: ∼1.08 %; gill index: 1.0 %). Slight increase of MT concentrations in both organs at upstream (gills: 1.67 mg g−1; liver: 1.63 mg g−1) compared to downstream sites (gills: 1.56 mg g−1; liver: 1.23 mg g−1), could not be explained by induction caused by increased metal levels in the river water, but presumably by physiological changes caused by general stress due to low oxygen saturation. In addition, at the sampling site characterized by inorganic and fecal contamination, increased incidence of bacterial bioconcentration in internal organs (liver, spleen, kidney) was observed, as well as decrease of intestinal parasitic infections, which is a common finding for metal-contaminated waters. Based on our results, it could be concluded that even moderate contamination of river water by multiple contaminants could result in unfavourable living conditions and cause detectable stress for aquatic organisms.
Access options
Buy single article
Instant access to the full article PDF.
US$ 39.95
Tax calculation will be finalised during checkout.
Subscribe to journal
Immediate online access to all issues from 2019. Subscription will auto renew annually.
US$ 79
Tax calculation will be finalised during checkout.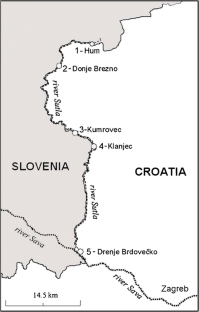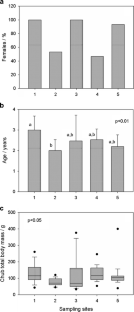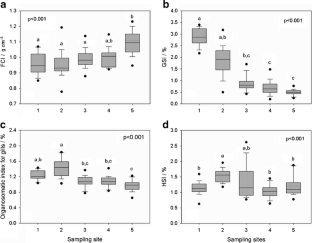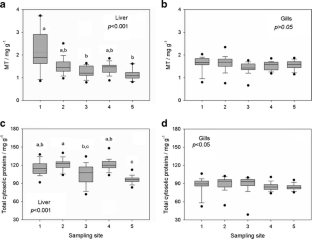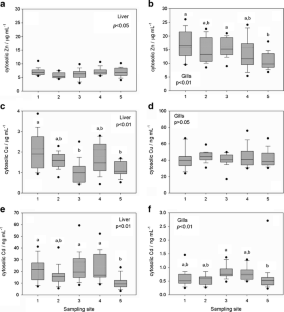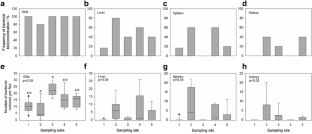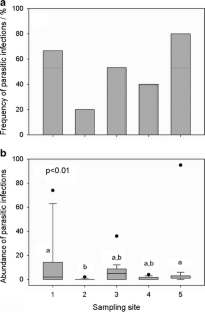 References
Adams SM, Shepard KL, Greeley MS, Jimenez BD, Ryon MG, Shugart LR, McCarthy JF (1989) The use of bioindicators for assessing the effects of pollutant stress on fish. Mar Environ Res 28:459–464

Amiard J-C, Amiard-Triquet C, Barka S, Pellerin J, Rainbow PS (2006) Metallothioneins in aquatic invertebrates: their role in metal detoxification and their use as biomarkers. Aquat Toxicol 76:160–202

Andres S, Ribeyre F, Tourencq J-N, Boudou A (2000) Interspecific comparison of cadmium and zinc contamination in the organs of four fish species along a polymetallic pollution gradient (Lot River, France). Sci Total Environ 248:11–25

Baer KN, Thomas P (1990) Influence of capture stress, salinity and reproductive status on zinc associated with metallothionein-like proteins in the livers of three marine teleost species. Mar Environ Res 28:157–161

Barton BA, Taylor BR (1996) Oxygen requirements of fishes in northern Alberta rivers with a general review of the adverse effects of low dissolved oxygen. Water Qual Res J Can 31:361–409

Benedicto J, Martínez-Gómez C, Campillo J (2005) Induction of metallothioneins in Mullus barbatus as specific biomarker of metal contamination: a field study in the western Mediterranean. Cienc Mar 31(1B):265–274

Berg LS (1964) Freshwater fishes of the USSR and adjacent countries (translated from Russian), vol. 2, 4th edn. (Russian version published 1949). Academy of Sciences of the USSR, Jerusalem, p 496

Bremner I (1987) Nutritional and physiological significance of metallothionein. Experientia – Suppl 52:81–107

Burleson ML, Wilhelm DR, Smatresk NJ (2001) The influence of fish size on the avoidance of hypoxia and oxygen selection by largemouth bass. J Fish Biol 59:1336–1349

Cajaraville MP, Bebianno MJ, Blasco J, Porte C, Sarasquete C, Viarengo A (2000) The use of biomarkers to assess the impact of pollution in coastal environments of the Iberian Peninsula: a practical approach. Sci Total Environ 247:295–311

Chapman LJ, Galis F, Shinn J (2000) Phenotypic plasticity and the possible role of genetic assimilation: hypoxia-induced trade-offs in the morphological traits of an African cichlid. Ecol Lett 3:387–393

Chapman LJ, Albert J, Galis F (2008a) Developmental plasticity, genetic differentiation, and hypoxia-induced trade-offs in an African cichlid fish. Open Evol 2:75–88

Chapman LJ, Chapman CA, Kaufman L, Witte F, Balirwa J (2008b) Biodiversity conservation in African waters: lessons of the Lake Victoria region. Vehr Internat Verein Limnol 30:16–34

Chesney EJ, Baltz DM, Thomas RG (2000) Louisiana estuarine and coastal fisheries and habitats: perspectives from a fish's eye view. Ecol Appl 10:350–366

De Smet H, Blust R (2001) Stress responses and changes in protein metabolism in carp Cyprinus carpio during cadmium exposure. Ecotox Environ Safe 48:255–262

Diaz RJ (2001) Overview of hypoxia around the world. J Environ Qual 30:275–281

Dragun Z, Raspor B, Podrug M (2007) The influence of the season and biotic factors on the cytosolic metal concentrations in the gills of the European chub (Leuciscus cephalus L.). Chemosphere 69:911–919

Dragun Z, Podrug M, Raspor B (2009a) The assessment of natural causes of metallothionein variability in the gills of European chub (Squalius cephalus L.). Comp Biochem Phys C 150:209–217

Dragun Z, Roje V, Mikac N, Raspor B (2009b) Preliminary assessment of total dissolved trace metal concentrations in Sava River water. Environ Monit Assess 159:99–110

Dragun Z, Kapetanović D, Raspor B, Teskeredžić E (2011) Water quality of medium size watercourse under baseflow conditions: the case study of river Sutla in Croatia. Ambio 40:391–407

Elliott JM (1976) The energetics of feeding, metabolism and growth of brown trout (Salmo trutta L.) in relation to body weight, water temperature and ration size. J Anim Ecol 45:923–948

Encina L, Granado-Lorencio C (1997) Seasonal variations in the physiological status and energy content of somatic and reproductive tissues of chub. J Fish Biol 50:511–522

Erk M, Ivanković D, Raspor B, Pavičić J (2002) Evaluation of different purification procedures for the electrochemical quantification of mussel metallothioneins. Talanta 57:1211–1218

Falchuk KH, Czupryn M (1991) Isolation of metallothioneins under metal-free conditions. In: Riordan JF, Vallee BL (eds) Methods in Enzymology, vol 205, Metallobiochemistry Part B. Metallothionein and Related Molecules. Academic Press Inc, San Diego, pp 47–53

Fattal B, Dotan A, Parpari L, Techorsh Y, Cabelli VJ (1993) Microbiological purification of fish grown in fecally contaminated commercial fish pond. Water Sci Technol 27:303–311

Filipović Marijić V, Raspor B (2006) Age and tissue dependent metallothionein and cytosolic metal distribution in a native Mediterranean fish, Mullus barbatus, from the Eastern Adriatic Sea. Comp Biochem Phys C 143:382–387

Filipović Marijić V, Raspor B (2007) Metal exposure assessment in native fish, Mullus barbatus L., from the Eastern Adriatic Sea. Toxicol Lett 168:292–301

Filipović Marijić V, Raspor B (2008) Hepatic metallothionein and metal (Zn, Cu and Cd) variability in relation to reproductive cycle of Mullus barbatus and Merluccius merluccius from the Eastern Adriatic Sea. Fresen Environ Bull 17:705–712

Filipović Marijić V, Raspor B (2010) The impact of fish spawning on metal and protein levels in gastrointestinal cytosol of indigenous European chub. Comp Biochem Phys C 152:133–138

Friesen CN, Aubin-Horth N, Chapman LJ (2012) The effect of hypoxia on sex hormones in an African cichlid Pseudocrenilabrus multicolorvictoriae. Comp Biochem Phys A 162:22–30

Galli RJ, Mariniello L, Crosa G, Ortis M, Mcchipinti Ambrogi A, D'Amelio S (1998) Populations of Acanthocephalus anguillae and Pomphorhynchus laevis in rivers with different pollution levels. J Helminthol 72:331–335

Galli P, Crosa G, Mariniello L, Ortis M, D'Amelio D (2001) Water quality as a determinant of the composition of fish parasite communities. Hydrobiologia 452:173–179

Gelnar M, Koubkova B, Plankova H, Jurajda P (1996) Report on metazoan parasites of fishes of the River Morava with remarks on the effects of water pollution. Helminthologia 31:47–56

Giguère A, Campbell PGC, Hare L, McDonald DG, Rasmussen JB (2004) Influence of lake chemistry and fish age on cadmium, copper, and zinc concentrations in various organs of indigenous yellow perch (Perca flavescens). Can J Fish Aquat Sci 61:1702–1716

Goldberg ED (1995) Emerging problems in the coastal zone for the twenty-first century. Mar Pollut Bull 31:152–158

Graham JB (2006) Aquatic and aerial respiration. In: Evans DH, Claiborne JB (eds) The Physiology of Fishes. Taylor and Francis, Boca Raton, pp 85–117

Hattink J, De Boeck G, Blust R (2005) The toxicokinetics of cadmium in carp under normoxic and hypoxic conditions. Aquat Toxicol 75:1–15

Hogstrand C, Lithner G, Haux C (1991) The importance of metallothionein for the accumulation of copper, zinc and cadmium in environmentally exposed perch, Perca fluviatilis. Pharmacol Toxicol 68:492–501

HRN EN 14011 (2005) Fish sampling by electric power

Hylland K, Nissen-Lie T, Christensen PG, Sandvik M (1998) Natural modulation of hepatic metallothionein and cytochrome P4501A in flounder, Platichthys flesus L. Mar Environ Res 46:51–55

Kägi JHR, Schäffer A (1988) Biochemistry of metallothionein. Biochemistry 27:8509–8515

Kapetanović D, Kurtović B, Teskeredžić E (2005) Differences in bacterial population in rainbow trout (Oncorhynchus mykiss Walbum) fry after transfer from incubator to pools. Food Technol Biotech 43:189–193

Kennedy CR (2006) Ecology of the Acanthocephala. Cambridge University Press, Cambridge, UK

Khan RA, Barker DE, Ryan K, Murphy B, Hooper RG (1996) Abnormalities in winter flounder (Pleuronectes americanus) living near a paper mill in the Humber Arm, Newfoundland. In: Servos MR, Munkittrick KR, Carey JH, Van Der Kraak GJ (eds) Environmental Fate and Effects of Pulp and Paper Mill Effluents, St. Lucie Press, Del Ray Beach, pp 511–523

Kramer DL (1987) Dissolved oxygen and fish behavior. Environ Biol Fish 18:81–92

Lafferty KD (1997) Environmental parasitology: what can parasites tell us about human impacts on the environment? Parasitol Today 13:251–255

Landry CA, Steele SL, Manning S, Cheek AO (2007) Long term hypoxia suppresses reproductive capacity in the estuarine fish, Fundulus grandis. Comp Biochem Physiol A 148:317–323

Lowry OH, Rosebrough NJ, Farr AL, Randall RJ (1951) Protein measurement with the Folin phenol reagent. J Biol Chem 193:265–275

Maage A, Waagbo R, Olsson P-E, Julshamn K, Sandnes K (1990) Ascorbate-2-sulfate as a dietary vitamin C source for Atlantic salmon (Salmo salar): 2. Effects of dietary levels and immunization on the metabolism of trace elements. Fish Physiol Biochem 8:429–436

Mills CA, Eloranta A (1985) Reproductive strategies in the stone loach, Noemacheilus barbatulus. Oikos 44:341–349

Moravec F (2004) Class Acanthocephala Rudolphi, 1808.In: Metazoan parasites of salmonid fishes of Europe, 1st edn. Nakladatelstvi Academie ved Ceske Republiky, Academia Praha, pp 380–412

Movahedinia A, Abtahi B, Bahmani M (2012) Gill histopathological lesions of the sturgeons. Asian J Anim Vet Adv 7:710–717

Ognev SI, Fink N (1956) The biology of vertebrae (In Croatian). Grafički zavod Hrvatske, Zagreb

Olsson P-E, Haux C, Förlin L (1987) Variation in hepatic metallothionein, zinc and copper levels during an annual reproductive cycle in rainbow trout, Salmo gairdneri. Fish Physiol Biochem 3:39–47

Olsson P-E, Zafarullah M, Foster R, Hamor T, Gedamu L (1990) Developmental regulation of metallothionein mRNA, zinc and copper levels in rainbow trout, Salmo gairdneri. Eur J Biochem 193:229–235

Öztaş H (1989) A study on the reproduction biology of the chub (Leuciscus cephalus L. 1758) in the Müceldi Stream in East Anatolia. Turk J Vet Anim Sci 13:171–179

Pathak SP, Gopal K (2005) Occurrence of antibiotic and metal resistance in bacteria from organs of river fish. Environ Res 98:100–103

Pihl L, Baden SP, Diaz RJ (1991) Effects of periodic hypoxia on distribution of demersal fish and crustaceans. Mar Biol 108:349–360

Podrug M, Raspor B (2009) Seasonal variation of the metal (Zn, Fe, Mn) and metallothionein concentrations in the liver cytosol of the European chub (Squalius cephalus L.). Environ Monit Assess 157:1–10

Podrug M, Raspor B, Erk M, Dragun Z (2009) Protein and metal concentrations in two fractions of hepatic cytosol of the European chub (Squalius cephalus L.). Chemosphere 75:843–849

Pollock MS, Clarke LMJ, Dubé MG (2007) The effects of hypoxia on fishes: from ecological relevance to physiological effects. Environ Rev 15:1–14

Pulliainen E, Korhonen K (1990) Seasonal changes in condition indices in adult mature and non-maturing burbot, Lota lota (L.), in the north-eastern Bothnian Bay, northern Finland. J Fish Biol 36:251–259

Randall DJ (1970) Gas exchange in fish. In: Hoar WS, Randall DJ (eds) Fish Physiology. Academic Press, London, pp 253–292

Randall D (1982) The control of respiration and circulation in fish during exercise and hypoxia. J Exp Biol 100:275–288

Randall D, Daxboeck C (1984) Oxygen and carbon dioxide transfer across fish gills. Fish Physiol 10:263–314

Raspor B, Paić M, Erk M (2001) Analysis of metallothioneins by the modified Brdička procedure. Talanta 55:109–115

Rätz H-J, Lloret J (2003) Variation in fish condition between Atlantic cod (Gadus morhua) stocks, the effect on their productivity and management implications. Fish Res 60:369–380

Rotchell JM, Clark KR, Newton LC, Bird DJ (2001) Hepatic metallothionein as a biomarker for metal contamination: age effects and seasonal variation in European flounders (Pleuronectes flessus) from the Severn Estuary and Bristol Channel. Mar Environ Res 52:151–171

Şaşi H (2004) The reproduction biology of chub (Leuciscus cephalus L. 1758) in Topçam Dam Lake (Aydın, Turkey). Turk J Vet Anim Sci 28:693–699

Sepúlveda MS, Gallagher EP, Gross TS (2004) Physiological changes in largemouth bass exposed to paper mill effluents under laboratory and field conditions. Ecotoxicology 13:291–301

Sepúlveda MS, Johnson WE, Higman JC, Denslow ND, Schoeb TR, Gross TS (2002) An evaluation of biomarkers of reproductive function and potential contaminant effects in Florida largemouth bass (Micropterus salmoides floridanus) sampled from the St. Johns River. Sci Total Environ 289:133–144

Shang EHH (2006) Hypoxia affects sex differentiation and development, leading to a male-dominated population in zebrafish (Danio rerio). Environ Sci Technol 40:3118–3122

Soimasuo MR, Aaltonen T, Nikinmaa M, Pellinen J, Ristola T, Oikari A (1995) Physiological toxicity of low-chlorine bleached pulp and paper mill effluent on whitefish (Coregonus lavaretus L. s.1): a laboratory exposure simulating lake pollution. Ecotox Safe 31:228–237

Sures B, Siddall R, Taraschewski H (1999) Parasites as accumulation indicators of heavy metal pollution. Parasitol Today 15:16–21

Teskeredžić E, Teskeredžić Z, Tomec M, Kurtović B, Raspor B, Kapetanović D, Dragun Z, Vardić I, Valić D, Strižak Ž, Španović B, Šoštarić Vulić Z, Roman Z (2009) Programme for the monitoring of the freshwater fishery status in the year 2009 - Group D - Fishing area Sava; River Sutla. [In Croatian: Program praćenja stanja slatkovodnog ribarstva u 2009. godini - Grupa D - ribolovno područje Sava; rijeka Sutla]. Ruđer Bošković Institute, Zagreb

Timmerman CM, Chapman LJ (2004) Hypoxia and interdemic variation in Poecilia latipinna. J Fish Biol 65:635–650

Treer T, Safner R, Aničić I, Lovrinov M (1995) Fishery (In Croatian). Globus, Zagreb

Ünver B (1998) An investigation on the reproduction properties of chub (Leuciscus cephalus L., 1758) in Lake Tödürge (Zara/Sivas). Turk J Zool 22:141–147

van Cleef KA, Kaplan LAE, Crivello JF (2000) The relationship between reproductive status and metallothionein mRNA expression in the common killifish, Fundulus heteroclitus. Environ Biol Fishes 57:97–105

van Dyk JC, Cochrane MJ, Wagenaar GM (2012) Liver histopathology of the sharptooth catfish Clarias gariepinus as a biomarker of aquatic pollution. Chemosphere 87:301–311

Vašák M (2005) Advances in metallothionein structure and functions. J Trace Elem Med Biol 19:13–17

Viarengo A, Burlando B, Dondero F, Marro A, Fabbri R (1999) Metallothionein as a tool in biomonitoring programmes. Biomarkers 4:455–466

Weltzien F, Doving KB, Carr WES (1999) Avoidance reaction of yolk-sac larvae of the inland silverside Menidia beryllina (Atherinidae) to hypoxia. J Exp Biol 202:2869–2876

Woo NYS, Wu RSS (1984) Changes in biochemical composition in the red grouper, Epinephelus akaara (Temminck and Schlegel), and the Black Sea bream, Mylio macrocephalus (Basilewsky), during hypoxic exposure. Comp Biochem Physiol A Physiol 77:475–482

Zorita I, Ortiz-Zarragoitia M, Apraiz I, Cancio I, Orbea A, Soto M, Marigómez I, Cajaraville MP (2008) Assessment of biological effects of environmental pollution along the NW Mediterranean Sea using red mullets as sentinel organisms. Environ Pollut 153:157–168
Acknowledgments
The financial support by the Ministry of Science, Education and Sport of the Republic of Croatia (project nos. 098-0982934-2721 and 098-0982934-2752) is acknowledged. This study was carried out as a part of the Monitoring of freshwater fishery in 2009 - Group D - Fishing area Sava River - Sutla River, funded by Ministry of Agriculture, Fisheries and Rural Development of the Republic of Croatia. The authors are especially thankful to Dr. Nevenka Mikac for the opportunity to use HR ICP-MS and to Branko Španović for the help in the field work.
Additional information
Responsible editor: Henner Hollert
About this article
Cite this article
Dragun, Z., Filipović Marijić, V., Kapetanović, D. et al. Assessment of general condition of fish inhabiting a moderately contaminated aquatic environment. Environ Sci Pollut Res 20, 4954–4968 (2013). https://doi.org/10.1007/s11356-013-1463-x
Received:

Accepted:

Published:

Issue Date:
Keywords
Bacteria

European chub

Intestinal parasites

Metallothioneins

Sutla River

Stress