Abstract
The presence of Eriophorum angustifolium in mine tailings of pyrite maintains a neutral pH, despite weathering, thus lowering the release of toxic elements into acid mine drainage water. We investigated if the presence of slightly elevated levels of free toxic elements triggers the plant rhizosphere to change the pH towards neutral by increasing organic acid contents. Plants were treated with a combination of As, Pb, Cu, Cd, and Zn at different concentrations in nutrient medium and in soil in a rhizobox-like system for 48–120 h. The pH and organic acids were detected in the mucilage dissolved from root surface, reflecting the rhizospheric solution. Also the pH of root–cell apoplasm was investigated. Both apoplasmic and mucilage pH increased and the concentrations of organic acids enhanced in the mucilage with slightly elevated levels of toxic elements. When organic acids concentration was high, also the pH was high. Thus, efflux of organic acids from the roots of E. angustifolium may induce rhizosphere basification.
Access options
Buy single article
Instant access to the full article PDF.
US$ 39.95
Tax calculation will be finalised during checkout.
Subscribe to journal
Immediate online access to all issues from 2019. Subscription will auto renew annually.
US$ 79
Tax calculation will be finalised during checkout.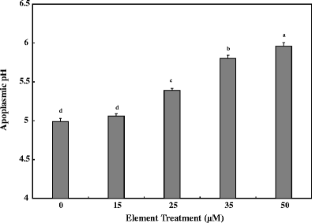 References
Blossfeld S, Perriguey J, Sterckeman T, Morel J-L, Lösch R (2010) Rhizosphere pH dynamics in trace-metal-contaminated soils monitored with planar pH optodes. Plant Soil 330:173–184

Bravin MN, Tentscher P, Rose J, Hinsinger P (2009) Rhizosphere pH gradient controls copper availability in a strongly acidic soil. Environ Sci Technol 43:5686–5691

Curtin D, Wen G (2004) Plant cation-anion balance as affected by the ionic composition of the growing medium. Plant Soil 267:109–115

Geilfus CM, Mühling KH (2011) Real-time imaging of leaf apoplastic pH dynamics in response to NaCl stress. Front Plant Sci 2:1–11

Greger M (2005) Influence of willow (Salix viminalis L.) roots on soil metal chemistry: effects of clones with varying metal uptake potential. In: Huang PM, Gobran G (eds) Biogeochemistry of trace elements in the rhizosphere. Elsevier, Amsterdam, pp 301–312

Grime JP, Hodgson JG, Hunt R (1988) Comparative plant ecology—a functional approach to common British species. Oxford Univ, Press, Oxford

Haoliang L, Chongling Y, Jingchun L (2007) Low-molecular-weight organic acids exuded by Mangrove (Kandelia candel L.) roots and their effect on cadmium species change in the rhizosphere. Environ Exp Bot 61:159–166

Haruta M, Constabel CP (2003) Rapid alkalinization factors in poplar cell cultures. peptide isolation, cDNA cloning, and differential expression in leaves and methyl jasmonate-treated cells. Plant Physiol 131:814–823

Hinsinger P, Plassard C, Jaillard B (2006) Rhizosphere: a new frontier for soil biogeochemistry. J Geochem Explor 88:210–213

Janicka-Russak M, Kabala K, Burzynski M, Klobus G (2008) Response of plasma membrane H+-ATPase to heavy metal stress in Cucumis sativus root. J Exp Bot 59:3721–3728

Kochian LV, Hoekenga OA, Pineros MA (2004) How do crop plants tolerate acid soils? Mechanisms of aluminum tolerance and phosphorus efficiency. Annu Rev Plant Biol 55:459–493

Lindberg S, Landberg T, Greger M (2004) A new method to detect cadmium uptake in protoplasts. Planta 219:526–532

Lindberg S, Wingstrand G (1985) Mechanism for Cd2+ inhibition of (K++ Mg2+)ATPase activity and K+(86Rb+) uptake in roots of sugar beet (Beta vulgaris). Physiol Plant 63:181–185

Ma JF, Taketa S, Yang ZM (2000) Aluminium tolerance genes on the short arm of chromosome 3R are linked to organic acid release in triticale. Plant Physiol 122:687–694

Mayer WJ, McCarthy JP, Greenberg MS (1979) The determination of oxalic acid in urine by high performance liquid chromatography with electrochemical detection. J Chromatogr Sci 17:656–660

Otte ML, Matthews DJ, Jacob DL, Moran BM, Baker AJM (2004) Biogeochemistry of metals in the rhizosphere of wetland plants—an explanation for innate metal tolerance? In: Wong MH (ed) Wetland ecosystems in Asia: function, usage and management, developments in ecosystems 1. Elsevier, Amsterdam, pp 87–94

Pearce G, Moura DS, Stratmann J, Ryan CA (2001) RALF, a 5-kDa ubiquitous polypeptide in plants, arrests root growth and development. Proc Natl Acad Sci USA 98:12843–12847

Qin R, Hirano Y, Brunner I (2007) Exudation of organic acid anions from poplar roots after exposure to Al, Cu and Zn. Tree Physiol 27:313–320

Song FQ, Yang GT, Meng FR, Tian XJ, Dong AR (2004) The rhizospheric niche of seedlings of Populus ussuriensis colonized by arbuscular mycorrhizal (AM) fungi. Ecol Environ 13:211–216

Stoltz E, Greger M (2002) Cottongrass effects of trace elements in submersed mine tailings. J Environ Qual 31:1477–1483

Stoltz E, Greger M (2006) Release of metals and arsenic from various mine tailings by Eriophorum angustifolium. Plant Soil 289:199–210

VanLoon GW, Duffy SJ (2000) Environmental chemistry—a global perspective. Oxford University Press, New York, pp 366–385

Vylkova S, Carman AJ, Danhof HA, Collette JR, Zhou HJ, Lorenz MC (2011) The fungal pathogen Candida albicans autoinduces hyphal morphogenesis by raising extracellular pH. mBio 2:e00055. doi:10.1128/mBio.00055-11

Wang AS, Angle JS, Rufus LC, Delorme TA, Reeves RD (2006) Soil pH effects on uptake of Cd and Zn by Thlaspi caerulencens. Plant Soil 281:325–337

Wheeler JI, Irving HR (2010) Evolutionary advantages of secreted peptide signalling molecules in plant. Funct Plant Biol 37:382–394

Zeng F, Chen S, Miao Y, Wu F, Zhang G (2008) Changes of organic acid exudation and rhizosphere pH in rice plant under chromium stress. Environ Pollut 155:284–289

Zhao Z, Ma JF, Sato K, Takeda K (2003) Different Al resistance and citrate secretion in barley (Hordeum vulgare L.). Planta 217:794–800
Acknowledgments
The authors acknowledge the Carl Tryggers and the Knut and Alice Wallenberg Foundations of Sweden and Higher Education Commission of Pakistan for financial support. We also thank Claes Bergqvist for collecting E. angustifolium seeds.
Additional information
Responsible editor: Philippe Garrigues
About this article
Cite this article
Javed, M.T., Stoltz, E., Lindberg, S. et al. Changes in pH and organic acids in mucilage of Eriophorum angustifolium roots after exposure to elevated concentrations of toxic elements. Environ Sci Pollut Res 20, 1876–1880 (2013). https://doi.org/10.1007/s11356-012-1413-z
Received:

Accepted:

Published:

Issue Date:
Keywords
Eriophorum angustifolium

Heavy metals and As

Organic acids

pH changes