Abstract
Volatile organic compounds (VOCs) and particles emitted by incense sticks and candles combustion in an experimental room have been monitored on-line and continuously with a high time resolution using a state-of-the-art high sensitivity-proton transfer reaction-mass spectrometer (HS-PTR-MS) and a condensation particle counter (CPC), respectively. The VOC concentration–time profiles, i.e., an increase up to a maximum concentration immediately after the burning period followed by a decrease which returns to the initial concentration levels, were strongly influenced by the ventilation and surface interactions. The obtained kinetic data set allows establishing a qualitative correlation between the elimination rate constants of VOCs and their physicochemical properties such as vapor pressure and molecular weight. The emission of particles increased dramatically during the combustion, up to 9.1(±0.2) × 104 and 22.0(±0.2) × 104 part cm−3 for incenses and candles, respectively. The performed kinetic measurements highlight the temporal evolution of the exposure level and reveal the importance of ventilation and deposition to remove the particles in a few hours in indoor environments.
This is a preview of subscription content, log in to check access.
Access options
Buy single article
Instant access to the full article PDF.
US$ 39.95
Price includes VAT for USA
Subscribe to journal
Immediate online access to all issues from 2019. Subscription will auto renew annually.
US$ 99
This is the net price. Taxes to be calculated in checkout.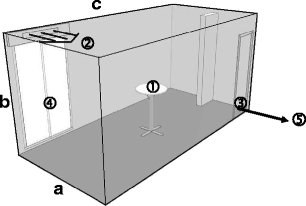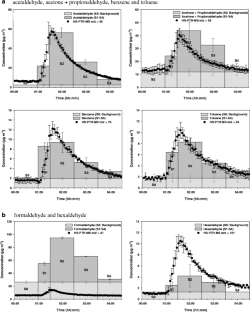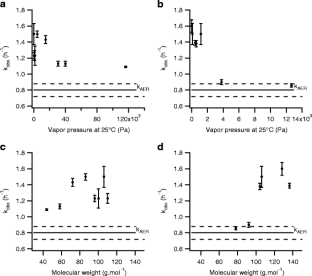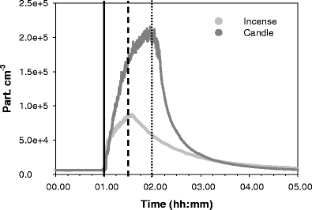 References
AFNOR (2002) NF ISO 16000–3: Air intérieur ― Partie 3: Prélèvement et analyse: formaldéhyde, acétaldéhyde

AFNOR (2005) NF ISO 16000–6: Air intérieur ― Partie 6: Dosage des composés organiques volatils dans l'air intérieur des locaux et enceintes d'essai par échantillonnage actif sur le sorbant Tenax TA, désorption thermique et chromatographie en phase gazeuse utilisant MS/FID

Afshari A, Matson U, Ekberg LE (2005) Characterization of indoor sources of fine and ultrafine particles: a study conducted in a full-scale chamber. Indoor Air 15:141–150

Akoua JJAA, Allard F, Beghein C, Collignan B, Millet JR (2004) Experimental and numerical studies on indoor air quality in a real environment. In: Proceedings of the Conference of the Air Infiltration and Ventilation Centre, 2004 Sept 15–17, Prague, Czech Republic, pp 203–214

Bhangar S, Mullen NA, Hering SV, Kreisberg NM, Nazaroff WW (2011) Ultrafine particle concentrations and exposures in seven residences in northern California. Indoor Air 21:132–144

Buchbauer G, Jirovetz L, Wasicky M, Nikiforov A (1995) Volatiles of cold and burning fragrance candles with lavender and apple aromas. Flavour Frag J 10:233–237

Buhr K, van Ruth S, Delahunty C (2002) Analysis of volatile compounds by proton transfer reaction-mass spectrometry: fragmentation patterns and discrimination between isobaric and isomeric compounds. Int J Mass Spectrom 221:1–7

Carslaw N (2007) A new detailed chemical model for indoor air pollution. Atmos Environ 41:1164–1179

Chang YC, Lee HW, Tseng HH (2007) The formation of incense smoke. J Aerosol Sci 38:39–51

Chuang HC (2010) Product characterisation of incense burning. Eurochamp-2. Report No.: E2-2010-03-08-0023

Czakó G, Nagy B, Tasi G, Somogyi A, Šimunek J, Noga J et al (2009) Proton affinity and enthalpy of formation of formaldehyde. Int J Quantum Chem 09:2393–2409

de Gouw J, Warneke C (2007) Measurements of volatile organic compounds in the earth's atmosphere using proton-transfer-reaction mass spectrometry. Mass Spectrom Rev 26:223–257

Derudi M, Gelosa S, Sliepcevich A, Cattaneo A, Rota R, Cavallo D et al (2012) Emissions of air pollutants from scented candles burning in a test chamber. Atmos Environ 55:257–262

Eggert T, Hansen OC (2004) Survey and emission of chemical substances from incense. Survey of Chemical Substances in Consumer Products 39:1–136

ERADB (2009) Chemical Kinetics Database on oxygenated VOCs [internet]. Orléans : ICARE-CNRS; c2006-08 [updated 2012 May 4]. Available from: http://www.era-orleans.org

Fan Z, Weschler CJ, Han IK, Junfeng Z (2005) Co-formation of hydroperoxides and ultra-fine particles during the reactions of ozone with a complex VOC mixture under simulated indoor conditions. Atmos Environ 39:5171–5182

Géhin E, Ramalho O, Kirchner S (2008) Size distribution and emission rate measurements of fine and ultrafine particle from indoor human activities. Atmos Environ 42:8341–8352

Gilbert NL, Guay M, Gauvin D, Dietz RN, Chan CC, Lévesque B (2008) Air change rate and concentration of formaldehyde in residential indoor air. Atmos Environ 42:2424–2428

Glytsos T, Ondracek J, Dzumbova L, Kopanakis I, Lazaridis M (2010) Characterization of particulate matter concentrations during controlled indoor activities. Atmos Environ 44:1539–1549

Gomez Alvarez E, Wortham H, Strekowski R, Zetzsch C, Gligorovski S (2012) Atmospheric photo-sensitized heterogeneous and multiphase reactions: from outdoors to indoors. Environ Sci Technol 46:1955–1963

Guo Z, Jetter JJ, McBrian JA (2004) Rates of polycyclic aromatic hydrocarbon emissions from incense. Bull Environ Contam Toxicol 72:186–193

He C, Morawska L, Hitchins J, Gilbert D (2004) Contribution from indoor sources to particle number and mass concentrations in residential houses. Atmos Environ 38:3405–3415

He C, Morawska L, Gilbert D (2005) Particle deposition rates in residential houses. Atmos Environ 39:3891–3899

He C, Morawska L, Taplin L (2007) Particle emission characteristics of office printers. Environ Sci Technol 41:6039–6045

Ho SSH, Yu JZ (2002) Concentrations of formaldehyde and other carbonyls in environments affected by incense burning. J Environ Monit 4:728–733

Holzinger R, Lee A, Paw UKT, Goldstein AH (2005) Observations of oxidation products above a forest imply biogenic emissions of very reactive compounds. Atmos Chem Phys 5:67–75

Hu MT, Chen SJ, Huang YC, Lee WJ, Chang-Chien GP, Tsai JH et al (2009) Characterization of, and health risks from, polychlorinated dibenzo-p-dioxins/dibenzofurans from incense burned in a temple. Sci Total Environ 407:4870–4875

Hussein T, Glytsos T, Ondracek J, Dohanyosova P, Zdimal V, Hameri K et al (2006) Particle size characterization and emission rates during indoor activities in a house. Atmos Environ 40:4285–4307

Ji X, Le Bihan O, Ramalho O, Mandin C, D'Anna B, Martinon L et al (2010) Characterization of particles emitted by incense burning in an experimental house. Indoor Air 20:147–158

Kjaer UD, Tirkkonene T (2006) Summary of adsorption/desorption experiments. SBI Report

Klepeis NE, Nelson WC, Ott WR, Robinson JP, Tsang AM, Switzer P et al (2001) The National Human Activity Pattern Survey (NHAPS): a resource for assessing exposure to environmental pollutants. J Expo Anal Environ Epidemiol 11:231–252

Lee RS, Lin JM (1996) Gaseous aliphatic aldehydes in smoke from burning raw materials of Chinese joss sticks. Bull Environ Contam Toxicol 57:361–366

Lee SC, Wang B (2004) Characteristics of emissions of air pollutants from burning of incense in a large environment chamber. Atmos Environ 38:941–951

Lewis RG, Gordon SM (1996) Sampling for organic chemicals in air. In: Lawrence HK (ed) Principles of environmental sampling. Washington, USA, pp 401–470

Li J, Feng YL, Xie CJ, Huang J, Yu JZ, Feng JL et al (2009) Determination of gaseous carbonyl compounds by their pentafluorophenyl hydrazones with gas chromatography/mass spectrometry. Anal Chim Acta 635:84–93

Lin JM, Wang LH (1994) Gaseous aliphatic aldehydes in Chinese incense smoke. Bull Environ Contam Toxicol 53:374–381

Löfroth G, Stensman C, Brandhorst-Satzkorn M (1991) Indoor sources of mutagenic aerosol particulate matter: smoking, cooking and incense burning. Mutat Res 261:21–28

Lung SC, Hu S (2003) Generation rates and emission factors of particulate matter and particle-bound polycyclic aromatic hydrocarbons of incense sticks. Chemosphere 50:673–679

Lung SCC, Kao MC, Hu S (2003) Contribution of incense burning to indoor PM10 and particle-bound polycyclic aromatic hydrocarbons under two ventilation conditions. Indoor Air 13:194–199

Mannino MR, Orecchio S (2008) Polycyclic aromatic hydrocarbons (PAHs) in indoor dust matter of Palermo (Italy) area: extraction, GC–MS analysis, distribution and sources. Atmos Environ 42:1801–1817

Maupetit F, Squinazi F (2009) Characterization of benzene and formaldehyde emissions from burning incense and scented candles indoors: development of exposure scenarios and recommendations for use. Environ Risque Santé 8:109–118

Navasumrit P, Arayasiri M, Hiang OMT, Leechawengwongs M, Promvijit J, Choonvisase S et al (2008) Potential health effects of exposure to carcinogenic compounds in incense smoke in temple workers. Chem-Biol Interact 73:19–31

Nazaroff WW (2004) Indoor particle dynamics. Indoor Air 14:175–183

Nicolas M (2006) Ozone et qualité de l'air intérieur: interactions avec les produits de construction et de décoration. PhD thesis, University of Paris VII

OQAI - French Indoor Air Quality Observatory (2006) Etat de la qualité de l'air dans les logements français

Orecchio S (2011) Polycyclic aromatic hydrocarbons (PAHs) in indoor emission from decorative candles. Atmos Environ 45:1888–1895

Pagels J, Wierzbicka A, Nilsson E, Isaxon C, Dahl A, Gudmundsson A et al (2009) Chemical composition and mass emission factors of candle smoke particles. J Aerosol Sci 40:193–208

Ribéron J, O'Kelly P (2002) Maison automatisée de recherches innovantes sur l'air (MARIA): An experimental tool at the service of indoor air quality in housing sector. In: Proceedings of Indoor Air 2002, International Conference on Indoor Air Quality and Climate; 2002 June 30–July 5, Monterey, USA, pp 191–195

Sarwar G, Corsi R, Kimura Y, Allen D, Weschler CJ (2002) Hydroxyl radicals in indoor environments. Atmos Environ 36:3973–3988

Schwarz K, Filipiak W, Amann A (2009) Determining concentration patterns of volatile compounds in exhaled breath by PTR-MS. J Breath Res 3:1–15

See WS, Balasubramanian R, Joshi UM (2007) Physical characteristics of nano-particles emitted from incense smoke. Sci Technol Adv Mater 8:25–32

Steinbacher M, Dommen J, Ammann C, Spirig C, Neftel A, Prevot ASH (2004) Performance characteristics of a proton-transfer-reaction mass spectrometer (PTR-MS) derived from laboratory and field measurements. Int J Mass Spectrom 239:117–128

Taipale R, Ruuskanen TM, Rinne J, Kajos MK, Hakola H, Kulmala M (2008) Technical note: quantitative long-term measurements of VOC concentrations by PTR-MS – measurement, calibration, and volume mixing ratio calculation methods. Atmos Chem Phys 8:6681–6698

Tani A, Hayward S, Hewitt CN (2003) Measurement of monoterpenes and related compounds by proton transfer reaction-mass spectrometry (PTR-MS). Int J Mass Spectrom 223–224:561–578

Thatcher TL, Lai ACK, Moreno-Jackson R, Sextro RG, Nazaroff WW (2002) Effects of room furnishings and air speed on particle deposition rates indoors. Atmos Environ 36:1811–1819

Thatcher TL, Lunden MM, Revzan KL, Sextro RG, Brown NJ (2003) A concentration rebound method for measuring particle penetration and deposition in the indoor environment. Aerosol Sci Technol 37:847–864

Tichenor BA (2004) Adsorption and desorption of pollutants to and from indoor surfaces. The Handbook of Environmental Chemistry 4:73–87

Tlili S, Nieto-Gligorovski LI, Temime-Roussel B, Gligorovski S, Wortham H (2010) Temperature and humidity dependence of the adsorption and desorption rates for acetone and xylene on silicon wafer. J Electrochem Soc 157:43–48

Tran TC, Marriott PJ (2007) Characterization of incense smoke by solid phase microextraction – comprehensive two-dimensional gas chromatography (GC × GC). Atmos Environ 41:5756–5768

Tran TC, Marriott PJ (2008) Comprehensive two-dimensional gas chromatography – time-of-flight mass spectrometry and simultaneous electron capture detection/nitrogen phosphorous detection for incense analysis. Atmos Environ 42:7360–7372

Uhde E, Salthammer T (2006) Influence of molecular parameters on the sink effect in test chambers. Indoor Air 16:158–165

Vlasenko A, Macdonald AM, Sjostedt SJ, Abbatt JPD (2010) Formaldehyde measurements by Proton transfer reaction – Mass Spectrometry (PTR-MS): correction for humidity effects. Atmos Meas Tech 3:1055–1062

Wallace L (2006) Indoor sources of ultrafine and accumulation mode particles: size distributions, size-resolved concentrations, and source strengths. Aerosol Sci Technol 40:348–360

Wang H, Morrison GC (2006) Ozone-initiated secondary emission rates of aldehydes from indoor surfaces in four homes. Environ Sci Technol 40:5263–5268

Wang B, Lee SC, Ho KF, Kang YM (2007) Characteristics of emissions of air pollutants from burning of incense in temples, Hong Kong. Sci Total Environ 377:52–60

Warneke C, de Gouw JA, Kuster WC, Goldan PD, Fall R (2003) Validation of atmospheric VOC measurements by proton transfer reaction-mass spectrometry using a gas-chromatographic preseparation method. Environ Sci Technol 37:2494–2501

Weschler CJ (2011) Chemistry in indoor environments: 20 years of research. Indoor Air 21:205–218

WHO - World Health Organization (2005) Air quality guidelines – global update 2005. WHO Regional Publications, editor. European Series

WHO - World Health Organization (2010) WHO guidelines for indoor air quality: selected pollutants. WHO Regional Publications, editor. European Series

Yang TT, Lin TS, Chang M (2007a) Characteristics of emissions of Volatile Organic Compounds from smoldering incense. Bull Environ Contam Toxicol 78:308–313

Yang TT, Kuo YM, Hung HF, Shie RH, Chang P (2007b) Gas pollutant emissions from smoldering incense using FTIR. Aerosol Air Qual Res 7:417–431

Yang C, Lin T, Chang F (2007c) Particle size distribution and PAH concentrations of incense smoke in a combustion chamber. Environ Pollut 145:606–615

Zai S, Zhen H, Jia-Song W (2006) Studies on the size distribution, number and mass emission factors of candle particles characterized by modes of burning. J Aerosol Sci 37:1484–1496

Zhang J, Chen Q (2002) Modeling VOC Sorption of building materials and its impact on indoor air quality. Report No.: ASHRAE RP-1097

Zhao J, Zhang R (2004) Proton transfer reaction rate constants between hydronium ion (H3O+) and volatile organic compounds. Atmos Environ 38:2177–2185
Acknowledgments
The AMBISAFE project is labialized by competitiveness PASS cluster and was funded by a research consortium (Albhades Provence, APF arômes et parfums, Bougie & Senteur, L'Occitane en Provence, TERA Environnement, Terre d'Oc). Audrey Manoukian is grateful to the Région Provence-Alpes-Côte-d'Azur and the Albhades Provence laboratory for the doctoral grant obtained to carry out this study. The authors thank Dr. Sasho Gligorovski for his useful comments and for English correction to the manuscript.
Additional information
Responsible editor: Philippe Garrigues
Electronic supplementary material
Below is the link to the electronic supplementary material.
About this article
Cite this article
Manoukian, A., Quivet, E., Temime-Roussel, B. et al. Emission characteristics of air pollutants from incense and candle burning in indoor atmospheres. Environ Sci Pollut Res 20, 4659–4670 (2013). https://doi.org/10.1007/s11356-012-1394-y
Received:

Accepted:

Published:

Issue Date:
Keywords
Incense

Candle

Volatile organic compounds

Aerosol

HS-PTR-MS

Indoor air quality