Abstract
Resource-conserving irrigation and fertilizer management practices have been developed for rice systems which may help address water quality concerns by reducing N and P losses via surface runoff. Field experiments under three treatments, i.e., farmers' conventional practice (FCP), alternate wetting and drying (AWD), and AWD integrated with site-specific nutrient management (AWD + SSNM) were carried out during two rice seasons at two sites in the southwest Yangtze River delta region. Across site years, results indicated that under AWD irrigation (i.e., AWD and AWD + SSNM), water inputs were reduced by 13.4 ~ 27.5 % and surface runoff was reduced by 30.2 ~ 36.7 % compared to FCP. When AWD was implemented alone, total N and P loss masses via surface runoff were reduced by 23.3 ~ 30.4 % and 26.9 ~ 31.7 %, respectively, compared to FCP. However, nutrient concentrations of surface runoff did not decrease under AWD alone. Under AWD + SSNM, total N and P loss masses via surface runoff were reduced to a greater extent than AWD alone (39.4 ~ 47.6 % and 46.1 ~ 48.3 % compared to FCP, respectively), while fertilizer inputs and N surpluses significantly decreased and rice grain yields increased relative to FCP. Therefore, by more closely matching nutrient supply with crop demand and reducing both surface runoff and nutrient concentrations of surface runoff, our results demonstrate that integration of AWD and SSNM practices can mitigate N and P losses via surface runoff from rice fields while maintaining high yields.
Access options
Buy single article
Instant access to the full article PDF.
US$ 39.95
Tax calculation will be finalised during checkout.
Subscribe to journal
Immediate online access to all issues from 2019. Subscription will auto renew annually.
US$ 79
Tax calculation will be finalised during checkout.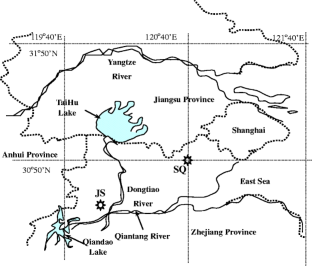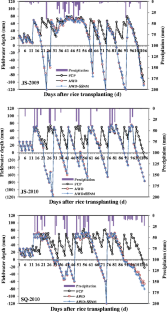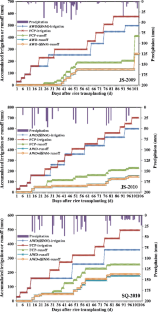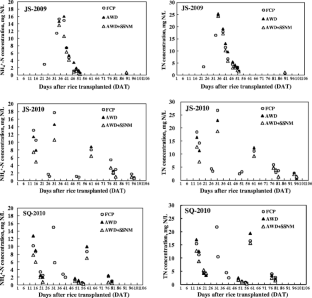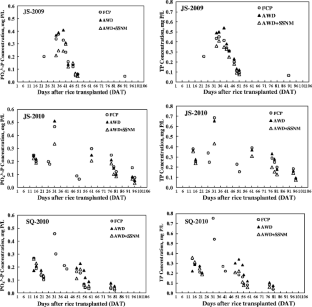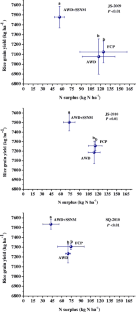 References
Alam MM, Ladha JK, Khan SR, Foyjunnessa H-u-R, Khan AH, Buresh RJ (2005) Leaf color chart for managing nitrogen fertilizer in lowland rice in Bangladesh. Agron J 97:949–959

Albiac J (2009) Nutrient imbalances: pollution remains. Science 326(5953):665–665

Belder P, Bouman BAM, Cabangon R, Guoan L, Quilang EJP, Li YH, Spiertz JHJ, Tuong TP (2004) Effect of water-saving irrigation on rice yield and water use in typical lowland conditions in Asia. Agr Water Manage 65:193–210

Bouman BAM, Tuong TP (2001) Field water management to save water and increase its productivity in irrigated lowland rice. Agr Water Manage 49:11–30

Buda AR, Kleinman PJA, Srinivasan MS, Bryant RB, Feyereisen GW (2009) Effects of hydrology and field management on phosphorus transport in surface runoff. J Environ Qual 38(6):2273–2284

Cabangon RJ, Tuong TP, Castillo EG, Bao LX, Lu GA, Wang GH, Cui YL, Bouman BAM, Li YH, Chen CD, Wang JL (2004) Effect of irrigation method and N-fertilizer management on rice yield, water productivity and nutrient-use efficiencies in typical lowland rice conditions in China. Paddy Water Environ 2(4):195–206

Cabangon RJ, Castillo EG, Tuong TP (2011) Chlorophyll meter-based nitrogen management of rice grown under alternate wetting and drying irrigation. Field Crops Res 121:136–146

Chen DJ, Lu J, Wang HL, Shen YN, Kimberley MO (2010) Seasonal variations of nitrogen and phosphorus retention in an agricultural drainage river in East China. Environ Sci Pollut Res 17(2):312–320

De Vries ME, Rodenburg J, Bado BV, Sow A, Leffelaar PA, Giller KE (2010) Rice production with less irrigation water is possible in a sahelian environment. Field Crop Res 116:154–164

Deluca TH (2009) Nutrient imbalances: follow the waste. Science 326:665–665

Dobermann A, Witt C, Abdulrachman S, Gines HC, Nagarajan R, Son TT, Tan PS, Wang GH, Chien NV, Thoa VTK, Phung CV, Stalin P, Muthukrishnan P, Ravi V, Babu M, Simbahan GC, Adviento MAA (2003) Soil fertility and indigenous nutrient supply in irrigated rice domains of Asia. Agron J 95:913–923

Dong NM, Brandt KK, Sorensen J, Hung NN, Hach CV, Tan PS, Dalsgaard T (2012) Effects of alternating wetting and drying versus continuous flooding on fertilizer nitrogen fate in rice fields in the Mekong Delta, Vietnam. Soil Biol Biochem 47:166–174

Fan LC, Peng XL, Liu YY, Song TX (2005) Study on the site-specific nitrogen management of rice in cold area of northeastern China. Sci Agri Sin 38(9):1761–1766 (in Chinese)

Gao XJ, Hu XF, Wang SP, He BG, Xu SY (2002) Nitrogen losses from flooded rice field. Pedosphere 12(2):151–156

Huang Y, Zhu M (2012) The water quality of Lake Taihu and its protection. GeoJournal 40:39–44

Jeon JH, Yoon CG, Ham JH, Jung KW (2005) Model development for surface water drainage estimates from paddy rice fields. Paddy Water Environ 3:93–101

Ju XT, Xing GX, Chen XP, Zhang SL, Zhang LJ, Liu XJ, Cui ZL, Yin B, Christie P, Zhu ZL, Zhang FS (2009) Reducing environmental risk by improving N management in intensive chinese agricultural systems. PNAS 106:3041–3046

Krupa M, Tate KW, van Kessel C, Sarwar N, Linquist BA (2011) Water quality in rice-growing watersheds in a Mediterranean climate. Ag Ecosyst Environ 144:290–301

Li YH, Barker R (2004) Increasing water productivity for paddy irrigation in China. Paddy Water Environ 2(4):187–193

Li H, Liang XQ, Chen YX, Tian GM, Zhang ZJ (2008) Ammonia volatilization from urea in rice fields with zero-drainage water management. Agr Water Manage 95(8):887–894

Liang XQ, Chen YX, Li H, Tian GM, Ni WZ, He MM, Zhang ZJ (2007) Modeling transport and fate of nitrogen from urea applied to a near-trench paddy field. Environ Pollut 150:313–320

Liang XQ, Li H, Chen YX, He MM, Tian GM, Zhang ZJ (2008) Nitrogen loss through lateral seepage in near-trench paddy fields. J Environ Qual 37:712–717

Matsuo N, Mochizuki T (2009) Growth and yield of six rice cultivars under three water-saving cultivations. Plant Prod Sci 12:514–525

Pampolino MF, Manguiat IJ, Ramanathan S, Gines HC, Tan PS, Chi TTN, Rajendran R, Buresh RJ (2007) Environmental impact and economic benefits of site-specific nutrient management (SSNM) in irrigated rice systems. Agric Syst 93(1–3):1–24

Peng SB, Buresh RJ, Huang JL, Zhong XH, Zou YB, Yang JC, Wang GH, Liu Y, Hu R, Tang QY, Cui K, Zhang FS, Dobermann A (2010) Improving nitrogen fertilization in rice by site-specific N management. A review. Agron Sustain Dev 30:649–656

Pothig R, Behrendt H, Opitz D, Furrer G (2010) A universal method to assess the potential of phosphorus loss from soil to aquatic ecosystems. Environ Sci Pollut Res 17(2):497–504

Qin B, Xu P, Wu Q, Luo L, Zhang Y (2007) Environmental issues of Lake Taihu, China. Hydrobiologia 581:3–14

Shao W (2010) Effectiveness of water protection policy in china: a case study of jiaxing. Sci Total Environ 408:690–701

Sigua GC, Hubbard RK, Coleman SW (2010) Quantifying phosphorus levels in soils, plants, surface water, and shallow groundwater associated with bahiagrass-based pastures. Environ Sci Pollut Res 17(1):210–219

Tabbal DF, Bouman BAM, Bhuiyan SI, Sibayan EB, Sattar MA (2002) On-farm strategies for reducing water input in irrigated rice; case studies in the Philippines. Agr Water Manage 56:93–112

Timsina J, Connor DJ (2001) Productivity and management of rice-wheat cropping systems: issues and challenges. Field Crop Res 69:93–132

Tuong TP, Bouman BAM, Mortimer M (2005) More rice, less water-integrated approaches for increasing water productivity in irrigated rice-based systems in Asia. Plant Prod Sci 8:231–241

Wang GH, Dobermann A, Witt C, Sun QZ, Fu RX (2001) Performance of site-specific nutrient management for irrigated rice in southeast china. Agron J 93:869–878

Wang GH, Zhang QC, Huang CY (2003) SSNM-A new approach to increasing fertilizer N use efficiency and reducing N loss from rice fields. J Zhejiang Univ (Agr & Life Sci) 29:67–70 (In Chinese)

Wang GH, Zhang QC, Witt C, Buresh RJ (2007) Opportunities for yield increases and environmental benefits through site-specific nutrient management in rice systems of Zhejiang province, China. Agr Syst 94:801–806

Wang M, Yang JP, Xu W, Wang H, Sun JH (2009) Influence of nitrogen rates with split application on N use efficiency and its eco-economic suitable amount analysis in rice. J Zhejiang Univ (Agr & Life Sci) 35:71–76 (In Chinese)

Wang LQ, Liang T, Chong ZY, Zhang CS (2011) Effects of soil type on leaching and runoff transport of rare earth elements and phosphorous in laboratory experiments. Environ Sci Pollut Res 18(1):38–45

Witt C, Dobermann A (2002) A site-specific nutrient management approach for irrigated, lowland rice in Asia. Better Crops Interna 16:20–24

Xu H, Yang LZ, Zhao GM, Jiao JG, Yin SX, Liu ZP (2009) Anthropogenic Impact on Surface Water Quality in Taihu Lake Region, China. Pedosphere 19(6):765–778

Yang JC, Huang DF, Duan H, Tan GL, Zhang JH (2009) Alternate wetting and moderate soil drying increases grain yield and reduces cadmium accumulation in rice grains. J Sci Food Agr 89:1728–1736

Yao F, Huang J, Cui K, Nie L, Xiang J, Liu X, Wu W, Chen M, Peng S (2012) Agronomic performance of high-yielding rice variety grown under alternate wetting and drying irrigation. Field Crop Res 126:16–22

Yoon CG, Ham JH, Jeon JH (2003) Mass balance analysis in Korean paddy rice culture. Paddy Water Environ 1:99–106

Zhang WL, Wu SX, Ji HJ, Kolbe H (2004) Estimation of agricultural non-point source pollution in China and the alleviating strategies. I: estimation of agricultural non-point source pollution in China in early 21 century. Sci Agr Sin 37:1008–1017, In Chinese

Zhang H, Zhang S, Yang J, Zhang J, Wang Z (2008) Postanthesis moderate wetting drying improves both quality and quantity of rice yield. Agron J 100:726–734

Zhang H, Xue Y, Wang Z, Yang J, Zhang J (2009) An alternate wetting and moderate soil drying regime improves root and shoot growth in rice. Crop Sci 49:2246–2260

Zhao X, Zhou Y, Min J, Wang SG, Shi WM, Xing GX (2012) Nitrogen runoff dominates water nitrogen pollution from rice-wheat rotation in the Taihu Lake region of China. Agric Ecosyst Environ 158:1–11

Zhu ZL, Chen DL (2002) Nitrogen fertilizer use in China—contributions to food production, impacts on the environment and best management strategies. Nutr Cycl Agroecosyst 63:117–127

Zhu JG, Han Y, Zhang YL, Xing GX (2003) Nitrate distribution and denitrification in the saturated zone of paddy field under rice/wheat rotation. Chemosphere 50:725–732
Acknowledgments
We are grateful for grants from the National Natural Science Foundation of China (40901142, 21077088, and 40901111) and the National Key Science and Technology Project: Water Pollution Control and Treatment (no. 2012ZX07101-012). The authors would like to thank the technical assistance from the International Rice Research Institute (IRRI) and the anonymous reviewers for their valuable comments and suggestions during the manuscript modifications.
Additional information
Responsible editor: Hailong Wang
About this article
Cite this article
Liang, X.Q., Chen, Y.X., Nie, Z.Y. et al. Mitigation of nutrient losses via surface runoff from rice cropping systems with alternate wetting and drying irrigation and site-specific nutrient management practices. Environ Sci Pollut Res 20, 6980–6991 (2013). https://doi.org/10.1007/s11356-012-1391-1
Received:

Accepted:

Published:

Issue Date:
Keywords
Alternate wetting and drying (AWD)

Site-specific nutrient management (SSNM)

Surface runoff

N and P losses

Rice yield

Paddy soil