Abstract
Manure products fermented underground in cow horns and commonly used as field spray (preparation 500) in the biodynamic farming system, were characterized for molecular composition by solid-state nuclear magnetic resonance [13 C cross-polarization magic-angle-spinning NMR (13 C-CPMAS-NMR)] spectroscopy and offline tetramethylammonium hydroxide thermochemolysis gas chromatography-mass spectrometry. Both thermochemolysis and NMR spectroscopy revealed a complex molecular structure, with lignin aromatic derivatives, polysaccharides, and alkyl compounds as the predominant components. CPMAS-NMR spectra of biodynamic preparations showed a carbon distribution with an overall low hydrophobic character and significant contribution of lignocellulosic derivatives. The results of thermochemolysis confirmed the characteristic highlighted by NMR spectroscopy, revealing a molecular composition based on alkyl components of plant and microbial origin and the stable incorporation of lignin derivatives. The presence of biolabile components and of undecomposed lignin compounds in the preparation 500 should be accounted to its particularly slow maturation process, as compared to common composting procedures. Our results provide, for the first time, a scientific characterization of an essential product in biodynamic agriculture, and show that biodynamic products appear to be enriched of biolabile components and, therefore, potentially conducive to plant growth stimulation.
Access options
Buy single article
Instant access to the full article PDF.
USD 39.95
Price includes VAT (USA)
Tax calculation will be finalised during checkout.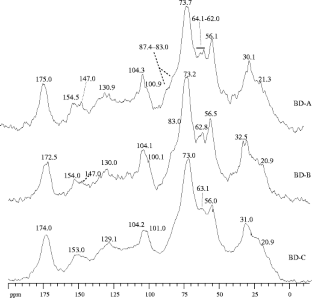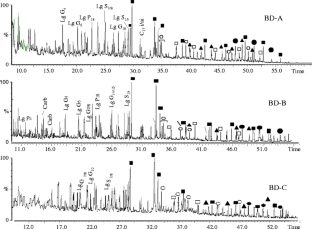 References
Aguiar NO (2011) Características Químicas E Bioatividade De Ácidos Húmicos Isolados De Vermicompostos Em Diferentes Estádios De Maturação (Chemical characterization and bioactivity of humic acids isolated from different vermicompost at maturation stages). Master degree thesis. Universidade Estadual Do Norte Fluminense (UENF) Darcy Ribeiro-Campos Dos Goytacazes, Rio de Janeiro, Brasil

Albrecht R, Ziarelli F, Alarcón-Gutiérrez E, Le Petit J, Terrom G, Perissol C (2008) 13 C solid-state NMR assessment of decomposition pattern during co-composting of sewage sludge and green wastes. Eur J Soil Sci 59:445–452

Amblès A, Jambu P, Parlanti E, Joffre J, Riffe C (1994) Incorporation of natural monoacids from plant residues into a hydromorphic forest podzol. Eur J Soil Sci 45:175–182

Atalla RH, VanderHart DL (1999) The role of solid state 13 C NMR spectroscopy in studies of the nature of native celluloses. Solid State Nucl Mag 15:1–19

Augris N, Balesdent J, Mariotti A, Derenne S, Largeau C (1998) Structure and origin of insoluble and non hydrolysable, aliphatic organic matter in forest soil. Org Geochem 28:119–124

Baldock JA, Oades JM, Nelson PN, Skene TM, Golchin A, Clarke P (1997) Assessing the extent of decomposition of natural organic materials using solid-state C-13 NMR spectroscopy. Aust J Soil Res 35:1061–1083

Birkhofer K, Bezemer TM, Bloem J, Bonkowski M, Søren C, Dubois D et al (2008) Long-term organic farming fosters below and aboveground biota: Implications for soil quality, biological control and productivity. Soil Biol Biochem 40:2297–2308

Bull ID, Nott CJ, van Bergen PF, Bull ID, Poulton PR, Evershed RP (2000) Organic geochemical studies of soils from the Rothamsted classical experiments V. The fate of lipids in different long-term experiments. Org Geochem 31:389–408

Canellas LP, Piccolo A, Dobbss LB, Spaccini R, Olivares FL, Zandonadi DB, Façanha AR (2010) Chemical composition and bioactivity properties of size-fractions separated from a vermicompost humic acid. Chemosphere 78:457–466

Carpenter-Boggs L, Reganold JP, Kennedy AC (2000a) Biodynamic preparations: Short-term effects on crops, soils, and weed populations. Am J Altern Agric 15:96–104

Carpenter-Boggs L, Kennedy AC, Reganold JP (2000b) Organic and biodynamic management: effects on soil biology. Soil Sci Soc Am J 64:1651–1659

Chefetz B, Chen Y, Clapp CE, Hatcher PG (2000) Characterization of organic matter in soils by thermochemolysis using tetramethylammonium hydroxide (TMAH). Soil Sci Soc Am J 64:583–589

Deshmukh AP, Simpson AJ, Hadad CM, Hatcher PG (2005) Insights into the structure of cutin and cutan from Agave americana leaf cuticle using HRMAS NMR spectroscopy. Org Geochem 36:1072–1085

EC Regulation 834 (2007) Council regulation on organic production and labelling of organic products and repealing regulation, 28 June 2007

Gerzabek MH, Antil RS, Kögel-Knabner I, Knicker H, Kirchmann H, Haberhauer G (2006) How are soil use and management reflected by soil organic matter characteristics: a spectroscopic approach. Eur J Soil Sci 57:485–494

Gilardi G, Abis L, Cass AEG (1995) Carbon-13 CP/MAS solid state NMR and FT-IR spectroscopy of wood cell wall biodegradation. Enzyme Microb Tech 17:268–275

Gobé V, Lemée L, Amblès A (2000) Structure elucidation of soil macromolecular lipids by preparative pyrolysis and thermochemolysis. Org Geochem 31:409–419

Gómez X, Diaz MC, Cooper M, Blanco D, Morán A, Snape CE (2007) Study of biological stabilization processes of cattle and poultry manure by thermogravimetric analysis and 13 C NMR. Chemosphere 68:1889–1897

Gómez X, Blanco D, Lobato A, Calleja A, Martínez-Núñez F, Villacorta JM (2011) Digestion of cattle manure under mesophilic and thermophilic conditions: characterization of organic matter applying thermal analysis and 1 H NMR. Biodegradation 22:623–635

González-Vila FJ, Almendros G, Madrid F (1999) Molecular alteration of organic fractions from urban waste in the course of composting and their further transformation in amended soil. Sci Total Environ 236:215–229

Goñi MA, Hedges JI (1992) Lignin dimers: structures, distribution, and potential geochemical applications. Geochim Cosmochim Acta 49:2097–2107

Inbar Y, Chen Y, Hadar Y (1989) Solid-state carbon-13 nuclear magnetic resonance and infrared spectroscopy of composted organic matter. Soil Sci Soc Am J 53:1695–1701

Joergensen RG, Mäder P, Fließbach A (2010) Long-term effects of organic farming on fungal and bacterial residues in relation to microbial energy metabolism. Biol Fert Soils 46:303–307

Johnson CE, Smernik RJ, Siccama TG, Kiemle DK, Xu Z, Vogt DJ (2005) Using 13 C nuclear magnetic resonance spectroscopy for the study of northern hardwood tissues. Can J Forest Res 35:1821–1831

Koepf HH, Pettersson BB, Schaumann W (1976) Biodynamic agriculture. The Anthroposophic Press, Spring Valley, NY

Mader P, Fliessbach A, Dubois D, Gunst L, Fried P, Niggli U (2002) Soil fertility and biodiversity in organic farming. Science 296:1694–1697

McKinney DE, Bortiatynski JM, Carson DM, Clifford DJ, De Leeuw JW, Hatcher PG (1996) Tetramethylammonium hydroxide (TMAH) thermochemolysis of the aliphatic biopolymer cutan: insights into the chemical structure. Org Geochem 24:641–650

Naafs DFW, van Bergen PF, de Jong MA, Oonincx A, de Leeuw JW (2004) Total lipid extracts from characteristic soil horizons in a podzol profile. Eur J Soil Sci 55:657–669

Ngo P-T, Rumpel C, Dignac M-F, Billou D, Duc T-T, Jouquet P (2011) Transformation of buffalo manure by composting or vermicomposting to rehabilitate degraded tropical soils. Ecol Eng 37:269–276

Ngosong C, Jarosch M, Raupp J, Neumann E, Ruess L (2010) The impact of farming practice on soil microorganisms and arbuscular mycorrhizal fungi: Crop type versus long-term mineral and organic fertilization. Appl Soil Ecol 46:134–142

Opsahl S, Benner R (1995) Early diagenesis of vascular plant tissues: lignin and cutin decomposition and biogeochemical implications. Geochim Cosmochim Acta 59:4889–4904

Pastorova I, van der Berg KJ, Boon JJ, Verhoeven JW (1997) Analysis of oxidised diterpenoid acids using thermally assisted methylation with TMAH. J Anal Appl Pyrol 43:51–57

Preston CM, Nault JR, Trofymov JA (2009) Chemical changes during 6 years of decomposition of 11 litters in some Canadian forest sites. Part 2. 13 C abundance, solid-state 13 C NMR spectroscopy and the meaning of "Lignin". Ecosystems 12:1078–1102

Puglisi E, Nicelli M, Capri E, Trevisan M, Del Re AAM (2005) A soil alteration index based on phospholipid fatty acids. Chemosphere 61:1548–1557

Reeve JR, Carpenter-Boggs L, Reganold JP, York AL, Brinton WF (2010) Influence of biodynamic preparations on compost development and resultant compost extracts on wheat seedling growth. Bioresource Technol 101:5658–5666

Reganold JP (1955) Soil quality and profitability of biodynamic and conventional farming systems: a review. Am J Altern Agric 10(1):36–45

Riederer M, Matzke K, Ziegler F, Kögel-Knabner I (1993) Occurrence, distribution and fate of the lipid plant biopolymers cutin and suberin in temperate forest soils. Org Geochem 20:1063–1076

Ryan M, Ash J (1999) Effects of phosphorus and nitrogen on growth of pasture plants and VAM fungi in SE Australian soils with contrasting fertiliser histories (conventional and biodynamic. Agric Ecosyst Environ 73:51–62

Schwarzinger C, Tanczos I, Schmidt H (2002) Levoglucosan, cellobiose and their acetates as model compounds for the thermally assisted hydrolysis and methylation of cellulose and cellulose acetate. J Anal Appl Pyrol 62:179–196

Šmejkalová D, Spaccini R, Piccolo A (2008) Multivariate analysis of CPMAS 13 C-NMR spectra of soils and humic matter as a tool to evaluate organic carbon quality in natural systems. Eur J Soil Sci 59:496–504

Spaccini R, Piccolo A (2007) Molecular characterisation of compost at increasing stages of maturity: II. Thermochemolysis-GC-MS and 13 C-CPMAS-NMR spectroscopy. J Agric Food Chem 55:2303–2311

Spaccini R, Piccolo A (2009) Molecular characteristics of humic acids extracted from compost at increasing maturity stages. Soil Biol Biochem 41:1164–1172

Spaccini R, Piccolo A (2011) Carbon sequestration in soils by hydrophobic protection and in situ catalyzed photo-polymerization of soil organic matter (SOM): chemical and physical–chemical aspects of SOM in field plots. In: Piccolo A (ed) Carbon sequestration in agricultural soils — a multidisciplinary approach to innovative methods. Springer-Verlag, Berlin, Heidelberg, pp 61–106 (in press)

Spaccini R, Sannino D, Piccolo A, Fagnano M (2009) Molecular changes in organic matter of a compost-amended soil. Eur J Soil Sci 60:287–296

Steiner R (1972) Agriculture. A course of eight lectures. Biodynamic Agricultural Association, London

Tang JC, Maie N, Tada Y, Katayama A (2006) Characterization of the maturing process of cattle manure compost. Process Biochem 41:380–389

Vane CH, Martin SC, Snape CE, Abbott GD (2001) Degradation of lignin in wheat straw during growth of the oyster mushroom (Pleurotus ostreatus) using off-line thermochemolysis with tetramethylammonium hydroxyde and solid state 13 C NMR. J Agric Food Chem 49:2709–2716

Vane CH, Drage TC, Snape CL, Stephenson MH, Foster C (2005) Decay of cultivated apricot wood (Prunus armeniaca) by the ascomycete Hypocrea sulphurea, using solid state 13 C NMR and off-line TMAH thermochemolysis with GC-MS. Int Biodeter Biodegr 55:175–185

Wikberg H, Maunu SL (2004) Characterization of thermally modified hard- and softwoods by 13 C CPMAS NMR. Carbohydr Polym 58:461–466

Zaller JG, Köpke U (2004) Effects of traditional and biodynamic farmyard manure amendment on yields, soil chemical, biochemical and biological properties in a long-term field experiment. Biol Fertil Soils 40:222–229

Zancani M, Bertolini A, Petrussa E, Krajňàková J, Piccolo A, Spaccini R, Vianello A (2011) Fulvic acid affects proliferation and maturation phases in Abies cephalonica embryogenic cells. J Plant Physiol 168:1226–1233
Acknowledgments
We thank Carlo Noro (Società Agricola Biodinamica), Gianni Catellani (La Farnia), and the section of Italian Association for Biodynamic Agriculture for providing us samples of the BD preparations 500.
Additional information
Responsible editor: Philippe Garrigues
About this article
Cite this article
Spaccini, R., Mazzei, P., Squartini, A. et al. Molecular properties of a fermented manure preparation used as field spray in biodynamic agriculture. Environ Sci Pollut Res 19, 4214–4225 (2012). https://doi.org/10.1007/s11356-012-1022-x
Received:

Accepted:

Published:

Issue Date:
Keywords
Biodynamic

Thermochemolysis

13 C-CPMAS NMR

Lignin