Abstract
This paper highlights the utility of riverbed sand (RS) for the treatment of Ni(II) from aqueous solutions. For enhancement of removal efficiency, RS was modified by simple methods. Raw and modified sands were characterized by scanning electron microscope (SEM), Energy Dispersive Spectroscopy (EDS), and Fourier Transform Infrared Spectroscopy (FTIR) to investigate the effect of modifying the surface of RS. For optimization of various important process parameters, batch mode experiments were conducted by choosing specific parameters such as pH (4.0–8.0), adsorbent dose (1.0–2.0 g), and metal ion concentrations (5–15 mg/L). Removal efficiency decreased from 68.76 to 54.09 % by increasing the concentration of Ni(II) in solution from 5 to 15 mg/L. Removal was found to be highly dependent on pH of aqueous solutions and maximum removal was achieved at pH 8.0. The process of removal follows first-order kinetics, and the value of rate constant was found to be 0.048 min−1 at 5 mg/L and 25 °C. Value of intraparticle diffusion rate constant (k id) was found to be 0.021 mg/g min1/2 at 25 °C. Removal of Ni(II) decreased by increasing temperature which confirms exothermic nature of this system. For equilibrium studies, adsorption data was analyzed by Freundlich and Langmuir models. Thermodynamic studies for the present process were performed by determining the values of ΔG°, ΔH°, and ΔS°. Negative value of ∆H° further confirms the exothermic nature of the removal process. The results of the present investigation indicate that modified riverbed sand (MRS) has high potential for the removal of Ni(II) from aqueous solutions, and resultant data can serve as baseline data for designing treatment plants at industrial scale.
Access options
Buy single article
Instant access to the full article PDF.
USD 39.95
Price excludes VAT (USA)
Tax calculation will be finalised during checkout.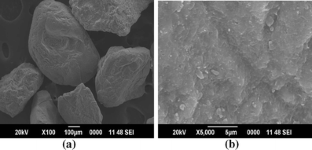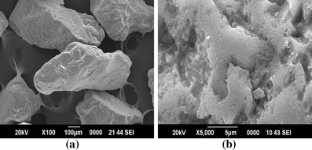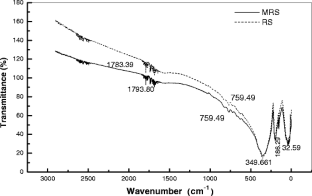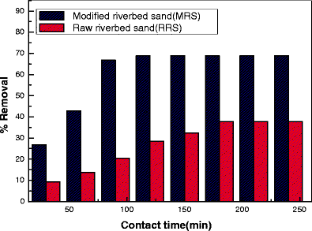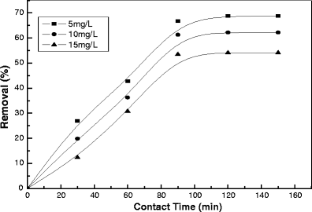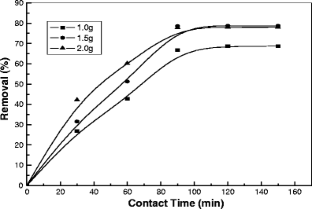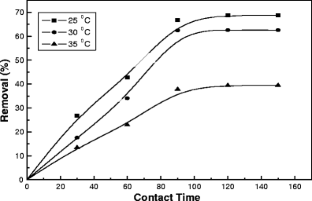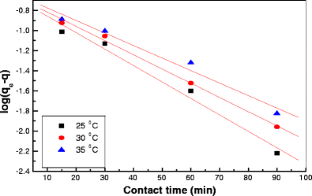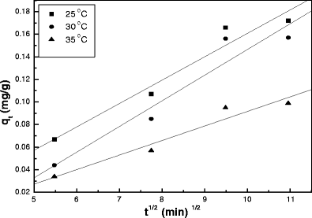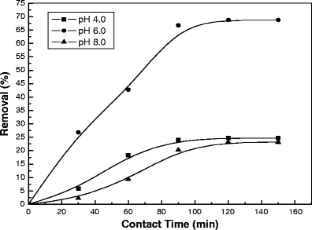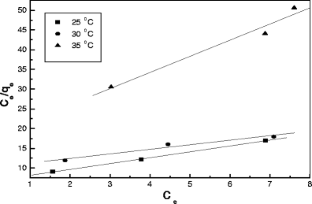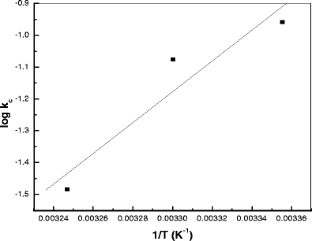 References
Akhtar N, Iqbal J, Iqbal M (2004) Removal and recovery of nickel(II) from aqueous solution by loofa sponge-immobilized biomass of Chlorella sorokiniana: characterization studies. J Hazard Mater 108:85–94

Aksu Z (2002) Determination of equilibrium, kinetic and thermodynamic parameters of the batch biosorption of nickel ions on to Chlorella vulgaris. Process Biochem 38:89–99

Ali I, Gupta VK (2007) Advances in water treatment by adsorption technology. Nat Protoc 1(6):2661–2667

Aloma I, Martın-Lara MA, Rodrıguez IL, Blazquez G, Calero M (2012) Removal of nickel (II) ions from aqueous solutions by biosorption on sugarcane bagasse. J Taiwan Inst Chem Eng 43:275–281

Annadurai A, Juang RS, Lee DJ (2002) Adsorption of heavy metals from water using banana and orange peels. Water Sci Technol 47:185

APHA (1985) Standard methods for the examination of water and wastewater, 14th edn. APHA, AWWA, Washington, DC

Basha S, Murthy ZVP, Jha B (2008) Biosorption of hexavalent chromium by chemically modified seaweed, Cystoseira indica. Chem Eng J 137:480-–488

Bhatnagara A, Minocha AK (2010) Biosorption optimization of nickel removal from water using Punica granatum peel waste. Colloids Surf B: Biointerfaces 76:544–548

Bhattacharya AK, Naiya TK, Mandal SN, Das SK (2008) Adsorption, kinetics and equilibrium studies on removal of Cr(VI) from aqueous solutions using different low-cost adsorbents. Chem Eng J 137:529–541

Choi HD, Jung WS, Cho JM, Ryu BG, Yang JS, Baek K (2009) Adsorption of Cr(VI) onto cationic surfactant-modified activated carbon. J Hazard Mater 166:642–646

Debnath SU, Ghosh C (2009) Nanostructured hydrous titanium(IV) oxide: synthesis, characterization and Ni(II) adsorption behavior. Chem Eng J 152:480–491

Demirbas E, Kobya M, Oncel S, Sencan S (2002) Removal of Ni (II) from aqueous solution by adsorption onto hazelnut shell activated carbon: equilibrium studies. Bioresour Technol 84:291

Ewecharoen A, Thiravetyan P, Nakbanpote W (2008) Comparison of nickel adsorption from electroplating rinse water by coir pith and modified coir pith. Chem Eng J 137:181–188

Gupta VK, Ali I (2004) Removal of lead and chromium from wastewater using bagasse fly ash—a sugar industry waste. J Colloid Interface Sci 271(2):321–328

Gupta VK, Ali I (2008) Removal of endosulfan and methoxychlor from water on carbon slurry. Environ Sci Technol 42(3):766–770

Gupta VK, Rastogi A (2008a) Biosorption of lead from aqueous solutions by green algae Spirogyra species: equilibrium and adsorption kinetics. J Hazard Mater 152(1):407–414

Gupta VK, Rastogi A (2008b) Equilibrium and kinetic modeling of cadmium (II) biosorption by nonliving algal biomass Oedogonium sp. from aqueous phase. J Hazard Mater 153(1–2):759–766

Gupta VK, Rastogi A (2009) Biosorption of hexavalent chromium by raw and acid-treated green alga Oedogonium hatei from aqueous solutions. J Hazard Mater 163(1):396–402

Gupta VK, Jain AK, Singh LP, Khurana U (1997) Porphyrins as carrier in PVC based membrane potentiometric sensors for nickel(II). Anal Chim Acta 355(1):33–41

Gupta VK, Mangla R, Agarwal S (2002) Pb(II) selective potentiometric sensor based on 4-tert-butylcalix[4]arene in PVC matrix. Electroanalysis 14(15-16):1127–1132

Gupta VK, Mittal A, Kurup L, Mittal J (2006a) ) Adsorption of a hazardous dye, erythrosine, over hen feathers. J Colloid Interface Sci 304(1):52–57

Gupta VK, Mittal A, Gajbe V, Mittal J (2006b) Removal and recovery of the hazardous azo dye acid orange 7 through adsorption over waste materials: bottom ash and de-oiled soya. Ind Eng Chem Res 45(4):1446–1453

Gupta VK, Ali I, Saini VK (2007a) Defluoridation of wastewaters using waste carbon slurry. Water Res 41(15):3307–3316

Gupta VK, Jain R, Varshney S (2007b) Removal of Reactofix golden yellow 3 RFN from aqueous solution using wheat husk—an agricultural waste. J Hazard Mater 142(1–2):443–448

Gupta VK, Jain R, Varshney S (2007c) Electrochemical removal of the hazardous dye Reactofix Red 3 BFN from industrial effluents. J Colloid Interface Sci 312(2):292–296

Gupta VK, Carrott PJM, Ribeiro Carrott MML, Suhas (2009a) Low cost adsorbents: growing approach to waste water treatment—a review. Crit Rev Environ Sci Technol 39:783–842

Gupta VK, Goyal RN, Sharma RA (2009b) Novel PVC membrane based alizarin sensor and its application; determination of vanadium, zirconium and molybdenum. Int J Electrochem Sci 4(1):156–172

Gupta VK, Rastogi A, Nayak A (2010a) Adsorption studies on the removal of hexavalent chromium from aqueous solution using a low cost fertilizer industry waste material. J Colloid Interface Sci 342(1):135–141

Gupta VK, Rastogi A, Nayak A (2010b) Biosorption of nickel onto treated alga (Oedogonium hatei): application of isotherm and kinetic models. J Colloid Interface Sci 342:533–539

Ho YS, Wase DAJ, Forster CF (1995) Batch nickel removal from aqueous solution by Sphagnum moss peat. Water Res 29:1327

Jain AK, Gupta VK, Sahoo BB, Singh LP (1995) Copper(II)-selective electrodes based on macrocyclic compounds. Anal Proc Incl Anal Commun 32(3):99–101

Jain AK, Gupta VK, Singh LP, Khurana U (1997) Macrocycle based membrane sensors for the determination of cobalt(II) ions. Analyst 122(6):583–586

Kapoor A, Viraraghavan T (1998) Biosorption of heavy metals on Aspergillus niger: effect of pretreatment. Bioresour Technol 63:109–113

Khan MA, Ngabura M, Choong TSY, Masood H, Chuah L (2012) Biosorption and desorption of nickel on oil cake: batch and column studies. Bioresour Technol 103:35–42

Kleinubing SJ, Guibal E, da Silva EA, da Silva MGC (2012) Copper and nickel competitive biosorption simulation from single and binary systems by Sargassum filipendula. Chem Eng J 184:16–22

Kosasih AN, Febrianto J, Sunarso J, Ju YH, Indraswati N, Ismadji S (2010) Sequestering of Cu (II) from aqueous solution using cassava peel (Manihot esculenta). J Hazard Mater 180:366–374

Meunier N, Laroulandie J, Blais JF, Tyagi RD (2003) Cocoa shells for heavy metal removal from acidic solutions. Bioresour Technol 90:255–263

Moreno-Piraján JC, Giraldo L (2011) Activated carbon obtained by pyrolysis of potato peel for the removal of heavy metal copper (II) from aqueous solutions. J Anal Appl Pyrolysis 90:42–47

Nabarlatz D, Celis J, Bonelli P, Cukierman AL (2012) Batch and dynamic sorption of Ni(II) ions by activated carbon based on a native lignocellulosic precursor. J Environ Manage 97:109–115

Nasernejad B, Zadeh T, Pour BB, bygi ME, Zamani A (2005) Comparison for biosorption modeling of heavy metals (Cr (II), Cu (II), Zn (II)) adsorption from wastewater by carrot residues. Process Biochem 40:1319–1322

Otun JA, Oke IA, Olarinoye NO, Adie DB, Okuofu CA (2006) Adsorption isotherms of Pb(II), Ni(II) and Cd(II) ions onto PES. J Appl Sci 6:2368–2376

Pahlavanzadeha H, Keshtkarb AR, Safdarib J, Abadi Z (2010) Biosorption of nickel(II) from aqueous solution by brown algae: equilibrium, dynamic and thermodynamic studies. J Hazard Mater 175:304–310

Panday KK, Prasad G, Singh VN (1985) Copper(II) removal from aqueous solutions by fly ash. Water Res 19:869–873

Panday KK, Prasad G, Singh VN (1986) Mixed sorbent for Cu (ii)removal from aqueous solutions. Environ Technol Lett 50:547–554

Periasany K, Namasivayam C (1995) Removal of nickel(II) from aqueous solution and nickel plating industry wastewater using an agriculture waste: peanut hulls. Waste Manage 15:63–68

Rajic N, Stojakovic D, Jovanovic M, Logar NZ, Mazaj M, Kaucic V (2010) Removal of nickel(II) ions from aqueous solutions using the natural clinoptilolite and preparation of nano-NiO on the exhausted clinoptilolite Appl. Surf Sci 257:1524–1532

Rao M, Parwate AV, Bhole AG (2002) Removal of Cr 6+ and Ni2+ from aqueous solution using bagasse and flyash. Waste Manage 22:821–830

Rios JV, Bess-Oberto L, Tiemann KJ, Gardea-Torresdey JL(1999) Investigation of metal ion binding by agriculatural by-products, Proceedings of the 1999 Conference on Hazardous Research. The Great Plains/Rocky Mountain Hazardous Substance Research Centre, St. Louis, Missouri

Shaidan NH, Eldemerdash U, Awad S (2012) Removal of Ni(II) ions from aqueous solutions using fixed-bed ion exchange column technique. J Taiwan Inst Chem Eng 43:40–45

Sharma YC, Prasad G, Rupainwar DC (1991) Treatment of Cd(II) rich effluents(kinetic modeling and mass transfer). Int J Environ Anal Chem 45:11–18

Sharma YC, Srivastava V, Upadhyay SN, Weng CH (2008) Alumina nanoparticles for the removal of Ni(II) from aqueous solutions. Ind Eng Chem Res 47:8095–8100

Sharma YC, Srivastava V, Mukherjee AK (2010) Synthesis and application of nano-Al2O3 powder for the reclamation of hexavalent chromium from aqueous solutions. J Chem Eng Data 552:390–2398

Shukla SS, Yu LJ, Dorris KL, Shukla A (2005) Removal of nickel from aqueous solutions by sawdust. J Hazard Mater 121:243–246

Srivastava SK, Gupta VK, Mohan D (1997) Removal of lead and chromium by activated slag—a blast-furnace waste. J Environ Eng 123(5):461–468

Stumm W (1989) Aquatic surface chemistry. Wiley, New York, NY

Totlani K, Mehta R, Mandavgane SA (2012) Comparative study of adsorption of Ni (II) on RHA and carbon embedded silica obtained from RHA. Chem Eng J 181–182:376–386

Weber WJ, Morris JC (1963) The mathematics of diffusion. J Sanit Eng Div Proc Anal Soc Civil Eng 89:31–3731

Xu H, Liu Y, Hwa Tay J (2006) Effect of pH on nickel biosorption by aerobic granular sludge. Bioresour Technol 97:359–363
Additional information
Responsible editor: Vinod Kumar Gupta
About this article
Cite this article
Yadav, S., Srivastava, V., Banerjee, S. et al. Studies on the removal of nickel from aqueous solutions using modified riverbed sand. Environ Sci Pollut Res 20, 558–567 (2013). https://doi.org/10.1007/s11356-012-0892-2
Received:

Accepted:

Published:

Issue Date:

DOI: https://doi.org/10.1007/s11356-012-0892-2
Keywords
Adsorption

Batch study

Isotherm

Nickel

Riverbed sand

Thermodynamics