Abstract
Purpose
Phytoremediation is the exploitation of plants and their rhizospheric microorganisms for pollutants treatment like textile dyes, which are toxic, carcinogenic and mutagenic from the effluent. The purpose of this work was to explore a naturally found plant and bacterial synergism to achieve an enhanced degradation of Remazol Black B dye (RBB).
Methods
In vitro cultures of Zinnia angustifolia were obtained by seed culture method. Enzymatic analysis of the plant roots and Exiguobacterium aestuarii strain ZaK cells was performed before and after decolorization of RBB. Metabolites of RBB formed after its degradation were analyzed using UV–Vis spectroscopy, high-performance liquid chromatography (HPLC), Fourier transform infrared (FTIR) and gas chromatography–mass spectrometry (GC-MS). Phytotoxicity studies were performed.
Results
The consortium ZE was found to be more efficient than individual plant and bacteria. Z. angustifolia roots showed significant induction in the activities of lignin peroxidase, laccase, DCIP reductase and tyrosinase during dye decolorization. E. aestuarii showed significant induction in the activities of veratryl alcohol oxidase, azo reductase and DCIP reductase. Analysis of metabolites revealed differential metabolism of RBB by plant, bacteria and consortium ZE. E. aestuarii and Z. angustifolia led to the formation of 3,6-diamino-4-hydroxynaphthalene-2-sulfonic acid, (ethylsulfonyl)benzene, and 3,4,6-trihydroxynaphthalene-2-sulfonic acid and propane-1-sulfonic acid, respectively, whereas consortium ZE produced 4-hydroxynaphthalene-2-sulfonic acid, naphthalene-2-sulfonic acid and 4-(methylsulfonyl)phenol. The phytotoxicity study revealed the nontoxic nature of the metabolites formed after dye degradation.
Conclusion
Consortium ZE was found to be more efficient and faster in the degradation of RBB when compared to degradation by Z. angustifoila and E. aestuarii individually.
Access options
Buy single article
Instant access to the full article PDF.
US$ 39.95
Tax calculation will be finalised during checkout.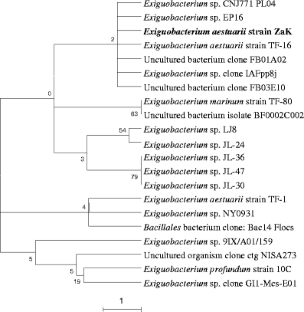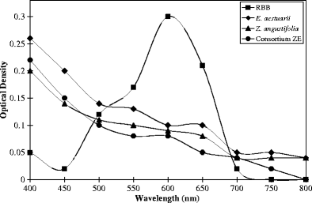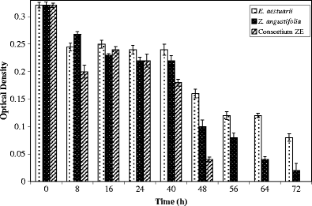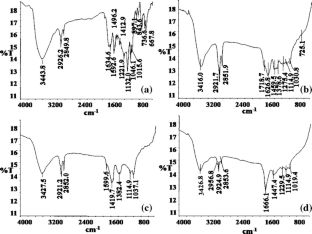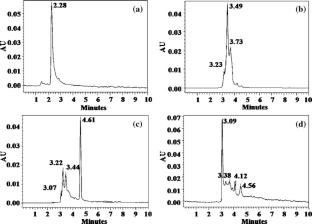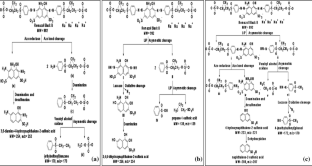 References
Aubert S, Schwitzguébel JP (2004) Screening of plant species for the phytotreatment of wastewater containing sulphonated anthraquinones. Water Res 38:3569–3575

Bourbonnais R, Paice M (1988) Veratrol oxidases from the lignin-degrading basidiomycete Pleurotus sajor-caju. Biochem J 255:445–450

Carias C, Novais J, Martins-Dias S (2007) Phragmites australis peroxidase's role in the degradation of an azo dye. Water Sci Technol 56:263–269

Chaudhry Q, Zandstra MB, Gupta S, Joner EJ (2005) Utilizing the synergy between plants and rhizosphere organisms to enhance breakdown of organic pollutants in the environment. Environ Sci Pollut Res 12:34–48

Chivukula M, Renganathan V (1995) Phenolic azo dye oxidation by laccase from Pyricularia oryza. Appl Environ Microbiol 61:4374–4377

Dhanve RS, Shedbalkar UU, Jadhav JP (2008) Biodegradation of diazo reactive dye Navy Blue HE2R (Reactive Blue 172) by an isolated Exiguobacterium sp. RD3. Biotechnol Bioprocess Eng 13:53–60

Doran PM (2009) Application of plant tissue cultures in phytoremediation research: incentives and limitations. Biotechnol Bioeng 103:60–76

Escalante-Espinosa E, Gallegos-Martínez ME, Favela-Torres E, Gutiérrez-Rojas M (2005) Improvement of the hydrocarbon phytoremediation rate by Cyperus laxus Lam. inoculated with a microbial consortium in a model system. Chemosphere 59:405–413

Ghosh M, Singh SP (2005) A review on phytoremediation of heavy metals and utilization of its byproducts. Appl Ecol Environ Res 3:1–18

Glick BR (2010) Using soil bacteria to facilitate phytoremediation. Biotechnol Adv 28:367–374

Govindwar SP, Kagalkar AN (2010) Phytoremediation technologies for the removal of textile dyes: An overview and future prospects. Nova Science Publishers, New York, USA

Hatvani N, Mecs I (2001) Production of laccase and manganese peroxidase by Lentinus edodes on malt containing byproduct of the brewing process. Process Biochem 37:491–496

Jadhav UU, Dawkar VV, Tamboli DP, Govindwar SP (2009) Purification and characterization of veratryl alcohol oxidase from Comamonas sp. UVS and its role in decolorization of textile dyes. Biotechnol Bioprocess Eng 14:3369–3376

Kabra AN, Khandare RV, Kurade MB, Govindwar SP (2011a) Phytoremediation of a sulphonated azo dye Green HE4B by Glandularia pulchella (Sweet) Tronc. (Moss Verbena). Environ Sci Pollut Res 18:1360–1373

Kabra AN, Khandare RV, Waghmode TR, Govindwar SP (2011b) Differential fate of metabolism of a sulfonated azo dye Remazol Orange 3R by plants Aster amellus Linn., Glandularia pulchella (Sweet) Tronc. and their consortium. J Hazard Mater 190:424–431

Kagalkar AN, Jagtap UB, Jadhav JP, Bapat VA, Govindwar SP (2009) Biotechnological strategies for phytoremediation of the sulphonated azo dye Direct Red 5B using Blumea malcolmii Hook. Bioresour Technol 100:4104–4110

Kagalkar AN, Jagtap UB, Jadhav JP, Govindwar SP, Bapat VA (2010) Studies on phytoremediation potentiality of Typhonium flagelliforme for the degradation of Brilliant Blue R. Planta 232:271–285

Kalme SD, Parshetti GK, Jadhav SU, Govindwar SP (2007) Biodegradation of benzidine-based dyes Direct Blue 6 by Pseudomonas desmolyticum NCIM 2112. Bioresour Technol 98:1405–1410

Khandare RV, Kabra AN, Tamboli DP, Govindwar SP (2011a) The role of Aster amellus Linn. in the degradation of a sulfonated azo dye Remazol Red: a phytoremediation strategy. Chemosphere 82:1147–1154

Khandare RV, Kabra AN, Kurade MB, Govindwar SP (2011b) Phytoremediation potential of Portulaca grandiflora Hook. (Moss-Rose) in degrading a sulfonated diazo reactive dye Navy Blue HE2R (Reactive Blue 172). Bioresour Technol 102:6774–6777

Lowry OH, Rosebrough NJ, Farr AL, Randall RL (1951) Protein measurement with the Folin phenol reagent. J Biol Chem 193:265–275

Murashige T, Skoog F (1962) A revised medium for rapid growth and bioassays with tobacco tissue culture. Physiol Plant 15:473–497

Nilratnisakorn S, Thiravetyan P, Nakbanpote W (2007) Synthetic reactive dye wastewater treatment by narrow-leaved cattails (Typha angustifolia Linn.): effects of dye, salinity and metals. Sci Total Environ 384:67–76

Nwoko CO (2010) Trends in phytoremediation of toxic elemental and organic pollutants. Afr J Biotechnol 9:6010–6016

Patil P, Desai N, Govindwar S, Jadhav JP, Bapat V (2009) Degradation analysis of Reactive Red 198 by hairy roots of Tagetes patula L. (Marigold). Planta 230:725–735

Pilon-Smits E (2005) Phytoremediation. Annu Rev Plant Biol 56:15–39

Prasad MNV, Freitas H, Fraenzle S, Wuenschmann S, Markert B (2010) Knowledge explosion in phytotechnologies for environmental solutions. Environ Pollut 158:18–23

Russ R, Rau J, Stolz A (2000) The function of cytoplasm flavin reductases in the reduction of azo dye by bacteria. Appl Environ Microbiol 66:1429–1434

Salokhe MD, Govindwar SP (1999) Effect of carbon source on the biotransformation enzymes in Serratia marcescens. World J Microbiol Biotechnol 15:229–232

Saratale R, Saratale G, Chang J, Govindwar S (2011) Bacterial decolorization and degradation of azo dyes: A review. J Taiwan Inst Chem Eng 42:138–157

Schröder P, Harvey PJ, Schwitzguébel J (2002) Prospects for the phytoremediation of organic pollutants in Europe. Environ Sci Pollut Res 9:1–3

Shaffiqu TS, Roy JJ, Nair RA, Abraham TE (2002) Degradation of textile dyes mediated by plant peroxidases. Appl Biochem Biotechnol 102–103:315–326

Sureshvarr K, Bharathiraja B, Jayakumar M, Jayamuthunagai J, Balaji L (2010) Removal of azo dye compounds from paper industries wastes using phytoremediation methodology. Int J Chem Sci 8:687–700

Tesar M, Reichenauer TG, Sessitsch A (2002) Bacterial rhizosphere populations of black poplar and herbal plants to be used for phytoremediation of diesel fuel. Soil Biol Biochem 34:1883–1892

Zhang X, Flurkey W (1997) Phenol oxidase in Portabella mushrooms. J Food Sci 62:97–100

Zheng Z, Shetty K (2000) Azo dye-mediated regulation of total phenolics and peroxidase activity in Thyme (Thymus vulgaris L.) and Rosemary (Rosmarinus officinalis L.) clonal lines. J Agric Food Chem 48:932–937
Additional information
Responsible editor: Philippe Garrigues
About this article
Cite this article
Khandare, R.V., Rane, N.R., Waghmode, T.R. et al. Bacterial assisted phytoremediation for enhanced degradation of highly sulfonated diazo reactive dye. Environ Sci Pollut Res 19, 1709–1718 (2012). https://doi.org/10.1007/s11356-011-0679-x
Received:

Accepted:

Published:

Issue Date:
Keywords
Phytoremediation

Zinnia angustifolia Kunth.
Exiguobacterium aestuarii strain ZaK

Consortium ZE

Remazol Black B

Decolorization