Abstract
Purpose
The large global production of plastics and their presence everywhere in the society and the environment create a need for assessing chemical hazards and risks associated with plastic products. The aims of this study were to determine and compare the toxicity of leachates from plastic products made of five plastics types and to identify the class of compounds that is causing the toxicity.
Methods
Selected plastic types were those with the largest global annual production, that is, polypropylene, polyethylene, and polyvinyl chloride (PVC), or those composed of hazardous monomers (e.g., PVC, acrylonitrile–butadiene–styrene [ABS], and epoxy). Altogether 26 plastic products were leached in deionized water (3 days at 50°C), and the water phases were tested for acute toxicity to Daphnia magna. Initial Toxicity Identification Evaluations (C18 filtration and EDTA addition) were performed on six leachates.
Results
For eleven leachates (42%) 48-h EC50s (i.e the concentration that causes effect in 50 percent of the test organisms) were below the highest test concentration, 250 g plastic/L. All leachates from plasticized PVC (5/5) and epoxy (5/5) products were toxic (48-h EC50s ranging from 2 to 235 g plastic/L). None of the leachates from polypropylene (5/5), ABS (5/5), and rigid PVC (1/1) products showed toxicity, but one of the five tested HDPE leachates was toxic (48-h EC50 17–24 g plastic/L). Toxicity Identification Evaluations indicated that mainly hydrophobic organics were causing the toxicity and that metals were the main cause for one leachate (metal release was also confirmed by chemical analysis).
Conclusions
Toxic chemicals leached even during the short-term leaching in water, mainly from plasticized PVC and epoxy products.
This is a preview of subscription content, log in to check access.
Access options
Buy single article
Instant access to the full article PDF.
US$ 39.95
Price includes VAT for USA
Subscribe to journal
Immediate online access to all issues from 2019. Subscription will auto renew annually.
US$ 99
This is the net price. Taxes to be calculated in checkout.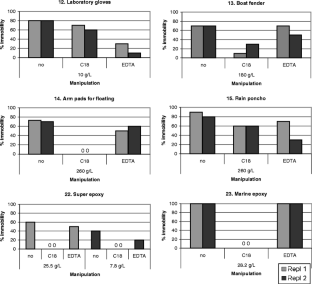 References
Barnes KA, Galgani F, Thompson RC, Barlaz M (2009) Accumulation and fragmentation of plastic debris in global environments. Phil Trans R Soc B 364:1985–1998. doi:10.1098/rstb.2008.0205

Brede C, Fjeldal P, Skjevrak I, Herikstad H (2003) Increased migration levels of bisphenol A from polycarbonate baby bottles after dishwashing, boiling and brushing. Food Addit and Contam 20:684–689. doi:10.1080/0265203031000119061

Brydson JA (1999) Plastic materials, 7th edn. Butterworth-Heinemann, Oxford

Chanda M, Roy SK (2008) Industrial polymers, specialty polymers and their applications. Plastics Engineering Series. CRC Press, Taylor & Francis Group, Boca Raton

Crompton TR (2007) Additive migration from plastics into foods. A guide for the analytical chemist. iSmithers Rapra Publishing, Shrewsbury

European Commission (2003) EU Risk Assessment Report. 1,2-Benzenedicarboxylic acid, di-C8-10 branched alkyl esters, C9-rich and di-"isononyl" phthalate (DINP). 2nd Priority List, vol 25, EUR 20784 EN. Office for Official publications of the European Communities, Luxemburg

Fernandes AR, Rose M, Charlton C (2008) 4-Nonylphenol (NP) in food-contact materials: analytical methodology and occurrence. Food Addit Contam 25:364–372. doi:10.1080/02652030701564548

Fink JK (2005) Reactive polymers fundamentals and applications: a concise guide to industrial polymers. PDL handbook series. William Andrew Inc., New York

Garrison (2007) Oceanography: and invitation to marine science, 7th edn. Thomsons books/Cole, Belmont

Geens T, Apelbaum TZ, Goeyens L, Neels H, Covaci A (2010) Intake of bisphenol A from canned beverages and foods on the Belgian market. Food Addit Contam: Part A 27:1627–1637. doi:10.1080/19440049.2010.508183

Gnanou Y, Fontanille M (2008) Organic and physical chemistry of polymers. John Wiley & Sons, Inc., Hoboken

Godwin AD, Krauskopf LG (2008) Monomeric plasticizers. In: Grossman RF (ed) Handbook of vinyl formulating. John Wiley & Sons Inc., Hoboken, pp 173–238

Henneuse-Boxus C, Pacary T (2003) Emissions from plastics. Rapra Review Reports, Report 161, no 5, vol 14. Rapra Technology, Rapra Technology Limited, Shrewsbury

Ingre-Khans E, Rudén C, Breitholtz M (2010) Chemical risks and consumer products: the toxicity of shoe soles. Ecotoxicol Environ Saf 73:1633–1640. doi:10.1016/j.ecoenv.2010.06.016

ISO (1996) Water quality—determination of the inhibition of the mobility of Daphnia magna straus (Cladocera, Crustacea)—acute toxicity test. ISO 6341:1996

Jennings TC, Starnes WH Jr (2005) PVC Stabilizers and lubricants. In: Wilkes CE, Summers JW, Daniels CA (eds) PVC handbook. Hanser Verlag, München, pp 95–172

Kim Y-J, Osako M, S-i S (2006) Leaching characteristics of polybrominated diphenyl ethers (PBDEs) from flame-retardant plastics. Chemosphere 65:506–513. doi:10.1016/j.chemosphere.2006.01.019

Lithner D, Damberg J, Dave G, Larsson Å (2009) Leachates from plastic consumer products—screening for toxicity with Daphnia magna. Chemosphere 74:1195–1200. doi:10.1016/j.chemosphere.2008.11.022

Lithner D, Larsson Å, Dave G (2011) Environmental and health hazard ranking and assessment of plastic polymers based on chemical composition. Sci Total Environ 409:3309–33024. doi:10.1016/j.scitotenv.2011.04.038

Murphy J (2001) Additives for plastics handbook. Elsevier Science Ltd., Oxford

Mutsuga M, Kawamura Y, Sugita-Konishi Y, Hara-Kudo Y, Takatori K, Tanamoto K (2006) Migration of formaldehyde and acetaldehyde into mineral water in polyethylene terephthalate (PET) bottles. Food Addit Contam 23:212–218. doi:10.1080/02652030500398361

Navarro R, Pérez Perrino M, Gómez Tardajos M, Reinecke H (2010) Phthalate plasticizers covalently bound to PVC: plasticization with suppressed migration. Macromol 43:2377–2381. doi:10.1021/ma902740t

OECD (2004) Emission Scenario Document on Plastic Additives. Series on Emission Scenario Documents, No. 3. OECD Environmental Health and Safety Publications. Environment Directorate, Paris

OECD (2005) SIDS Initial Assessment Profile on zinc metal, zinc oxide, zinc distearate, zinc chloride, zinc sulphate, trizinc bis (orthophosphate). SIDS Initial Assessment Meeting, 21, 18/10/2005 http://webnet.oecd.org/HPV/UI/handler.axd?id=9a66eb20-4489-4c7e-9711-8302cde5565b Accessed 8 March 2011.

Patrick S (2005) Practical guide to polyvinyl chloride. Rapra Technology Limited, Shrewsbury

Peltier WH, Weber CI (1985) Methods for measuring the acute toxicity of effluents to freshwater and marine organisms. US EPA, Cincinnati

PlasticsEurope MRG (Market Research Group) (2008) Business Data and Carts (2007) Status September 2008. Plastics Europe Association of Plastics Manufacturers, Brussels

PlasticsEurope (2009) Compelling facts about plastics. An analysis of European plastics production, demand and recovery for 2008. Plastics Europe, Brussels. PlasticsEurope http://www.plasticseurope.org/Documents/Document/20100225141556-Brochure_UK_FactsFigures_2009_22sept_6_Final-20090930-001-EN-v1.pdf Accessed 1 March 2011

Platt D (2003) Engineering and High Performance Plastics: a Rapra Market Report. Rapra Technology Limited, Shrewsbury

Sajiki J, Miyamotoa F, Fukatabc H, Mori C, Yonekubode J, Hayakawae K (2007) Bisphenol A (BPA) and its source in foods in Japanese markets. Food Addit Contam: Part A 24:103–112. doi:10.1080/02652030600936383

Sheftel VO (2000) Indirect food additives and polymers. Migration and toxicology. Lewis Publishers, CRC Press LLL, Boca Raton

Tønning K, Jacobsen E, Pedersen E, Nilsson NH (2010) Phthalates in products that children are in direct contact with Danish Technological Institute. Survey of chemical substances in consumer products, No. 109210. Danish Ministry of the Environment and EPA. http://www.mst.dk/Publikationer/Publications/2010/12/978-87-92708-75-5.htm Accessed 24 February 2011

US EPA (1991) Methods for aquatic toxicity identification evaluations. Phase I Toxicity Characterization Procedures. EPA/600/6-91/003. US Environmental Protection Agency, Office of Research and Development, Washington DC

Vasile C, Pascu M (2005) Practical guide to polyethylene. Rapra Technology Limited, Shrewsbury

Wagner M, Oehlmann J (2009) Endocrine disruptors in bottled mineral water: total estrogenic burden and migration from plastic bottles. Environ Sci Pollut Res 16:278–286. doi:10.1007/s11356-009-0107-7

Wik A, Nilsson E, Källqvist T, Tobiesen A, Dave G (2009) Toxicity assessment of sequential leachates of tire powder using a battery of toxicity tests and toxicity identification evaluations. Chemosphere 77:922–927. doi:10.1016/j.chemosphere.2009.08.034

Wypych G (1999) Weathering of plastics: testing to mirror real life performance. Plastics Design Library, a division of William Andrew Inc., Norwich
Acknowledgement
The authors would like to thank Wilhelm och Martina Lundgrens Vetenskapsfond (a scientific foundation) for financial support and Prof. Åke Larsson for his comments on the manuscript.
Additional information
Responsible editor: Henner Hollert
Electronic supplementary material
Below is the link to the electronic supplementary material.
Known and typical chemical composition of the tested products and plastic types (PDF 209 kb)
About this article
Cite this article
Lithner, D., Nordensvan, I. & Dave, G. Comparative acute toxicity of leachates from plastic products made of polypropylene, polyethylene, PVC, acrylonitrile–butadiene–styrene, and epoxy to Daphnia magna . Environ Sci Pollut Res 19, 1763–1772 (2012). https://doi.org/10.1007/s11356-011-0663-5
Received:

Accepted:

Published:

Issue Date:
Keywords
Plastics

Plastic products

Leachates

Toxicity

Daphnia magna

PVC

Epoxy