Abstract
Introduction
Kinetic, thermodynamic, and equilibrium isotherms of the biosorption of uranium ions onto Padina sp., a brown algae biomass, in a batch system have been studied.
Discussion
The kinetic data were found to follow the pseudo-second-order model. Intraparticle diffusion is not the sole rate-controlling factor. The equilibrium experimental results were analyzed in terms of Langmuir isotherm depending with temperature. Equilibrium data fitted very well to the Langmuir model. The maximum uptakes estimated by using the Langmuir model were 434.8, 416.7, 400.0, and 370.4 mg/g at 10°C, 20°C, 30°C, and 40°C, respectively. Gibbs free energy was spontaneous for all interactions, and the adsorption process exhibited exothermic enthalpy values. Padina sp. algae were shown to be a favorable biosorbent for uranium removal from aqueous solutions.
This is a preview of subscription content,
to check access.
Access this article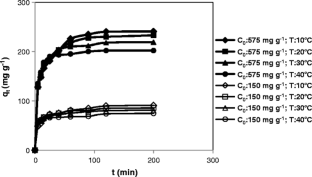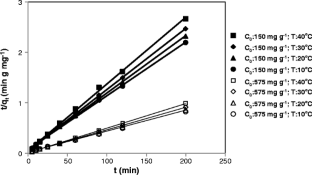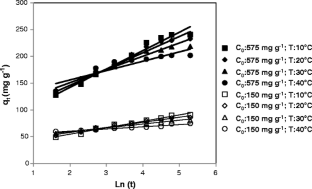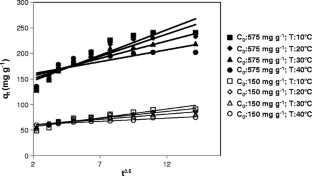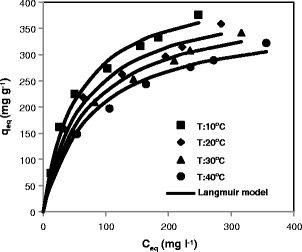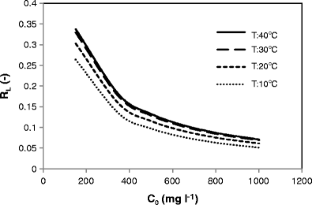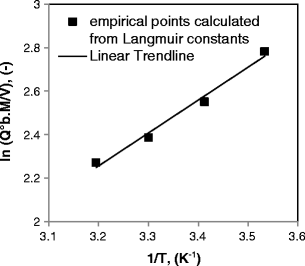 Abbreviations
b :

The Langmuir adsorption constant (liters per milligram)

C :

Intraparticle diffusion rate model constant (milligrams per gram)

C ad,eq :

Adsorbed dye concentration at equilibrium (milligrams per liter)

C eq :

Residual metal ion concentration per volume of the solution at equilibrium (milligrams per liter)

C o :

Initial metal ion concentration (milligrams per liter)

C t :

Metal concentration after time t (milligrams per liter)

d :

The mean particle diameter (m)

D id :

The diffusion coefficient in the solid (square meters per minute)

k 1,ad :

First-order rate constant (per minute)

k 2,ad :

Second-order rate constant (grams per milligram per minute)

K id :

Intraparticular diffusion rate (milligrams per gram per half minute)

K′c :

Apparent equilibrium constant of the biosorption system

K°c :

Standard thermodynamic equilibrium constant of the adsorption system

q eq :

Adsorbed metal ion quantity per gram of alga at equilibrium (milligrams per gram)

q eq,exp :

Observed U uptake at equilibrium (milligrams per gram)

q t :

Adsorbed metal ion quantity per gram of alga at any time (milligrams per gram)

Q 0 :

The Langmuir adsorption constant (milligrams per gram)

Q eq :

Adsorbed metal ion quantity per gram of alga at equilibrium (milligrams per gram)

M :

Amount of the biosorbent (grams)

R :

Gas constant (=8.314 J mol−1 K−1)

R 2 :

Correlation coefficient

R L :

A dimensionless separation factor (−)

t :

Time (minutes)

T :

Solution temperature (degree Celsius)

v :

Volume of the solution (liters)

w :

Algae concentration (grams per liter)

α E :

The initial adsorption rate in Elovich kinetic model (milligrams per gram per minute)

β E :

Elovich kinetic model constant (grams per milligram)

ΔG°:

The Gibbs free energy of biosorption (kilojoules per mole)

ΔH°:

Enthalpy change of biosorption (kilojoules per mole)

ΔS°:

Entropy change of biosorption (joules per mole per kelvin)
References
Adesola Babarinde NA, Oyesiku OO, Dairo OF (2007) Isotherm and thermodynamic studies of the biosorption of copper (II) ions by Erythrodontium barteri. Int J Phys Sci 2:300–304

Aksu Z, Isoglu IA (2006) Use of agricultural waste sugar beet pulp for the removal of Gemazol turquoise blue-G reactive dye from aqueous solution. J Hazard Mater 137:418–430

Ali I, Gupta VK (2006) Advances in water treatment by adsorption technology. Nat Protoc 1:2661–2667

Anayurt RA, Sari A, Tuzen M (2009) Equilibrium, thermodynamic and kinetic studies on biosorption of Pb (II) and Cd (II) from aqueous solution by macrofungus (Lactarius scrobiculatus) biomass. Chem Eng J 151:255–261

Bayramoglu G, Celik G, Yakup Arica M (2006) Studies on accumulation of uranium by fungus Lentinus sajor-caju. J Hazard Mater B136:345–353

Chien SH, Clayton WR (1980) Application of Elovich equation to the kinetics of phosphate release and sorption on soils. Soil Sci Soc Am J 44:265–268

Chu K, Hashim M (2003) Modeling batch equilibrium and kinetics of copper removal by crab shell. Sep Sci Technol 38:3927–3950

De Franca FP, Tavares APM, Da Costa ACA (2002) Calcium interference with continuous biosorption of zinc by Sargassum sp., (Phaeophyta) in tubular laboratory reactors. Bioresour Technol 83:159–163

Genc O, Yalcınkaya Y, Buyuktuncel E, Denizli A, Arıca MY, Bektas S (2003) Uranium recovery by immobilized and dried powdered biomass: characterization and comparison. Int J Miner Process 68:93–107

Günay A, Arslankaya E, Tosun I (2007) Lead removal from aqueous solution by natural and pretreated clinoptilolite: adsorption equilibrium and kinetics. J Hazard Mater 146:362–371

Gupta VK, Rastogi A (2008a) Biosorption of lead from aqueous solutions by nonliving algal biomass Oedogonium sp. and Nostoc sp.—a comparative study. Colloids and Surfaces B 64:170–178

Gupta VK, Rastogi A (2008b) Sorption and desorption studies of chromium (VI) from nonviable cyanobacterium Nostoc muscorum biomass. J Hazard Mater 154:347–354

Gupta VK, Rastogi A (2008c) Equilibrium and kinetic modeling of cadmium (II) biosorption by nonliving algal biomass Oedogonium sp. from aqueous phase. J Hazard Mater 153:759–766

Gupta VK, Rastogi A (2008d) Biosorption of lead from aqueous solutions by green algae Spirogyra species: equilibrium and adsorption kinetics. J Hazard Mater 152:407–414

Gupta VK, Rastogi A (2009) Biosorption of hexavalent chromium by raw and acid-treated green alga Oedogonium hatei from aqueous solutions. J Hazard Mater 163:396–402

Gupta VK, Sharma S (2002) Removal of cadmium and zinc from aqueous solutions using red mud. Environ Sci Technol 36:3612–3617

Gupta VK, Srivastava AK, Jain N (2001) Biosorption of chromium (VI) from aqueous solutions by green algae Spirogyra species. Water Res 35:4079–4085

Gupta VK, Carrott PJM, Ribeiro Carrott MML, Suhas (2009) Low cost adsorbents: growing approach to wastewater treatment—a review. Crit Rev Environ Sci Tech 39:783–784

Gupta VK, Rastogi A, Nayak A (2010) Adsorption studies on the removal of hexavalent chromium from aqueous solution using a low cost fertilizer industry waste material. J Colloid Interface Sci 342:135–141

Ho YS (1995) Adsorption of heavy metals from waste streams by peat. Ph.D. thesis, Faculty of Engineering, University of Birmingham, UK

Ho YS, McKay G (1998) Sorption of dye from aqueous solution by peat. Chem Eng J 70:115–124

Ho YS, McKay G (1999) Pseudo-second order model for sorption processes. Process Biochem 34:451–465

Ho YS, McKay G (2000) The kinetics of sorption of divalent metal ions onto sphagnum moss peat. Water Res 34:735–742

Ho YS, Ofomaja AE (2006) Biosorption thermodynamics of cadmium on coconut copra meal as biosorbent. Biochem Eng J 30:117–123

Jaikumar V, Ramamurthi V (2009) Effect of biosorption parameters kinetics isotherm and thermodynamics for acid green dye biosorption from aqueous solution by brewery waste. Int J Chem 1:2–12

Kalin M, Wheeler WN, Meinrath G (2005) The removal of uranium from mining wastewater using algal/microbial biomass. J Environ Radioactiv 78:151

Khani MH (2011) Statistical analysis and isotherm study of uranium biosorption by Padina sp. algae biomass. Environ Sci Pollut Res Int 18:790

Khani MH, Keshtkar AR, Meysami B, Zarea MF, Jalali R (2006) Biosorption of uranium from aqueous solutions by nonliving biomass of marinealgae Cystoseira indica. Electron J Biotechnol 9:100–106

Khani MH, Keshtkar AR, Ghannadi M, Pahlavanzadeh H (2008) Equilibrium, kinetic and thermodynamic study of the biosorption of uranium onto Cystoseria indica algae. J Hazard Mater B136:612–618

Lagergren S (1989) Kungliga Svenska Vetenskapsakademiens. Handlinger 24:1–39

Li P, Mao Z, Rao X, Wang X, Min M, Qiu L, Liu Z (2004) Biosorption of uranium by lake-harvested biomass from a cyanobacterium bloom. Biores Technol 94:193–195

Lodeiro P, Cordero B, Grille Z, Herrero R, Sastre de Vicente ME (2004) Physicochemical studies of cadmium(II) biosorption by the invasive alga in Europe, Sargassum muticum. Biotechnol Bioeng 88:237–247

McCoy MA, Liapis AI (1991) Evaluation of kinetic models for biospecific adsorption and its implications for finite bath and column performance. J Chromatogr A 548:25–60

Mohan SV, Rao NC, Karthikeyan J (2002) Adsorptive removal of direct azo dye from aqueous phase onto coal based sorbents: a kinetic and mechanistic study. J Hazard Mater 90:189–204

O'Shannessy DJ, Winzor DJ (1996) Interpretation of deviations from pseudo-first-order kinetic-behavior in the characterization of ligand binding by biosensor technology. Anal Biochem 236:275–283

Pahlavanzadeh H, Keshtkar AR, Safdari J, Abadi Z (2010) Biosorption of nickel(II) from aqueous solution by brown algae: equilibrium, dynamic and thermodynamic studies. J Hazard Mater 175:304–310

Parab H, Joshi S, Shenoy N, Verma R, Lali A, Sudersanan M (2005) Uranium removal from aqueous solution by coir pith: equilibrium and kinetic studies. Biores Technol 96:1241

Psareva TS, Zakutevskyy OI, Chubar NI, Strelko VV, Shaposhnikova TO, Carvalho JR, Correia MJN (2005) Uranium sorption on cork biomass. Colloid Surface Physicochem Eng Aspect 252:231–236

Roig MG, Manzano T, Diaz M (1997) Biochemical process for the removal of uranium from acid mine drainages. Water Res 31:2073–2088

Saiers JE, Hornberger GM, Liang L (1994) First- and second-order kinetics approaches for modeling the transport of colloidal particles in porous media. Water Resour Res 30:2499–2506

Sar P, D'Souza SF (2001) Biosorptive uranium uptake by a Pseudomonas strain: characterization and equilibrium studies. J Chem Technol Biotechnol 76:1286

Sar P, Kazy SK, D'Souza SF (2004) Radionuclide remediation using a bacterial biosorbent. Int Biodeterior Biodegradation 54:193–202

Sari A, Tuzen M (2008a) Biosorption of cadmium (II) from aqueous solution by red algae (Ceramium virgatum): equilibrium, kinetic and thermodynamic studies. J Hazard Mater 157:448–454

Sari A, Tuzen M (2008b) Biosorption of Pb (II) and Cd (II) from aqueous solution using green alga (Ulva lactuca) biomass. J Hazard Mater 152:302–308

Sari A, Tuzen M (2009) Kinetic and equilibrium studies of biosorption of Pb (II) and Cd (II) from aqueous solution by macrofungus (Amanita rubescens) biomass. J Hazard Mater 164:1004–1011

Sari A, Tuzen M, Uluözlü ÖD, Soylak M (2007) Biosorption of Pb (II) and Ni (II) from aqueous solution by lichen (Cladonia furcata) biomass. Biochem Eng J 37:151–158

Selatnia A, Bakhti MZ, Madani A, Kertous L, Mansouri Y (2004) Biosorption of Cd2+ from aqueous solution by a NaOH-treated bacterial dead Streptomyces rimosus biomass. Hydrometallurgy 75:11–24

Sutherland C, Venkobachar C (2010) A diffusion–chemisorption kinetic model for simulating biosorption using forest macro-fungus, Fomes fasciatus. Int Res J Plant Sci 1:107–117

Todorov P, Nikolova E (2006) Contamination with uranium from natural and anthropological sources. Rom J Phys 51:27–34

Urano K, Tachikawa H (1991) Process development for removal and recovery of phosphorus from wastewater by new adsorbent: 2. Adsorption rates and breakthrough curves. Ind Eng Chem Res 30:1897–1899

Volesky B, Tsezos M (1981) Separation of uranium by biosorption. US patent 4320093

Weber WJ, Morris CJ (1962) Advances in water pollution research: removal of biologically resistant pollutants from waste water by adsorption. Paper presented at proceedings of international conference on water pollution symposium, vol 2. Pergamon, Oxford, pp 231–266

Winde F, Wade P, van der Walt IJ (2004) Gold tailings as a source of waterborne uranium contamination of streams—the Koekemoerspruit# (Klerksdorp goldfield, South Africa) as a case study part I of III: uranium migration along the aqueous pathway. Water SA 30:219–225

Won SW, Kim HJ, Choi SH, Chung BW, Kim KJ, Yun YS (2006) Performance, kinetics and equilibrium in biosorption of anionic dye Reactive Black 5 by the waste biomass of Corynebacterium glutamicum as a low-cost biosorbent. Chem Eng J 121:37–43

Yang J, Volesky B (1999) Biosorption of uranium on Sargassum biomass. Water Res 33:3357–3363

Yao ZY, Qi JH, Wang LH (2010) Equilibrium, kinetic and thermodynamic studies on the biosorption of Cu(II) onto chestnut shell. J Hazard Mater 174:137–143

Zaror CA (1997) Enhanced oxidation of toxic effluents using simultaneous ozonation and activated carbon treatment. J Chem Technol Biotechnol 70:21–28
Additional information
Responsible editor: Elena Maestri
About this article
Cite this article
Khani, M.H. Uranium biosorption by Padina sp. algae biomass: kinetics and thermodynamics. Environ Sci Pollut Res 18, 1593–1605 (2011). https://doi.org/10.1007/s11356-011-0518-0
Received:

Accepted:

Published:

Issue Date:

DOI: https://doi.org/10.1007/s11356-011-0518-0
Keywords