Abstract
Objective
The purpose of the study was to investigate natural radionuclide uptake and allocation by trees.
Materials and methods
Samples from six Scots pines (P. sylvestris), six Norway spruces (Picea abies) and one sycamore maple (Acer pseudoplatanus) tree, growing on the Boršt uranium mill tailings waste pile in Slovenia were collected. 238U, 230Th, 226Ra and 210Pb activity concentrations in wood, shoots and 1-year-old needles or leaves were determined. Particular radionuclides were separated from the samples by appropriate radiochemical procedures and their activity concentrations measured with an alpha spectrometry system. In addition, concentration ratios for different plant parts were calculated.
Results and conclusions
Results showed that for all radionuclides, the highest activity concentrations were found in foliage, followed by shoots and wood. The activity concentrations in trees were from 0.01 to 5.4 Bq kg−1 for 238U, 0.03–11.3 Bq kg−1 for 230Th, 2.7–2,728 Bq kg−1 for 226Ra and 5.1–321 Bq kg−1 for 210Pb. All activity concentrations were calculated on dry weight basis. The calculated concentration ratios were from 1.05E-5 to 5.39E-3 for 238U, 7.65E-6–2.88E-3 for 230Th, 3.10E-4–3.16E-1 for 226Ra and 6.70E-4–4.22E-2 for 210Pb.
This is a preview of subscription content, log in to check access.
Access options
Buy single article
Instant access to the full article PDF.
US$ 39.95
Price includes VAT for USA
Subscribe to journal
Immediate online access to all issues from 2019. Subscription will auto renew annually.
US$ 99
This is the net price. Taxes to be calculated in checkout.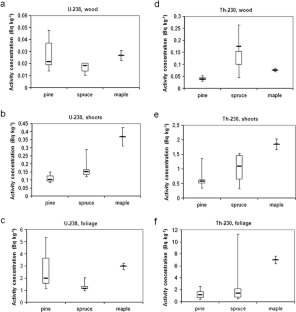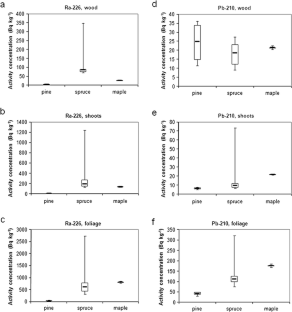 References
Flynn WW (1968) The determination of low levels of polonium-210 in environmental materials. Anal Chim Acta 43:221–227

Haas G, Schupfner R, Müller A (1995) Uptake and long term behaviour of naturally occurring radionuclides in tree rings of spruce. J Radioanal Nucl Chem 194:283–289

Hinton TG, Knox AS, Kaplan DI, Sharitz R (2005) Phytoextraction of uranium and thorium by native trees in a contaminated wetland. J Radioanal Nucl Chem 264:417–422

Horwitz EP, Dietz ML, Chiarizia R, Diamond H, Essling AM, Graczyk D (1992) Separation and preconcentration of uranium from acidic media by extraction chromatography. Anal Chim Acta 266:25–37

Horwitz EP, Chiarizia R, Dietz ML, Diamond H, Nelson DM (1993) Separation and preconcentration of actinides from acidic media by extraction chromatography. Anal Chim Acta 281:361–372

ISO 11464:1994(E) (1994) Soil quality—pretreatment of samples for physico-chemical analyses. International Organization for Standarisation, Geneve

Jia G, Torri G, Innocenzi P (2004) An improved method for the determination of uranium isotopes in environmental samples by alpha-spectrometry. J Radioanal Nucl Chem 262:433–441

Križman M, Byrne AR, Benedik L (1995) Distribution of 230Th in milling wastes from the Žirovski vrh uranium mine (Slovenia), and its radioecological implications. J Environ Radioact 26:223–235

Lozano JC, Fernandez F, Gomez JMG (1997) Determination of radium isotopes by BaSO4 coprecipitation for the preparation of alpha-spectrometric sources. J Radioanal Nucl Chem 223:133–137

Madruga MJ, Brogueira A, Alberto G, Cardoso F (2001) 226Ra bioavailability to plants at the Urgeiriça uranium mill tailings site. J Environ Radioact 54:175–188

Official Gazette of the Republic of Slovenia (2004) Decree on activities involving radiation. 48/2004 (in Slovene)

Petrova R (2006) Accumulation of natural radionuclides in wooden and grass vegetation from abandoned uranium mines. Opportunities for phytoremediation. In: Merkel BJ, Hasche-Berger A (eds) Uranium in the environment, mining impact and consequences. Springer, Berlin, pp 507–518

Rodríguez PB, Tomé FV, Lozano JC, Fernández MAP (2010) Transfer of 238U, 230Th, 226Ra, and 210Pb from soils to tree and shrub species in a Mediterranean area. Appl Radiat Isot 68:1154–1159

Sill CW (1961) Decomposition of refractory silicates in ultramicro analysis. Anal Chem 33:1684–1686

Thiry Y, Schmidt P, Hees MV, Wannijn J, Bree PV, Rufyikiri G, Vandenhove H (2005) Uranium distribution and cycling in Scots pine (Pinus sylvestris L.) growing on a revegetated U-mining heap. J Environ Radioact 81:201–219
Acknowledgements
We would like to thank the staff of the Rudnik Žirovski vrh Company for their cooperation and assistance. The financial support of the Slovenian Research Agency (Grant No. P2-0075) is highly appreciated.
Additional information
Responsible editor: Elena Maestri
About this article
Cite this article
Štrok, M., Smodiš, B. & Eler, K. Natural radionuclides in trees grown on a uranium mill tailings waste pile. Environ Sci Pollut Res 18, 819–826 (2011). https://doi.org/10.1007/s11356-011-0499-z
Received:

Accepted:

Published:

Issue Date:
Keywords
Natural radionuclides

Pinus sylvestris
Picea abies
Acer pseudoplatanus

Uranium mill tailings

Alpha spectrometry