Abstract
Introduction
In this study, we explore the identity of a range of polyfluorinated surfactants (PFS) used for food contact materials, primarily to impart oil and water repellency on paper and board. PFS are of interest, as they can be precursors of poly- and perfluorinated alkyl substances (PFAS), of which several are persistent and are found worldwide in human blood and in the environment.
Materials and methods
To determine the elemental composition of PFS, we combined information from patents, chemical suppliers and analyses of industrial blends using ultra performance liquid chromatography-negative electrospray ionisation quadrupole time-of-flight mass spectrometry.
Results
At a high pH of 9.7, both non-ionic and anionic PFS were ionised and were recognised by negative mass defects of exact masses, and neutral fragment losses of n × 20 or n × 100 Da. More than 115 molecular structures were found in industrial blends from the EU, US and China, belonging to the groups of polyfluoroalkyl-mono- and di-ester phosphates (monoPAPS, diPAPS and S-diPAPS), -ethoxylates, -acrylates, -amino acids, -sulfonamide phosphates and -thio acids, together with residuals and synthesis byproducts. In addition, a number of starting materials such as perfluorooctane sulfonamide N-alkyl esters were analysed. Di- and trialkylated PAPS and S-diPAPS were found in migrates from European food contact materials.
Conclusion
This study highlights the need to monitor for more types of PFS in order to map the sources of PFAS in humans and the environment.
Access options
Buy single article
Instant access to the full article PDF.
USD 39.95
Price excludes VAT (USA)
Tax calculation will be finalised during checkout.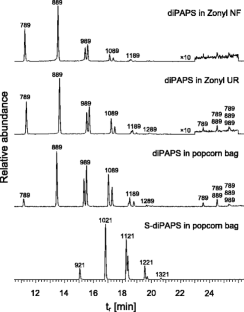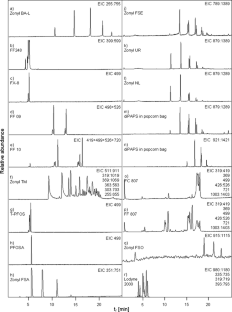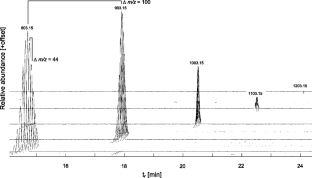 References
Ackerman LK, Noonan GO, Begley TH (2009) Assessing direct analysis in real-time-mass spectrometry (DART-MS) for the rapid identification of additives in food packaging. Food Addit Contam 26(12):1611–1618

Ahrens L, Barber JL, Xie ZX, Ebinghaus R (2009) Longitudinal and latitudinal distribution of polyfluorinated compounds in surface water of the Atlantic ocean. Environ Sci Technol 43(9):3122–3127

Begley TH, White K, Honigfort P, Twaroski ML, Neches R, Walker RA (2005) Perfluorochemicals: potential sources of and migration from food packaging. Food Addit Contam 22(10):1023–1031, 9

Begley TH, Hsu W, Noonan G, Diachenko G (2008) Migration of fluorochemical paper additives from food-contact paper into foods and food simulants. Food Addit Contam A 25(3):384–390

BfR (2009) Standard XXXVI. Paper and board for food contact. Federal Institute for Risk Assessment, Germany. Available from: http://bfr.zadi.de/kse/faces/resources/pdf/360-english.pdf;jsessionid=E5B3AC7FF5657548764CF8E20472A52D. Accessed on 23 June 2010

CEN (2002). TC194.standard: EN 1186-1 to 15:2002, Materials and articles in contact with foodstuffs–plastics, and EN 13130–1:2004: Materials and articles in contact with foodstuffs—plastics substances subject to limitation–part 1. Available from: http://www.cen.eu/. Accessed on 12 May 2010.

Ciba (BASF) (2000–2010). Available from: http://www.ciba.com/ind-pap-eff-bar-lodyne.htm. Accessed on 2 April 2010.

D'eon JC, Mabury SA (2007) Production of perfluorinated carboxylic acids (PFCAs) from the biotransformation of polyfluoroalkyl phosphate surfactants (PAPS): exploring routes of human contamination. Environ Sci Technol 41(13):4799–4805

D'eon JC, Crozier PW, Furdui VI, Reiner EJ, Libelo EL, Mabury SA (2009) Observation of commercial fluorinated material, the polyfluoroalkyl phosphoric acid diesters, in human sera, wastewater treatment plant sludge, and paper fibers. Environ Sci Technol 43(12):4589–4594

Dupont de Nemours EI (2010). DuPontTM Zonyl Fluorosurfactants (2001, (4/01) P-200125.8, No. H-49731-3. Printed in USA), and DuPontTM Zonyl Fluorochemical Intermediates (2001, (8/02) P-200125.8, No. H-49730-4, Printed in USA) and DuPont Foraperle. Available from: http://www2.dupont.com/. Accessed on 14 May 2010.

Düsseldorf Landeshauptstadt Umweltsamt (2010) Available from: http://www.duesseldorf.de/umweltamt/altlast/pft_grundwasserverunreinigung.shtml. Accessed on 24 June 2010

EU Commission (2002) Plastics Directive: 2002/72/EC Commission Directive of 6 August 2002 relating to plastic materials and articles intended to come into contact with foodstuffs. (Plastics: unofficial consolidated version including 2002/72/EC, 2004/1/EC, 2004/19/EC, 2005/79/EC, 2007/19/EC, 2008/39/EC)

EU Commission (2004) Framework Regulation: Regulation (EC) No 1935/2004 of the European Parliament and of the Council of 27 October 2004 on materials and articles intended to come into contact with food and repealing Directives 80/590/EEC and 89/109/EEC (L338/4)

EU Commission (2010) COMMISSION RECOMMENDATION of 17 March 2010 on the monitoring of perfluoroalkylated substances in food, 2010/161/EU, L 68/22–23, Official Journal of the European Union 18.3.2010

European Food Safety Authority (EFSA) (2008) Food contact materials: note for guidance for petitioners presenting an application for the safety assessment of a substance to be used in food contact materials prior to its authorisation, p. 25. http://www.efsa.europa.eu/cs/BlobServer/Scientific_Document/CEF_note_for_guidance_FCM_evaluation_2008.08.07.pdf. Accessed on 30 July 2008.

Falandysz J, Taniyasu S, Gulkowska A, Yamashita N, Schulte-Oehlmann U (2006) Is fish a major source of fluorinated surfactants and repellents in humans living on the Baltic Coast? Environ Sci Technol 40(3):748–775

Fitzpatrick F, Ramaker H-J, Schoenmakers P, Beerends R, Verheggen M, Phillipsen H (2004) Characterisation of fluorinated copolymers using liquid chromatography coupled on-line to mass spectrometry, with automated data interpretation. J Chromatogr A 1043:239–248

Forrest MJ (2007) Coatings and inks for food contact materials. Smithers Rapra Techology, report no. 186, ISSN: 0889-3144 or ISBN 1 84735 079 8

Frömel T, Knepper T (2008) Mass spectrometry as an indispensable tool for studies of biodegradation of surfactants. Trac 27(11):1091–1106

Fromme H, Schlummer M, Möller A, Gruber L, Wolz G, Ungewiss J, Böhmer S, Dekant W, Mayer R, Liebl B, Twardella D (2007) Exposure of an adult population to perfluorinated substances using duplicate diet portions and biomonitoring data. Environ Sci Technol 41(22):7928–7933

Guo J, Resnick P, Efimenko K, Genzer J, De Simonoe JM (2008) Alternative fluoropolymers to avoid the challenges associated with perfluorooctanoic acid. Ind. Eng. Chem. Res. 47:502–508

Hjorth K, Christensen JH, Trier X (2008) Migration of fluorochemicals from food contact paper into food simulants—analysed by LC-MS-MS and D-PLS. Master thesis, Dept. of Basic Sciences and Environment, Faculty of Life Science. Copenhagen University

Hölzer J, Midasch O, Rauchfuss K, Kraft M, Reupert R, Angerer J, Kleeschulte P, Marschall N, Wilhelm M (2008) Biomonitoring of perfluorinated compounds in children and adults exposed to perfluorooctanoate-contaminated drinking water. Environ Health Perspect 116:651–657

Huset CA, Chiaia AC, Barofsky DF, Jonkers N, Kohler H-PE, Ort C, Giger W, Field JA (2008) Occurrence and mass flows of fluorochmicals in the Glatt Valley watershed, Switzerland. Env Sci Technol 42:6369–6377

Iengo B, Pavazotti P (2007) Use of carboxylic perfluoropolyethers for the oleo-repellent paper sizing. European Patent EP 1 484 445 B1, published in Bulletin 2007/28. Available from: http://www.freepatentsonline.com/EP1484445.html. Accessed on 9 May 2010.

Jensen AA, Leffers H (2008) Review article. Emerging endocrine disrupters: perfluoroalkylated substances. Int J Androl 31:161–169

Joensen UN, Bossi R, Leffers H, Jensen AA, Skakkebæk NE, Jørgensen N (2009) Do perfluoroalkyl compounds impair human semen quality? Environ Health Perspect 117(6):923–927

Kissa E (2002) Fluorinated surfactants, 2nd edn. Marcel Dekker, New York

Knepper T, de Voogt P, Barceló D (2005) Analysis and fate of surfactants in the aquatic environment, Amsterdam, The Nertherlands

Lange FT, Schmidt C, Brauch H-J (2006) Perfluoroalkylcarboxylates and sulfonates. Emerging contaminants for drinking water supplies? Association of River Waterworks–RIWA. Available from: www.riwa-rijn.org/e_publikaties/137_ptfe_report.PDF. Accessed on 12 June 2010

Larsen BL, Stchur P, Szostek B, Bachmura SF, Rowand RC, Prickett KB, Korzeniowski SH, Buck RC (2006) Method development for the determination of residual fluorotelomer raw materials and perflurooctanoate in fluorotelomer-based products by gas chromatography and liquid chromatography mass spectrometry. J Chromatogr A 1110(1–2):117–124

Lau C, Anitole K, Hodes C, Lai D, Pfahles-Hutchens A, Seed J (2007) Perfluoroalkyl acids: a review of monitoring and toxicological findings. Toxicol Sci 99(2):366–394

Lee H, D'eon J, Mabury SA (2010) Biodegradation of polyfluoroalkyl phosphates as a source of perfluorinated acids to the environment. Envion Sci Technol 44(9):3305–3310

Leo W, Yeung Y, Miyake Y, Taniyusu S, Wang Y, Yu H, So MK, Jiang G, Wu Y, Li J, Giesy JP, Yamashita N, Lam PKS (2008) Perfluorinated compounds and total and extractable organic fluorine in human blood samples from China. Environ Sci Technol 42(21):8140–8145

Maras M, Vanparys C, Muylee F, Robbens J, Berger U, Barber JL, Blust R, De Coen W (2006) Estrogen-like properties of fluorotelomer alcohols as revealed by MCF-7 breast cancer cell proliferation. Environ Health Perspect 114:100–105

Martin JW, Mabury SA, O'Brien PJ (2005) Metabolic products and pathways of fluorotelomer alcohols in isolated rat hepatocytes. Chem Biol Interact 155:165–180

Mason Surfactants (2010) Available from: http://www.masonsurfactants.com—search for fluorinated surfactants. Accessed on 14 April 2010.

Piringer OG, Baner AL (2008) Plastic packaging: interactions with food and pharmaceuticals, 2nd edn. Wiley, Weinheim

prEN 15519:2007: E, European Committee for standardization (2007) Paper and board intended to come into contact with foodstruffs—preparation of an organic solvent extract. CEN, Brussels

Prevedouros K, Cousins IT, Buck RC, Korzeniowski SH (2006) Sources, fate and transport of perfluorocarboxylates. Environ Sci Technol 40:32–44

Prieto G, Sab'ın J, Ruso JM, Gonz'alez-P'erez A, Sarmiento F (2004) A study of the interaction between proteins and fully-fluorinated and fully-hydrogenated surfactants by ζ-potential measurements. Colloids Surf A Physicochem Eng Asp 249:51–55

Renner R (2007) PFOA in people. Environ Sci Technol 41(13):4497–4500

Ringman-Beck J (2010) Food contact: time for the industry to take the lead. Food Packag Bull 19(4&5):16–18

Sáez M, Voogt PD, Parsons JR (2008) Persistence of perfluoroalkylated substances in closed bottle tests with municipal sewage sludge. Environ Sci Pollut Res 15:472–477

Schröder HF, Meesters RJW (2005) Stability of fluorinated surfactants in advanced oxidation processes—a follow up of degradation products using flow injection–mass spectrometry, liquid chromatography–mass spectrometry and liquid chromatography–multiple stage mass spectrometry. J Chromatogr A 1082:110–119

Schröder HF, Knepper TP, Barceló D, Voogt Pd (eds) (2003) Analysis and fate of surfactants in the aquatic environment, 1st edn. Elsevier Science BV. Wilson & Wilsons Comprehensive Analytical Chemistry, Amsterdam

Sinclair E, Kim SK, Akinleye HB, Kannan K (2007) Quantitation of gas-phase perfluoroalkyl surfactants and fluorotelomer alcohols released from nonstick cookware and microwave popcorn bags. Environ Sci Technol 41:180–1185

Skutlarek D, Exner M, Färber H (2006) Perfluorinated surfactants in surface and drinking waters. Environ Sci Pollut Res 13(5):299–307

Solvay Solexis (2010) April 21st. Available from: http://www.solvaysolexis.com/. Accessed on 12 May 2010.

Tentschert J, Kappenstein O, Richter S, Luch A, Pfaff K (2010) Development of a screening method for perfluorinated compounds. Presented as poster at the 2nd Fluoro Surfactant workshop, 17–19 June 2010, Idstein, Germany

Tittlemier SA, Pepper K, Seymour C, Moisey J, Bronson R, Cao XL, Dabeka R (2007) Dietary exposure of Canadians to perfluorinated carboxylates and perfluorooctane sulfonate via consumption of meat, fish, fast foods, and food items prepared in their packaging. J Agric Food Chem 55(8):3203–3210

Toms LML, Calafat AM, Kato K, Thompson J, Harden F, Sjödin A, Mueller JF (2009) Polyfluoroalkyl chemicals in pooled blood serum from infants, children, and adults in Australia. Environ Sci Technol 43(11):4194–4199

Trier X, Nielsen NJ, Christensen JH (2010) Mass spectrometric detection of structural isomers of polyfluorinated di- and tri-alkylated phosphate ester surfactants in coatings for food paper and board. Submitted to ESPR, June 2010

Trudel D, Horowitz L, Wormuth M, Scheringer M, Cousins IT, Hungerbuhler K (2008) Estimating consumer exposure to PFOS and PFOA. Risk Anal 28:251–269

US EPA (2010) http://epa.gov/oppt/pfoa/pubs/stewardship/index.html. Accessed on 10 Dec 2010

US FDA (2010a) April 30th. Available from: http://www.accessdata.fda.gov/scripts/fcn/fcnNavigation.cfm?rpt=fcsListing&page=12. Accessed on 14 May 2010

US FDA (2010b) regulations 176.160 and 176.170 and effective food-contact-notifications (FCN's) website: FDA http://www.fda.gov/Food/FoodIngredientsPackaging/FoodContactSubstancesFCS/ucm116567.htm. Accessed on 26 Nov 2010

van der Putte I, Murin M, van Velthoven N, Affourtit F (2010) Analysis of the risks arising from the industrial use of perfuorooctanoic acid (PFOA) and ammonium perfluorooctanoate (APFO) and from their use in consumer articles. Evaluation of the risk reduction measures for potential restrictions on the manufacture, placing on the market and use of PFOA and APFO. European Commision DG-Enterprise, Final report of Contract 30-CE-0230115/00-70 implementing Framework Contract 30-CE-0220929/00-38

Vestergren R, Cousins IT, Trudel D, Wormuth M, Scheringer M (2008) Estimating the contribution of precursor compounds in consumer exposure to PFOS and PFOA. Chemosphere 73(10):1617–1624

Voogt Pd, Saéz M (2006) Analytical chemistry of perfluoroalkylated substances. Trends Anal Chem 25(4):326–342

Wuhan Fengfan (2010) Chem. Co. Available from: http://fengfan-chem.diytrade.com. Accessed on 6 May 2010.
Acknowledgement
Donation of industrial blends and synthesised standards by Wuhan Fengfan Chemical Co. Ltd., China, The Danish Veterinary and Food Administration and by ISPRA/The EU Commission is much appreciated. The environmental research school RECETO, Food-DTU and KU-LIFE funded the Ph.D. study, and Lundbeck and the Cowi foundations funded the UPLC system. Thanks to Karen Hjorth, M.Sc. for work on the migration/extractions of food packaging materials and to Giorgio Tomasi and Nikoline Juul Nielsen for the work on the Matlab figures using in-house routines.
Additional information
Responsible editor: Ake Bergman
Electronic supplementary materials
Detailed method information
About this article
Cite this article
Trier, X., Granby, K. & Christensen, J.H. Polyfluorinated surfactants (PFS) in paper and board coatings for food packaging. Environ Sci Pollut Res 18, 1108–1120 (2011). https://doi.org/10.1007/s11356-010-0439-3
Received:

Accepted:

Published:

Issue Date:

DOI: https://doi.org/10.1007/s11356-010-0439-3
Keywords
Fluorinated surfactants

Screening

Identification

Accurate mass spectrometry

UPLC-ESI-QTOF

Food contact materials

Migration