Abstract
Background, aim, and scope
The blue swallow (Hirundo atrocaerulea) is one of the most threatened bird species in southern Africa. Among terrestrial birds, its plumage is known to be the most water repellent, an adaptation to foraging on the wing in dense fog. Despite this unique adaptation, the nesting success of the blue swallow at the Blue Swallow Natural Heritage Site (BSNHS) is lower during years with high incidence of fog. As the phenomenon is not observed at other nesting sites, we hypothesized that this is due to changes in the air chemistry at the BSNHS. In the immediate proximity of the BSNHS, plantations of exotic trees (e.g., pines and eucalypts), rich in volatile organic compounds (VOCs), are dominant features. In addition, air pollution from the Johannesburg area is transported with the surface winds and mix with VOCs released from exotic trees. Together with the high humidity and high elevation, these conditions may result in the formation of sulphonates. Sulphonates are strong detergents, and the presence of these in the fog could lead to decreased water repellence of the plumage. This study was performed in order to determine the occurrence and distribution of sulphonates in the BSNHS and to compare these with sulphonates formed in other locations in South Africa. Because the blue swallow is endangered, pine needles were used as proxy to detect formation of sulphonates.
Methods
We sampled pine needles with different exposure to air pollutants, in climates with different humidity, and at different elevation and analyzed these for sulphonates using mass spectrometry.
Results
Pine needles from high elevations and the BSNHS, with high humidity, and exposure to air pollution contained significantly higher concentrations of sulphonates than pine needles from low elevations or from high elevations with a dryer climate or a different combination of air pollutants.
Conclusions
These findings lead to two conclusions. First, the occurrence and distribution of sulphonates may be explained by chemical reactions between sulphur dioxide and organic compounds in the humid air induced by ultraviolet radiation. Second, elevated concentrations of sulphonates in the fog could affect the water repellence of the blue swallow plumage, possibly decreasing their capacity to forage in the fog. We cannot prove conclusively that this is the reason why the number of blue swallows at the BSNHS has decreased dramatically, but for endangered species, we may have to rely on proxies to draw conclusions about outside threats. All such information should be valuable in devising protection plans for species under threat.
Recommendations and perspectives
The use of proxies to elucidate threats to endangered species should be evaluated in a broad scale. The mist-belt habitat in general is threatened by many human activities. These findings indicate that air pollution and the proximity of volatile organic compound (VOC) sources close to mist-belt habitat refuges may be an unrecognised conservation threat to the animals inhabiting them.
Access options
Buy single article
Instant access to the full article PDF.
US$ 39.95
Tax calculation will be finalised during checkout.
Subscribe to journal
Immediate online access to all issues from 2019. Subscription will auto renew annually.
US$ 79
Tax calculation will be finalised during checkout.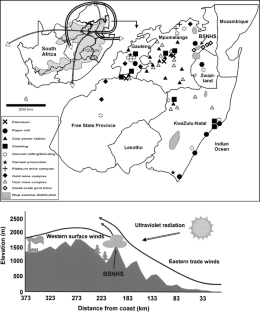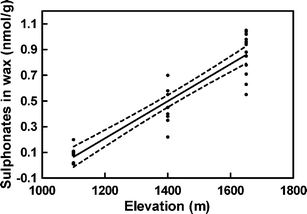 References
Allan DG, Harrison JA, Navarro RA, van Wilgen BW, Thompson MW (1997) The impact of commercial afforestation on bird populations in Mpumalanga province, South Africa—insights from bird atlas data. Biol Conserv 79:173–185

BirdLife International (2008) Hirundo atrocaerulea. IUCN Red List of Threatened Species, www.iucnredlist.org

Driver A, Maze K, Rouget M, Lombard AT, Nel J, Turpie JK, Cowling RM, Desmet P, Goodman P, Harris J, Jonas Z, Reyers B, Sink K, Strauss T (2004) National spatial biodiversity assessment: priorities for biodiversity conservation in South Africa. Strelitzia 4(17):1–45

Eisermann K, Schulz U (2005) Birds of a high-altitude forest in Alta Verapaz, Guatamala. Rev Biol Trop 53:577–594

Evans SW, Barnes KN (2000) Blue swallow. In: Barnes KN (ed) The Eskom red data book of birds of South Africa, Lesotho and Swaziland. BirdLife South Africa, Johannesburg

Evans SW, Bouwman H (2000) The influence of mist and rain on the reproductive success of the blue swallow Hirundo atrocaerulea. Ostrich 71:83–86

Evans SW, Bouwman H (2009) Habitat selection by blue swallows Hirundo atrocaerulea Sundevall 1850, breeding in South Africa and its implications for conservation. Afr J Ecol. doi:10.1111/j.1365-2028.2009.01183.x

Evans SW, Bouwman H (2010) Historical and current distribution, population size, and possible migration routes of the Blue Swallow Hirundo atrocaerulea in Africa. Bird Conserv Int. doi:10.1017/S0959270910000158

Freiman MT, Piketh SJ (2003) Air transport into and out of the industrial Highveld region of South Africa. J Appl Meteorol 42:994–1002

Gilbert EE (1965) Sulfonation and related reactions. Wiley Interscience, New York, pp 125–199

Gilman H, Jones RG (1943) 2, 2, 2-Trifluoroethylamine and 2, 2, 2-trifluorodiazoethane. J Am Chem Soc 65:1458–1460

Guenther A, Archer S, Greenberg J, Harley P, Helmig D, Klinger L, Vierling L, Wildermuth M, Zimmerman P, Zitzer S (1999) Biogenic hydrocarbon emissions and landcover/climate change in a subtropical savanna. Phys Chem Earth B 24:659–667

Keith S, Urban EK, Fry CH (1992) The birds of Africa. Vol IV. Academic, London

Kylin H (1994) Lipophilic air pollutants in pine needles. Thesis, Stockholm University, Sweden

Llacuna S, Gorriz A, Sanpera C, Nadal J (1995) Metal accumulation in three species of passerine birds (Emberiza cia, Parus major, and Turdus merula) subjected to air-pollution from a coal-fired power station. Arch Environ Contam Toxocol 28:298–303

Latif MT, Brimblecomb P (2004) Surfactants in atmospheric aerosols. Environ Sci Technol 38:6501–6506

Lelieveld J, Butler TM, Crowley JN, Dillon TJ, Fisher H, Ganzeveld L, Harder H, Lawrence MG, Martinez M, Taraborreli D, Williams J (2008) Atmospheric oxidation capacity sustained by a tropical forest. Nature 452:737–740

Lo J-HA, Lee W-MG (1996) Effect of surfactant film solubility of hydrophobic organic compounds in fog droplets. Chemosphere 33:1391–1408

Martinez-Morales MA (2005) Landscape patterns influencing bird assemblages in a fragmented neotropical cloud forest. Biol Conserv 121:117–126

Meese CO (1984) 2, 2, 2-Trifluorodiazoethane: a highly selective reagent for the protection of sulfonic acids. Synthesis 12:1041–1042

O'Connor TG, Kuyler P (2009) Impact of land use on the biodiversity of integrity of the moist sub-biome of the grassland biome, South Africa. J Environ Manage 90:384–395

Orthner L (1950) Die Einführung von Sulfo-Gruppen in Alkane mittels Schwefeldioxyd und Sauerstoff (Sulfoxydation). Angew Chem 62:302–305

Patai S, Rappoport Z (eds) (1991) The chemistry of sulphonic acids, esters and their derivatives. Wiley, New York

Paulsen MK, Lambert FR (2000) Altitudinal distribution and habitat preferences of forest birds on Halmahera and Buru, Indonesia: implications for conservation of Moluccan avifaunas. Ibis 142:566–586

Renner SC, Waltert M, Muhlenburg M (2006) Comparison of bird communities in primary vs. young secondary tropical montane cloud forest in Guatemala. Biodivers Conserv 15:1545–1575

Rijke AM, Jesser WA, Evans SW, Bouwman H (2000) Water repellency and feather structure of the blue swallow Hirundo atrocaerulea. Ostrich 71:143–145

Rorich RP, Galpin JS (1998) Air quality in the Mpumalanga Highveld region, South Africa. S Afr J Sci 94:109–114

Spottiswoode CN (2005) Blue swallow Hirundo atrocaerulea. In: Hockey PAR, Dean WRJ, Ryan PG (eds) Roberts—birds of southern Africa, VII. The trustees of the John Voelcker Bird Book Fund, Cape Town

Tewari DD (2001) Is commercial forestry sustainable in South Africa? The changing institutional and policy needs. For Policy Econ 2:333–353

Tiers GVD, Brown HA, Reid TS (1953) 1,1-Di-H-perfluoroalkyl halides. J Am Chem Soc 75:5978–5979

Turner A, Rose C (1989) A handbook to the swallows and martins of the world. Christopher Helm, London

Tyson PD, Kruger FJ, Louw CW (1988) Atmospheric pollution and its implications in the Eastern Transvaal Highveld. South African National Scientific Programmes Report. No. 150. Foundation for Research Development, Pretoria

Wakelin J, Hill TR (2007) The impact of land transformation on breeding blue swallows Hirundo atrocaerulea Sundevall, in KwaZulu-Natal, South Africa. J Nat Conserv 15:245–255

Zunckel M, Robertson L, Tyson PD, Rodhe H (2000) Modelled transport and deposition of sulphur over southern Africa. Atmos Environ 34:2797–2808

Zunckel M, Chiloane K, Sowden M, Otter L (2007) Biogenic volatile organic compounds: the state of knowledge in southern Africa and the challenges for air quality management. S Afr J Sci 103:107–112
Acknowledgements
Parts of this study were funded by grants from the South African National Research Foundation, the North-West University, and the Swedish Royal Academy of Sciences. Hannetjie Botha helped find funding, while Lars Sonesten and an unknown reviewer gave valuable comments on the manuscript.
Additional information
Responsible editor: Philippe Garrigues
About this article
Cite this article
Kylin, H., Bouwman, H. & Evans, S.W. Evaluating threats to an endangered species by proxy: air pollution as threat to the blue swallow (Hirundo atrocaerulea) in South Africa. Environ Sci Pollut Res 18, 282–290 (2011). https://doi.org/10.1007/s11356-010-0369-0
Received:

Accepted:

Published:

Issue Date:
Keywords
Advective fog

Atmospheric chemistry

Forest plantation

Mist-belt habitat encroachment

Sulphonate formation

Sulphur dioxide