Abstract
Background, aim, and scope
Alum (aluminum sulfate) is the currently preferred chemical amendment for phosphorus (P) treatment in poultry litter (PL). Aluminum-based drinking-water treatment residuals (Al-WTRs) are the waste by-product of the drinking-water treatment process and have been effectively used to remove P from aqueous solutions, but their effectiveness in PL water extracts has not been studied in detail. Elevated cost associated with alum could be minimized by using the equally effective WTRs to remove soluble P from PL, and they can be obtained at a minimal cost from drinking-water treatment plants.
Materials and methods
We set up batch and incubation experiments to determine: (1) the effect of WTR amendment rates on PL water-extractable P (WEP) concentrations and (2) the effects of incubation time, pH, and temperature on WEP concentrations of WTR-amended PL.
Results
Removal of PL-soluble P by the WTR was biphasic, showing an initial fast reaction (60% removal within 10 min) followed by a slower reaction that was completed within 12 days (90% removal). Phosphorus removal by the WTR was unaffected by pH changes in the range of 3–8. Incubation experiments showed that all WTR rates (2.5–15 wt.%) significantly (p < 0.001) lowered WEP concentrations in PL to ~40% of the unamended PL (no WTR) at 23°C.
Discussion
Minimal reduction (20% of the unamended PL) in WEP concentrations for all WTR rates were observed up to 18 days, possibly due to P diffusion limitations. Increasing the temperature to 35°C resulted in overcoming such diffusion limitations by increasing P removal rate of reaction.
Conclusions
Assuming year-round availability of adequate quantities in nearby drinking-water treatment plants, WTR may be a cost-effective treatment to reduce P availability in poultry litter.
Recommendations and perspectives
Field experiments are greatly needed in order to demonstrate the excellent performance of WTR in this laboratory-based study to remove soluble P concentrations in animal waste.
Access options
Buy single article
Instant access to the full article PDF.
USD 39.95
Price excludes VAT (USA)
Tax calculation will be finalised during checkout.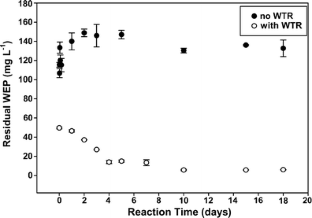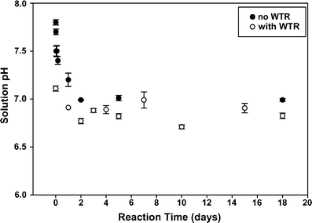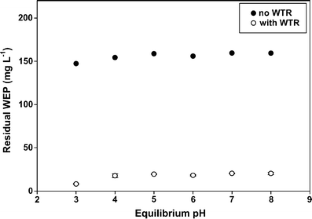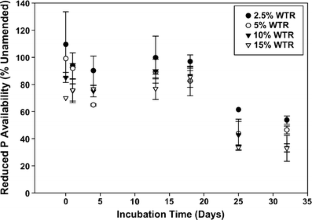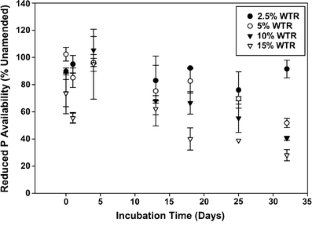 References
Agyin-Birikorang S, O'Connor GA (2007) Lability of drinking water treatment residuals (WTR) immobilized phosphorus: Aging and pH effects. J Environ Qual 36:1076–1085

Axe L, Trivedi P (2002) Intraparticle surface diffusion of metal contaminants and their attenuation in microporous amorphous Al, Fe, and Mn oxides. J Colloid Interf Sci 247:259–265

Barnett GM (1994) Phosphorus forms in animal manure. Bioresource Tech 49:139–147

D'Angelo ED, Crutchfield J, Vandiviere M (2001) Rapid, sensitive, microscale determination of phosphate in water and soil. J Environ Qual 30:2206–2209

Dayton EA, Basta NT, Jakober CA, Hattey JA (2003) Using treatment residuals to reduce phosphorus in agricultural runoff. J Am Wat Works Association 95:151–158

Design-Expert (2001) Software for design of experiments, version 6 0 5. Stat-Ease, Minneapolis

Dou Z, Zhang GY, Stout WL, Toth JD, Ferguson JD (2003) Efficacy of alum and coal combustion by-products in stabilizing manure phosphorus. J Environ Qual 32:1490–1497

Garbarino AJ, Bednar JR, Rutherford DW, Beyer RS, Wershaw RL (2003) Environmental fate of roxarsone in poultry litter. I. Degradation of roxarsone during composting. Environ Sci Technol 37:1509–1514

Haggard BE, Vadas PA, Smith DR, Delaune PB, Moore PA Jr (2005) Effect of extraction ratios on manure soluble phosphorus content and its relation with runoff phosphorus concentrations. Biosyst Eng 92:409–417

Ippolito JA, Barbarick KA, Heil DM, Chandler JP, Redente EF (2003) Phosphorus retention mechanisms of a water treatment residual. J Environ Qual 32:1857–1864

Kaiser K, Guggenberger G (2003) Mineral surfaces and soil organic matter. Eur J Soil Sci 54:219–236

Kleinman PJA, Sharpley AN, Wolf AM, Beegle DB, Moore PA Jr (2002) Measuring water-extractable phosphorus in manure as an indicator of phosphorus in runoff. Soil Sci Soc Am J 66:2009–2015

Kleinman PJA, Wolf AM, Sharpley AN, Beegle DB, Saporito LS (2005) Survey of water-extractable phosphorus in livestock manures. Soil Sci Soc Am J 69:701–708

Lefcourt AM, Meisinger JJ (2001) Effect of adding alum or zeolite to dairy slurry on ammonia volatilization and chemical composition. J Dairy Sci 84:1814–1821

Makris KC, El-Shall H, Harris WG, O'Connor GA, Obreza TA (2004) Intraparticle phosphorus diffusion in a drinking-water treatment residual at room temperature. J Colloid Interf Sci 277:417–423

Makris KC, O'Connor GA, Harris WG, Obreza TA (2005a) Relative efficacy of a drinking-water treatment residual and alum in reducing phosphorus release from poultry litter. Commun Soil Sci Plant Anal 36:2657–2675

Makris KC, Harris WG, O'Connor GA, Obreza TA, Elliott HA (2005b) Physicochemical properties related to long-term phosphorus retention by drinking water treatment residuals. Environ Sci Technol 39:4280–4289

Makris KC, Sarkar D, Datta R (2006a) Evaluating a drinking-water waste by-product as a novel sorbent for As(V) and As(III). Chemosphere 64:730–741

Makris KC, Sarkar D, Datta R (2006b) Aluminum-based drinking-water treatment residuals: a novel sorbent for perchlorate. Environ Poll 140:9–12

Makris KC, Harris WG (2006) Time dependency and irreversibility of water desorption by drinking-water treatment residuals: implications for sorption mechanisms. J Colloid Interface Sci 294:151–154

Makris KC, O'Connor GA (2007) Beneficial utilization of drinking-water treatment residuals as contaminant-mitigating agents. In: Sarkar D, Datta R, Hannigan R (eds), Developments in Environmental Science, Volume 5: Concepts and Applications in Environmental Geochemistry, Elsevier, ISBN: 978-0-08-046522-7, pp 609–635

Makris KC, Salazar J, Quazi S, Andra S, Sarkar D, Bach SBH, Datta R (2008) Controlling the fate of roxarsone and inorganic arsenic in poultry litter. J Environ Qual 37:963–971

McKeague JA, Brydon JE, Miles NM (1971) Differentiation of forms of extractable iron and aluminum in soils. Soil Sci Soc Am Proc 35:33–38

Moore PA Jr, Daniel TC, Edwards DR, Miller DM (1996) Evaluation of chemical amendments on ammonia volatilization from poultry litter. Poultry Sci 75:315–320

Moore PA Jr (1998) Reducing ammonia volatilization and decreasing phosphorus runoff from poultry litter with alum. In: Blake JP, Patterson PH (eds) Proceedings of the National Poultry Waste Management Symposium; National Poultry Waste Management Symposium Committee. Auburn University Printing Services, Auburn

Moore PA Jr, Edwards DR (2007) Long-term effects of poultry litter, alum-treated litter, and ammonium nitrate on phosphorus availability in soils. J Environ Qual 36:163–174

Nicholson FA, Chambers BJ, Williams JR, Unwin RJ (1999) Heavy metal content of livestock feeds and animal manures in England and Wales. Biores Technol 70:23–31

O'Connor GA, Elliott HA, Lu P (2001) Characterizing water treatment residuals phosphorus retention. Soil Crop Sci Soc Florida 61:67–73

Self-Davis ML, Moore PA Jr, Daniel TC, Edwards DR (1998) Use of aluminum sulfate to reduce soil test P levels in soils fertilized with poultry litter. In: Blake JP, Patterson PH (eds) Proceedings of the National Poultry Waste Management Symposium; National Poultry Waste Management Symposium Committee. Auburn University Printing Services, Auburn

Sharpley AN, Daniel T, Sims T, Lemunyon J, Stevens R, Parry R (2003) Agricultural phosphorus and eutrophication Second Edition, US Department of Agriculture, Agricultural Research Service, ARS 149

Shreve BR, Moore PA Jr, Daniel TC, Edwards DR, Miller DM (1995) Reduction of phosphorus in runoff from field-applied poultry litter using chemical amendments. J Environ Qual 24:106–111

Sims JT, Luka-McCafferty NJ (2002) On-farm evaluation of aluminum sulfate (alum) as a poultry litter amendment: effects on litter properties. J Environ Qual 31:2066–2073

Sparks DL (1996) Method of soil analysis: chemical methods. SSSA Book Series (part 3). Soil Science Society of America, Madison

USEPA (2000) Test Methods for Evaluating Solid Waste, Physical/Chemical Methods, USEPA-65 FR 70678, Draft Update IVB SW-846 U S Governmental Printing Office: Washington, DC

Vadas PA, Kleinman PJA (2006) Effect of methodology in estimating and interpreting water-extractable phosphorus in animal manures. J Environ Qual 35:1151–1159

Van Veldhoven PP, Mannaerts GP (1987) Inorganic and organic phosphate measurements in the nanomolar range. Anal Biochem 161:45–48
About this article
Cite this article
Makris, K.C., Sarkar, D., Salazar, J. et al. Alternative amendment for soluble phosphorus removal from poultry litter. Environ Sci Pollut Res 17, 195–202 (2010). https://doi.org/10.1007/s11356-009-0132-6
Received:

Accepted:

Published:

Issue Date:

DOI: https://doi.org/10.1007/s11356-009-0132-6
Keywords