Abstract
Tropical Sal forests are gaining wide recognitions due to its multifarious significance. An estimation of vegetational structure and biomass would be helpful for evaluating both productivity and sustainability of the forest ecosystems. Information regarding vegetational biomass, litter mass and fine root biomass, and overall dry matter dynamics are very limited. Therefore, the present work deals the vegetation biomass influenced by four different site quality of Sal dominating tropical deciduous forest of Chhattisgarh, India. The current study provides a framework under which all vegetational attributes can be quantified under varying site quality which is modified by different seasons. Our study revealed a significant increase in vegetational attributes and biomass as per increasing quality of sites. The density value (individuals/ha) and basal area (m2/ha) of tree, sapling and seedling in different sites were ranged from 710 to 1010, 2000 to 2500, 9750 to 14,500 and 33.5 to 46.8, 0.32 to 0.33, 17.96 to 21.43, respectively. The total biomass varied from 187.39 to 383.46 t ha−1. The fine root and forest floor biomass varied between 2.44 and 4.20 t ha−1, and 2.32 and 2.83 t ha−1, respectively among different sites and seasons. The total litter fall varied from 4.18 to 5.69 t ha−1 yr−1 across the site quality. It reflected that highest value of forest floor, litter floor and fine root biomass were seen in site quality (SQ) SQ-I followed by SQ-II, SQ-III and SQ-IV, respectively in different seasons. A great synergy exists among site quality, stand structure and biomass which surely affect ecosystem structure and its functions. Seasonal impacts are another factor that regulates vegetational statistics, forest floor, fine roots and pattern of litterfall in varying site qualities. Thus, a management implication is needed to understand site quality variation which entirely affects vegetational structure and biomass pattern that would help in strengthening sustainable forest management program.
Access options
Buy single article
Instant access to the full article PDF.
US$ 39.95
Tax calculation will be finalised during checkout.
Subscribe to journal
Immediate online access to all issues from 2019. Subscription will auto renew annually.
US$ 79
Tax calculation will be finalised during checkout.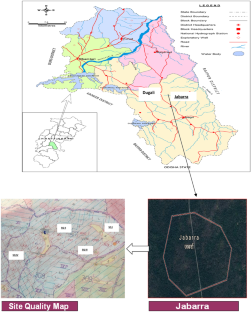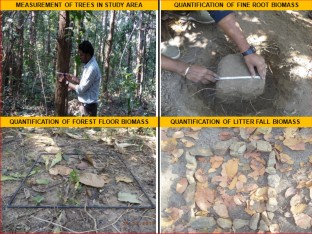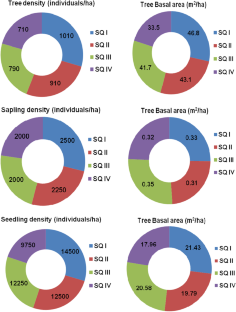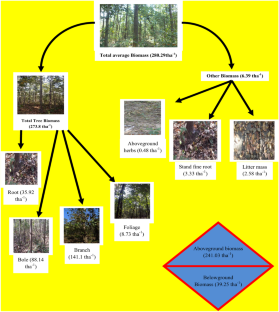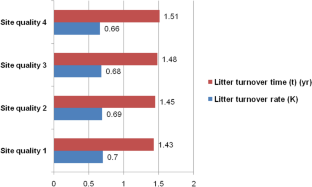 References
Adhikari B, Kapkoti B, Lodhiyal N, Lodhiyal LS (2017) Structure and regeneration of Sal (Shorea robusta Gaertn f.) forests in Shiwalik Region of Kumaun Himalaya, India. Indian J For 40(1):1–8

Banerjee A, Jhariya MK, Raj A, Yadav DK, Khan N, Meena RS (2021) Land Footprint Management and Policies. Pp. 221–246. In: Banerjee A, Meena RS, Jhariya MK, Yadav DK (Eds), Agroecological Footprints Management for Sustainable Food System. Springer Nature Singapore. eBook ISBN: 978–981–15–9496–0, Hardcover: 978–981–15–9495–3.

Barbhuiya AR, Arunachalam A, Pandey HN, Khan ML, Arunachalam K (2012) Fine root dynamics in undisturbed and disturbed stands of a tropical wet evergreen forest in northeast India. Tropical Ecol 53(1):69–79

Brown S, Lugo AE (1982) The storage and production of organic matter in tropical forests and their role in the global carbon cycle. Biotropica 14:161–187

Dupuis C, Lejeune P, Michez A, Fayolle A (2020) How can remote sensing help monitor tropical moist forest degradation?—a systematic review. Remote Sens 12:1087. https://doi.org/10.3390/rs12071087

Gangopadhyay SK, Nath S, Das PK, Banerjee SK (1990) Distribution of organic matter in coppice sal (Shorea robusta) in relation to soil chemical attributes. Indian For 116:407–417

Gross CD, Harrison RB (2019) The case for digging deeper: soil organic carbon storage, dynamics, and controls in our changing world. Soil Syst 3:28. https://doi.org/10.3390/soilsystems3020028

Hertel D, Moser G, Culmsee H, Erasmi S, Horna V, Schuldt B, Leuschner C (2009) Below and above ground biomass and net primary production in a paleotropical natural forest (Sulawesi, Indonesia) as compared to neotropical forests. For Ecol Manage 258:1904–1912

Jenny H, Gessel SP, Bingham FT (1949) Comparative study of decomposition rates of organic matter in temperate and tropical regions. Soil Sci 68:419–432

Jhariya MK (2017a) Vegetation ecology and carbon sequestration potential of shrubs in tropics of Chhattisgarh. India Environ Monit Assess 189(10):518. https://doi.org/10.1007/s10661-017-6246-2

Jhariya MK (2017b) Influences of forest fire on forest floor and litterfall in bhoramdeo wildlife sanctuary (C.G.). India J For Environ Sci 33:330–341

Jhariya MK, Yadav DK (2018) Biomass and carbon storage pattern in natural and plantation forest ecosystem of Chhattisgarh. India J Forest Environ Sci 34(1):1–11. https://doi.org/10.7747/JFES.2018.34.1.1

Jhariya MK, Yadav DK, Banerjee A, Raj A, Meena RS (2019) Sustainable forestry under changing climate. In: Jhariya MK et al (eds) Sustainable agriculture, forest and environmental management. Springer Nature Singapore Pte Ltd, Singapore, pp 285–325 (ISBN:978-981-13-6829-5)

Jhariya MK, Singh L (2020) Herbaceous diversity and biomass under different fire regimes in a seasonally dry forest ecosystem. Environ Dev Sustain 22:1–19. https://doi.org/10.1007/s10668-020-00892-x

Kavvadias V, Alifragis D, Tsiontsis A, Brofas G, Stamatelos G (2001) Litterfall, litter accumulation and litter decomposition rates in four forest ecosystems in northern Greece. For EcolManag 144:113–127

Khan N, Jhariya MK, Raj A, Banerjee A, Meena RS (2021) Soil carbon stock and sequestration: implications for climate change adaptation and mitigation. In: Jhariya MK, Meena RS, Banerjee A (eds) Ecological intensification of natural resources for sustainable agriculture. Springer, Singapore. https://doi.org/10.1007/978-981-33-4203-3_13

Khan N, Jhariya MK, Yadav DK, Banerjee A (2020a) Herbaceous dynamics and CO2 mitigation in an urban setup—a case study from Chhattisgarh. India Environ Sci Poll Res 27(3):2881–2897. https://doi.org/10.1007/s11356-019-07182-8

Khan N, Jhariya MK, Yadav DK, Banerjee A (2020b) Structure, diversity and ecological function of shrub species in an urban setup of Sarguja, Chhattisgarh. India Environ Sci Poll Res 27(5):5418–5432. https://doi.org/10.1007/s11356-019-07172-w

Kumar JIN, Sajish PR, Kumar RN, Patel K (2011) Biomass and net primary productivity in three different aged butea forest ecosystems in Western India, Rajasthan. Iranica J Energy Environ 2:1–7

Liu L, Gundersen P, Zhang T, Mo J (2012) Effects of phosphorus addition on soil microbial biomass and community composition in three forest types in tropical China. Soil BiolBiochem 44:31–38

Mackey B, Kormos CF, Keith H, Moomaw WR, Houghton RA, Mittermeier RA, Hole D, Hugh S (2020) Understanding the importance of primary tropical forest protection as a mitigation strategy. Mitig Adapt Strateg Glob Change. https://doi.org/10.1007/s11027-019-09891-4

Nath S, Nath AJ, Sileshi GW, Das AK (2017) Biomass stocks and carbon storage in Barringtoniaacutangula floodplain forests in North East India. Biomass Bioenergy 98(2017):3742

Norby RJ, Jackson RB (2000) Root dynamics and global change: seeking an nutrient dynamics of plant litter in a regenerating bush fallow in sub-humid tropical Nigeria. J Ecol 69:981–995

Odiwe AI, Muoghalu JI (2003) Litterfall dynamics and forest floor litter as influenced by fire in a secondary lowland rain forest in Nigeria. Trop Ecol 44:243–251

Oraon PR, Singh L, Jhariya MK (2018) Forest floor biomass, litterfall and physico-chemical properties of soil along the anthropogenic disturbance regimes in tropics of Chhattisgarh. India J Forest Environ Sci 34(5):359–375. https://doi.org/10.7747/JFES.2018.34.5.359

Pawar GV, Singh L, Jhariya MK, Sahu KP (2014) Effect of anthropogenic disturbances on biomass and carbon storage potential of a dry tropical forest in India. J Appl Natural Sci 6(2):383–392

Poker J, MacDicken K (2016) Tropical forest resources: facts and tables. In: Pancel L, Köhl M (eds) Tropical forestry handbook. Springer, Berlin, Heidelberg. https://doi.org/10.1007/978-3-642-54601-3_7

Polyakova O, Billor N (2007) Impact of deciduous tree species on litterfall quality, decomposition rates and nutrient circulation in pine stands. For EcolManag 253:11–18

Pradhan A, Ormsby AA, Behera N (2019) A comparative assessment of tree diversity, biomass and biomass carbon stock between a protected area and a sacred forest of Western Odisha. India Écoscience 26(3):195–204. https://doi.org/10.1080/11956860.2019.1586118

Pragasan LA, Parthsarthy N (2005) Litter production in tropical dry evergreen forests of south India in relation to season, plant life-forms and physiognomic groups. CurrSci 88(8):1255–1263

Raikwal D (2008) Effect of leaf litter removal on soil nutrients in the Central Himalayan banj oak and chir pine forests with relation to carbon sequestration, PhD thesis, Kumaun University, Nainital, India.

Raj A (2018) Population structure and regeneration potential of Sal dominated tropical dry deciduous forest in Chhattisgarh, India. Tropical Plant Res 5(3):267–274

Raj A, Jhariya MK, Yadav DK, Banerjee A, Meena RS (2019) Soil for sustainable environment and ecosystems management. In: Jhariya MK et al (eds) Sustainable agriculture, forest and environmental management. Springer Nature Singapore Pte Ltd, Singapore, pp 189–221 (978-981-13-6829-5)

Raj A, Jhariya MK, Yadav DK, Banerjee A (2020) Forest for Resource Management and Environmental Protection. In: Banerjee A, Jhariya MK, Yadav DK, Raj A (eds) Environmental and sustainable development through forestry and other resources. CRC Press Taylor & Francis Group, AAP, pp 1–24 (978-177-18-8811-0)

Rajendraprasad M, Krishnan PN, Pushpangadan P (2000) Vegetational characterisation and litter dynamics of the sacred groves of Kerala, Southwest India. J Trop ForSci 12:320–335

Rawat VS (2012) Litter fall and soil nutrient returns in community managed forest in Lamgara block of Uttarakhand. Nat Sci 10:38–42

Sahu KP, Singh L, Jhariya MK (2013) Fine root biomass, forest floor and nutrient status of soil in an age series of teak plantation in dry tropics. The Bioscan 8(4):1149–1152

Salunkhe O, Khare PK, Kumari R, Kumari R, Khan ML (2018) A systematic review on the aboveground biomass and carbon stocks of Indian forest ecosystems. Ecol Process 7:17

Sanches L, Valentini CMA, Júnior OBP, Nogueira JDS, Vourlitis GL, Biudes MS, Silva CJD, Bambi P, Lobo FDA (2008) Seasonal and interannual litter dynamics of a tropical semideciduous forest of the southern Amazon Basin, Brazil. J Geophys Res 113:1–9

Simard DG, Fyles JW, Paré D, Nguyen T (2001) Impacts of clear cut harvesting and wildfire on soil nutrient status in the Quebec boreal forest. Can J Soil Sci 81:229–237

Singh B, Tripathi KP, Singh K (2011) Community structure, diversity, biomass and net production in a rehabilitated subtropical forest in north India. Open J For 1:11–26

Singh KP, Misra R (1979) Structure and Functioning of Natural Modified and Silvicultural Ecosystems in Eastern Uttar Pradesh, (1979) 160 pp. Final Technical Report (1975–1978), MAB, research Project, Banaras Hindu University.

Singh L (1995) Seasonal variation in biomass and nutrient content of the forest floor in a dry tropical forest. Oecologia Montana 4:21–26

Singh J, Ramakrishnan PS (1982) Structure and function of a sub-tropical humid forest of Meghalaya II. Litter dynamics and nutrient cycling. Proc Indian Acad Sci 91(3):255–268

Singh L, Singh JS (1991) Species structure, dry matter dynamics and carbon flux of a dry tropical forest in India. Ann Bot 68:263–273

Singh L (2004) Dry matter and nutrient inputs through litterfall in a dry tropical forest of India. Vegetatio 98:129–140

Singh V (2009) Biomass stock and Carbon Sequestration rates in banj oak (Quercus leucotrichophora, A. Camus.) forests under different disturbance regimes in Central Himalaya PhD thesis, Kumaun University, Nainital, India.

Sun Y, Wu J, Shao Y, Zhou L, Mai B, Lin Y, Fu S (2011) Responses of soil microbial communities to prescribed burning in two paired vegetation sites in southern China. Ecol Res 26:669–677

Swe T, Murach D, Kyaw NN, Thwin S (2012) Fine root biomass and soil carbon storage of teak plantations in myanmar. Seminar on agricultural systems, tropentag, september 19–21 2012 resilience of agricultural systems against crises: proceedings. Tropentag University of Sustainable Development, Eberswalde, pp 247–258

Swamy SL, Dutt CBS, Murthy MSR, Mishra A, Bargali SS (2010) Floristic and dry matter dynamics of tropical wet evergreen forests of Western Ghats, India. CurrSci 99:353–364

Teixeira TR, Ribeiroa CAAS, Santos AR, Marcattic GE, Lorenzon AS, Castro NLM, Domingues GF, Leite HG, Menezes SJMC, Mota PHS, de Almeida Telles LA, da Silva VR (2018) Forest biomass power plant installation scenarios. Biomass Bioenerg 108:35–47

Tiwari SD, Joshi R (2013) Litter decomposition and nutrient release pattern of some prominent tree species in the cool-temperate forests of the Nanda Devi Biosphere Reserve in Uttarakhand, India. Int J ConservSci 4:329–336

Troup RS (1986) TheSilviculture of Indian Trees. International Book Distributors, Dehradun

Vogt KA, Grier CC, Vogt DJ (1986) Production, turnover, and nutrient dynamics of above- and belowground detritus of world forests. AdvEcol Res 15:303–377

Wang Q, Wang S, Huang Y (2008) Comparisons of litterfall, Litter decomposition and nutrient return in a monoculture Cunninghamia lanceolata and a mixed stand in southern China. ForEcolManag 255:1210–1218

Wang ZQ, Guo DL (2008) Root ecology. J Plant Ecol 32:1213–1216

Wells CE, Eissenstat DM (2001) Marked differences in survivorship among apple roots of different diameters. Ecology 82:882–892

Zhou G, Liu S, Li Z, Zhang D, Tang X, Zhou C, Yan J, Mo J (2006) Old-growth forests can accumulate carbon in soils. Science 314:1417
Acknowledgements
The first author is thankful to department of forestry, IGKV, Raipur and forest department of the Chhattisgarh for granting the permission to conduct the research work in the forest area. Authors are thankful to editor and reviewers for constructive comments and suggestions.
About this article
Cite this article
Raj, A., Jhariya, M.K. Site quality and vegetation biomass in the tropical Sal mixed deciduous forest of Central India. Landscape Ecol Eng (2021). https://doi.org/10.1007/s11355-021-00450-1
Received:

Revised:

Accepted:

Published:
Keywords
Biomass

Forest floor

Litterfall

Site quality

Tropical forests

Vegetational attributes