Abstract
A large number of Kyoto's traditional wooden townhouses (referred to here as "KWTs"; kyo-machiya in Japanese), characterized by various types of gardens, have been demolished in recent years as lifestyles have changed. Against a background of limited research into the ecological status of such gardens (referred to here as "KWT gardens"), the authors investigated related changes in a school district where numerous KWTs have been removed, although many still remain, based on the aerial photographs of the local area and related distribution data. The results indicated that KWT gardens as a percentage of overall vegetation cover ("VC") decreased from 39 to 28% between 1987 and 2008, and that separation/miniaturization of green spaces had progressed. However, some KWT gardens still remained at new houses renovated from KWTs. It was found that, although VC and the connectivity of KWT gardens had decreased due to KWT demolition, such areas still represent a significant part of VC in the ancient city of Kyoto. Accordingly, it is necessary to evaluate remaining KWT gardens and promote their preservation as cultural and ecological assets.
Access options
Buy single article
Instant access to the full article PDF.
US$ 39.95
Tax calculation will be finalised during checkout.
Subscribe to journal
Immediate online access to all issues from 2019. Subscription will auto renew annually.
US$ 79
Tax calculation will be finalised during checkout.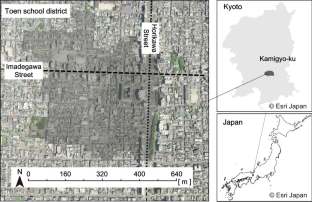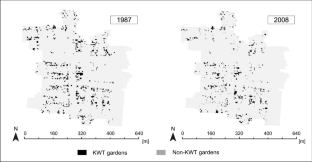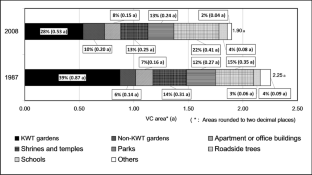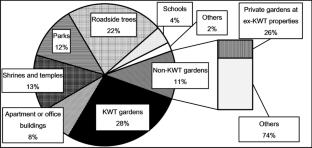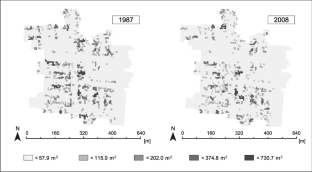 References
Asami K, Nakao M, Hattori T, Takeda Y, Ishida H (1998) Flora of residential gardens at flower town in Sanda, Hyogo prefecture. Hum Nat 9:115–126 (in Japanese)

Dewaelheyns V, Rogge E, Gulinck H (2014) Putting domestic gardens on the agenda using empirical spatial data: the case of Flanders. Appl Geogr 50:132–143

Forman RT (1995) Land mosaics. Cambridge University Press, Cambridge

Goddard MA, Dougill AJ, Benton TG (2010) Scaling up from gardens: biodiversity conservation in urban environments. Trends Ecol Evol 25(2):90–98

Hanaoka K (2009) Social simulation using a dynamic spatial microsimulation model: analysis of Kyomachiya (traditional wooden townhouse) demolitions. J Geogr 118(4):646–664 (in Japanese with English abstract)

Hanaoka K, Nakaya T, Yano K, Isoda Y (2009) Analysis of the determinants of Kyomachiya (traditional wooden townhouse) demolitions in Nishijin District, Kyoto. Geogr Rev Jpn 82(3):227–242 (in Japanese with English abstract)

Hasse D, Jänicke C, Wellmann T (2019) Front and back yard green analysis with subpixel vegetation fractions from earth observation data in a city. Landsc Urban Plan 182:44–54

Hattori T (1997) The importance of waterside areas and remaining green tracts of land (translated from Japanese). Green Age 286:8–13 (in Japanese)

Itaya N, Yamasaki M, Iizuka T, Imae H (2013) The characteristics and disaster mitigation of townhouses and their open spaces in Kyoto. J Disaster Mitig Hist Cities 7:185–192 (in Japanese with English abstract)

Katsuno T (1992) Familiar nature and green spaces in detached housing areas—Techniques for nature restoration and conservation (translated from Japanese). Asakura Publishing Co, Ltd, Tokyo (in Japanese)

Kawasumi T, Yano K, Kawahara D, Inoue M, Iwakiri S (2003) Construction of the kyo-machiya time space database using aerial photo images. Proc SIG Comput Humanit 21:111–118 (in Japanese with English abstract)

Kyoto City (1998, 2004, 2008, 2009) Kyo-machiya Community Building Survey. https://www.city.kyoto.lg.jp/tokei/page/0000087658.html. Accessed 16 Nov 2020 (in Japanese)

Lin B, Meyers J, Barnett G (2015) Understanding the potential loss and inequities of green space distribution with urban densification. Urban For Urban Green 14:952–958

Loram A, Tratalos J, Warren PH, Gaston KJ (2007) Urban domestic gardens (X): the extent and structure of the resource in five major cities. Landsc Ecol 22(4):601–615

Mizukami S, Hagihara K (2001) A study on an evaluation of greenery amount based on activities of demand for greenery: the role of plant boxes in urban residential environments. Environ Syst Res 29:283–289 (in Japanese)

Nakamura M, Amasaki H (2001) Landscape design: modern landscaping and traditional Japanese gardens (translated from Japanese). Showado Co Ltd, Kyoto (in Japanese)

Ossola A, Locke D, Lin B, Minor E (2019) Yards increase forest connectivity in urban landscapes. Landsc Ecol 34:2935–2948

Statistics and Analysis Section, Data System Promotion Office, Kyoto City General Planning Bureau (2010) 2010 Population census. https://www2.city.kyoto.lg.jp/sogo/toukei/Population/Census/2010/index.html#t9. Accessed 26 June 2020 (in Japanese))

Uchida H, Sato S (2002) On the maintenance of home gardens in Tokyo. J Jpn Inst Landsc Archit 65(5):451–454 (in Japanese)
Acknowledgements
The authors are grateful to the Kyoto Municipal Government's City Planning Bureau and to Dr. K. Yano (Professor, Department of Geography, Ritsumeikan University) for providing Kyo-machiya Community Building Survey data. This work was supported under the Creative Research Programme for Future Kyoto run by the Consortium of Universities of Kyoto, the Environment Management Section of the Kyoto Municipal Government's Environmental Policy Bureau and JSPS KAKENHI Grant number 18H02226.
About this article
Cite this article
Niino, A., Imanishi, J. & Shibata, S. Changes in vegetation cover and connectivity of private gardens at traditional wooden townhouses in the ancient city of Kyoto. Landscape Ecol Eng 17, 157–163 (2021). https://doi.org/10.1007/s11355-021-00445-y
Received:

Revised:

Accepted:

Published:

Issue Date:
Keywords
Urban green space

Ecological connectivity

Private garden

Vegetation cover

Kyo-machiya (traditional wooden townhouse in kyoto)

Demolition