Abstract
Slope stabilization treatments like mulching are commonly used to reduce runoff and erosion after high severity wildfires. Agricultural straw is the most common material although it is susceptible to be blown away by the wind or introduce non-native plants. Although these limitations do not apply to wood-based mulch, this material has not been widely tested in the field. We compared the efficacy of two types of mulch for reducing soil erosion and evaluated its effects on vegetation recovery during the first two years after wildfire. The treatments were: straw helimuching (3.0–3.5 Mg ha−1), ground-applied wood strand mulching (11 Mg ha−1) and control (no mulch). During the first year after wildfire, the mean sediment yield in the control plots was 11 Mg ha−1. In this period, the respective mean sediment yields in the wood strand mulched plots were significantly lower than in the control plots (1.6 Mg ha−1) but higher than in the straw mulched plots (0.5 Mg ha−1). Soil erosion decreased during the second year after wildfire in all cases, while vegetation cover and soil penetration resistance and soil shear strength increased. Neither of the mulching treatments significantly affected the recovery of vegetation cover or species composition. The results indicate the feasibility of wood strand mulch to effectively reduce soil erosion after the fire, with no detrimental effects on vegetation recovery. However, the amount of material required to ensure the protection of the soil, together with difficulties to be applied, may limit its widespread use as a post-fire soil stabilization option.
Access options
Buy single article
Instant access to the full article PDF.
US$ 39.95
Tax calculation will be finalised during checkout.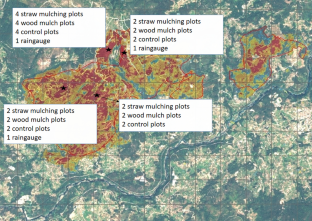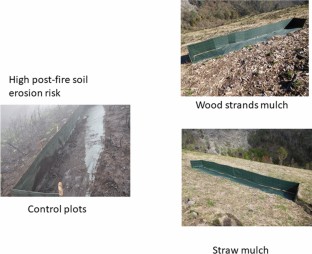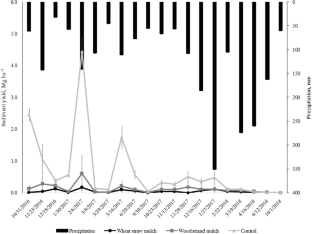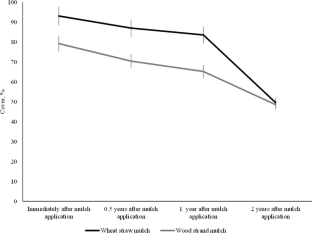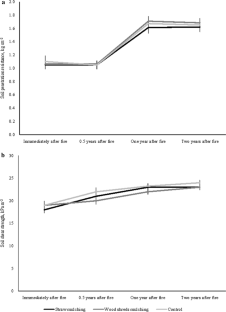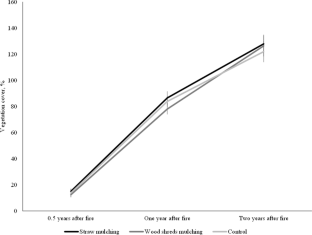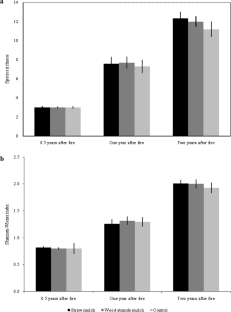 References
Bontrager JD, Morgan P, Hudak AT, Robichaud PR (2019) Long-term vegetation response following post-fire straw mulching. Fire Ecol 15:22. https://doi.org/10.1186/s42408-019-0037-9

Core Team Development R (2020) R: A language and environment for statistical computing. R Foundation for Statistical Computing, Vienna

Dodson EK, Peterson DW (2010) Mulching effects on vegetation recovery following high severity wildfire in North-central Washington State, USA. Forest Ecol Manag 260:1816–1823

Fernández C, Vega JA (2014) Efficacy of bark strands and straw mulching after wildfire in NW Spain: effects on erosion control and vegetation recovery. Ecol Eng 63:50–57

Fernández C, Vega JA (2016a) Effects of mulching and post-fire salvage logging on soil erosion and vegetative regrowth in NW Spain. Forest Ecol Manag 375:46–54

Fernández C, Vega JA (2016b) Modelling the effect of soil burn severity on soil erosion at hillslope scale in the first year following wildfire in NW Spain. Earth Surf Proc Land 41:928–935

Fernández C, Vega JA, Jiménez E, Fontúrbel T (2011) Effectiveness of three post-wildfire treatments at reducing soil erosion in Galicia (NW Spain). Int J Wildland Fire 20:104–114

Fernández C, Vega JA, Fontúrbel T (2016) Reducing post-wildfire soil erosion from the air: performance of heli-mulching in a mountainous area on the coast of NW Spain. CATENA 147:489–495

Fernández C, Vega JA, Fontúrbel T (2019a) Does helimulching after severe wildfire affect vegetation recovery in a coastal area of Northwest Spain? Landsc Ecol Eng 15:337–345

Fernández C, Fontúrbel T, Vega JA (2019b) Mastication of burned non-commercial P. sylvestris L. stands: effects on soil erosion and vegetation recovery. Forest Ecol Manag 443:51–58

Fernández C, Fernández-Alonso JM, Vega JA (2020a) Exploring the effect of hydrological connectivity and soil burn severity on sediment yield after wildfire and mulching. Land Degrad Dev 31:1611–1621

Fernández C, Vega JA, Fontúrbel T (2020b) Comparison of the effectiveness of needle cast and straw helimulching for reducing soil erosion after wildfire in NW Spain. J Soil Sediment 20:535–541

Foltz RB (2012) A comparison of three erosion control mulches on decommissioned forest road corridors in the northern Rocky Mountains, United States. J Soil Water Conserv 67:536–544

Foltz RB, Copeland NS (2009) Evaluating the efficacy of wood shreds for mitigation erosion. J Environ Manage 90:779–785

Gyssels G, Poesen J, Bochet E, Li Y (2005) Impact of plant roots on the resistance of soils to erosion by water: a review. Prog Phys Geog 29:189–217

IUSS Working Group WRB (2015) World reference base for soil resources 2014, update 2015. International soil classification system for naming soils and creating legends for soil maps. World Soil Resources Reports, FAO, Rome

Jonas JL, Berryman E, Wolk B, Morgan P, Robichaud PR (2019) Post-wildfire wood mulch for reducing erosion potential increases tree seedlings with few impacts on understory plants and soil nitrogen. Forest Ecol Manag 453:117567

Kent M, Coker P (1992) Vegetation description and analysis: a practical approach. Belhaven Press, London

Kruse R, Bend E, Bierzychudek P (2004) Native plant regeneration and introduction of non-natives following post-fire rehabilitation with straw mulch and barley seeding. Forest Ecol Manag 196:299–310

Lucas-Borja ME, González-Romero J, Plaza-Álvarez PA, Sagra J, Gómez ME, Moya D et al (2019) The impact of straw mulching and salvage logging on post-wildfire runoff and soil erosion generation under mediterranean climate conditions. Sci Total Environ 654:441–451

Malvar MC, Silva FC, Prats SA, Vieira DCS, Coelho COA, Keizer JJ (2017) Short-term effects of post-fire salvage logging on runoff and soil erosion. Forest Ecol Manag 400:555–567

Marañón-Jiménez S, Castro J, Querejeta JI, Fernández-Ondoño E, Allen CD (2013) Post-fire wood management alters water stress, growth, and performance of pine regeneration in a Mediterranean ecosystem. Forest Ecol Manag 308:231–239

Morgan P, Moy M, Droske CA, Lentile LB, Lewis SA, Robichaud PR et al (2014) Vegetation response after post-fire mulching and native grass seeding. Fire Ecol 10:49–62

Page-Dumroese DS, Jurgensen MF, Tiarks AE, Ponder JF, Sanchez FG, Fleming RL et al (2006) Soil physical property changes at the North American long-term soil productivity study sites: 1 and 5 years after compaction. Can J For Res 36:551–564

Robichaud PR, Brown RE (2002) Silt fences: an economical technique for measuring hillslope soil erosion, General Technical Report RMRS-GTR-94. U.S. Department of Agriculture, Forest Service, Rocky Mountain Research Station, Fort Collins, CO

Robichaud PR, Wagenbrenner JW, Lewis SA, Ashmun LE, Brown RE, Wohlgemuth PM (2013a) Post-fire mulching for runoff and erosion mitigation Part II: effectiveness in reducing runoff and sediment yields from small catchments. CATENA 105:93–111

Robichaud PR, Jordan P, Lewis SA, Ashmun LE, Covert SA, Brown RE (2013b) Evaluating the effectiveness of wood shred and agricultural straw mulches as a treatment to reduce post-wildfire hillslope erosion in southern British Columbia. CA Geomorphol 197:21–33

Robichaud PR, Rhee H, Lewis SA (2014) A synthesis of post-fire Burned Area Reports from 1972 to 2009 for western US Forest Service lands: trends in wildfire characteristics and post-fire stabilisation treatments and expenditures. Int J Wildland Fire 23:929–944

Robichaud PR, Lewis SA, Wagenbrenner JW, Brown RE, Pierson FB (2020) Quantifying long-term post-fire sediment delivery and erosion mitigation effectiveness. Earth Surf Proc Land 45:771–782

Sanz M, Dana ED, Sobrino E (2004) Atlas de las Plantas Alóctonas Invasoras en España. Dirección General para la Biodiversidad, Madrid

Shannon CE, Weaver W (1949) The mathematical theory of communication. University of Illinois Press, Urbana

Shive KL, Estes BL, White AM, Safford HD, O'Hara KL, Stephens SL (2017) Rice straw mulch for post-fire erosion control: assessing non-target effects on vegetation communities. Int J Wildland Fire 26:538–549

Vega JA, Fernández C, Fontúrbel T (2015) Comparing the effectiveness of seeding and mulching+seeding in reducing soil erosion after a high severity wildfire in Galicia (NW Spain). Ecol Eng 74:206–212

Vega JA, Fernández C, Fontúrbel MT (2018) Medidas de atenuación de los daños post-incendio en Galicia. In: Díaz-Fierros F (ed) Incendios Forestales. Reflexiones desde Galicia, Hércules de Ediciones, Santiago de Compostela, pp 136–174

Wagenbrenner JW, MacDonald LH, Coats RN, Robichaud PR, Robert E, Brown RE (2015) Effects of post-fire salvage logging and a skid trail treatment on ground cover, soils, and sediment production in the interior Western United State. Forest Ecol Manag 335:176–193

Wischmeier WH, Smith DD (1978) Predicting rainfall-erosion losses- a guide to conservation planning. Agriculture Handbook USDA Forest Service, Washington, DC
Acknowledgements
The study was funded by the European Union Interreg-Sudoe program through project EPyRIS (SOE2/P5/E0811), the Plan de Mejora e Innovación Forestal de Galicia (2010–2020) and INDITEX. We are grateful to everyone who helped with fieldwork, particularly José Gómez, Jesús Pardo, Emilia Puga, and Elías Blanco. The authors would like to thank the editor and reviewers for their comments. The experiments comply with the current laws in Spain.
Supplementary Information
Below is the link to the electronic supplementary material.
About this article
Cite this article
Fernández, C., Vega, J.A. Is wood strand mulching a good alternative to helimulching to mitigate the risk of soil erosion and favour the recovery of vegetation in NW Spain?. Landscape Ecol Eng 17, 233–242 (2021). https://doi.org/10.1007/s11355-020-00439-2
Received:

Revised:

Accepted:

Published:

Issue Date:
Keywords
Wildfire

Soil erosion

Helimulching

Wood strand

Vegetation recovery