Abstract
Satoyama is one of the semi-natural ecosystems in Japan. Traditional agricultural practices in satoyama provide preferable habitats for many species, thus, enhancing biodiversity. However, many satoyama ecosystems have been altered by agricultural intensification and rapid urbanization. Meanwhile, ageing and shrinking population has led to the abandonment of remaining satoyama ecosystems, resulting in their potential degradation. We argue that counteracting the abandonment of satoyama is particularly essential in urbanized landscapes because conserving its biodiversity would have a payoff for urban communities. We focused on nature-oriented park use of satoyama ecosystems, utilizing their original scenery, topography, water features, and vegetation. To evaluate the potential of nature-oriented park use for biodiversity conservation, we examined the differences in diversity and species composition of vascular plants and butterflies among three land-use types (agricultural-use, park-use, and abandoned sites) of satoyama ecosystems. Diversity of native plants and butterflies did not significantly differ between agricultural-use and park-use sites and that of native plants was significantly lower at abandoned sites than at agricultural-use sites. Although species composition of native plants at agricultural-use sites and park-use sites significantly differ, that of native butterflies did not. The efficacy of park use for biodiversity conservation, thus, depended on the taxa. Nonetheless, for striking a balance between the difficulty in maintaining agricultural use and accelerating satoyama abandonment, our study highlights the utility of park use as an alternative usage, contributing to biodiversity conservation. Balancing the wise use of satoyama in urbanized landscapes is a fundamental step toward the conservation of its biodiversity and human–nature interactions.
Access options
Buy single article
Instant access to the full article PDF.
US$ 39.95
Tax calculation will be finalised during checkout.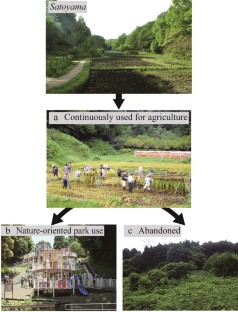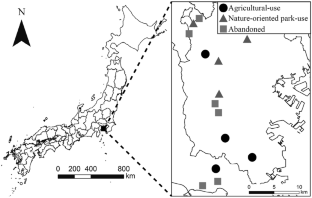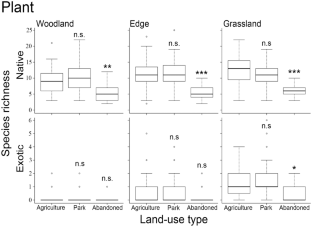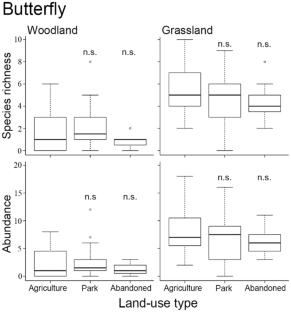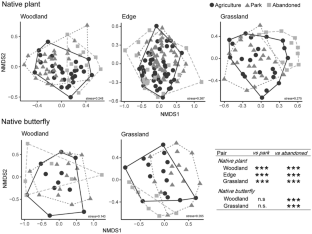 References
Aggemyr E, Auffret AG, Jädergård L, Cousins SAO (2018) Species richness and composition differ in response to landscape and biogeography. Landsc Ecol 33:2273–2284. https://doi.org/10.1007/s10980-018-0742-9

Aguilera G, Ekroos J, Perssoon AS, Pettersson LB, Öckinger E (2018) Intensive management reduces butterfly diversity over time in urban green spaces. Urban Ecosyst 22:335–344. https://doi.org/10.1007/s11252-018-0818-y

Aoshima I, Uchida K, Ushimaru A, Sato M (2018) The influence of subjective perceptions on the valuation of green spaces in Japanese urban areas. Urban For Urban Green 34:166–174. https://doi.org/10.1016/j.ufug.2018.06.018

Bagaria G, Rodà F, Pino J (2019) Extinction and colonisation of habitat specialists drive plant species replacement along a Mediterranean grassland-forest succession. J Veg Sci 30:331–340. https://doi.org/10.1111/jvs.12722

Bates D, Mächler M, Bolker B, Walker S (2015) Fitting linear mixed-effects models using 'lme4'. J Stat Softw 67:1–48. https://doi.org/10.18637/jss.v067.i01

Berglund BE, Kitagawa J, Lagerås P et al (2014) Traditional farming landscapes for sustainable living in Scandinavia and Japan: global revival through the Satoyama initiative. Ambio 43:559–578. https://doi.org/10.1007/s13280-014-0499-6

Bolund P, Hunhammar S (1999) Ecosystem services in urban areas. Ecol Econ 29:293–301. https://doi.org/10.1016/S0921-8009(99)00013-0

Bonari G, Fajmon K, Malenovský I et al (2017) Management of semi-natural grasslands benefiting both plant and insect diversity: the importance of heterogeneity and tradition. Agric Ecosyst Environ 246:243–252. https://doi.org/10.1016/j.agee.2017.06.010

City of Yokohama (2017) Population News No. 1095 (Nov. 1, 2017). Statistical look at Yokohama. http://www.city.yokohama.lg.jp/ex/stat/jinko/news-j.html. Accessed 27 Dec 2018

Dallimer M, Irvine KN, Skinner AMJ et al (2012) Biodiversity and the feel-good factor: understanding associations between self-reported human well-being and species richness. Bioscience 62:47–55. https://doi.org/10.1525/bio.2012.62.1.9

Elton C (1958) The ecology of invasions by animals and plants. Methuen, London

Foley JA, Defries R, Asner GP et al (2005) Global consequences of land use. Science 309:570–574. https://doi.org/10.1126/science.1111772

Fukamachi K, Oku H, Nakashizuka T (2001) The change of a satoyama landscape and its causality in Kamiseya, Kyoto Prefecture, Japan between 1970 and 1995. Landsc Ecol 16:703–717. https://doi.org/10.1023/A:1014464909698

Fuller RA, Irvine KN, Devine-Wright P et al (2007) Psychological benefits of greenspace increase with biodiversity. Biol Lett 3:390–394. https://doi.org/10.1098/rsbl.2007.0149

Grimm NB, Faeth SH, Golubiewski NE et al (2008) Global change and the ecology of cities. Science 319:756–760. https://doi.org/10.1126/science.1150195

Hector A, Dobson K, Minns A et al (2001) Community diversity and invasion resistance: an experimental test in a grassland ecosystem and a review of comparable studies. Ecol Res 16:819–831. https://doi.org/10.1046/j.1440-1703.2001.00443.x

Japan Butterfly Conservation Society (2012) Field guide to the butterflies of Japan. Japan Butterfly Conservation Society, Tokyo (in Japanese)

Kanagawa prefecture (2016) Kanagawa biodiversity plan. http://www.pref.kanagawa.jp/docs/t4i/cnt/f12655/p1042709.html. Accessed 22 Dec 2018

Katoh K, Sakai S, Takahashi T (2009) Factors maintaining species diversity in satoyama, a traditional agricultural landscape of Japan. Biol Conserv 142:1930–1936. https://doi.org/10.1016/j.biocon.2009.02.030

Kitazawa T, Ohsawa M (2002) Patterns of species diversity in rural herbaceous communities under different management regimes, Chiba, central Japan. Biol Conserv 104:239–249. https://doi.org/10.1016/S0006-3207(01)00170-7

Koyanagi T, Kusumoto Y, Yamamoto S et al (2009) Historical impacts on linear habitats: the present distribution of grassland species in forest-edge vegetation. Biol Conserv 142:1674–1684. https://doi.org/10.1016/j.biocon.2009.03.002

Koyanagi T, Kusumoto Y, Yamamoto S, Takeuchi K (2012) Potential roles of small and linear habitat fragments in satoyama landscapes for conservation of grassland plant species. Urban Ecosyst 15:893–909. https://doi.org/10.1007/s11252-012-0253-4

Lindemann-Matthies P, Junge X, Matthies D (2010) The influence of plant diversity on people's perception and aesthetic appreciation of grassland vegetation. Biol Conserv 143:195–202. https://doi.org/10.1016/j.biocon.2009.10.003

Ministry of Agriculture, Forestry and Fisheries (2016) Annual Report on Food, Agriculture and Rural Areas in Japan. http://www.maff.go.jp/e/data/publish/index.html#Annual. Accessed 15 July 2018

Ministry of Land Infrastructure Transport and Tourism (2015) National Spatial Strategy (National Plan). http://www.mlit.go.jp/common/001127196.pdf. Accessed 14 July 2018

Ministry of the Environment (2010) Action plan for the conservation and sustainable use of socio-ecological production landscapes (Satochi-satoyama)

Ministry of the Environment (2012) The National Biodiversity Strategy of Japan 2012–2020

Ministry of the Environment (2016) Important Satochi Satoyama 500. (in Japanese)

Navarro LM, Pereira HM (2012) Rewilding abandoned landscapes in Europe. Ecosystems 15:900–912. https://doi.org/10.1007/978-3-319-12039-3_1

Normile D (2016) Nature from nurture. Science 351:908–910. https://doi.org/10.1126/science.351.6276.908

Ohwaki A (2015) Ground arthropod communities in paddy fields during the dry period: comparison between different farming methods. J Asia Pac Entomol 18:413–419. https://doi.org/10.1016/j.aspen.2015.05.001

Oksanen AJ, Blanchet FG, Kindt R et al. (2011) Package "vegan". R package version 2.4-3. https://cran.r-project.org, https://github.com/vegandevs/vegan. Accessed 14 Apr 2018

Osawa T, Kohyama K, Mitsuhashi H (2013) Areas of increasing agricultural abandonment overlap the distribution of previously common, currently threatened plant species. PLoS ONE 8:1–9. https://doi.org/10.1371/journal.pone.0079978

Queiroz C, Beilin R, Folke C, Lindborg R (2014) Farmland abandonment: threat or opportunity for biodiversity conservation? A global review. Front Ecol Environ 12:288–296. https://doi.org/10.1890/120348

Sala OE (2000) Global biodiversity scenarios for the year 2100. Science 287:1770–1774. https://doi.org/10.1126/science.287.5459.1770

Shannon CE, Weaver W (1949) The mathematical theory of communication. Math theory Commun 27:117. https://doi.org/10.2307/3611062

Soga M, Koike S (2013) Mapping the potential extinction debt of butterflies in a modern city: implications for conservation priorities in urban landscapes. Anim Conserv 16:1–11. https://doi.org/10.1111/j.1469-1795.2012.00572.x

Soga M, Gaston KJ, Koyanagi TF et al (2016) Urban residents' perceptions of neighbourhood nature: does the extinction of experience matter? Biol Conserv 203:143–150. https://doi.org/10.1016/j.biocon.2016.09.020

Stefanescu C, Peñuelas J, Filella I (2009) Rapid changes in butterfly communities following the abandonment of grasslands: a case study. Insect Conserv Divers 2:261–269. https://doi.org/10.1111/j.1752-4598.2009.00063.x

Takeuchi K (2010) Rebuilding the relationship between people and nature: the Satoyama Initiative. Ecol Res 25:891–897. https://doi.org/10.1007/s11284-010-0745-8

Takeuchi K, Brown DR, Washitani I et al (2003) Satoyama: the traditional rural landscape of Japan. Springer, Tokyo

Uchida K, Ushimaru A (2014) Biodiversity declines due to abandonment and intensification of agricultural lands: patterns and mechanisms. Ecol Monogr 84:637–658. https://doi.org/10.1890/13-2170.1

Uchida K, Takahashi S, Shinohara T, Ushimaru A (2016) Threatened herbivorous insects maintained by long-term traditional management practices in semi-natural grasslands. Agric Ecosyst Environ 221:156–162. https://doi.org/10.1016/j.agee.2016.01.036

Uchida K, Fujimoto H, Ushimaru A (2018a) Urbanization promotes the loss of seasonal dynamics in the semi-natural grasslands of an East Asian megacity. Basic Appl Ecol 29:1–11. https://doi.org/10.1016/j.baae.2018.03.009

Uchida K, Koyanagi TF, Matsumura T, Koyama A (2018b) Patterns of plant diversity loss and species turnover resulting from land abandonment and intensification in semi-natural grasslands. J Environ Manag 218:622–629. https://doi.org/10.1016/j.jenvman.2018.04.059

Uddin MB, Steinbauer MJ, Jentsch A et al (2013) Do environmental attributes, disturbances and protection regimes determine the distribution of exotic plant species in Bangladesh forest ecosystem? For Ecol Manag 303:72–80. https://doi.org/10.1016/j.foreco.2013.03.052

Uematsu Y, Koga T, Mitsuhashi H, Ushimaru A (2010) Abandonment and intensified use of agricultural land decrease habitats of rare herbs in semi-natural grasslands. Agric Ecosyst Environ 135:304–309. https://doi.org/10.1016/j.agee.2009.10.010

United Nations (2014) World urbanization prospects the 2014 revision. United Nations, New York

Yokohama Environment Planning Bureau (2013) The Yokohama Green-Up plan. http://www.city.yokohama.lg.jp/kankyo/midoriup/english/. Accessed 12 Apr 2018
Acknowledgements
We thank our laboratory members for helping with fieldwork, especially Taiki Tachibana, Kousuke Tachibana, Akihito Goto, Rio Matsumura, Daichi Makishima, Hiroki Koyata, and Rui Suto. This work was supported by Hitachi Global Foundation (Grant Number 1331) and the Environment Research and Technology Development Fund (Grant Number S-15-2) of the Ministry of the Environment, Japan.
Electronic supplementary material
Below is the link to the electronic supplementary material.
About this article
Cite this article
Iwachido, Y., Uchida, K., Ushimaru, A. et al. Nature-oriented park use of satoyama ecosystems can enhance biodiversity conservation in urbanized landscapes. Landscape Ecol Eng 16, 163–172 (2020). https://doi.org/10.1007/s11355-020-00413-y
Received:

Revised:

Accepted:

Published:

Issue Date:
Keywords
Agricultural abandonment

Cultural ecosystem services

Human–nature interaction

Park management

Semi-natural

Urban shrinkage