Abstract
High-resolution aerial photographs have important applications in vegetation mapping, especially in environments, such as wetlands, which are not easily accessible by ground operators. Unmanned aerial vehicles (UAVs), equipped with cameras capable of taking photographs of < 1 cm pixel resolution, are promising not only for the vegetation mapping but also for the identification of plant species. This paper illustrated the results of three different flight heights (5 m = 3.5126 mm/pixel; 10 m = 7.0252 mm/pixel; 25 m = 17.5630 mm/pixel), using 12MP images and their magnification, on the identification of vegetation and botanical species in a rewetted peatland populated mainly by Phragmites australis and Myriophyllum aquaticum within the Massaciuccoli Lake basin (Northern Tuscany, Italy). Among the obtained images, we selected the best flight height for the vegetation mapping and the botanical identification of the plant species using both visual and automated image analyses. Images taken from flights at 25 m of height proved to be useful for a sufficiently detailed mapping, while those from 10 m of height were more suitable for the detection of plant microcommunities. However, the most accurate identification of the species (at the taxonomic level of genus/species) was possible only with the images taken from 5 m of height.
This is a preview of subscription content, log in to check access.
Access options
Buy single article
Instant access to the full article PDF.
US$ 39.95
Price includes VAT for USA
Subscribe to journal
Immediate online access to all issues from 2019. Subscription will auto renew annually.
US$ 99
This is the net price. Taxes to be calculated in checkout.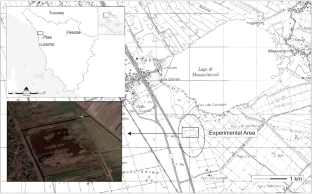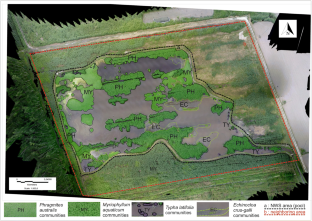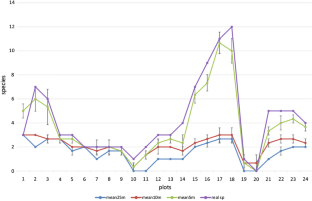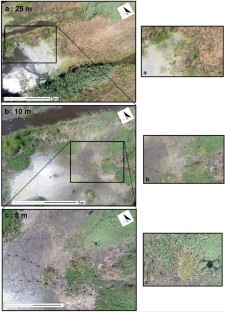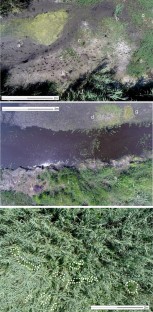 References
Adam E, Mutanga O, Rugege D (2010) Multispectral and hyperspectral remote sensing for identification and mapping of wetland vegetation: a review. Wetl Ecol Manag 18:28–296

Anderson K, Gaston JK (2013) Lightweight unmanned aerial vehicles will revolutionize spatial ecology. Front Ecol Environ 113:138–146. https://doi.org/10.1890/120150

Bertacchi A, Lombardi T, Tomei P, Labate M, Fontanelli A, Picchi L (2015) Vegetation landscape management of "Natural reserve of Chiarone", Massaciuccoli lake basin Tuscany, IT. In: 2nd international congress of plant sciences, 110th congress of Italian Society of Botany, Pavia. http://www.societabotanicaitaliana.it/110/abstract_2015_congresso.pdf. Accessed 15 Jan 2018

Biondi E, Blasi C, Allegrezza M, Anzellotti I, Azzella MM, Carli E et al (2014) Plant communities of Italy: the vegetation prodrome. Plant Biosyst 1484:728–814. https://doi.org/10.1080/11263504.2014.948527

Blaschke T (2010) Object based image analysis for remote sensing. J Photogramm Remote Sens 65:2–16

Braun-Blanquet J (1983) Plant sociology: the study of plant communities. Koeltz Scientific Books, Koenigstein im Taunus

Bryson M, Reid A, Ramos F, Sukkarieh S (2010) Airborne vision-based mapping and classification of large farmland environments. J Field Robot 27:632–655

Carpenter SR, Cottingham KL (1997) Resilience and restoration of lakes. Conservation ecology. Advance online publication. http://www.consecol.org/vol1/iss1/art2/ Accessed 15 Sept 2017

Ciccolini V, Giannini V, Pistocchi C, Bosco S, Pellegrino E, Sabbatini, et al (2013)Restoration of a Mediterranean drained peatland: the case study of the Massaciuccoli lake basin Tuscany IT. AWARE: approaches in wetland restoration—focus on fen landscapes, Warsaw. http://www.biol.uw.edu.pl/aware/AWARE%20posters/AWARE_extended_abstract_Ciccolini%2020%2011%202013.pdf. Accessed 20 June 2018

Davies B, Biggs J, Williams P, Whitfield M, Nicolet P, Sear D, Bray S, Maund S (2008) Comparative biodiversity of aquatic habitats in the European agricultural landscape. Agric Ecosyst Environ 125:1–8

De Groot RS (1992) Functions of nature: evaluation of nature in environmental planning, management and decision making. Wolters-Noordhoff, Groningen

Fitzgerald DG, Zhu B, Hoskins SB, Haddad DE, Green KN, Rudstam LG, Mills EL (2005) Quantifying submerged aquatic vegetation using aerial photograph interpretation. Fisheries 30(2):61–73. https://doi.org/10.1577/1548-8446(2005)30%5b61:QSAVUA%5d2.0.CO;2

Fujimura Y, Takada M, Fujita H, Inoue T (2013) Change in distribution of the vascular plant Sasa palmata in Sarobetsu Mire between 1977 and 2003. Landsc Ecol Eng 9:305–309. https://doi.org/10.1007/s11355-012-0193-4

Getzin S, Wiegand K, Schöning I (2012) Assessing biodiversity in forests using very high-resolution images and unmanned aerial vehicles. Methods Ecol Evol 3:397–404. https://doi.org/10.1111/j.2041-210X.2011.00158.x

Giannini V, Silvestri N, Dragoni F, Pistocchi C, Sabbatini T, Bonari E (2017) Growth and nutrient uptake of perennial crops in a paludicultural approach in a drained Mediterranean peatland. Ecol Eng 103:478–487

Giannini V, Bertacchi A, Bonari E, Silvestri N (2018) Rewetting of a former drained Mediterranean peatland in Tuscany for phyto-treatment use. J Environ Manag 208:92–101

Henderson FM, Lewis AJ (2008) Radar detection of wetland ecosystems: a review. Int J Remote Sens 29:5809–5835. https://doi.org/10.1080/01431160801958405

Howland WG (1980) Multispectral aerial photography for wetland vegetation mapping. Photogramm Eng Remote Sens 46:87–99

Husson E, Hagner O, Ecke F (2014) Unmanned aircraft systems help to map aquatic vegetation. Appl Veg Sci 17:567–577

Ishihama F, Watabe Y, Oguma H (2012) Validation of a high-resolution, remotely operated aerial remote-sensing system for the identification of herbaceous plant species. Appl Veg Sci 15:383–389. https://doi.org/10.1111/j.1654-109X.2012.01184.x

Kaneko K, Nohara S (2014) Review of effective vegetation mapping using the UAV unmanned aerial vehicle method. J Geogr Inf Sys 6:733–742. https://doi.org/10.4236/jgis.2014.66060

Keddy PA (2000) Wetland ecology: principles and conservation. Cambridge University Press, Cambridge

Klemas V (2013) Remote sensing of emergent and submerged wetlands: an overview. Int J Remote Sens 34:6286–6320. https://doi.org/10.1080/01431161.2013.800656

Klimkowska A, DiggelenR Van, Grootjans AP, Kotowski W (2010) Prospects for fen meadow restoration on severely degraded fens. Perspect Plant Ecol Evolut Syst 12:245–255

Klötzli F, Grootjans AP (2001) Restoration of natural and semi-natural wetland systems in Central Europe: progress and predictability of developments. Restor Ecol 9:209–219. https://doi.org/10.1046/j.1526-100x.2001.009002209.x

Kottek M, Grieser J, Beck C, Rudolf B, Rubel F (2006) World Map of the Köppen-Geiger climate classification updated. Meteorol Z 153:259–263

Laliberte AS, Rango A (2011) Image processing and classification procedures for analysis of sub-decimeter imagery acquired with an unmanned aircraft over arid rangelands. GISci Remote Sens 48:4–23

Lastrucci L, Dell'Olmo L, Foggi B, Massi L, Nuccio C, Vicenti C, Viciani D (2017) Contribution to the knowledge of the vegetation of the Lake Massaciuccoli northern Tuscany, Italy. Plant Sociol 54:67–87. https://doi.org/10.7338/pls2017541/03

Marcaccio JV, Markle CE, Chow-Fraser P (2016) Use of fixed-wing and multi-rotor unmanned aerial vehicles to map dynamic changes in a freshwater marsh. J Unmanned Veh Syst 43:193–202. https://doi.org/10.1139/juvs-2015-0016

Martin J, Edwards HH, Burgess MA, Percival HF, Fagan DE et al (2012) Estimating distribution of hidden objects with drones: from tennis balls to Manatees. PLoS One 76:e38882. https://doi.org/10.1371/journal.pone.0038882

Muro J, Canty M, Conradsen K, Hüttich C, Nielsen AA et al (2016) Short-term change detection in wetlands using sentinel-1 time series. Remote Sens 8:795. https://doi.org/10.3390/rs8100795

Oertli B, Joyce DA, Castella E, Juge R, Cambin D, Lachavanne JB (2002) Does size matter? The relationship between ponds area and biodiversity. Biol Conserv 104:59–70

Pellegrino E, Bosco S, Ciccolini V, Pistocchi C, Sabbatini T, Silvestri N, Bonari E (2015) Agricultural abandonment in Mediterranean reclaimed peaty soils: long-term effects on soil chemical properties, arbuscular mycorrhizas and CO2 flux. Agric Ecosyst Environ 199:164–175

Penning WE, Dudley B, Mjelde M, Hellsten S, Hanganu J, Kolada A, van den Berg M, Poikane S et al (2008) Using aquatic macrophyte community indices to define the ecological status of European lakes. Aquat Ecol 42:253–264

Rebelo LM, Finlayson CM, Nagabhatla N (2009) Remote sensing and GIS for wetland inventory, mapping and change analysis. J Environ Manag 90:2144–2153

Sandbrook C (2015) The social implications of using drones for biodiversity conservation. Ambio 444:s636–s647. https://doi.org/10.1007/s13280-015-0714-0

Schmidt K, Skidmore A (2003) Spectral discrimination of vegetation types in a coastal wetland. Remote Sens Environ 85:92–108. https://doi.org/10.1016/S0034-425702.00196-7

Shahbazi M, Théau J, Ménard P (2014) Recent applications of unmanned aerial imagery in natural resource management. GIScience Remote Sens 514:339–365. https://doi.org/10.1080/15481603.2014.926650

Verhoeven JTA (2014) Wetlands in Europe: perspective for restoration of a lost paradise. Ecol Eng 66:6–9

Vymazal J (2007) Removal of nutrients in various types of 645 constructed wetlands. Sci Total Environ 380:48–65

Watts AC, Perry JH, Smith SE, Burgess MA, Wilkinson BE, Szantoi Z, Ifju PG, Percival HF (2010) Small unmanned aircraft systems for low-altitude aerial surveys. J Wildl Manag 747:1614–1619. https://doi.org/10.2193/2009-425

Yabe K, Nakamura T (2010) Assessment of flora, plant communities, and hydrochemical conditions for adaptive management of a small artificial wetland made in a park of a cool-temperate city. Landsc Ecol Eng 6:201–210. https://doi.org/10.1007/s11355-009-0098-z

Yichun X, Zongyao S, Mei Y (2008) Remote sensing imagery in vegetation mapping: a review. J Plant Ecol 1:9–23. https://doi.org/10.1093/jpe/rtm005

Zak D, Gelbrecht J, Zerbe S, Shatwell T, Barth M, Cabezas A, Steffenhagen P (2014) How helophytes influence the phosphorus cycle in degraded inundated peat soils—implications for fen restoration. Ecol Eng 66:82–90

Zedler JB, Kercher S (2005) Wetland resources: status, trends, ecosystem services, and restorability. Annu Rev Environ Resour 30:39–74
Acknowledgements
This work was supported by the "Consorzio di Bonifica Versilia—Massaciuccoli" later "Consorzio di Bonifica 1 Toscana Nord" and funded by the "Regione Toscana".
About this article
Cite this article
Bertacchi, A., Giannini, V., Di Franco, C. et al. Using unmanned aerial vehicles for vegetation mapping and identification of botanical species in wetlands. Landscape Ecol Eng 15, 231–240 (2019). https://doi.org/10.1007/s11355-018-00368-1
Received:

Revised:

Accepted:

Published:

Issue Date:
Keywords
UAVs

Aerial photos

Vegetation map

Wetland

Phragmites
Myriophyllum

Tuscany