Abstract
Human enterprise and endeavour increasingly influence global processes of change, from the planetary scale down to the very local. Cities are hubs of human activity, and as the places where the majority of the world's population live we must, when looking into an uncertain future, consider how we think about urban design. Cities are densely inhabited, lived-in landscapes where human presence and perceptions are deeply enmeshed with biophysical and built infrastructures. As such, they present complex mosaics of different habitats and competing uses, ever changing in response to human and physical drivers. If designed properly, green infrastructure can contribute many important functions to a city. Efforts to strategically make use of green infrastructure can benefit considerably from a systems perspective where linkages and cross-boundary dynamics are at the very least as important as individual components. Design, planning and governance of requirements for green infrastructure also extend far beyond biophysical elements and components. Recognition of interconnections between individual green spaces, green infrastructure and the built environment, the physical environment and diverse actors, and formal and informal governance arrangements—as outlined in the four design principles in this article—is a first important step towards a more comprehensive and inclusive approach, not least to green infrastructure planning and design.
This is a preview of subscription content, log in to check access.
Access options
Buy single article
Instant access to the full article PDF.
US$ 39.95
Price includes VAT for USA
Subscribe to journal
Immediate online access to all issues from 2019. Subscription will auto renew annually.
US$ 99
This is the net price. Taxes to be calculated in checkout.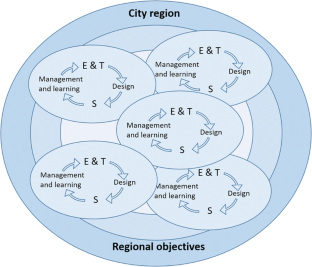 References
Alberti M, Marzluff JM, Shulenberger E et al (2003) Integrating humans into ecology: opportunities and challenges for studying urban ecosystems. Bioscience 53:1169–1179

Allen CR, Angeler DG, Cumming GS et al (2016) REVIEW: quantifying spatial resilience. J Appl Ecol 53:625–635. https://doi.org/10.1111/1365-2664.12634

Andersson E, Barthel S, Ahrné K (2007) Measuring social–ecological dynamics behind the generation of ecosystem services. Ecol Appl 17:1267–1278. https://doi.org/10.1890/06-1116.1

Andersson E, Barthel S, Borgström S et al (2014) Reconnecting cities to the biosphere: stewardship of green infrastructure and urban ecosystem services. Ambio 43:445–453. https://doi.org/10.1007/s13280-014-0506-y

Andersson E, McPhearson T, Kremer P et al (2015a) Scale and context dependence of ecosystem service providing units. Ecosyst Serv 12:157–164. https://doi.org/10.1016/j.ecoser.2014.08.001

Andersson E, Tengö M, McPhearson T, Kremer P (2015b) Cultural ecosystem services as a gateway for improving urban sustainability. Ecosyst Serv 12:165–168. https://doi.org/10.1016/j.ecoser.2014.08.002

Andersson E, Borgström S, McPhearson T (2017a) Double insurance in dealing with extremes: ecological and social factors for making nature-based solutions last. In: Kabisch N, Korn H, Stadler J, Bonn A (eds) Nature-based solutions to climate change adaptation in urban areas: linkages between science, policy and practice. Springer, Cham, pp 51–64

Andersson E, Enqvist J, Tengö M (2017b) Stewardship in urban landscapes. In: Bieling C, Plieninger T (eds) The science and practice of landscape stewardship. Cambridge University Press, Cambridge, pp 222–238

Arkema KK, Griffin R, Maldonado S et al (2017) Linking social, ecological, and physical science to advance natural and nature-based protection for coastal communities. Ann N Y Acad Sci 1399:5–26. https://doi.org/10.1111/nyas.13322

Barthel S, Colding J, Elmqvist T, Folke C (2005) History and local management of a biodiversity-rich, urban, cultural landscape. Ecol Soc 10:10

Barthel S, Folke C, Colding J (2010) Social–ecological memory in urban gardens—retaining the capacity for management of ecosystem services. Glob Environ Chang 20:255–265. https://doi.org/10.1016/j.gloenvcha.2010.01.001

Benedict MA, McMahon ET (2002) Green infrastructure: smart conservation for the 21st century. Renew Resour J 20:12–17

Berkes F, Folke C (1998) Linking social and ecological systems: management practices and social mechanisms for building resilience. Cambridge University Press, Cambridge

Berkes F, Folke C (2002) Back to the future: ecosystem dynamics and local knowledge. In: Gunderson L, Holling CS (eds) Panarchy: understanding transformations in human and natural systems. Island, Washington, pp 121–146

Biggs R, Schlüter M, Biggs D et al (2012) Toward principles for enhancing the resilience of ecosystem services. Annu Rev Environ Resour 37:421–448. https://doi.org/10.1146/annurev-environ-051211-123836

Buijs AE, Mattijssen TJ, Van der Jagt AP et al (2016) Active citizenship for urban green infrastructure: fostering the diversity and dynamics of citizen contributions through mosaic governance. Curr Opin Environ Sustain 22:1–6. https://doi.org/10.1016/j.cosust.2017.01.002

Cameron RWF, Blanuša T, Taylor JE et al (2012) The domestic garden—its contribution to urban green infrastructure. Urban For Urban Green 11:129–137. https://doi.org/10.1016/j.ufug.2012.01.002

Colding J, Barthel S (2013) The potential of "urban green commons" in the resilience building of cities. Ecol Econ 86:156–166. https://doi.org/10.1016/j.ecolecon.2012.10.016

Cumming GS, Cumming DHM, Redman CL (2006) Scale mismatches in social–ecological systems: causes, consequences, and solutions. Ecol Soc 11:14

Cumming GS, Allen CR, Ban NC et al (2015) Understanding protected area resilience: a multi-scale, social–ecological approach. Ecol Appl 25:299–319. https://doi.org/10.1890/13-2113.1

Daily G (1997) Nature's services. Island, Washington

Echols S, Pennypacker E (2008) From stormwater management to artful rainwater design. Landsc J 27:268–290

Elmqvist T, Redman CL, Barthel S, Costanza R (2013) History of urbanization and the missing ecology. In: Elmqvist T, Fragkias M, Goodness J et al (eds) Urbanization, biodiversity and ecosystem services: challenges and opportunities. Springer, Dordrecht, pp 13–30

Ernstson H, Sörlin S (2009) Weaving protective stories: connective practices to articulate holistic values in the Stockholm National Urban Park. Environ Plan A 41:1460–1479

Ernstson H, Sörlin S, Elmqvist T (2008) Social movements and ecosystem services—the role of social network structure in protecting and managing urban green areas in Stockholm. Ecol Soc 13:39

Ernstson H, Barthel S, Andersson E, Borgström ST (2010) Scale-crossing brokers and network governance of urban ecosystem services: the case of Stockholm, Sweden. Ecol Soc 15:28

Fazey I, Fazey JA, Fazey DMA (2005) Learning more effectively from experience. Ecol Soc 10:4

Firehock K (2010) A short history of the term green infrastructure and selected literature. http://www.gicinc.org/PDFs/GI%20History.pdf. Accessed 3 Oct 2017

Folke C (2016) Resilience (republished). Ecol Soc 21:44

Gomez-Baggethun EP, Gren Å, Barton DN et al (2013) Urban ecosystem services. In: Elmqvist T, Fragkias M, Goodness J et al (eds) Global urbanization, biodiversity, and ecosystems—challenges and opportunities cities and biodiversity outlook—scientific analyses and assessments. Springer, Dordrecht, pp 175–251

Grimm NB, Grove JM, Pickett STA, Redman CL (2000) Integrated approaches to long-term studies of urban ecological systems. Bioscience 50:571–583

Guerrero AM, McAllister RRJ, Corcoran J, Wilson KA (2013) Scale mismatches, conservation planning, and the value of social–network analyses. Conserv Biol 27:35–44

Gunderson LH, Holling CS (2002) Panarchy. Understanding transformations in human and natural systems. Island, Washington

Holling CS (1973) Resilience and stability of ecological systems. Annu Rev Ecol Syst 4:1–23

Holling CS, Meffe GK (1996) Command and control and the pathology of natural resource management. Conserv Biol 10:328–337

Holling CS, Gunderson LH, Peterson GD (2002) Sustainability and panarchies. In: Gunderson LH, Holling CS (eds) Panarchy. Understanding transformations in human and natural systems. Island, Washington, pp 63–102

Keskitalo ECH, Horstkotte T, Kivinen S et al (2016) "Generality of mis-fit"? The real-life difficulty of matching scales in an interconnected world. Ambio. https://doi.org/10.1007/s13280-015-0757-2

Mattijssen T, Buijs A, Elands B, Arts B (2017) The "green" and "self" in green self-governance—a study of 264 green space initiatives by citizens. J Environ Policy Plan 19:1–18

McPhearson T, Pickett STA, Grimm NB et al (2016) Advancing urban ecology toward a science of cities. Bioscience 66:198–212. https://doi.org/10.1093/biosci/biw002

Mell IC (2008) Green infrastructure: concepts and planning. FORUM eJ 8:69–80

Millennium Ecosystem Assessment (2005) Living beyond our means: natural assets and human well-being. Island, Washington

Miller JR (2005) Biodiversity conservation and the extinction of experience. Trends Ecol Evol 20:430–434

Nassauer JI, Wang Z, Dayrell E (2009) What will the neighbors think? Cultural norms and ecological design. Landsc Urban Plan 92:282–292. https://doi.org/10.1016/j.landurbplan.2009.05.010

New York-Connecticut Sustainable Communities Consortium (2013) Coastal climate resilience: urban waterfront adaptive strategies. HUD Sustainable Communities Regional Planning Grant and the City of New York, New York

Niemelä J, Breuste JH, Guntenspergen G et al (2011) Urban ecology: patterns, processes, and applications. OUP, Oxford

Olsson P, Folke C, Berkes F (2004) Adaptive comanagement for building resilience in social–ecological systems. Environ Manage 34:75–90

Ostrom E (1999) Coping with tragedies of the commons. Annu Rev Polit Sci 2:493–535

Palomo I, Felipe-Lucia MR, Bennett EM et al (2016) Disentangling the pathways and effects of ecosystem service co-production. Adv Ecol Res 54:245–283

Pataki DDE, Carreiro MMM, Cherrier J et al (2011) Coupling biogeochemical cycles in urban environments: ecosystem services, green solutions, and misconceptions. Front Ecol Environ 9:27–36. https://doi.org/10.1890/090220

Pauleit S, Hansen R, Rall EL et al (2017) Urban landscapes and green infrastructure. Oxford research encyclopedia of environmental science. Interactive Factory, Boston

Pickett STA, Cadenasso ML, Grove JM et al (2001) Urban ecological systems: linking terrestrial ecological, physical, and socioeconomic components of metropolitan areas. Annu Rev Ecol Syst 32:127–157

Pyle RM (1978) The extinction of experience. Horticulture 56:64–67

Rieb JT, Chaplin-Kramer R, Daily GC et al (2017) When, where, and how nature matters for ecosystem services: challenges for the next generation of ecosystem service models. Bioscience 3:1–7. https://doi.org/10.1093/biosci/bix075

Searle G (2004) The limits to urban consolidation. Aust Plan 41:42–48

Seto KC, Fragkias M, Güneralp B, Reilly MK (2011) A meta-analysis of global urban land expansion. PLoS One 6:e23777. https://doi.org/10.1371/journal.pone.0023777

Shuster WD, Morrison MA, Webb R (2008) Front-loading urban stormwater management for success—a perspective incorporating current studies on the implementation of retrofit low-impact development. Cities Environ 1:8

Sinclair P, Herschend F, Nordquist G, Isendahl C (eds) (2010) The urban mind: cultural and environmental dynamics. Studies in Global Archaeology 15. Uppsala University Press, Uppsala

Steffen W, Persson Å, Deutsch L et al (2011) The anthropocene: from global change to planetary stewardship. Ambio 40:739–761. https://doi.org/10.1007/s13280-011-0185-x

Tidball K, Stedman R (2013) Positive dependency and virtuous cycles: from resource dependence to resilience in urban social–ecological systems. Ecol Econ 86:292–299. https://doi.org/10.1016/j.ecolecon.2012.10.004

Tidball GK, Krasny EM, Svendsen E et al (2010) Stewardship, learning and memory in disaster resilience. Environ Learn Res 16:591–609

UN (2015) World urbanization prospects the 2014 revision. https://esa.un.org/unpd/wup/Publications/Files/WUP2014-Report.pdf. Accessed 26 Sept 2016

Walker B, Salt D (2012) Resilience thinking: sustaining ecosystems and people in a changing world. Island, Washington

Wilkinson C, Sendstad M, Parnell S, Schewenius M (2013) Urban governance of biodiversity and ecosystem services BT—urbanization, biodiversity and ecosystem services: challenges and opportunities: a global assessment. In: Elmqvist T, Fragkias M, Goodness J et al (eds) Urbanization, biodiversity and ecosystem services: challenges and opportunities. Springer, Dordrecht, pp 539–587
Acknowledgements
This research was funded by the European Commission Seventh Framework Programme (FP7-ENV.2013.6.2-5-603567) and has benefitted from discussions with participating partners in the GREEN SURGE research project.
About this article
Cite this article
Andersson, E. Functional landscapes in cities: a systems approach. Landscape Ecol Eng 14, 193–199 (2018). https://doi.org/10.1007/s11355-017-0346-6
Received:

Revised:

Accepted:

Published:

Issue Date:
Keywords
Green infrastructure

Social–ecological systems

Resilience

Scales

Governance

Perception