Functional landscapes in cities: a systems approach
Special Feature: Report Landscape and Green Infrastructure, a Key to Sustainability
Abstract
Human enterprise and endeavour increasingly influence global processes of change, from the planetary scale down to the very local. Cities are hubs of human activity, and as the places where the majority of the world's population live we must, when looking into an uncertain future, consider how we think about urban design. Cities are densely inhabited, lived-in landscapes where human presence and perceptions are deeply enmeshed with biophysical and built infrastructures. As such, they present complex mosaics of different habitats and competing uses, ever changing in response to human and physical drivers. If designed properly, green infrastructure can contribute many important functions to a city. Efforts to strategically make use of green infrastructure can benefit considerably from a systems perspective where linkages and cross-boundary dynamics are at the very least as important as individual components. Design, planning and governance of requirements for green infrastructure also extend far beyond biophysical elements and components. Recognition of interconnections between individual green spaces, green infrastructure and the built environment, the physical environment and diverse actors, and formal and informal governance arrangements—as outlined in the four design principles in this article—is a first important step towards a more comprehensive and inclusive approach, not least to green infrastructure planning and design.
Keywords
Green infrastructure 
Social–ecological systems 
Resilience 
Scales 
Governance 
Perception 
Introduction
Cities derive their functions from complex interactions between the natural and built environment and their uses. When seen as landscapes, cities tend to be small-scale mosaics of different types of land use, most of them featuring a combination of natural and manmade structures (and everything in between). While function is, to some extent, emergent, it is also something we can promote through design. Design has been an ever-present endeavour since people started to live in denser settlements, but with the Earth now entering the Anthropocene (Steffen et al. 2011) we need to ask: what do we think about design, and what questions do we need to address with respect to design?
One of the hallmarks of the Anthropocene is the unprecedented growth of cities, both spatially and in terms of population (Seto et al. 2011; UN 2015). Most of us lead our daily lives in cities and they are where we seek to obtain the benefits of various functions and services. Many of these functions are contingent on the continued existence of functioning ecosystems in cities, and the focus of this article is on how we might work with, and through, urban green infrastructure for human well-being and to create liveable and attractive cities for the future. When cities become denser, many of their public benefits that we have taken for granted become increasingly under pressure (e.g. Searle 2004). More people will want to use the same or even shrinking green spaces for diverse interests and needs. One often proposed approach to at least mitigate this dilemma is to promote multifunctional green spaces or multifunctional networks of interconnected green spaces (e.g. Benedict and McMahon 2002). Extended multifunctionality, however, goes against many traditional design approaches where the focus has rather been on optimisation and efficiency.
Although its underlying principles and traditions stretch much further back, green infrastructure emerged as a concept in the 1990s (Mell 2008; Firehock 2010). As emphasized by the adoption of the term 'infrastructure', green space planning and management look beyond individual green spaces to see them as functionally interconnected units (Benedict and McMahon 2002). While at a very coarse level green infrastructure can be seen as a 'green' network, the green part actually comprises a high diversity of different ecosystems and land uses. It includes parks or other public spaces, diverse private gardens and other green spaces as well as pockets of remnant or derelict land, and ownership is shared by many (e.g. Barthel et al. 2005; Cameron et al. 2012). Cities have always seen a mix of largely unmanaged and highly designed and managed green spaces, and finding ways to analyse and work with this heterogeneity is a challenge for science as well as in practice (McPhearson et al. 2016).
Green infrastructure offers many nature-based alternatives to technical solutions for the delivery of various services. This is reflected in a now extensive literature on ecosystem services, i.e. the potential benefits of nature (see e.g. Daily 1997; Millennium Ecosystem Assessment 2005; Gomez-Baggethun et al. 2013). However, designing green infrastructure to support and deliver these services—especially over time, when conditions are rapidly changing—is a very real challenge. This short report will draw on a social–ecological (-technical) systems approach to outline a couple of principles that can be applied to the design of cities, and especially their embedded green infrastructure, to support their functions during turbulent times. These principles are not meant to replace existing approaches, or act as a stand-alone broad paradigm; they are instead meant to complement and sometimes counter-balance more social–technical approaches.
The social–ecological systems perspective
Cities are densely inhabited, lived-in landscapes where human presence and perceptions are deeply enmeshed with biophysical and built infrastructures (Grimm et al. 2000; Pickett et al. 2001; Alberti et al. 2003; Andersson et al. 2014). They present complex mosaics of different habitats and competing human uses, ever changing in response to human and physical drivers (Niemelä et al. 2011; Rieb et al. 2017). Any attempt to design for different functions under these circumstances can very much benefit from a systems perspective where linkages and cross-boundary dynamics are at the very least as important as the individual components. A social–ecological systems perspective emphasizes the strong feedback mechanisms between people and nature, positioning people not apart from nature but as a very involved, active part of it (Berkes and Folke 1998). Socially framed and influential factors affect the development and evolution of urban ecosystems (Sinclair et al. 2010; Elmqvist et al. 2013), and human perceptions and values influence when and under what circumstances various ecosystem services may be turned into benefits (Andersson et al. 2015a; Palomo et al. 2016). One of the most important implications of this understanding is that green infrastructure and the functions it has to offer will always partly be a question of people and society.
One fundamental characteristic of social–ecological systems is the recognition of scales and change over time. This discussion has at its core the concept of resilience, which denotes a system's capacity to absorb disturbance and reorganize without losing its function, structure and feedbacks, and therefore identity (Walker and Salt 2012; Folke 2016). System resilience stems from, and is influenced by, the ecological properties of different ecosystems (Holling 1973), i.e. the species present and their interactions and responses to change, and the many different ways society processes and mediates human–nature relationships. For example, different management regimes have been shown to result in very different system outcomes in terms of resilience to change (Holling and Meffe 1996; Olsson et al. 2004). Where resilience thinking has traditionally emphasized the ability of a system to resist or reorganise as its main characteristics, later iterations explicitly include transformations as a further necessary dynamic in a resilient system (Folke 2016).
The different components and scales of a system are viewed as hierarchically and dynamically linked (Gunderson and Holling 2002). This means that not only are local interactions often nonlinear and constrained by larger scales, but also that they may have emergent and cascading effects at much larger scales (Berkes and Folke 2002; Holling et al. 2002). Thus, comprehensive strategies for designing or managing complex social–ecological systems must address multiple scales as well as multiple system dimensions. Strategic planning and design of green infrastructure in cities can be a means of achieving this integration (Pauleit et al. 2017). Integration can of course change the biophysical preconditions and potential of green infrastructure to meet different needs, and do this over time. Moreover, integration can change how people in cities understand and interact with green infrastructure, which is the second prerequisite for making solutions resilient.
This perspective has many implications for design; too many to be covered in a short report. In the next section, I will focus on a few, first principles for making sure individual components deliver resilient benefit flows.
Design principles for hierarchically nested green solutions
As indicated above, design approaches need to extend beyond individual green infrastructure elements and relate them to the context that they will be embedded in and thus intrinsically connected to (Fig. 
1
). Design needs also address and include much more than the biophysical elements and components of green infrastructure—use and maintenance, and thus function, are all informed by society. Below I will outline four principles that could inform such a scale-spanning, social–ecological systems approach for making sure green infrastructure is and remains functional.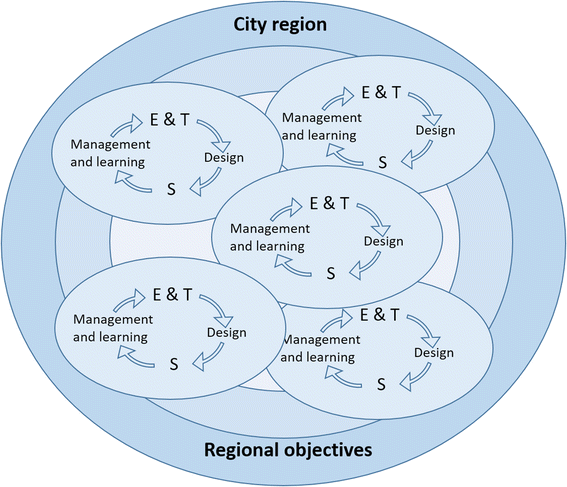 At the site level
Build/add functionality to a core that has public support
For long-lasting solutions, support from the general public is critical. Land and space are highly contested and only something that is seen as important and attractive by a very diverse public will have the energy invested in it for various challenges to be overcome. However, many of the core values people attach to place are often open-ended, e.g. space for recreation and social interaction, and to this rather general foundation additional functions can be added (e.g. Nassauer et al. 2009). For example, people may like a deciduous woodland for its aesthetics and recreational opportunities but not be overly concerned with which tree species comprise the woodland or whether or not parts of the woodland happen also to be a wetland. Or, in the case of stormwater parks or rain gardens (defined as landscape elements with stormwater infrastructure or infiltration capacity; Echols and Pennypacker 2008), green spaces can be designed to increase the attractiveness or use value while also providing hydrological functions that protect human property and well-being during extreme weather events (Shuster et al. 2008; Pataki et al. 2011). Thus, by working within a framework set by broadly appreciated qualities layers of less immediately recognised functions and services can be added (Nassauer et al. 2009; Andersson et al. 2015b). Ecologically nonspecific, or not too specific, qualities also allow for more options for adaptation and changes within the detailed design, which is key for navigating periods of change without losing core functions. Here, designs need to explore how one may tinker and work within a framework to build multifunctionality and adaptive capacity by carefully investigating and investing in the opportunities offered by biodiversity and units which provide different ecosystem services (sensu Andersson et al. 2015a).
Seek management/governance solutions that have additional value
Central for the social–ecological perspective is that people and nature form a lasting relationship. Green spaces, not least in cities, are products of a long history of feedback between the users and managers of green space and the ecological dynamics of the green spaces (Barthel et al. 2005). This has two implications: management and use are centrally important for the character and function of green space, and the type of interaction with green spaces has implications for the users/managers. By involving, in different ways, more people in the management and decision making about green spaces additional, more socio-cultural benefits can be unlocked. Colding and Barthel (2013) show how different use and management rights influence learning outcomes and management strategies, and learning has repeatedly been demonstrated to be a key social feature of resilience building (Fazey et al. 2005; Tidball et al. 2010; e.g. Biggs et al. 2012). Involvement and frequent interaction also influence place making, in terms of how people understand and relate to a place. One of the problems with urbanisation as it has been implemented to date is that people have become increasingly disconnected from the actual processes maintaining the resources of interest to them (Pyle 1978; Miller 2005) and start to have unrealistic or unsustainable expectations of nature. Andersson et al. (2007) showed how different management regimes for urban parks, cemeteries and allotments—which all share many ecological features—led to very different outcomes in terms of managers' interest in learning, sense of place and general motivation. The more reasons for being involved the manager had, the stronger was the motivation to learn and invest more in experimentation (Andersson et al. 2007). Similarly, Tidball and Stedman (2013) describe how positive dependency, the recognised importance of e.g. a garden or a park for well-being, may serve as a precursor to the development of a heightened sense of ecological self and sense of ecological place in urban social–ecological systems. Forms of governance that are more participative and enhance learning may help counter this trend and restore a better understanding of systems that people still very much depend on. Many collective forms of governance also display a stronger memory, i.e. they are better at retaining different forms of knowledge over time (Barthel et al. 2010). There are two approaches and tasks for land design: one is to design more participative processes that sustain learning and sharing of knowledge over time, the second is to set up a fair and amenable institutional arrangement for land tenure and property/use rights.
At the landscape level
Build in two layers of insurance
One of the most widely recognised functions of green infrastructure is to provide insurance against extreme events and unexpected changes. Well-known examples include coastal wetlands, urban forests and infiltration–retention systems. For this insurance to work, and continue to work over time, two conditions need to be met (Andersson et al. 2017a). First, the relevant green infrastructure elements must match the scale and location of the hazards they are to mitigate, which often means providing a barrier between a disturbance and vulnerable communities or property. Second, the elements themselves need to be resilient to various changes and disturbances, including the ones they are supposed to mitigate. The capacity of different green infrastructure elements to withstand a disturbance, to persist, is determined by both ecological and social factors (e.g. New York-Connecticut Sustainable Communities Consortium 2013). Basic ecological resilience can be promoted by making sure that green infrastructure is biologically diverse and that its different elements are functionally connected (Cumming et al. 2015; Allen et al. 2016). This resilience can be strengthened by ecosystem-based, adaptive management strategies and can be further reinforced by built infrastructure. In terms of ecology, Arkema et al. (2017) reviewed how an off-shore to on-shore gradient of structurally different ecosystems can together supply higher levels of coastal protection services by progressively moderating the impacts of stormwater surges and hydrodynamic processes, and how this protection extends also to the inner layers of defence. For example, mangroves and wetlands can attenuate waves and reduce storm surges while retaining sediments by inhibiting resuspension and stabilizing soils, while coral and oyster reefs can attenuate waves, trap sediments and thus play an important role over the long term by creating a near-shore wave climate that is conducive to the growth of coastal vegetation (Arkema et al. 2017).
Build horizontal and vertical connections to matching scales
As indicated above, involving multiple actors in the management of green infrastructure can both improve its functionality and strengthen its resilience. It may also offer a strategy for solving a prevalent problem: multiple case studies on social–ecological systems indicate that there is a prevalent mismatch between the scales and functional connections of ecological dynamics and the scales of the governance structure more or less managing them (e.g. Cumming et al. 2006; Guerrero et al. 2013; Keskitalo et al. 2016). Local initiatives may be successful, i.e. delivering on both social and environmental objectives (see e.g. Mattijssen et al. 2017), and a diverse set-up of different, autonomous groups can be a source of resilience (Ostrom 1999; Biggs et al. 2012). However, lack of coordination and incompatible goals among actors and across scales are also some of the more pervasive problems in urban planning (e.g. Wilkinson et al. 2013). Thus, finding local solutions is not enough, and the individual solutions need to scale up to something that makes sense at larger scales. To make sure that the principles described above are properly deployed there is a need for connecting actors at different levels and with different stakes, and for the design of a governance structure capable of drawing on the strengths of the different actors while avoiding undesired outcomes (conflicts, deepened sense of injustice etc.). In an in-depth case study of a social movement in Stockholm, Ernstson et al. (2008, 2010) and Ernstson and Sörlin (2009) showed how different local interest groups managed to align their interests and pool skills and resources to effect the legal protection of what is now one of the world's first national urban parks. The success, it is argued (Ernstson and Sörlin 2009; Andersson et al. 2017b), was partly due to the combined capacities of and contact between a diverse set of actors and their ability to effectively argue their case to different audiences.
One way to promote such cross-scale, cross-boundary integration might be to appoint or open up a mandate for 'scale-crossing brokers' (sensu Ernstson et al. 2010). This is a more flexible intermediary role of a person or an organisation acting as a go-between and mediator between the many and diverse actors involved in green infrastructure governance. Scale-crossing brokers can be viewed as agents that continuously strive to create and sustain a purposeful network structure for ecosystem governance, and this function can be supported by making sure that there is a mandate and resources made available to such an actor. There is a potential for local authorities to step in and be one of the actors providing this function. According to Buijs et al. (2016), what is needed is not a retreat of government. Instead, local authorities must be more sensitive to the physical diversity of urban green spaces, the cultural diversity of urban citizens and their use of green spaces and the institutional diversity of how citizens self-organise. Central to the different governance options is that an organisational arrangement is found that pulls together the skills and resources needed for effective engagement with urban social–ecological systems (Andersson et al. 2017b).
Conclusion
While the principles discussed here are important they are not in themselves enough to comprehensively provide a social–ecological systems perspective on urban planning and design, not even on how to make the best use of green infrastructure in cities. Nevertheless, the principles identify important factors that need to be addressed in urban planning. Recognition of interconnections between individual green spaces, green infrastructure and the built environment, the physical environment and diverse actors, and formal and informal governance arrangements, is a first important step towards a more comprehensive and inclusive approach, not least to green infrastructure planning and design, and a starting point when addressing the problem of a very uncertain future.
Notes
Acknowledgements
This research was funded by the European Commission Seventh Framework Programme (FP7-ENV.2013.6.2-5-603567) and has benefitted from discussions with participating partners in the GREEN SURGE research project.
Copyright information
© International Consortium of Landscape and Ecological Engineering and Springer Japan KK, part of Springer Nature 2018