Abstract
The concept of threshold can potentially be applied to conservation planning of species, habitats, and ecosystems. It also has significance in managing social–ecological systems for resilience. However, our understanding and use of threshold has been scattered among various disciplines, and the link to conservation planning and social–ecological system management has not been strongly established. The review of the use of threshold in various disciplines reveals that the term is used in a similar manner in both natural and social sciences: a threshold is a point or a zone on an independent variable, and if it is crossed, a sudden, large change in the state of a dependent variable occurs. Even a small change in the independent variable brings this drastic change; nonlinear relationship characterizes the threshold response. Thresholds also separate alternative regimes in a social–ecological system. The discussion of the application of threshold concept to watershed planning concludes that although using one threshold value of impervious surfaces in a watershed to regulate new developments and retrofit old ones is a cost-effective method, a more integrated approach is needed. The use of habitat amount threshold to conserve species promotes proactive planning that would prioritize areas for protection before the threshold is reached and would restore habitat based on the threshold target. However, species-specific data to decide on the threshold is often lacking, and the identification of thresholds is not straightforward. Nonetheless, the concept of threshold is appealing for proactive planning and significant in managing social–ecological systems for resilience.
Access options
Buy single article
Instant access to the full article PDF.
USD 39.95
Price excludes VAT (USA)
Tax calculation will be finalised during checkout.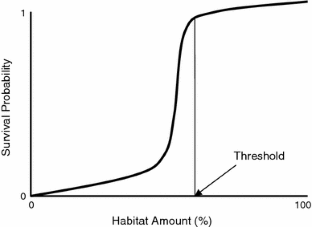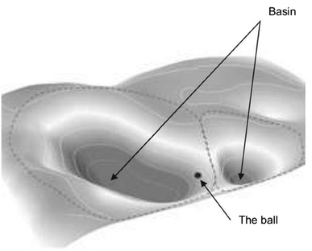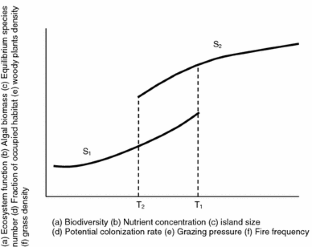 References
Arnold CLJ, Gibbons CJ (1996) Impervious surface coverage: the emergence of a key environmental indicator. J Am Plan Assoc 62:243–258

Bell ML, Peng RD, Dominici F (2006) The exposure-response curve for ozone and risk of mortality and the adequacy of current ozone regulations. Environ Health Perspect 114:532–536

Bestelmeyer BT, Brown JR, Havstad KM, Alexander R, Chavez G, Herrick JE (2003) Development and use of state-and-transition models for rangelands. J Range Manage 56:114–126

Booth DB, Jackson CR (1997) Urbanization of aquatic systems: degradation thresholds, stormwater detection, and the limits of mitigation. J Am Water Resour Assoc 33:1077–1090

Booth DB, Hartley D, Jackson R (2002) Forest cover, impervious-surface area, and the mitigation of stormwater impacts. J Am Water Resour Assoc 38:835–845

Booth DB, Karr JR, Schauman S, Konrad CP, Morley SA, Larson MG, Burger SJ (2004) Reviving urban streams: land use, hydrology, biology, and human behavior. J Am Water Resour Assoc 40:1351–1364

Brabec E, Schulte S, Richards PL (2002) Impervious surfaces and water quality: a review of current literature and its implications for watershed planning. J Plan Lit 16:499–514

Bunyard P (2004) Crossing the threshold. Ecol 34:55–58

Carpenter SR (2001) Alternate states of ecosystems: evidence and some implications. In: Press MC, Huntly NJ, Levin S (eds) Ecology: achievement and challenge. Blackwell Science, Oxford, pp 357–383

Carpenter SR (2003) Regime shifts in lake ecosystems: pattern and variation. International Ecology Institute, Oldendorf/Luhe, Germany

Case TJ (2000) An illustrated guide to theoretical ecology. Oxford University Press, New York

Center for Watershed Protection (2003) Impacts of impervious cover on aquatic systems. Center for Watershed Protection, Ellicott City

Center for Watershed Protection, Maryland Department of the Environment (2000) 2000 Maryland Stormwater Design Manual, vols I & II. Available online at http://www.mde.state.md.us/Programs/WaterPrograms/SedimentandStormwater/stormwater_design/index.asp. Accessed on 17 Feb 2008

Cowling SA, Shin Y (2006) Simulated ecosystem threshold responses to co-varying temperature, precipitation and atmospheric CO2 within a region of Amazonia. Glob Ecol Biogeogr 15:553–566

Davis JA (1985) Anaerobic threshold: review of the concept and directions for future research. Med Sci Sports Exerc 17:6–18

Department of Environmental Resources Management, Miami-Dade County, Florida (2009) Stormwater utility fee. Available online at http://www.miamidade.gov/derm/stormwater_utility_bill.asp. Accessed on 30 Aug 2009

Fahrig L (2001) How much habitat is enough? Biol Conserv 100:65–74

Folke C et al (2004) Regime shifts, resilience, and biodiversity in ecosystem management. Annu Rev Ecol Evol Syst 35:557–581

Garcia E, Godoy-Izquierdo D, Godoy JF, Perez M, Lopez-Chicheri I (2007) Gender differences in pressure pain threshold in a repeated measures assessment. Psychol Health Med 12:567–579

Georgette N (2007) The quantification of the effects of changes in population parameters on the herd immunity threshold. Internet J Epidemiol 5:5–5

Gunderson LH, Holling CS (2002) Panarchy: understanding transformations in human and natural systems. Island Press, Washington, DC

Gunderson LH, Pritchard LJ (2002) Resilience and the behavior of large-scale systems. Island Press, Washington, DC

Havstad KM, Herrick JE (2003) Long-term ecological monitoring. Arid Land Res Manage 17:389–400

Holling CS (1973) Resilience and stability of ecological systems. Annu Rev Ecol Evol Syst 4:1–23

Holling CS, Gunderson LH (2002) Resilience and adaptive cycles. In: Gunderson LH, Holling CS (eds) Panarchy: understanding transformations in human and natural systems. Island Press, Washington, DC, pp 25–62

King County, Washington (2009) 2009 King County Surface Water Design Manual. Available at http://www.kingcounty.gov/environment/waterandland/stormwater/documents/surface-water-design-manual.aspx. Accessed on 30 Aug 2009

Kwon HY, Winer R, Schueler T (2008) 8 Tools of Watershed Protection. Available at http://www.epa.gov/owow/watershed/wacademy/acad2000/protection/r2.html. Accessed on 8 Oct 2008

May CW, Horner RR, Karr JR, Mar BW, Welch EB (1997) Effects of urbanization on small streams in the Puget Sound lowland ecoregion. Watershed Protect Tech 2:483–494

Merriam-Webster Online Dictionary (2009) Threshold. Available at http://www.merriam-webster.com/dictionary/threshold. Accessed on 30 Aug 2009

Miltner RJ, White D, Yoder C (2004) The biotic integrity of streams in urban and suburbanizing landscapes. Landscape Urban Plann 69:87–100

Moglen GE, Kim S (2007) Limiting imperviousness: are threshold-based policies a good idea? J Am Plan Assoc 73:161–171

Muradian R (2001) Ecological thresholds: a survey. Ecol Econ 38:7–24

Nyström M, Folke C, Moberg F (2000) Coral reef disturbance and resilience in a human-dominated environment. Trends Ecol Evol 15:413–417

Oxford Dictionary of English (2003) Soanes C, Stevenson A (ed) 2nd edn. Oxford University Press, Oxford

Radford JQ, Bennett AF (2004) Thresholds in landscape parameters: Occurrence of the white-browed treecreeper Climacteris affinis in Victoria, Australia. Biol Conserv 117:375–391

Randhir TO, Shriver DM (2009) Multiattribute optimization of restoration options: Designing incentives for watershed management. Water Resour Res 45:W03405

Resilience Alliance, Santa Fe Institute (2009) Thresholds and alternate states in ecological and social–ecological systems. Available at http://www.resalliance.org/183.php. Accessed on 29 Aug 2009

Scheffer M, Carpenter S, Foley JA, Folke C, Walker B (2001) Catastrophic shifts in ecosystems. Nature 413:591–596

Schueler T (1994) The importance of imperviousness. Watershed Protect Tech 1:100–111

Serra T, Goodwin BK, Gil JM, Mancuso A (2006) Non-parametric modelling of spatial price relationships. J Agric Econ 57:501–522

Sokolov A, Pavlova M (2006) Visual motion detection in hierarchical spatial frames of reference. Exp Brain Res 174:477–486

Stauffer D, Aharony A (1994) Introduction to percolation theory. Taylor & Francis, Philadelphia

Strecker EW, Quigley MM, Urbonas BR, Jones JE, Clary JK (2001) Determining urban storm water BMP effectiveness. J Water Resour Plan Manage 127:144–149

van de Koppel J, Rietkerk M, Weissing FJ (1997) Catastrophic vegetation shifts and soil degradation in terrestrial grazing systems. Trends Ecol Evol 12:352–356

Walker B, Meyers JA (2004) Thresholds in ecological and social–ecological systems: a developing database. Ecol Soc 9(2):3. Available at http://www.ecologyandsociety.org/vol9/iss2/art3/. Accessed on 3 Aug 2009

Walker B, Salt D (2006) Resilience thinking: sustaining ecosystems and people in a changing world. Island Press, Washington, DC

Walker B, Holling CS, Carpenter SR, Kinzig A (2004) Resilience, adaptability and transformability in social–ecological systems. Ecol Soc 9(2):5. Available at http://www.ecologyandsociety.org/vol9/iss2/art5/. Accessed on 28 Aug 2009

Wang LZ, Lyons J, Kanehl P (2001) Impacts of urbanization on stream habitat and fish across multiple spatial scales. Environ Manage 28:255–266

Ward SA, Thornton IWB (1998) Equilibrium theory and alternative stable equilibria. J Biogeogr 25:615–622

Wiens JA (1989) Spatial scaling in ecology. Funct Ecol 3:385–397

Wiens JA, van Horne B, Noon BR (2002) Integrating landscape structure and scale into natural resource management. In: Liu J, Taylor WW (eds) Integrating landscape ecology into natural resource management. Cambridge University Press, Cambridge, pp 23–67
Acknowledgments
The authors thank two anonymous reviewers for their helpful suggestions and comments. We also thank Gina Rheault for correcting the English grammar of the text.
About this article
Cite this article
Kato, S., Ahern, J. The concept of threshold and its potential application to landscape planning. Landscape Ecol Eng 7, 275–282 (2011). https://doi.org/10.1007/s11355-010-0135-y
Received:

Revised:

Accepted:

Published:

Issue Date:

DOI: https://doi.org/10.1007/s11355-010-0135-y
Keywords
Thresholds

Resilience

Conservation planning

Proactive planning

Social–ecological systems

Regime shift