Abstract
Coastal vegetation has been widely recognized as a natural method to reduce the energy of tsunami waves. However, a vegetation barrier cannot completely stop a tsunami, and its effectiveness depends on the magnitude of the tsunami as well as the structure of the vegetation. For coastal rehabilitation, optimal planning of natural coastal systems, and their maintenance, we need to quantitatively elucidate the capacity of vegetation to reduce the energy of tsunami waves. The limitations of coastal forests in relation to the magnitude of a tsunami and the maintenance of forests as natural disaster buffer zones have to be understood correctly for effective coastal vegetation planning. Demerits of coastal forests have also been revealed: for example, an open gap in a forest (i.e., a road, river, difference in elevation, etc.) can channel and amplify a strong current by forcing it into the gap. Floating debris from broken trees also can damage surrounding buildings and hurt people. However, many studies have revealed that these demerits can be overcome with proper planning and management of mangroves and coastal forests, and that coastal vegetation has a significant potential to mitigate damage in constructed areas and save human lives by acting as buffer zones during extreme natural events. However, mangrove forests have been damaged by anthropogenic activities (i.e., tourism, shrimp farming, and industrial development), making coastal areas increasingly vulnerable to tsunamis and other natural disasters. The effectiveness of vegetation also changes with the age and structure of the forest. This highlights the fact that proper planning and management of vegetation are required to maintain the tsunami buffering function of coastal forests. Although many government and nongovernmental organizations have implemented coastal vegetation projects, many of them have been unsuccessful due to a lack of proper maintenance. A pilot project in Matara City, Sri Lanka, revealed that participation and support from local authorities and communities is essential to make the planting projects successful. An integrated coastal vegetation management system that includes utilization of the materials produced by the forest and a community participation and awareness program are proposed to achieve a sustainable and long-lasting vegetation bioshield.
Access options
Buy single article
Instant access to the full article PDF.
US$ 39.95
Tax calculation will be finalised during checkout.
Subscribe to journal
Immediate online access to all issues from 2019. Subscription will auto renew annually.
US$ 79
Tax calculation will be finalised during checkout.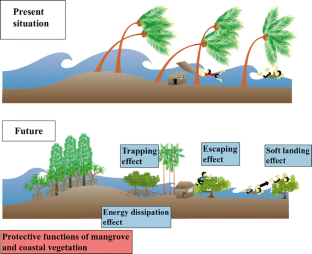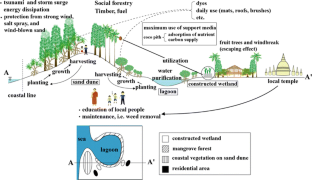 References
Alongi DM (2002) Present state and future of the world's mangrove forests. Environ Conserv 29:331–349

Alongi DM (2008) Mangrove forests: resilience, protection from tsunamis, and responses to global climate change, Estuarine. Coast Shelf Sci 76:1–13

Armanini A, Righetti M, Grisenti P (2005) Direct measurement of vegetation resistance in prototype scale. J Hydraul Res 43:481–487

Bokaian A, Geoola F (1984) Wake-induced galloping of two-interfering circular cylinders. J Fluid Mech 146:383–415

Clague JJ, Munro A, Murty T (2003) Tsunami hazard and risk in Canada. Nat Hazards 28:433–461

Cochard R, Ranamukhaarachchi SL, Shivakoti GP, Shipin OV, Edwards PJ, Seeland KT (2008) The 2004 tsunami in Aceh and Southern Thailand: a review on coastal ecosystems, wave hazards and vulnerability, Perspectives in plant ecology. Evol Syst 10:3–40

Dahdouh-Guebas F, Jayatissa LP, Di Nitto D, Bosire JO, Lo Seen D, Koedam N (2005) How effective were mangroves as a defence against the recent tsunami? Curr Biol 15(12):443–447

Danielsen F, Sorensen MK, Olwig MF, Selvam V, Parish F, Burgess ND, Hiraishi T, Karunagaran VM, Rasmussen MS, Hansen LB, Quarto A, Suryadiputra N (2005) The Asian tsunami: a protective role for coastal vegetation. Science 320(5748):643

De Zoysa M (2008) Casuarina coastal forest shelterbelts in Hambantota City, Sri Lanka: assessment of impacts. Small-scale For 7:17–27

Dengler L, Preuss J (2003) Mitigation lessons from the July 17, 1998 Papua New Guinea tsunami. Pure Appl Geophys 160:2001–2031

Duke NC, Meynecke J-O, Dittmann S, Ellison AM, Anger K, Berger U, Cannicci S, Diele K, Ewel KC, Field CD, Koedam N, Lee SY, Marchand C, Nordhaus I, Dahdouh-Guebas F (2007) A world without mangroves? Science 317:41–42

Fernando HJS, McCulley JL, Mendis SJ, Perera K (2005) Coral poaching worsens tsunami destruction in Sri Lanka. Eos 86(33):301–304

Fernando HJS, Samarawickrama SP, Balasubramanian S, Hettiarachchi SSL, Voropayev S (2008) Effects of porous barriers such as coral reefs on coastal wave propagation. J Hydro-environ Res 1:187–194

Food and Agriculture Organization of the United Nations (FAO) (2007) The role of coastal forests in the mitigation of tsunami impacts—main report. http://www.fao.org/forestry/site/coastalprotection/en.ISBN 978-974-13-9321-3, Thammada Press, Bangkok

Hamzah L, Harada K, Imamura F (1999) Experimental and numerical study on the effect of mangrove to reduce tsunami. Tohoku J Nat Disaster Sci 35:127–132

Harada K, Imamura F (2000) Experimental study on the resistance by mangrove under the unsteady flow. In: Proceedings of the 1st congress of the Asian and Pacific Coastal Engineering, Dalian, pp 975–984

Harada K, Imamura F (2006) Effects of coastal forest on tsunami hazard mitigation—a preliminary investigation, tsunamis: case studies and recent developments. Advances in Natural and Technological Hazards Research, pp 279–292

Harada K, Kawata Y (2005) Study on tsunami reduction effect of coastal forest due to forest growth, Annuals of Disaster Prevention Research Institute. Kyoto Univ 48C:161–165

Hiraishi T, Harada K (2003) Greenbelt tsunami prevention in South-Pacific region. Report of the Port and Airport Research Institute, vol 42(2), p 23

Honda S (1898) Über den Küstenshutzward gegen Springfluten. Bulletin of the College of Agriculture 3(4). Imperial University, Komaba, Tokyo, pp 281–298

Kathiresan K, Rajendran N (2005) Coastal mangrove forests mitigated tsunami, Estuarine. Coast Shelf Sci 65(3):601–606

Kathiresan K, Rajendran N (2006) Reply to comments of Kerr et al. on "coastal mangrove forests mitigated tsunami" [Estuar Coast Shelf Sci 65 (2005) 601–606], Estuarine. Coast Shelf Sci 67:542

Kerr AM, Baird AH, Campbell SJ (2006) Comments on "coastal mangrove forests mitigated tsunami" by K. Kathiresan and N. Rajendran [Estuar Coast Shelf Sci 65 (2005) 601–606], Estuarine. Coast Shelf Sci 67:539–541

Mascarenhas A, Jayakumar S (2008) An environmental perspective of the post-tsunami scenario along the coast of Tamil Nadu, India: role of sand dunes and forests. J Environ Manage 89:24–34

Mazda Y, Magi M, Kogo M, Hong PN (1997a) Mangroves as a protection from waves in the Tong King Delta, Vietnam. Mangroves Salt Marshes 1:127–135

Mazda Y, Wolanski E, King B, Sase A, Ohtsuka D, Magi M (1997b) Drag force due to vegetation in mangrove swamps. Mangroves Salt Marshes 1:193–199

Mazda Y, Magi M, Ikeda Y, Kurokawa T, Asano T (2006) Wave reduction in a mangrove forest dominated by Sonneratia sp. Wetlands Ecol Manage 14:365–378

Nandasena NAK, Tanaka N, Takagi T (2007) A new derivation of horizontal two dimensional depth averaged momentum equation and continuity equation which include total effect of porosity inside the vegetation. Annu J Hydraul Eng JSCE 51:163–168

Nandasena NAK, Tanaka N, Tanimoto K (2008) Perspective of coastal vegetation patches with topography variations for tsunami protection in 2D-numerical modeling. Annu J Hydraul Eng JSCE 52:133–138

Nepf HM (1999) Drag, turbulence, and diffusion in flow through emergent vegetation. Water Resour Res 35(2):479–489

Peltola H, Kellomäki S, Hassinen A, Granander M (2000) Mechanical stability of Scots pine, Norway spruce and birch: an analysis of tree-pulling experiments in Finland. For Ecol Manage 135:143–153

Perera WARP, Mowjood MIM, Tanaka N, Jinadasa KBSN, Fasly MSM (2008) Effective coastal vegetative landscaping for the tsunami protection in Sri Lanka, Annual Proceedings of SLAAS

Rossetto T, Peiris N, Pomonis A, Wilkinson SM, Del Re D, Koo R, Gallocher S (2007) The Indian Ocean tsunami of December 26, 2004: observations in Sri Lanka and Thailand. Nat Hazards 42:105–124

Sasaki Y, Homchuen S, Tanaka N (2007) The role of coastal vegetation in case of the Indian Ocean tsunami—coastal area of Thailand and Sri Lanka. Mangrove Sci 4–5:49–55

Shuto N (1987) The effectiveness and limit of tsunami control forests. Coast Eng Jpn 30(1):143–153

Takemura T, Tanaka N (2007) Flow structures and drag characteristics of a colony-type emergent roughness model mounted on a flat plate in uniform flow. Fluid Dyn Res 39:694–710

Tanaka N, Sasaki Y (2007) Limitations of coastal vegetation in the 2004 Indian Ocean tsunami and 2006 Java tsunami, In: Proceedings of IAHR 32nd congress, Venice (CDROM)

Tanaka N, Sasaki Y, Mowjood MIM, Jinadasa KBSN, Takemura T (2006a) Effective coastal vegetation species and structures with landform, sand dune and lagoon, for tsunami protection at the Indian Ocean tsunami. 15th APD-IAHR congress, Chennai, pp 1279–1285

Tanaka N, Sasaki Y, Mowjood MIM (2006b) Effects of sand dune and vegetation in the coastal area of Sri Lanka at the Indian Ocean tsunami, Namsik Park et al (eds) Advances in Geosciences 6, World Scientific Publishing, Co

Tanaka N, Sasaki Y, Mowjood MIM, Jinadasa KBSN (2007) Coastal vegetation structures and their functions in tsunami protection: experience of the recent Indian Ocean tsunami. Landscape Ecol Eng 3:33–45

Tanaka N, Karunarathna AK, Jinadasa KBSN (2008a) Effect of coconut coir-pith supplement on nitrogen and phosphate removal in subsurface flow wetland microcosms. Chem Ecol 24(1):1–8

Tanaka N, Nandasena NAK, Jinadasa KBSN, Sasaki Y, Tanimoto K, Mowjood MIM (2008b) Developing effective vegetation bioshield for tsunami protection, Civil and Environmental Engineering Systems (in press)

Tanimoto K, Tanaka N, Thuy NB, Nandasena NAK, Iimura K (2008a) Effect of open gap in coastal forest on tsunami runup: investigation by 2-dimensional numerical simulations (in Japanese). Annu J Civil Eng Ocean JSCE 24:87–92

Tanimoto K, Tanaka N, Thuy NB, Iimura K (2008b) Effect of coastal and river forests on tsunami run-up in river (in Japanese). Annu J Coast Eng JSCE 55:226–230

Thampanya U, Vermaat JE, Sinsakul S, Panapitukkul N (2006) Coastal erosion and mangrove progradation of Southern Thailand, Estuarine. Coast Shelf Sci 68:75–85

Thuy NB, Tanimoto K, Tanaka N (2008) Numerical investigation of the effects of opening gap width in forest on tsunami runup on coast, In: Proceedings of 10th International Summer Symposium, pp 61–64

Williams N (2005) Tsunami insight to mangrove value. Curr Biol 15:R73
Acknowledgments
Dr. M.I.M. Mowjood, University of Peradeniya, and Dr. K.B.S.N Jinadasa, Saitama University, are acknowledged for their help and useful suggestions during field investigations in Sri Lanka.
About this article
Cite this article
Tanaka, N. Vegetation bioshields for tsunami mitigation: review of effectiveness, limitations, construction, and sustainable management. Landscape Ecol Eng 5, 71–79 (2009). https://doi.org/10.1007/s11355-008-0058-z
Received:

Revised:

Accepted:

Published:

Issue Date:
Keywords
Tsunami protection

Buffer zone

Forest structures

Participation and support of local authorities

Integrated management system