Abstract
The heterogeneity of savanna ecosystems is guaranteed by disturbance events like fires, droughts, floods and browsing and grazing by herbivores. For conservation areas with limited space to preserve biodiversity, fire monitoring is crucial. Long periods of satellite remotely sensed data provide an alternative solution to estimate the distribution of different vegetation types and fire-affected patches over time. This study focusses on the application of MODIS data to detect, identify and delineate fire-affected areas in Kruger National Park (KNP), South Africa, for the period 2001–2003. Fire scars on KNP's savanna were identified using threshold and supervised classification methods on moderate-resolution imaging spectroradiometer (MODIS) with 500-m resolution and 32-day global composites using a combination of band 1 (red), 2 (NIR, near infrared), 4 (green) and 6 (SWIR, short wave infrared). On identified fire scars, the spectral indexes of albedo, normalised difference infrared index (NDII) and normalised difference vegetation index (NDVI) were extracted. The following four broad habitat types were used for this analysis: riparian woodland, dense woodland, mixed woodland and open-tree savanna. The values of albedo, NDII and NDVI during the dry season (June to October) for different years are lower on fire-affected patches. Mixed woodland is the largest habitat burned with 21%, 43% and 2% of the KNP area affected by fire in 2001, 2002 and 2003, respectively. Riparian woodland is the least affected by fire. The supervised classification method has a greater accuracy for fire scars detection in KNP savannas during the dry season. We conclude that MODIS data can be used successfully for fire monitoring in savanna ecosystems.
Access options
Buy single article
Instant access to the full article PDF.
US$ 39.95
Tax calculation will be finalised during checkout.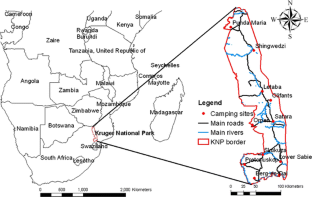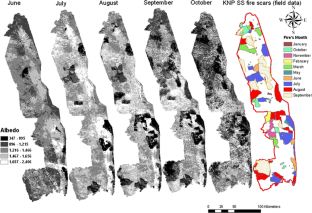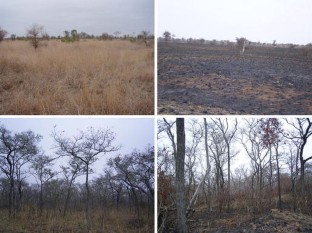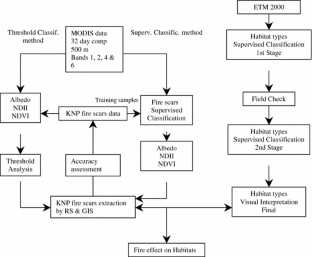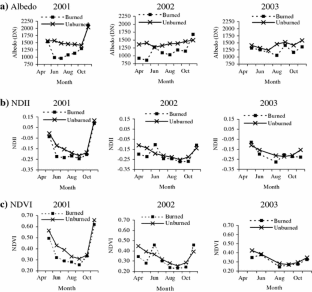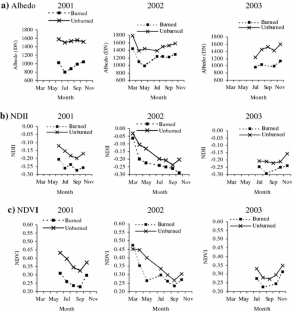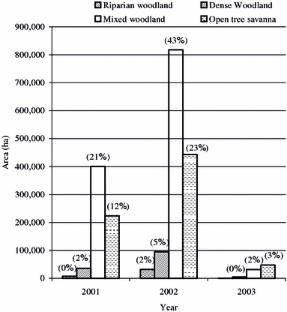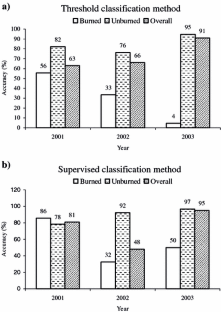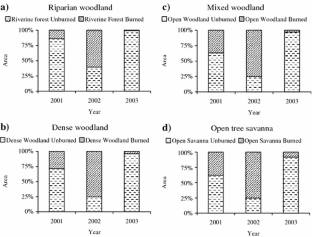 References
Bond WJ, Archibald S (2003) Confronting complexity: fire policy choices in South African savanna parks. Int J Wildland Fire 12(3/4):381–389

Congalton RG, Gren K (1999) Assessing the accuracy of remotely sensed data: principles and Practices. Lewis, Boca Raton, Florida

Chuvieco E, Martin MP, Palacios A (2002) Assessment of different spectral indices in the red-near-infrared spectral domain for burned land discrimination. Int J Remote Sens 23(23):5103–5110

Domenikiotis C, Dalezios NR, Loukas A, Karteris M (2002) Agreement assessment of NOAA/AVHRR NDVI with Landsat TM NDVI for mapping burned forested areas. Int J Remote Sens 23(20):4235–4246

Eckhardt HC, van Wilgen BW, Biggs HC (2000) Trends in woody vegetation cover in the Kruger National Park, South Africa, between 1940 and 1998. Afr J Ecol 38(2):108–115

Fernandez A, Illera P, Casanova JL (1997) Automatic mapping of surfaces affected by forest fires in Spain using AVHRR NDVI composite image data. Remote Sens Environ 60(2):153–162

Gallo K, Ji L, Reed B, Eidenshink J, Dwyer J (2005) Multi-platform comparisons of MODIS and AVHRR normalized difference vegetation index data. Remote Sens Environ 99(3):221–231

Justice CO, Vermote E, Townshend JRG, Defries R, Roy DP, Hall DK, Salomonson VV, Privette JL, Riggs G, Strahler A, Lucht W, Myneni RB, Knyazikhin Y, Running SW, Nemani RR, Wan Z, Huete AR, van Leeuwen W, Wolfe RE, Giglio L, Muller J-P, Lewis P, Barnsley MJ (1998) The moderate resolution imaging spectroradiometer (MODIS): land remote sensing for global change research. IEEE Trans Geosci Remote 36(4):1228–1249

Kawamura K, Akiyama T, Yokota H, Tsutsumi M, Yasuda T, Watanabe O, Wang S (2005) Comparing MODIS vegetation indices with AVHRR NDVI for monitoring the forage quantity and quality in Inner Mongolia grassland, China. Grassl Sci 51(1):33–40

Lasaponara R, Lanorte A (2004) Spectral analysis of burned areas observed in the Italian Peninsula by using SPOT-Vegetation data. In: Proceedings of the 2nd International SPOT-VEGETATION Users' Conference 1998–2004, Antwerp, Belgium, March 2004

Lloret F, Calvo E, Pons X, Díaz-Delgado R (2002) Wildfires and landscape patterns in the Eastern Iberian Peninsula. Landsc Ecol 17(8):745–759

Miguel-Ayanz J, Vogt JS, de Roo A, Schmuck G (2000) Natural hazards monitoring: forest fires, droughts and floods—the example of European pilot projects. Surv Geophys 21(2/3):291–305

Mills AJ, Fey MV (2005) Interactive response of herbivores, soils and vegetation to annual burning in a South African savanna. Aust Ecol 30(4):435–444

Richards JA, Jia X (2006) Remote sensing digital image analysis: an introduction, 4th edn. Springer, Berlin, Germany

Stefanov WL, Netzband M (2005) Assessment of ASTER land cover and MODIS NDVI data at multiple scales for ecological characterization of an arid urban center. Remote Sens Environ 99(1/2):31–43

Stroppiana D, Pinnock S, Pereira JMC, Gregoire JM (2002) Radiometric analysis of SPOT-VEGETATION images for burned area detection in Northern Australia. Remote Sens Environ 82(1):21–37

Stroppiana D, Gregoire JM, Pereira JMC (2003) The use of SPOT VEGETATION data in a classification tree approach for burnt area mapping in Australian savanna. Int J Remote Sens 24(10):2131–2151

van Wilgen BW, Govender N, Biggs HC, Ntsala D, Funda XN (2004) Response of savanna fire regimes to changing fire-management policies in a large African National Park. Conserv Biol 18(6):1533–1540
Acknowledgements
The authors gratefully thank Mr. Holger Eckhardt and Mr. Izak Smit of the KNP Scientific Services (KNP SS) for the useful information about the study area and their collaboration on supplying the fire scars data.
About this article
Cite this article
Chongo, D., Nagasawa, R., Ould Cherif Ahmed, A. et al. Fire monitoring in savanna ecosystems using MODIS data: a case study of Kruger National Park, South Africa. Landscape Ecol Eng 3, 79–88 (2007). https://doi.org/10.1007/s11355-007-0020-5
Received:

Revised:

Accepted:

Published:

Issue Date:
Keywords
Fire scar mapping

Savanna

MODIS

Supervised classification