Abstract
We develop a novel apparatus and an associated test protocol to measure the tensile response of materials. The apparatus allows testing of ring-shaped specimens, fibre yarns and tapes of arbitrary length; it can be employed to conduct experiments at different strain rates and in different environmental conditions. The technique is tested at low rates of strain on several materials, including carbon fibres, metals, polymers and ceramics; the tensile responses measured with the new apparatus are compared to those obtained from conventional measurements and found to be in good agreement with these.
We're sorry, something doesn't seem to be working properly.
Please try refreshing the page. If that doesn't work, please contact support so we can address the problem.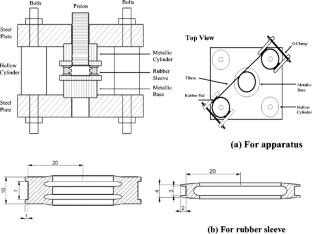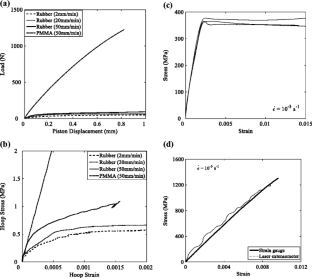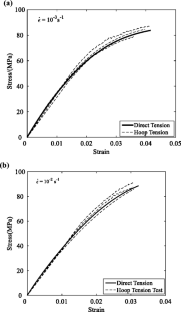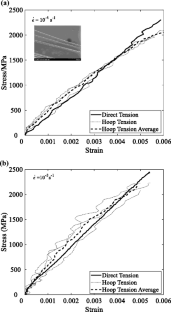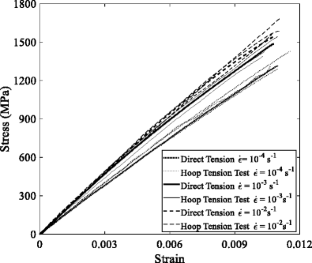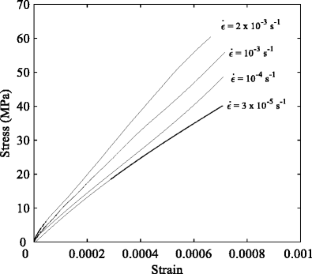 References
1.

Sedlacek R, Halden FA (1962) Method for tensile testing of brittle materials. Rev Sci Instrum 33(3):298–300

2.

Holman WR, Stiles EB, Fung E (1967) Tensile test apparatus for small ring specimens. J Sci Instrum 44(7):545–547

3.

Robinson JN (1972) Tensile test apparatus for brittle materials. J Phys E (Sci Instrum) 5(2):171–173

4.

Ainscough JB, Messer PF (1974) An apparatus for the tensile testing of ceramic ring specimens at elevated temperatures. J Phys E (Sci Instrum) 7(11):937–939

5.

Daniel IM, Ishai O (1994) Engineering mechanics of composite materials. Oxford University Press, New York

6.

Wu H, Ma G, Xia Y (2004) Experimental study of tensile properties of PMMA at intermediate strain rate. Mater Lett 58(29):3681–3685

7.

Pellegrino A, Tagarielli VL, Gerlach R, Petrinic N (2015) The mechanical response of a syntactic polyurethane foam at low and high rates of strain. Int J Impact Eng 75:214–221

8.

Naik NK, Perla Y (2008) Mechanical behaviour of acrylic under high strain rate tensile loading. Polym Test 27(4):504–512

9.

ASTM F1106-87 (2012) Standard specification for warping heads, Rope Handling (Gypsy Head, Capstan Head). ASTM International, West Conshohocken. https://doi.org/10.1520/F1106-87R12

10.

Zhou Y, Wang Y, Xia Y, Jeelani S (2010) Tensile behavior of carbon fiber bundles at different strain rates. Mater Lett 64(3):246–248

11.

Younes A, Sankaran V, Seidel A, Waldmann M, Cherif C, Hausding J (2012) Stress-strain behavior of carbon filament yarns under high strain rates. Text Res J 82(7):685–699

12.

ASTM D3822/D3822M-14 (2014) Standard test method for tensile properties of single textile fibers. ASTM International, West Conshohocken. https://doi.org/10.1520/D3822_D3822M-14

13.

ASTM D638–14 (2014) Standard test method for tensile properties of plastics. ASTM International, West Conshohocken. https://doi.org/10.1520/D0638-14

14.

ROTH FL, Driscoll RL, Holt WL (1942) Frictional properties of rubber. US Bur Stan J Res 28(4):439–462
Acknowledgements
We acknowledge the funding from the Royal Society of London (proof-of-concept project grant RG130267) and from the Ministry of Defence [dstl] (Technical partner Phillip Duke). We are grateful to DSM Dyneema for providing test materials and useful discussions; we are indebted to the staff in the Department of Aeronautics at Imperial (R. Hutchins, J. Meggyesi, S. Del Rosso) for assistance with testing and instrumentation.
About this article
Cite this article
Zhou, J., Tagarielli, V.L., Heisserer, U. et al. An Apparatus for Tensile Testing of Engineering Materials. Exp Mech 58, 941–950 (2018). https://doi.org/10.1007/s11340-018-0393-4
Received:

Accepted:

Published:

Issue Date:
Keywords
Mechanical testing

Metals

Polymers

Ceramics

Fibres