Abstract
In an effort to quantify microstructure-property relationships, three dimensional imaging experiments were conducted on small cylinder specimens subjected to split cylinder fracture. 3-D images were made using synchrotron-based x-ray microtomography, and the experiments were conducted with an in-situ frame such that a specimen could be examined while under load at varying degrees of damage. The specimens were made of fine-grained portland cement mortar and 0.5 mm glass beads, which served as aggregates. The diameter of the specimens was 5 mm. 3-D image analysis routines were developed or adapted to characterize microstructure and internal damage, which could then be related to bulk splitting strength and fracture energy. For fracture energy calculation, crack surface area could be measured in a way that accounted for roughness, branching, and fragmentation. Results showed that, for the specimens tested, aggregate surface roughness had little effect on strength but significant effect on fracture energy. Split cylinder strength showed correlation with specimen porosity, although there was considerable scatter. Strength did not correlate with maximum flaw size, although flaw location was not evaluated.
This is a preview of subscription content,
to check access.
Access this article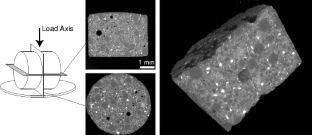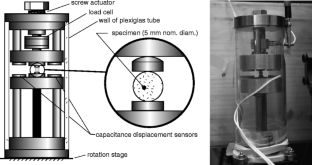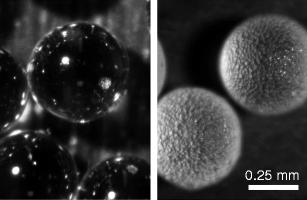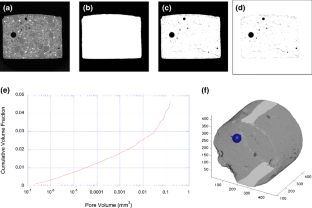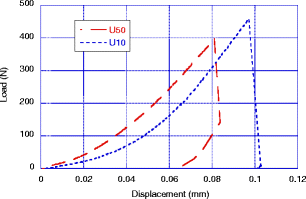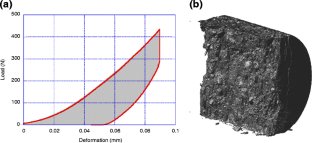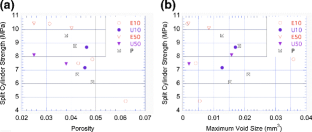 References
van Mier J (2013) Concrete fracture – a multiscale approach. CRC Press

Yip M, Li Z, Liao BS, Bolander J (2006) Irregular lattice models of fracture of multi-phase materials. Int J Fract 140(1–4):113–124

Cusatis G, Pelessone D, Mencarelli A (2011) Lattice Discrete Particle Model (LDPM) for failure behavior of concrete. I: Theory. Cem Concr Compos 33(9):881–890. doi:10.1016/j.cemconcomp.2011.02.011

Cusatis G, Mencarelli A, Pelessone D, Baylot J (2011) Lattice Discrete Particle Model (LDPM) for failure behavior of concrete. II: Calibration and validation. Cem Concr Compos 33(9):891–905. doi:10.1016/j.cemconcomp.2011.02.010

Man HK, van Mier JGM (2011) Damage distribution and size effect in numerical concrete from lattice analyses. Cem Concr Compos 33(9):867–880. doi:10.1016/j.cemconcomp.2011.01.008

Landis EN, Bolander JE (2009) Explicit representation of physical processes in concrete fracture. J Phys D: Appl Phys 42(21):214002 (17pp). doi:10.1088/0022-3727/42/21/214002

Kozicki J, Tejchman J (2007) Effect of aggregate structure on fracture process in concrete using 2D lattice model. Arch Mech 59(4-5):365–384

Kak A, Slaney M (1988) Principles of computerized tomography. IEEE Press

Stock SR (2008) Recent advances in x-ray microtomography applied to materials. Int Mater Rev 53(3):129–181

Flannery BP, Deckman HW, Roberge WG, D'Amico KL (1987) Three-dimensional x-ray microtomography. Science 237(4821):1439–1444

Kinney JH, Nichols MC (1992) X-ray tomographic microscopy (XTM) using synchrotron radiation. In: Annual review of materials science, pp 121–152

Zauner M, Keunecke D, Mokso R, Stampanoni M, Niemz P (2012) Synchrotron-based tomographic microscopy (SbTM) of wood: development of a testing device and observation of plastic deformation of uniaxially compressed Norway spruce samples. Holzforschung 66(0):973–979. doi:10.1515/hf-2011-0192. http://www.degruyter.com/view/j/hfsg.ahead-of-print/hf-2011-0192/hf-2011-0192.xml

Brault R, Germaneau A, Dupré JC, Doumalin P,Mistou S, Fazzini M (2013) In-situ Analysis of laminated composite materials by Xray micro-computed tomography and digital volume correlation. Exp Mech. doi: 10.1007/s11340-013-9730-9. http://link.springer.com/10.1007/s11340-013-9730-9

Mindess S, Young JF, Darwin D (2003) Concrete, 2nd edn. Prentice Hall

de Wolski S (2011) Measurement of deformation and damage in cementitious split cylinders by employing x-ray microtomography. Orono, Master's Thesis, University of Maine

Zhang T (2004) Identification of structural changes from volumetric image sequence. Ph.D. Thesis, Rensselaer Polytechnic Institute, Troy, New York

Otsu N (1979) A threshold selection method from gray-level histograms. IEEE Trans Syst Man Cybern smc-9(1):62–66

Franklin WR (2006) Connect – find 3d connected components, http://wrfranklin.org/pmwiki/connectedcomponents

Petroski HJ, Ojdrovic RP (1987) The concrete cylinder: stress analysis and failure modes. Int J Fract 34:263–279

Landis EN, Nagy EN, Keane DT, Nagy G (1999) A technique to measure three-dimensional work-of-fracture of concrete in compression. J Eng Mech 125(6):599–605

Landis EN (2006) Damage variables based on three-dimensional measurements of crack geometry. Strength Fract Complexity 3(2):163–173

Wnuk MP, Yavari A (2008) Discrete fractal fracture mechanics. Eng Fract Mech 75:1127–1142. doi:10.1016/j.engfracmech.2007.04.020

Buyukozturk O, Wecharatana M (eds) (1995) Interface fracture and bond. American Concrete Institute

Asahina D, Landis EN, Bolander JE (2011) Modeling of phase interfaces during pre-critical crack growth in concrete. Cem Concr Compos 33(9):966–977
Acknowledgments
The authors gratefully acknowledge the support of a collaborative grant from the U.S. National Science Foundation (0625030 and 0625593). Additionally, portions of this work were performed at the DuPont-Northwestern-Dow Collaborative Access Team (DND-CAT) located at Sector 5 of the Advanced Photon Source (APS). DND-CAT is supported by E.I. DuPont de Nemours & Co., The Dow Chemical Company and the State of Illinois. Use of the APS was supported by the U. S. Department of Energy, Office of Science, Office of Basic Energy Sciences, under Contract No. DE-AC02-06CH11357. An additional acknowledgement goes to Dr. Denis Keane, DND-CAT director, for his assistance at the beamline. Undergraduate research assistants Katie Dumas, Katrina Martin, and Lauren Flanders also contributed to the data analysis work.
About this article
Cite this article
de Wolski, S.C., Bolander, J.E. & Landis, E.N. An In-Situ X-Ray Microtomography Study of Split Cylinder Fracture in Cement-Based Materials. Exp Mech 54, 1227–1235 (2014). https://doi.org/10.1007/s11340-014-9875-1
Received:

Accepted:

Published:

Issue Date:

DOI: https://doi.org/10.1007/s11340-014-9875-1
Keywords