Abstract
Background
Sleep disturbance (SD) is quite prevalent among collegiate students and is reflected upon various scales of measurements such as electrophysiological and biochemical. Despite its high prevalence and negative consequences, very few studies have focussed on the management of SD in collegiates. Aerobic exercise (AE) is associated with improvement in sleep and due to its extensive benefits, it has been now considered as an alternative management strategy for SD.
Aim
To investigate the effect of 12-week AE training on electrophysiological and biochemical correlates of sleep in collegiate students.
Methods
Twenty-eight collegiate students with Pittsburgh sleep quality index score > 5 were randomly assigned into two groups: AE and control. Both the groups were taught basic sleep hygiene (SH) at the beginning of study. AE group, in addition to SH, received 12 weeks of moderate intensity AE training on treadmill. Pre- and post-intervention measures were performed at baseline and after 12 weeks. Sleep latency (SL), total sleep time, percentage of N1, N2, N3, NREM, REM and sleep efficiency (SE%) were calculated from over-night polysomnography (PSG). Concentration of serum melatonin and cortisol were also measured pre and post intervention.
Results
2 × 2 mixed ANOVA resulted in significant decrease and increase in N1% and N3%, respectively, after 12 weeks of AE. Serum cortisol also showed a significant decrease in its concentration post-intervention. Serum melatonin and other PSG variables did not show any difference with AE training.
Conclusion
AE training for 12 weeks improved sleep on electrophysiological and biochemical scales in SD collegiates.
Trial registration number and date
CTRI/2019/05/019154.
This is a preview of subscription content,
to check access.
Access this article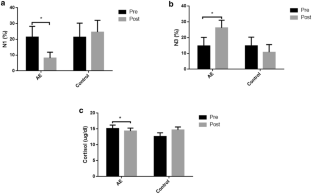 Similar content being viewed by others
Data availability
Shall be made accessible on request.
References
Foley KA, Sarsour K, Kalsekar A, Walsh JK (2010) Subtypes of sleep disturbance: associations among symptoms, comorbidities, treatment, and medical costs. Behav Sleep Med 8(2):90–104

Spira AP, Friedman L, Aulakh JS, Lee T, Sheikh JI, Yesavage JA (2008) Subclinical anxiety symptoms, sleep, and daytime dysfunction in older adults with primary insomnia. J Geriatr Psychiatry Neurol 21(2):149–153

Bixler E (2009) Sleep and society: an epidemiological perspective. Sleep Med 10:S3-6

Manzar MD, Zannat W, Kaur M, Hussain ME (2015) Sleep in university students across years of university education and gender influences. Int J Adolesc Med Health 27(3):341–348

Sarita M, Sukhwant B (2016) Study of sleep pattern and sleep problems of under graduate students from different professional courses. Indian J Basic Appl Med Res 5:16–28

Quan SF, Goodwin JL, Babar SI, Kaemingk KL, Enright PL, Rosen GM, Fregosi RF, Morgan WJ (2003) Sleep architecture in normal Caucasian and Hispanic children aged 6–11 years recorded during unattended home polysomnography: experience from the Tucson Children's Assessment of Sleep Apnea Study (TuCASA). Sleep Med 4(1):13–19

Mackiewicz M, Shockley KR, Romer MA, Galante RJ, Zimmerman JE, Naidoo N, Baldwin DA, Jensen ST, Churchill GA, Pack AI (2007) Macromolecule biosynthesis: a key function of sleep. Physiol Genomics 31(3):441–457

Buckley TM, Schatzberg AF (2005) On the interactions of the hypothalamic–pituitary–adrenal (HPA) axis and sleep: normal HPA axis activity and circadian rhythm, exemplary sleep disorders. J Clin Endocrinol Metab 90(5):3106–3114

Seelig E, Keller U, Klarhöfer M, Scheffler K, Brand S, Holsboer-Trachsler E, Hatzinger M, Bilz S (2013) Neuroendocrine regulation and metabolism of glucose and lipids in primary chronic insomnia: a prospective case–control study. PLoS ONE 8(4):e61780

Liu A, Kushida CA, Reaven GM (2013) Habitual shortened sleep and insulin resistance: an independent relationship in obese individuals. Metabolism 62(11):1553–1556

Zhang XL, Yin KS, Wang H, Su S (2006) Serum adiponectin levels in adult male patients with obstructive sleep apnea hypopnea syndrome. Respiration 73(1):73–77

Rao U, Dahl RE, Ryan ND, Birmaher B, Williamson DE, Giles DE, Rao R, Kaufman J, Nelson B (1996) The relationship between longitudinal clinical course and sleep and cortisol changes in adolescent depression. Biol Psychiatry 40(6):474–484

Lieberman HR (1986) Behavior, sleep and melatonin. J Neural Transm Suppl 21:233–241

Okamura H, Tsuda A, Yajima J, Mark H, Horiuchi S, Toyoshima N, Matsuishi T (2010) Short sleeping time and psychobiological responses to acute stress. Int J Psychophysiol 78(3):209–214

Curcio G, Ferrara M, De Gennaro L (2006) Sleep loss, learning capacity and academic performance. Sleep Med Rev 10(5):323–337

Lund HG, Reider BD, Whiting AB, Prichard JR (2010) Sleep patterns and predictors of disturbed sleep in a large population of college students. J Adolesc Health 46(2):124–132

Afonso P, Fonseca M, Pires JF (2017) Impact of working hours on sleep and mental health. Occup Med 67(5):377–382

Conroy DA, Arnedt JT (2014) Sleep and substance use disorders: an update. Curr Psychiatry Rep 16(10):487

Dement WC, Pelayo R (1997) Public health impact and treatment of insomnia. Eur Psychiatry 12:31–39

Brown FC, Buboltz WC Jr, Soper B (2002) Relationship of sleep hygiene awareness, sleep hygiene practices, and sleep quality in university students. Behav Med 28(1):33–38

Schlarb AA, Friedrich A, Claßen M (2017) Sleep problems in university students—an intervention. Neuropsychiatr Dis Treat 13:1989

Winbush NY, Gross CR, Kreitzer MJ (2007) The effects of mindfulness-based stress reduction on sleep disturbance: a systematic review. Explore 3(6):585–591

Stepanski EJ, Wyatt JK (2003) Use of sleep hygiene in the treatment of insomnia. Sleep Med Rev 7(3):215–225

Lieberman JA III (2007) Update on the safety considerations in the management of insomnia with hypnotics: incorporating modified-release formulations into primary care. Prim Care Companion J Clin Psychiatry 9(1):25

Castelli L, Galasso L, Mulè A, Bruno E, Shokohyar S, Esposito F, Roveda E (2020) Physical activity, chronotype and sleep in a sample of Italian elderly population. Sport Sci Health 16(1):55–64

Yang PY, Ho KH, Chen HC, Chien MY (2012) Exercise training improves sleep quality in middle-aged and older adults with sleep problems: a systematic review. J Physiother 58(3):157–163

Wong SN, Halaki M, Chow CM (2013) The effects of moderate to vigorous aerobic exercise on the sleep need of sedentary young adults. J Sports Sci 31(4):381–386

Trinder J, Montgomery I, Paxton SJ (1988) The effect of exercise on sleep: the negative view. Acta Physiol Scand Suppl 574:14–20

Oda S, Shirakawa K (2014) Sleep onset is disrupted following pre-sleep exercise that causes large physiological excitement at bedtime. Eur J Appl Physiol 114(9):1789–1799

Kelley GA, Kelley KS (2017) Exercise and sleep: a systematic review of previous meta-analyses. J Evid Based Med 10(1):26–36

Buysse DJ, Reynolds CF III, Monk TH, Berman SR, Kupfer DJ (1989) The Pittsburgh Sleep Quality Index: a new instrument for psychiatric practice and research. Psychiatry Res 28(2):193–213

Aseem A, Chaudhry N, Hussain ME (2020) Association of P300 event-related potential with sleep in Indian collegiate population. Sleep Vigil 4(2):237–243

Touitou Y, Reinberg A, Touitou D (2017) Association between light at night, melatonin secretion, sleep deprivation, and the internal clock: health impacts and mechanisms of circadian disruption. Life Sci 173:94–106

Garde AH, Albertsen K, Persson R, Hansen ÅM, Rugulies R (2012) Bi-directional associations between psychological arousal, cortisol, and sleep. Behav Sleep Med 10(1):28–40

Funk DM, Lippi G, Favaloro EJ (2012) Quality standards for sample processing, transportation, and storage in hemostasis testing. Seminars in thrombosis and hemostasis, vol 38. Thieme Medical Publishers, New York, pp 576–585

Kloss JD, Nash CO, Walsh CM, Culnan E, Horsey S, Sexton-Radek K (2016) A "Sleep 101" program for college students improves sleep hygiene knowledge and reduces maladaptive beliefs about sleep. Behav Med 42(1):48–56

Haskell WL, Lee IM, Pate RR, Powell KE, Blair SN, Franklin BA, Macera CA, Heath GW, Thompson PD, Bauman A (2007) Physical activity and public health: updated recommendation for adults from the American college of sports medicine and the american heart association. Circulation 116(9):1081

King AC, Pruitt LA, Woo S, Castro CM, Ahn DK, Vitiello MV, Woodward SH, Bliwise DL (2008) Effects of moderate-intensity exercise on polysomnographic and subjective sleep quality in older adults with mild to moderate sleep complaints. J Gerontol Ser A Biol Sci Med Sci 63(9):997–1004

Horne JA, Staff LH (1983) Exercise and sleep: body-heating effects. Sleep 6(1):36–46

Brand S, Kalak N, Gerber M, Kirov R, Pühse U, Holsboer-Trachsler E (2014) High self-perceived exercise exertion before bedtime is associated with greater objectively assessed sleep efficiency. Sleep Med 15(9):1031–1036

Dworak M, Wiater A, Alfer D, Stephan E, Hollmann W, Strüder HK (2008) Increased slow wave sleep and reduced stage 2 sleep in children depending on exercise intensity. Sleep Med 9(3):266–272

Melancon MO, Lorrain D, Dionne IJ (2015) Sleep depth and continuity before and after chronic exercise in older men: electrophysiological evidence. Physiol Behav 140:203–208

Horne JA, Moore VJ (1985) Sleep EEG effects of exercise with and without additional body cooling. Electroencephalogr Clin Neurophysiol 60(1):33–38

McGinty D, Szymusiak R (1990) Keeping cool: a hypothesis about the mechanisms and functions of slow-wave sleep. Trends Neurosci 13(12):480–487

Passos GS (2012) Is exercise an alternative treatment for chronic insomnia? Clinics 5932:653–660 ([online] Vol 67, n. 6. ISSN. 1807)

Jha SK, Mallick BN (2009) Presence of α-1 norepinephrinergic and GABA-A receptors on medial preoptic hypothalamus thermosensitive neurons and their role in integrating brainstem ascending reticular activating system inputs in thermoregulation in rats. Neuroscience 158(2):833–844

Jha SK, Yadav V, Mallick BN (2001) GABA-A receptors in mPOAH simultaneously regulate sleep and body temperature in freely moving rats. Pharmacol Biochem Behav 70(1):115–121

Alghadir AH, Gabr SA, Aly FA (2015) The effects of four weeks aerobic training on saliva cortisol and testosterone in young healthy persons. J Phys Ther Sci 27(7):2029–2033

Bonnet MH, Arand DL (1997) Hyperarousal and insomnia. Sleep Med Rev 1(2):97–108

Meerlo P, Sgoifo A, Suchecki D (2008) Restricted and disrupted sleep: effects on autonomic function, neuroendocrine stress systems and stress responsivity. Sleep Med Rev 12(3):197–210

Späth-Schwalbe E, Gofferje M, Kern W, Born J, Fehm HL (1991) Sleep disruption alters nocturnal ACTH and cortisol secretory patterns. Biol Psychiatry 29(6):575–584

Zschucke E, Renneberg B, Dimeo F, Wüstenberg T, Ströhle A (2015) The stress-buffering effect of acute exercise: evidence for HPA axis negative feedback. Psychoneuroendocrinology 51:414–425

Chatzitheodorou D, Kabitsis C, Malliou P, Mougios V (2007) A pilot study of the effects of high-intensity aerobic exercise versus passive interventions on pain, disability, psychological strain, and serum cortisol concentrations in people with chronic low back pain. Phys Ther 87(3):304–312

Jeon YK, Ha CH (2015) Expression of brain-derived neurotrophic factor, IGF-1 and cortisol elicited by regular aerobic exercise in adolescents. J Phys Ther Sci 27(3):737–741

Thrift AP, Xiao L, Patel SR, Tworoger SS, McTiernan A, Duggan C (2014) Effects of physical activity on melatonin levels in previously sedentary men and women. Cancer Epidemiol Prev Biomark 23(8):1696–1699

Cai ZY, Chen KW, Wen HJ (2014) Effects of a group-based step aerobics training on sleep quality and melatonin levels in sleep-impaired postmenopausal women. J Strength Cond Res 28(9):2597–2603

Montgomery P, Dennis JA (2002) Physical exercise for sleep problems in adults aged 60+. Cochrane Database Syst Rev 4

Hoshino Y, Watanabe H, Yashima Y, Kaneko M, Kumashiro H (1984) An investigation on sleep disturbance of autistic children. Psychiatry Clin Neurosci 38(1):45–51

Fernstrom JD, Fernstrom MH (2006) Exercise, serum free tryptophan, and central fatigue. J Nutr 136(2):553S-S559

Chaouloff F (1997) Effects of acute physical exercise on central serotonergic systems. Med Sci Sports Exerc
Acknowledgements
Authors would like to thank Mohd. Salman—Laboratory technician, for resolving technical issues related to the equipments during data collection procedure of this study.
Ethics declarations
Conflict of interest
The author declare that they have no competing interest.
Ethical approval
The present study was approved by Institutional Ethics Committee (IEC), Jamia Millia Islamia. Research guidelines provided by Helsinki's declaration, 1964 and its later amendments were followed to implement all the procedures in the study.
Consent to participate
Prior to assessment, all the participants were given an information sheet explaining the purpose of study, methodology and their rights as research participants and a written consent was obtained from them before the commencement of study.
Consent for publication
All the participants were given an information sheet stating that data related to the present study shall be published without violating their confidentiality, and a signed consent was obtained from them prior to the start of study.
Additional information
Publisher's Note
Springer Nature remains neutral with regard to jurisdictional claims in published maps and institutional affiliations.
About this article
Cite this article
Aseem, A., Chaudhry, N. & Hussain, M.E. Effect of moderate intensity aerobic exercise training on electrophysiological and biochemical correlates of sleep. Sport Sci Health 17, 891–899 (2021). https://doi.org/10.1007/s11332-021-00746-7
Received:

Accepted:

Published:

Issue Date:

DOI: https://doi.org/10.1007/s11332-021-00746-7
Keywords