Abstract
Purpose
This study aimed to compare the maximal isometric handgrip strength of 546 male judo athletes from different age groups (Cadet = 58; Junior = 118; Senior = 220; 30–39 years = 108; 40–49 years = 31; 51–59 years = 16).
Methods
Absolute and relative values were calculated for each hand and for the sum of both hands. Age groups were compared through a one-way analysis of variance, followed by Tukey test. The effect size was determined by partial eta squared.
Results
There was an effect of age category for the right and left absolute handgrip strength, with lower values for the Cadets compared to all other age groups (p < 0.05). However, no age category effect was found for relative variables.
Conclusions
The differences in maximal isometric handgrip strength between age groups in judo are mainly related to differences in body mass. This suggests that judo can act as a relevant intervention to handgrip strength.
Access options
Buy single article
Instant access to the full article PDF.
USD 39.95
Price excludes VAT (USA)
Tax calculation will be finalised during checkout.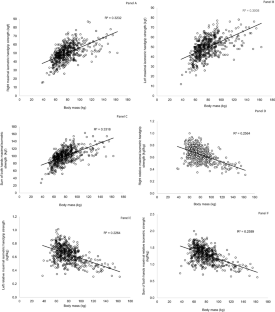 References
International Judo Federation (IJF) (2018) Sports and organization rules of the international judo federation. Lausanne (Switzerland): International Judo Federation. Retrieved from: http://99e89a50309ad79ff91d-082b8fd5551e97bc65e327988b444396.r14.cf3.rackcdn.com/up/2018/07/IJF_Sport_and_Organisation_Rul-1532709566.pdf. Accessed 1 Oct 2018

Franchini E, Takito MY (2014) Olympic preparation in Brazilian judo athletes: description and perceived relevance of training practices. J Strength Cond Res 28(6):1606–1612

Franchini E, Brito CJ, Fukuda DH, Artioli GG (2014) The physiology of judo-specific training modalities. J Strength Cond Res 28(5):1474–1481

Bonitch-Góngora JG, Almeida F, Feriche B, Padial P, Bonitch-Domínguez JG (2013) Maximal isometric handgrip strength and endurance differences between elite and non-elite young judo athletes. Arch Budo 9(4):239–248

Franchini E, Takito MY, Kiss MAPDM, Sterkowicz S (2005) Physical fitness and anthropometrical differences between elite and non-elite judo players. Biol Sport 22(4):315–328

McGrath RP, Kraemer WJ, Al Snih S, Peterson MD (2018) Handgrip strength and health in aging adults. Sports Med 48(9):1993–2000

Katzmarzyk PT, Craig CL (2002) Musculoskeletal fitness and risk of mortality. Med Sci Sports Exerc 34(5):740–744

Bohanon RW, Peolsson A, Massy-Westropp N, Desrosiers J, Bear-Lehman J (2006) Reference values for adult grip strength measured with a Jamar dynamometer: a descriptive meta-analysis. Physioterapy 92:11–15

Heyward VH (1997) Advanced fitness assessment & exercise prescription, 3rd edn. Human Kinetics, Champaign (IL)

American College of Sports Medicine (2005) ACSM's health-related physical fitness assessment manual. Lippincott Williams & Wilkins, Baltimore (MA)

Mathiowetz V, Weber K, Volland G, Kashman N (1984) Reliability and validity of grip and pinch strength evaluations. J Hand Surg 9(2):222–226

Cohen J (1988) The concepts of power analysis. In: Cohen J (ed) Statistical power analysis for behavioural sciences. Hillsdale (NJ), Lawrence Erbaum, pp 1–17

Hopkins WG (2002) A new view of statistics: a scale of magnitudes for effect statistics. Retrieved from: http://www.sportsci.org/resource/stats/effectmag.html. Accessed 1 Oct 2018

Franchini E, Del Vecchio FB, Matsushigue KA, Artioli GG (2011) Physiological profiles of elite judo athletes. Sports Med 41(2):147–166

Calmet M, Miarka B, Franchini E (2010) Modeling of grasps in judo contests. Int J Perform Anal Sport 10(3):229–240

Franchini E, Artioli GG, Brito CJ (2013) Judo combat: time-motion analysis and physiology. Int J Perform Anal Sport 13(3):624–641
Acknowledgements
Emerson Franchini is supported by a FAPESP Grant (2017/08167-2) and a CNPq Grant (302242/2014-7). Monica Yuri Takito is supported by a FAPESP Grant (2017/19280-4).
Ethics declarations
Conflict of interest
The authors declare that they have no conflict of interest relating to the publication of this manuscript.
Ethical approval
All procedures were approved by institutional ethic review of the School of Physical Education and Sport, University of São Paulo, Brazil (Approval Number: 2009/48). This study complies with the 1964 Helsinki declaration and its later amendments.
Informed consent
All subjects provided written informed consent.
Additional information
Publisher's Note
Springer Nature remains neutral with regard to jurisdictional claims in published maps and institutional affiliations.
About this article
Cite this article
Franchini, E., Schwartz, J. & Takito, M.Y. Maximal isometric handgrip strength in judo athletes from different age groups. Sport Sci Health 16, 93–98 (2020). https://doi.org/10.1007/s11332-019-00577-7
Received:

Accepted:

Published:

Issue Date:

DOI: https://doi.org/10.1007/s11332-019-00577-7
Keywords