Abstract
Purpose
The main aim of this study was to conduct a systematic review of the recent research output produced on CrossFit and to examine the benefits and risks of the high-intensity CrossFit training.
Methods
Systematic search of PubMed, ScienceDirect, Scopus and Web of Science was conducted. Thematic analysis of the research output on CrossFit was performed and each of the included articles was assessed using the Delphi Scale for quality assessment of individual studies.
Results
A total of 25 articles were included in this study. Based on our results, high-intensity CrossFit training incorporates both aerobic and anaerobic elements, which in turn improve cardiovascular fitness, anaerobic capacity, and body composition of individuals of all levels of fitness and of both genders. CrossFit has also positive psychological effects on athletes, such as exercise enjoyment, challenge, satisfaction, and goals achievement, which lead to high levels of retention and adherence of participants to CrossFit programs. On the other hand, high-intensity CrossFit training includes risks. These are musculoskeletal injuries occurring at different body parts, with most common being shoulder, lower back and knee injuries, and other more severe but less common injuries, such as exertional rhabdomyolysis.
Conclusions
The findings of this study indicate that intense CrossFit training improves the six out of ten general physical skills of athletes, as proposed by CrossFit Inc., such as cardiovascular/respiratory endurance, stamina, strength, flexibility, power and balance. The other four physical skills, such as speed, coordination, agility, and accuracy, are yet to be verified.
Access options
Buy single article
Instant access to the full article PDF.
US$ 39.95
Tax calculation will be finalised during checkout.
Subscribe to journal
Immediate online access to all issues from 2019. Subscription will auto renew annually.
US$ 79
Tax calculation will be finalised during checkout.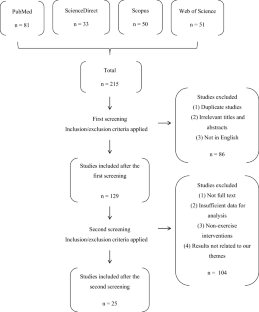 References
1.

Dawson MC (2017) CrossFit: fitness cult or reinventive institution? Int Rev Sociol Sport 52:361–379

2.

Claudino JG, Gabbett TJ, Bourgeois F et al (2018) CrossFit οverview: systematic review and meta-analysis. Sport Med Open 4:1–14

3.

Etchecolatz F, Mitchell M (2013) CrossFit goes global. In: CrossFit games. https://games.crossfit.com/article/crossfit-goes-global. Accessed 14 Mar 2018

4.

Paine M, Uptgraft J, Wylie R (2010) CrossFit study. Command Gen Staff Coll 1–34

5.

Meyer J, Morrison J, Zuniga J (2017) The benefits and risks of CrossFit: a systematic review. Work Heal Saf 65:612–618

6.

Waryasz GR, Suric V, Daniels AH et al (2016) CrossFit instructor demographics and practice trends. Orthop Rev (Pavia) 8:106–110

7.

Partridge J, Knapp B, Massengale BD (2014) An investigation of motivational variables in CrossFit facilities. J Strength Cond Res 28:1

8.

Weisenthal BM, Beck CA, Maloney MD et al (2014) Injury rate and patterns among CrossFit athletes. Orthop J Sport Med 2:1–7

9.

Murawska-Cialowicz E, Wojna J, Zuwala-Jagiello J (2015) Crossfit training changes brain-derived neurotrophic factor and irisin levels at rest, after wingate and progressive tests, and improves aerobic capacity and body composition of young physically active men and women. J Physiol Pharmacol 66:811–821

10.

Eather N, Morgan PJ, Lubans DR (2016) Improving health-related fitness in adolescents: Τhe CrossFit Teens randomised controlled trial. J Sports Sci 34:209–223

11.

Drum SN, Bellovary B, Jensen R et al (2017) Perceived demands and post-exercise physical dysfunction in CrossFit compared to an ACSM based training session. J Sports Med Phys Fitness 57:604–609

12.

Moher D, Liberati A, Tetzlaff J et al (2009) Preferred reporting items for systematic reviews and meta-analyses: the PRISMA statement. PLoS Med 6:e1000097

13.

Zeng X, Zhang Y, Kwong JSW et al (2015) The methodological quality assessment tools for preclinical and clinical studies, systematic review and meta-analysis, and clinical practice guideline: a systematic review. J Evid Based Med 8:2–10

14.

Verhagen AP, De Vet HCW, De Bie RA et al (1998) The Delphi list: a criteria list for quality assessment of randomized clinical trials for conducting systematic reviews developed by Delphi consensus. J Clin Epidemiol 51:1235–1241

15.

Braun V, Clarke V, Weate P (2016) Using thematic analysis in sport and exercise research. In: Smith B, Sparkes A (eds) Routledge handbook of qualitative research in sport and exercise. Routledge, Abingdon

16.

Bellar D, Hatchett A, Judge L et al (2015) The relationship of aerobic capacity, anaerobic peak power and experience to performance in CrossFit exercise. Biol Sport 32:315–320

17.

Cronin J, Sleivert G (2005) Challenges in understanding the influence of maximal power training on improving athletic performance. Sport Med 35:213–234

18.

Ranković G, Mutavdžić V, Toskić D et al (2010) Aerobic capacity as an indicator in different kinds of sports. Bosn J Basic Med Sci 10:44–48

19.

Butcher SJ, Judd TB, Benko CR et al (2015) Relative intensity of two types of Crossfit exercise: acute circuit and high-intensity interval exercise. J Fit Res 4:3–15

20.

Bergeron MF, Nindl BC, Deuster PA et al (2011) Consensus paper on extreme conditioning programs in military personnel. Curr Sports Med Rep 10:383–389

21.

Shaw BS, Dullabh M, Forbes G et al (2015) Analysis of physiological determinants during a single bout of CrossFit. Int J Perform Anal Sport 15:809–815

22.

Fernandez-Fernandez J, Sabido-Solana R, Moya D et al (2015) Acute physiological responses during Crossfit (R) workouts. Eur J Hum Mov 35:114–124

23.

Tibana RA, de Almeida LM, Frade de Sousa NM et al (2016) Two consecutive days of extreme conditioning program training affects pro and anti-inflammatory cytokines and osteoprotegerin without impairments in muscle power. Front Physiol 7:260

24.

Heinrich K, Patel P, O'Neal J, Heinrich B (2014) High-intensity compared to moderate-intensity training for exercise initiation, enjoyment, adherence, and intentions: an intervention study. BMC Public Health 14:789

25.

Klimek C, Ashbeck C, Brook AJ, Durall C (2018) Are injuries more common with CrossFit training than other forms of exercise? J Sport Rehabil. https://doi.org/10.1123/jsr.2016-0040

26.

Montalvo A, Shaefer H, Rodrigez B et al (2017) Retrospective injury epidemiology and risk factors for injury in CrossFit. J Sport Sci Med 16:53–59

27.

Hak PT, Hodzovic E, Hickey B (2013) The nature and prevalence of injury during CrossFit training. J Strength Cond Res. https://doi.org/10.1519/JSC.0000000000000318

28.

Hopkings B, Cloney M, Kesavabhotla K et al (2017) Impact of CrossFit-related spinal injuries. Clin J Sport Med. https://doi.org/10.1097/JSM.0000000000000553

29.

Lozowska D, Liewluck T, Quan D, Ringel SP (2015) Exertional rhabdomyolysis associated with high intensity exercise. Muscle Nerve 52:1134–1135

30.

Mehrab M, de Vos RJ, Kraan GA, Mathijssen NMC (2017) Injury incidence and patterns among Dutch CrossFit athletes. Orthop J Sport Med 5:1–13

31.

Sprey JWC, Ferreira T, de Lima MV et al (2016) An epidemiological profile of CrossFit athletes in Brazil. Orthop J Sport Med 4:1–8

32.

Summitt RJ, Cotton RA, Kays AC, Slaven EJ (2016) Shoulder injuries in individuals who participate in CrossFit training. Sports Health 8:541–546

33.

Grier T, Canham-Chervak M, McNulty V, Jones BH (2013) Extreme conditioning programs and injury risk in a US Army Brigade Combat Team. US Army Med Dep J 2013:36–47

34.

Chachula LA, Cameron KL, Svoboda SJ (2016) Association of prior Injury with the report of new injuries sustained during CrossFit training. Athl Train Sport Heal Care 8:28–34

35.

Moran S, Booker H, Staines J, Williams S (2017) Rates and risk factors of injury in CrossFit: A prospective cohort study. J Sports Med Phys Fitness 57:1147–1153

36.

Fisker FY, Kildegaard S, Thygesen M et al (2017) Acute tendon changes in intense CrossFit workout: an observational cohort study. Scand J Med Sci Sport 27:1258–1262

37.

Lichtenstein MB, Jensen TT (2016) Exercise addiction in CrossFit: prevalence and psychometric properties of the exercise addiction inventory. Addict Behav Reports 3:33–37

38.

Larsen C, Jensen MP (2014) Rhabdomyolysis in a well-trained woman after unusually intense exercise. Ugeskr Laeger 176:1–2
Ethics declarations
Conflict of interest
The authors declare they have no conflict of interest.
Ethical approval
This review article does not contain any participation of human subjects or animals.
Informed consent
For this type of study, informed consent is not required.
Additional information
Publisher's Note
Springer Nature remains neutral with regard to jurisdictional claims in published maps and institutional affiliations.
Electronic supplementary material
Below is the link to the electronic supplementary material.
About this article
Cite this article
Gianzina, E.A., Kassotaki, O.A. The benefits and risks of the high-intensity CrossFit training. Sport Sci Health 15, 21–33 (2019). https://doi.org/10.1007/s11332-018-0521-7
Received:

Accepted:

Published:

Issue Date:
Keywords
Systematic review

CrossFit training

Benefits

Risks

Injuries