Abstract
Production of reactive oxygen species (ROS) induced by exercise training yields serious oxidative damage to cellular structures. Antioxidant supplements are widely used to reduce the deleterious effects of such endogenous ROS. This study aimed to investigate the effect of two types of intensive exercise training along with α-tocopherol succinate supplementation on serum levels of 8-oxoguanine DNA glycosylase (OGG1), 8-hydroxy-2′-deoxyguanosine (8-OHdG), creatine kinase (CK), and lactate dehydrogenase (LDH). Forty-two male albino Wistar rats were randomly assigned into sedentary control (SC), sedentary vehicle (SV), sedentary supplementation (SS), continuous exercise (CE), continuous exercise + supplementation (CES), intermittent exercise (IE), and intermittent exercise + supplementation (IES), with six rats in each group. Intensive continuous and intermittent running on treadmill, combined with α-tocopherol succinate supplementation (60 mg/kg/day) was carried out for 6 weeks. Data were analyzed using one-way analysis of variance at P < 0.05 level. α-Tocopherol succinate supplementation increased serum total antioxidant capacity (TAC) in SS, CES and IES groups. CK, LDH, and OGG1 levels increased significantly in CE and IE groups; however, α-tocopherol succinate supplementation reduced these factors dramatically in CES and IES groups. In addition, 8-OHdG level was remarkably lower in CES and IES groups. Taken together, α-tocopherol succinate supplementation can modify oxidative damage to genomic structures induced by intensive exercise training.
This is a preview of subscription content, log in to check access.
Access options
Buy single article
Instant access to the full article PDF.
US$ 39.95
Price includes VAT for USA
Subscribe to journal
Immediate online access to all issues from 2019. Subscription will auto renew annually.
US$ 99
This is the net price. Taxes to be calculated in checkout.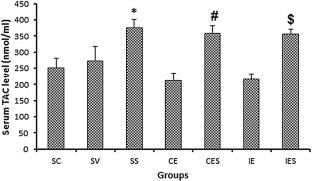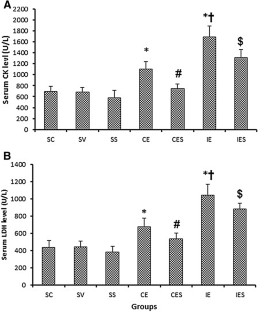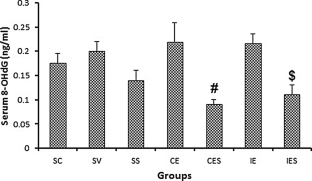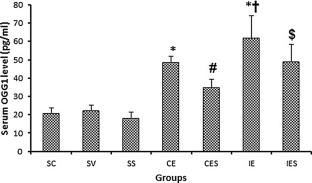 References
1.

Gandhi G, Gunjan G (2009) Exercise-induced genetic damage: a review. Int J Hum Genet 9(2):69–96

2.

Ogonovszky H, Berkes I, Kumagai S, Kaneko T, Tahara S, Goto S et al (2005) The effects of moderate-, strenuous-and over-training on oxidative stress markers, DNA repair, and memory, in rat brain. Neurochem Int 46(8):635–640

3.

Ogonovszky H, Sasvári M, Dosek A, Berkes I, Kaneko T, Tahara S, Nakamoto H et al (2005) The effects of moderate, strenuous, and overtraining on oxidative stress markers and DNA repair in rat liver. Can J Appl Physiol 30(2):186–195

4.

Radak Z, Chung HY, Goto S (2008) Systemic adaptation to oxidative challenge induced by regular exercise. Free Radic Biol Med 44(2):153–159

5.

Radak Z, Toldy A, Szabo Z, Siamilis S, Nyakas C, Silye G et al (2006) The effects of training and detraining on memory, neurotrophins and oxidative stress markers in rat brain. Neurochem Int 49(4):387–392

6.

Radák Z, Apor P, Pucsok J, Berkes I, Ogonovszky H, Pavlik G et al (2003) Marathon running alters the DNA base excision repair in human skeletal muscle. Life Sci 72(14):1627–1633

7.

Radak Z, Atalay M, Jakus J, Boldogh I, Davies K, Goto S (2009) Exercise improves import of 8-oxoguanine DNA glycosylase into the mitochondrial matrix of skeletal muscle and enhances the relative activity. Free Radic Biol Med 46(2):238–243

8.

Radak Z, Bori Z, Koltai E, Fatouros IG, Jamurtas AZ, Douroudos II et al (2011) Age-dependent changes in 8-oxoguanine-DNA glycosylase activity are modulated by adaptive responses to physical exercise in human skeletal muscle. Free Radic Biol Med 51(2):417–423

9.

Radak Z, Kumagai S, Nakamoto H, Goto S (2007) 8-Oxoguanosine and uracil repair of nuclear and mitochondrial DNA in red and white skeletal muscle of exercise-trained old rats. J Appl Physiol 1985 102(4):1696–1701

10.

Loft S, Astrup A, Buemann B, Poulsen HE (1994) Oxidative DNA damage correlates with oxygen consumption in humans. FASEB J 8(8):534–537

11.

Kasai H, Iwamoto-Tanaka N, Miyamoto T, Kawanami K, Kawanami S, Kido R et al (2001) Life style and urinary 8-hydroxydeoxyguanosine, a marker of oxidative DNA damage: effects of exercise, working conditions, meat intake, body mass index, and smoking. Jpn J Cancer Res 92(1):9–15

12.

Koltai E, Zhao Z, Lacza Z, Cselenyak A, Vacz G, Nyakas C et al (2011) Combined exercise and insulin-like growth factor-1 supplementation induces neurogenesis in old rats, but do not attenuate age-associated DNA damage. Rejuvenation Res 14(6):585–596

13.

Tsakiris S, Parthimos T, Parthimos N, Tsakiris T, Schulpis KH (2006) The beneficial effect of l-cysteine supplementation on DNA oxidation induced by forced training. Pharmacol Res 53(4):386–390

14.

Aoi W, Naito Y, Sakuma K, Kuchide M, Tokuda H, Maoka T et al (2003) Astaxanthin limits exercise-induced skeletal and cardiac muscle damage in mice. Antioxid Redox Signal 5(1):139–144

15.

Ryan MJ, Dudash HJ, Docherty M, Geronilla KB, Baker BA, Haff GG, Cutlip RG, Alway SE (2010) Vitamin E and C supplementation reduces oxidative stress, improves antioxidant enzymes and positive muscle work in chronically loaded muscles of aged rats. Exp Gerontol 45(11):882–895

16.

Nakamoto H, Kaneko T, Tahara S, Hayashi E, Naito H, Radak Z et al (2007) Regular exercise reduces 8-oxodG in the nuclear and mitochondrial DNA and modulates the DNA repair activity in the liver of old rats. Exp Gerontol 42(4):287–295

17.

Haram PM, Kemi OJ, Lee SJ, Bendheim M, Al-Share QY, Waldum HL et al (2009) Aerobic interval training vs. continuous moderate exercise in the metabolic syndrome of rats artificially selected for low aerobic capacity. Cardiovasc Res 81(4):723–732

18.

Kostaropoulos I, Nikolaidis M, Jamurtas A, Ikonomou G (2006) Comparison of the blood redox status between long-distance and short-distance runners. Physiol Res 55(6):611–616

19.

Rasmussen P, Brassard P, Adser H, Pedersen MV, Leick L, Hart E et al (2009) Evidence for a release of brain-derived neurotrophic factor from the brain during exercise. Exp Physiol 94(10):1062–1069

20.

Mastaloudis A, Yu TW, O'donnell RP, Frei B, Dashwood RH, Traber MG (2004) Endurance exercise results in DNA damage as detected by the comet assay. Free Radic Biol Med 36(8):966–975

21.

Sardas S, Omurtag GZ, Monteiro IF, Beyoglu D, Tozan-Beceren A, Topsakal N (2012) Assessment of DNA damage and protective role of vitamin E supplements after exhaustive exercise by comet assay in athletes. J Clinic Toxicol S 5:2161-0495

22.

Kinoshita S, Tsuji E (2008) Vitamin E supplementation attenuates strenuous exercise induced DNA damage and lipid peroxidation of the liver in rats. Kawasaki J Med Welf 14:1–7

23.

Bloomer RJ, Goldfarb AH, McKenzie MJ (2006) Oxidative stress response to aerobic exercise: comparison of antioxidant supplements. Med Sci Sports Exerc 38(6):1098–1105

24.

Chao WH, Askew EW, Roberts DE, Wood SM, Perkins JB (1999) Oxidative stress in humans during work at moderate altitude. J Nutr 129(11):2009–2012

25.

Almeida AM, Bertoncini CR, Borecký J, Souza-Pinto NC, Vercesi AE (2006) Mitochondrial DNA damage associated with lipid peroxidation of the mitochondrial membrane induced by Fe2+-citrate. An Acad Bras Cienc 78(3):505–514

26.

Niedernhofer LJ, Daniels JS, Rouzer CA, Greene RE, Marnett LJ (2003) Malondialdehyde, a product of lipid peroxidation, is mutagenic in human cells. J Biol Chem 278(33):31426–31433

27.

TaheriChadorneshin H, Cheragh-Birjandi S, Ramezani S, Abtahi-Eivary SH (2017) Comparing sprint and endurance training on anxiety, depression and its relation with brain-derived neurotrophic factor in rats. Behav Brain Res 329:1–5

28.

Sarir H, Emdadifard G, Farhangfar H, TaheriChadorneshin H (2015) Effect of vitamin E succinate on inflammatory cytokines induced by high-intensity interval training. J Res Med Sci 20(12):1177–1181

29.

Itoh H, Ohkuwa T, Yamazaki Y, Shimoda T, Wakayama A, Tamura S et al (2000) Vitamin E supplementation attenuates leakage of enzymes following 6 successive days of running training. Int J Sports Med 21(05):369–374

30.

Kyparos A, Sotiriadou S, Mougios V, Cheva A, Barbanis S, Karkavelas G et al (2011) Effect of 5-day vitamin E supplementation on muscle injury after downhill running in rats. Eur J Appl Physiol 111(10):2557–2569

31.

Salimeh A, Mohammadi M, Mohaddes G, Badalzadeh R (2011) Protective effect of diosgenin and exercise training on biochemical and ECG alteration in isoproterenol-induced myocardial infarction in rats. Iran J Basic Med Sci 14(3):264

32.

Vesali-Akbarpour L, Samavati-Sharif MA (2016) The effect of endurance swimming plus vitamin c supplement on oxidative stress and muscles damage indices in male Wistar rats. Avicenna J Med Biochem 4:e34241

33.

Lamprecht M, Greilberger J, Oettl K (2004) Analytical aspects of oxidatively modified substances in sports and exercises. Nutrition 20(7–8):728–730

34.

Afroozi-Gerow E, Afzalpour ME, TaheriChadorneshin H, Abtahi-Eivary SH (2016) Effect of high intensity interval training on 8-oxoguanine DNA glycosylase and 8-hydroxy-2′-deoxyguanosine contents in the brain and liver of rats. J Appl Pharm Sci 6(10):170–173

35.

Afzalpour ME, TaheriChadorneshin H, Abtahi-Eivary SH, Afroozi-Gerow E (2016) Effect of intensive endurance training on rat brain and hepatic 8-oxoguanine DNA glycosylase and 8-hydroxy-2′-deoxyguanosine levels. J Appl Pharm Sci 6(12):110–113

36.

Cunningham P, Geary M, Harper R, Pendleton A, Stover S (2005) High intensity sprint training reduces lipid peroxidation in fast-twitch skeletal muscle. JEP Online 8(6):18–25

37.

Judge S, Jang YM, Smith A, Selman C, Phillips T, Speakman JR et al (2005) Exercise by lifelong voluntary wheel running reduces subsarcolemmal and interfibrillar mitochondrial hydrogen peroxide production in the heart. Am J Physiol Regul Integr Comp Physiol 289(6):R1564–R1572

38.

Jolitha A, Subramanyam M, Devi SA (2006) Modification by vitamin E and exercise of oxidative stress in regions of aging rat brain: studies on superoxide dismutase isoenzymes and protein oxidation status. Exp Gerontol 41(8):753–763

39.

Forlenza MJ, Miller GE (2006) Increased serum levels of 8-hydroxy-2′-deoxyguanosine in clinical depression. Psychosom Med 68(1):1–7

40.

Lodovici M, Giovannelli L, Pitozzi V, Bigagli E, Bardini G, Rotella CM (2007) Oxidative DNA damage and plasma antioxidant capacity in type 2 diabetic patient with good and poor glycaemic control. Mutat Res 683(1–2):98–102

41.

Theodorou AA, Nikolaidis MG, Paschalis V, Koutsias S, Panayiotou G, Fatouros IG et al (2011) No effect of antioxidant supplementation on muscle performance and blood redox status adaptations to eccentric training. Am J Clin Nutr 93(6):1373–1383

42.

Park SY, Kwak YS (2016) Impact of aerobic and anaerobic exercise training on oxidative stress and antioxidant defense in athletes. J Exerc Rehabil 12(2):113–117

43.

Karajibani M, Hashemi M, Montazerifar F, Dikshit M (2010) Effect of vitamin E and C supplements on antioxidant defense system in cardiovascular disease patients in Zahedan, southeast Iran. J Nutr Sci Vitaminol (Tokyo) 56(6):436–440

44.

Ristow M, Zarse K, Oberbach A, Klöting N, Birringer M, Kiehntopf M et al (2009) Antioxidants prevent health-promoting effects of physical exercise in humans. Proc Natl Acad Sci USA 106(21):8665–8670

45.

Strobel NA, Peake JM, Matsumoto A, Marsh SA, Coombes JS, Wadley GD (2011) Antioxidant supplementation reduces skeletal muscle mitochondrial biogenesis. Med Sci Sports Exerc 43(6):1017–1024
Acknowledgements
We thank the staff of the biochemistry laboratory at Gonabad University of Medical Sciences for their valuable assistance with us in carrying out the biochemical assays.
Funding
This research received no specific grant from any funding agency in the public, commercial, or not-for-profit sectors.
Ethics declarations
Conflict of interest
The authors declare that they have no conflict of interest.
Ethical approval
All methods performed in the study were in accordance with ethical standards of the national research committee and with 1964 Helsinki Declaration.
Informed consent
There is no informed consent for this study scince the study was not conducted on humans.
About this article
Cite this article
TaheriChadorneshin, H., Abtahi-Eivary, S., Alipour-Raz, M. et al. The beneficial effect of α-tocopherol succinate supplementation on DNA oxidation induced by intensive exercise training. Sport Sci Health 15, 183–190 (2019). https://doi.org/10.1007/s11332-018-0508-4
Received:

Accepted:

Published:

Issue Date:
Keywords
Intermittent exercise training

Continuous exercise training

α-Tocopherol succinate

8-Oxoguanine DNA glycosylase

8-Hydroxy-2′-deoxyguanosine

Creatine kinase

Lactate dehydrogenase