Abstract
Background
Concurrent training has gained popularity as a health-promoting activity. The focus of this study was to investigate the feasibility of tyre-pulling as a strength and endurance training exercise.
Methods
Thirty-four volunteered participants accepted to comply with an 8-week training program, and were by drawing lots divided into three groups: long-distance training, high-intensity interval training and control groups. The long-distance group exercised 60 min at 75–85% of HRmax three times a week. The high-intensity interval group also exercised three times a week with 10 intervals of 20 s and a rest of 10 s in an all-out intensity. The control group continued their ordinary activities. A test battery, measuring arm and leg strength, core strength, and endurance, were taken at the beginning and after 8 weeks. Anthropometric measurements and spirometry test were performed likewise.
Results
The high-intensity group had increased maximal oxygen uptake by 2.6 (2.2) mL kg−1 min−1. The number of repetitions in arm strength increased with 4.2 (3.5), for leg strength, the increase was 7.9 (9.2) repetitions. Leg strength increased in the long-distance group with 13.6 (14.7) repetitions and core strength increased with 30.3 (34.0), p ≤ 0.05. No significant changes were observed in the control group.
Conclusions
Tyre-pulling is feasible for training endurance and strength at both low and high intensities.
This is a preview of subscription content, log in to check access.
Access options
Buy single article
Instant access to the full article PDF.
US$ 39.95
Price includes VAT for USA
Subscribe to journal
Immediate online access to all issues from 2019. Subscription will auto renew annually.
US$ 99
This is the net price. Taxes to be calculated in checkout.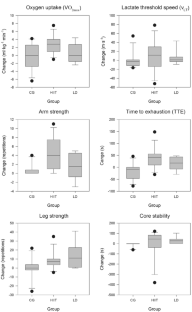 Notes
1.

The word "Bråsterk" literally means "quickly strong". The product was introduced to the Norwegian marked in the 1980s with the aid of world cross-country ski champion Oddvar Brå, hence the double meaning of the name.
References
1.

Hickson RC (1980) Interference of strength development by simultaneously training for strength and endurance. Eur J Appl Physiol 45(2–3):255–263

2.

Wilson JM, Marin PJ, Rhea MR, Wilson SMC, Loenneke JP, Anderson JC (2012) Concurrent training: a meta-analysis examining interference of aerobic and resistance exercises. J Strength Cond Res 26(8):2293–2307

3.

García-Pallarés J, Izquierdo M (2011) Strategies to optimize concurrent training of strength and aerobic fitness for rowing and canoeing. Sports Med 41(4):329–343

4.

Shaw BS, Shaw I, Mamen A (2010) Contrasting effects in anthropometric measures of total fatness and abdominal fat mass following endurance and concurrent endurance and resistance training. J Sports Med Phys Fitness 50(2):207–213

5.

Baar K (2014) Using molecular biology to maximize concurrent training. Sports Med 44(Suppl 2):S117–S125

6.

Dechman G, Appleby J, Carr M, Haire M (2012) Comparison of treadmill and over-ground Nordic walking. Eur J Sport Sci 12(1):36–42

7.

Mathieson S, Lin C-WC (2014) Health benefits of Nordic walking; a systematic review. Br J Sports Med 48(21):1577–1578

8.

Takeshima N, Islam MM, Rogers ME, Rogers NL, Sengoku N, Koizumi D, Kitabayashi Y, Imai A, Naruse A (2013) Effects of nordic walking compared to conventional walking and band-based resistance exercise on fitness in older adults. J Sports Sci Med 12(3):422–430

9.

Sandbakk Ø (2012) Den norske langrennsboka [The big book of cross-country skiing]. Aschehoug, Oslo p 223

10.

van den Tillaar R, von Heimburg ED (2017) Comparison of different sprint training sessions with assisted and resisted running: effects on performance and kinematics in 20-m sprints. Hum Mov 18(2):21–29

11.

West DJ, Cunningham DJ, Bracken RM, Bevan HR, Crewther BT, Cook CJ, Kilduff LP (2013) Effects of resisted sprint training on acceleration in professional rugby union players. J Strength Cond Res 27(4):1014–1018

12.

Zafeiridis A, Saraslanidis P, Manou V, Ioakimidis P, Dipla K, Kellis S (2005) The effects of resisted sled-pulling sprint training on acceleration and maximum speed performance. J Sports Med Phys Fitness 45(3):284–290

13.

Luteberget LS, Raastad T, Seynnes O, Spencer M (2015) Effect of traditional and resisted sprint training in highly trained female team handball players. Int J Sports Physiol Perform 10(5):642–647

14.

Noakes TD (2007) The limits of human endurance: what is the greatest endurance performance of all time? Which factors regulate performance at extreme altitude? Adv Exp Med Biol 618:255–276

15.

Saris WH, van Erp-Baart MA, Brouns F, Westerterp KR, ten Hoor F (1989) Study on food intake and energy expenditure during extreme sustained exercise: the Tour de France. Int J Sports Med 10(Suppl 1):S26–S31

16.

Kagge E (1990) Nordpolen: det siste kappløpet [The North pole: the last race]. Cappelen, Oslo

17.

Seiler S (2010) What is best practice for training intensity and duration distribution in endurance athletes? Int J Sports Physiol Perform 5(3):276–291

18.

WHO (2008) Waist circumference and waist–hip ratio. Report of a WHO Expert Consultation. WHO, Geneva

19.

Mukherjee S, Chia Y, Hwa M (2006) Evaluation of the Lactate Pro portable blood lactate analyser involving multiple-tester approach. Asian J Exerc Sports Sci 3(1):55–60

20.

Medbø JI, Mamen A, Holst Olsen O, Evertsen F (2000) Scand J Clin Lab Invest 60:367–380

21.

Mamen A, van den Tillaar R (2009) Estimating the maximal lactate steady state power from an incremental test using lactate pro® LP1710. Int J Appl Sports Sci 21(1):74–85

22.

McCurdy K, Langford GA, Cline AL, Doscher M, Hoff R (2004) The reliability of 1- and 3 RM tests of unilateral strength in trained and untrained men and women. J Sports Sci Med 3(3):190–196

23.

Figard-Fabre H, Fabre N, Leonardi A, Schena F (2011) Efficacy of Nordic walking in obesity management. Int J Sports Med 32(6):407–414

24.

Semlitsch T, Jeitler K, Hemkens LG, Horvath K, Nagele E, Schuermann C et al (2013) Increasing physical activity for the treatment of hypertension: a systematic review and meta-analysis. Sports Med 43(10):1009–1023

25.

So HK, Li AM, Choi KC, Sung RYT, Nelson EAS (2013) Regular exercise and a healthy dietary pattern are associated with lower resting blood pressure in non-obese adolescents: a population-based study. J Hum Hypertens 27(5):304–308

26.

Molmen-Hansen HE, Stolen T, Tjonna AE, Aamot IL, Ekeberg IS, Tyldum GA, Wisløff U, Ingul CB, Støylen A (2012) Aerobic interval training reduces blood pressure and improves myocardial function in hypertensive patients. Eur J Prev Cardiol 19(2):151–160

27.

Gist NH, Fedewa MV, Dishman RK, Cureton KJ (2014) Sprint interval training effects on aerobic capacity: a systematic review and meta-analysis. Sports Med 44(2):269–279

28.

Weston KS, Wisløff U, Coombes JS (2014) High-intensity interval training in patients with lifestyle-induced cardiometabolic disease: a systematic review and meta-analysis. Br J Sports Med 48(16):1227–1234

29.

Kocur P, Deskur-Smielecka E, Wilk M, Dylewicz P (2009) Effects of Nordic walking training on exercise capacity and fitness in men participating in early, short-term inpatient cardiac rehabilitation after an acute coronary syndrome—a controlled trial. Clin Rehabil 23(11):995–1004

30.

Tschentscher M, Niederseer D, Niebauer J (2013) Health benefits of Nordic walking: a systematic review. Am J Prev Med 44(1):76–84

31.

Pellegrini B, Peyré-Tartaruga LA, Zoppirolli C, Bortolan L, Bacchi E, Figard-Fabre H, Schena F (2015) Exploring muscle activation during nordic walking: a comparison between conventional and uphill walking. PLoS One 10(9):e0138906

32.

Pérez Soriano P, Encarnación Martínez A, Aparicio Aparicio I, Giménez JV, Llana Belloch S (2014) Nordic walking: a systematic review. Eur J Hum Mov 33:26–45

33.

Figard-Fabre H, Fabre N, Leonardi A, Schena F (2010) Physiological and perceptual responses to Nordic walking in obese middle-aged women in comparison with the normal walk. Eur J Appl Physiol 108(6):1141–1151

34.

Church TS, Earnest CP, Morss GM (2002) Field testing of physiological responses associated with Nordic Walking. Res Q Exerc Sport 73(3):296–300

35.

Porcari JP, Hendrickson TL, Walter PR, Terry L, Walsko G (1997) The physiological responses to wlaking with and without Power Poles on treadmill exercise. Res Q Exerc Sport 68(2):161–166

36.

Hansen EA, Smith G (2009) Energy expenditure and comfort during Nordic walking with different pole lengths. J Strength Cond Res 23(4):1187–1194

37.

Schiffer T, Knicker A, Montanarella M, Strüder HK (2011) Mechanical and physiological effects of varying pole weights during Nordic walking compared to walking. Eur J Appl Physiol 111(6):1121–1126

38.

Tjønna AE, Leinan IM, Bartnes AT, Jenssen BM, Gibala MJ, Winett RA, Wisløff U (2013) Low- and high-volume of intensive endurance training significantly improves maximal oxygen uptake after 10-weeks of training in healthy men. PLoS One 8(5):e65382

39.

Blair SN, Wei M, Lee CD (1998) Cardiorespiratory fitness determined by exercise heart rate as a predictor of mortality in the Aerobics Center Longitudinal Study. J Sports Sci 16 Suppl:S47–S55

40.

Faude O, Kindermann W, Meyer T (2009) Lactate threshold concepts: how valid are they? Sports Med 39(6):469–490

41.

Froelicher VF, Thompson AJ, Davis G, Stewart AJ, Triebwasser JH (1975) Prediction of maximal oxygen consumption. Comparison of the Bruce and Balke treadmill protocols. Chest 68(3):331–336

42.

Pinkstaff S, Peberdy MA, Kontos MC, Fabiato A, Finucane S, Arena R (2011) Overestimation of aerobic capacity with the bruce treadmill protocol in patients being assessed for suspected myocardial ischemia. J Cardiopulm Rehabil Prev 31(4):254–260

43.

Shim J-M, Kwon H-Y, Kim H-R, Kim B-I, Jung J-H (2013) Comparison of the effects of walking with and without nordic pole on upper extremity and lower extremity muscle activation. J Phys Ther Sci 25(12):1553–1556

44.

Song M-S, Yoo Y-K, Choi C-H, Kim N-C (2013) Effects of nordic walking on body composition, muscle strength, and lipid profile in elderly women. Asian Nurs Res 7(1):1–7

45.

Wisløff U, Nilsen TIL, Drøyvold WB, Mørkved S, Slørdahl SA, Vatten LJ (2006) A single weekly bout of exercise may reduce cardiovascular mortality: how little pain for cardiac gain? 'The HUNT study, Norway'. Eur J Cardiovasc Prev Rehabil 13(5):798–804
Ethics declarations
Conflict of interest
The authors declare no competing financial interest.
Human and animal rights
All procedures performed in studies involving human participants were in accordance with the ethical standards of the institutional and/or national research committee and with the 1964 Helsinki declaration and its later amendments or comparable ethical standards.
Informed consent
Participants gave written informed consent before starting the study.
About this article
Cite this article
Mamen, A., Fredriksen, P.M. Tyre-pulling as concurrent training. Sport Sci Health 15, 49–58 (2019). https://doi.org/10.1007/s11332-018-0476-8
Received:

Accepted:

Published:

Issue Date:
Keywords
Fitness

Strength training

Endurance training

Whole body training