Abstract
Purpose
Exercise goals that tend to focus on weight loss have varying degrees of long-term success, leading to the phenomenon commonly referenced as yo-yo dieting. The aim of the investigation is to examine the impact of periodized training focused on specific performance goals on long-term weight loss and improvement in fitness for individuals who are overfat with long-term history of yo-yoing.
Methods
12 family-related overfat volunteers, 28 ± 5 year and average history of overfatness 8 ± 12 year, completed 108-week periodized training program, broken into 9–12 week mesocycles combining progressive and undulating periodization of exercise choice and training volume for specific improvements in performance measures. Diet was energy density standardized to Cal/d of 90–95% BMR and macronutrient standardized to have a protein intake of 2.2 g/kg BM and carbohydrates intake of 50–100 g/d.
Results
There was an average reduction of 35 ± 3% in total body mass and 72 ± 9% fat mass, with a gain of 9 ± 8% in fat-free mass across the length of the study. This was accompanied by 56 ± 3% increase in aerobic fitness and 52 ± 14% reduction in resting heart rate, and strength and endurance gains of 148 ± 65% (squat), 130 ± 10% (dead lift), 110 ± 33% (leg press), 88 ± 27% (lateral pull-downs), 102 ± 36% (bench press), and 720 ± 260% (1-min push-up) and 271 ± 44% (1-min sit-up).
Conclusion
Periodized exercise focusing on performance changes, and not weight loss, may provide the stimulus necessary for long-term behavioral modification that is necessary for long-term changes to body composition, where the performance goals may induce a reward response and encourage continuation of exercise for longer durations than had previously attained.
Access options
Buy single article
Instant access to the full article PDF.
USD 39.95
Price includes VAT (USA)
Tax calculation will be finalised during checkout.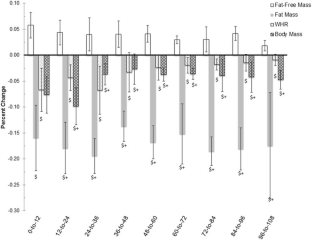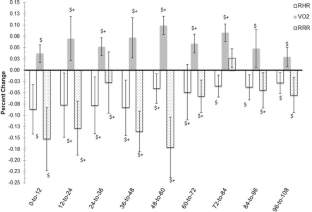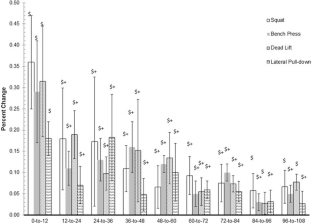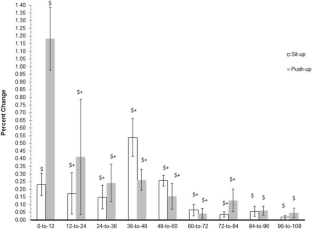 References
1.

Ahima RS (2011) Digging deeper into obesity. J Clin Invest. 121:2076–2079

2.

Anton SD, Manini TM, Milsom VA, Dubyak P, Cesari M, Cheng J et al (2011) Effects of a weight loss plus exercise program on physical function in overweight, older women: a randomized controlled trial. Clin Interv Aging 6:141–149

3.

Bacon L, Aphramor L (2011) Weight science: evaluating the evidence for a paradigm shift. Nutr J 10:9

4.

Bamman MM, Cooper DM, Booth FW, Chin ER, Neufer PD, Trappe S et al (2014) Exercise biology and medicine: innovative research to improve global health. Mayo Clin Proc 89:148–153

5.

Clark JE (2012) An overview of the contribution of fatness and fitness factors, and the role of exercise, in the formation of health status for individuals who are overweight. J Diabetes Metab Disord 2012(11):19

6.

Clark JE, Goon DT (2015) The roles of resistance training for treatment of obesity related health issue and for changing helath status of the individual who is overfat or obese: a review. J Sports Med Phys Fit 55:205–222

7.

Hafekost K, Lawrence D, Mitrou F, O'sullivan TA, Zubrick SR (2013) Tackling overweight and obesity: does the public health message match the science? BMC Med 11:41

8.

Schwingshackl L, Dias S, Strasser B, Hoffmann G (2013) Impact of different training modalities on anthropometric and metabolic characteristics in overweight/obese subjects: a systematic review and network meta-analysis. PLoS One 8:e82853

9.

Strasser B (2013) Physical activity in obesity and metabolic syndrome. Ann NY Acad Sci 1281:141–159

10.

Thomas SL, Hyde J, Karunaratne A, Kausman R (2008) Komesaroff PA (2008), ``They all work…when you stick to them'': a qualitative investigation of dieting, weight loss, and physical exercise, in obese individuals. Nutr J 7:34

11.

Clark JE (2016) The impact of duration on effectiveness of exercise, the implication for periodization of training and goal setting for individuals who are overfat, a meta-analysis. Biol Sport 33:309–333

12.

Hall KD (2013) Diet versus exercise in ``the biggest loser'' weight loss competition. Obesity 21:957–959

13.

Brown RE, Canning KL, Fung M, Jiandani D, Riddell MC, Macpherson AK et al (2016) Calorie estimation in adults differing in body weight class and weight loss status. Med Sci Sports Exerc 48:521–526

14.

Thomas DM, Martin CK, Lettieri S, Bredlau C, Kaiser K, Church T et al (2013) Can a weight loss of one pound a week be achieved with a 3500 kcal deficit? Commentary on a commonly accepted rule. Int J Obes (Lond) 37:1611–1613

15.

Strasser B, Spreitzer A, Haber P (2007) Fat loss depends on energy deficit only, independently of the method for weight loss. Ann Nutr Metab 51:428–432

16.

Bandura A (2004) Health promotion by social cognitive means. Health Educ Behav 31:143–164

17.

Booth FW, Roberts CK, Laye MJ (2012) Lack of exercise is a major cause of chronic diseases. Compr Physiol 2:1143–1211

18.

Outland L, Stoner-Smith M (2013) Promoting homeostasis to avoid rebound weight gain in yo-yo dieters. Internet J Adv Nurs Pract 12(1):1–6

19.

Locke EA, Latham GP (2006) New directions in goal-setting theory. Curr Dir Psychol Sci 15:265–268

20.

Hooper LE, Foster-Schubert KE, Weigle DS, Sorensen B, Ulrich CM, McTiernan A (2010) Frequent intentional weight loss is associated with higher ghrelin and lower glucose and androgen levels in postmenopausal women. Nutr Res 30:163–170

21.

Clark JE (2015) Diet, exercise or diet with exercise: comparing the effectiveness of treatment options for weight-loss and changes in fitness for adults (18–65 years old) who are overfat, or obese; systematic review and meta-analysis. J Diabetes Metab Disord 14:31. https://doi.org/10.1186/s40200-015-0154-1

22.

Armstrong LE (2007) Assessing hydration status: the elusive gold standard. J Am Coll Nutr 26:575S–584S

23.

Bandyopadhyay A (2015) Validity of cooper's 12-min run test for estimation of maximum oxygen uptake in male university students. Biol Sport 32:59–63

24.

Mayhew JL, Ball TE, Arnold MD, Bowen JC (1992) Relative muscular endurance performance as a predictory of bench press strength in college men and women. J Appl Sports Sci Res 6:200–206

25.

LeSuer DA, McCormick JH, Mayhew JL, Wasserstein RL, Arnold MD (1997) The accuracy of prediction equations for estimating 1-RM preformance in the bench press, squat, and deadlift. J Strength Cond Res 11:211–213

26.

Clark JE (2010) The use of an 8 week mixed-intensity interval endurance-training program improves the aerobic fitness of female soccer players. J Strength Cond Res 24:1773–1781

27.

Donnelly JE, Blair SN, Jakicic JM, Manore MM, Rankin JW, Smith BK et al (2009) American college of sports medicine position stand. Appropriate physical activity intervention strategies for weight loss and prevention of weight regain for adults. Med Sci Sports Exerc 41:459–471

28.

Hills AP, Shultz SP, Soares MJ, Byrne NM, Hunter GR, King NA et al (2010) Resistance training for obese, type 2 diabetic adults: a review of the evidence. Obes Rev 11:740–749

29.

Committee American Heart Association Nutrition, Lichtenstein AH, Appel LJ, Brands M, Carnethon M, Daniels S et al (2006) Diet and lifestyle recommendations revision 2006: a scientific statement from the American Heart Association Nutrition Committee. Circulation 114:82–96

30.

Eriksson JG (1999) Exercise and the treatment of type 2 diabetes mellitus. An update. Sports Med 27:381–391

31.

Hainer V, Toplak H, Mitrakou A (2008) Treatment modalities of obesity: what fits whom? Diabetes Care 31(Suppl 2):S269–S277

32.

Bo S, Ciccone G, Guidi S, Gambino R, Durazzo M, Gentile L et al (2008) Diet or exercise: what is more effective in preventing or reducing metabolic alterations? Eur J Endocrinol 159:685–691

33.

Jakicic JM (2009) The effect of physical activity on body weight. Obes (Silver Spring) 17(Suppl 3):S34–S38

34.

Votruba SB, Horvitz MA, Schoeller DA (2000) The role of exercise in the treatment of obesity. Nutrition 16:179–188

35.

Budgett R (1998) Fatigue and underperformance in athletes: the overtraining syndrome. Br J Sports Med 32:107–110

36.

Ekkekakis P, Lind E (2006) Exercise does not feel the same when you are overweight: the impact of self-selected and imposed intensity on affect and exertion. Int J Obes (Lond) 30:652–660

37.

Kraemer WJ, Ratamess NA (2004) Fundamentals of resistance training: progression and exercise prescription. Med Sci Sports Exerc 36:674–688

38.

Sale DG (1988) Neural adaptation to resistance training. Med Sci Sports Exerc 20:S135–S145
Acknowledgements
The author would like to thank JP, MHA, and MB for their assistance in the training of the individuals during the intervention period.
Ethics declarations
Conflict of interest
The author has no conflicts of interest in the publication of this study.
Ethical approval
All methods of recruitment and method of investigation were reviewed and approved by the Research Ethics Committee associated with Scientific Health Education and Human Performance, prior to the recruitment of any volunteers for this study in accordance with the Declaration of Helsinki for human research.
Informed consent
Every volunteer was provided information pertaining to the goals and methods of the experiment and subsequently provided an informed consent to participate in the study.
Electronic supplementary material
Below is the link to the electronic supplementary material.
About this article
Cite this article
Clark, J.E. Periodization of exercise induces long-term weight loss while focusing strictly on improvements in cardiovascular and musculoskeletal fitness for individuals who are overfat. Sport Sci Health 14, 517–530 (2018). https://doi.org/10.1007/s11332-018-0450-5
Received:

Accepted:

Published:

Issue Date:
Keywords
Performance

Overfatness

Obesity

Yo-yo diet

Fitness

Body composition