Abstract
Purpose
Considering that musculo-skeletal system and nervous system reciprocally are connected by the presence of proprioceptors and interoceptors, the aim of this study was to investigate the relationship between emotional stability and posture.
Methods
We recruited 100 healthy volunteers (age 30.2 ± 9.8 years) who regularly practiced physical activity, and we evaluated posture (vertical line of Barrè) and emotional stability (a specific component of the Big Five Questionnaire—BFQ). Chi-square test was used to evaluate the distribution of the postural evaluation by sex. ANOVA with Bonferroni correction was used to evaluate the differences of the BFQ in the groups of Barrè (ascending, descending, mixed, and disharmonic). A multiple regression models was set to assess the factors related to gender, age, and posture. P < 0.05 was considered significant.
Results
In 86 subjects, we found asymmetric posture expressed by malalignment of the Barrè line with respect to the median line. Control of Emotion did not differ between the different groups in Barrè assessment test (p = 0.07), but for Impulse Control, there were significant differences between mixed and descending and between mixed and neutral posture (p = 0.03). In emotional stability, we observed significant differences between mixed and descending and mixed and neutral (p = 0.02). The subjects who had greater control of emotions and impulses had a mixed or a descending-type posture of the vertical evaluation in the Barrè test (p < 0.01).
Conclusions
Emotional stability was associated with postural adjustment, affecting, in particular, the cervical spine and legs. We could hypothesize that symmetrical posture is not necessarily related to psychological balance, while asymmetric posture may represent a sign of good control of emotions and impulses.
Access options
Buy single article
Instant access to the full article PDF.
USD 39.95
Price excludes VAT (USA)
Tax calculation will be finalised during checkout.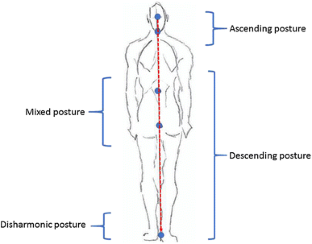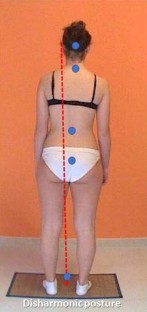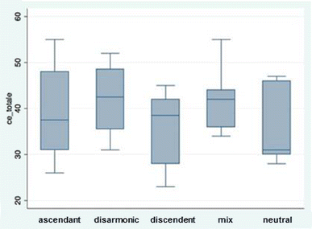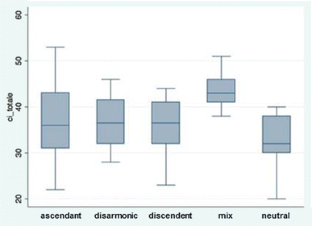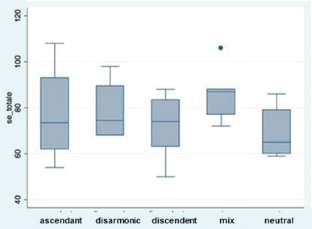 References
Missaoui B, Portero P, Bendaya S, Hanktie O, Thoumie P (2008) Posture and equilibrium in orthopedic and rheumatologic diseases. Neurophysiol Clin 38:447–457

Harrison DE, Janik TJ, Cailliet R, Harrison DD, Normand MC, Perron DL, Ferrantelli JR (2007) Validation of a computer analysis to determine 3-D rotations and translations of the rib cage in upright posture from three 2-D digital images. Eur Spine J 16(2):213–218

Bouisset S, Do MC (2008) Posture, dynamic stability, and voluntary movement. Neurophysiol Clin 38(6):345–362

Hamaoui A, Alamini-Rodrigues C (2017) Effect of experimentally-induced trunk muscular tensions on the sit-to-stand task performance and associated postural adjustments. Front Hum Neurosci 11:32

Dega W, Barcikowski W (1964) Ortopedia i rehabilitacja. Orthopedics and rehabilitation, vol 1. PZWL, Warszawa

Smith AJ, O'Sullivan PB, Campbell A, Straker L (2010) The relationship between back muscle endurance and physical, lifestyle, and psychological factors in adolescents. J Orthop Sports Phys Ther 40:517–523

Gori L, Firenzuoli F (2005) Posturology. Methodological problems and scientific evidence. Recent Prog Med 96:89–91

De Raad B (2000) The big five personality factors: the psycholexical approach to personality. Hogrefe & Huber Publishers, Göttingen

De Raad B, Mlacic B (2015) Big five factor model, theory and structure. International Encyclopedia of the Social and Behavioral Sciences, 2nd edn. Elsevier, Oxford, pp 559–566

Guimond S, Massrieh W (2012) Intricate correlation between body posture, personality trait and incidence of body pain: a cross-referential study report. PLoS One 7(5):e37450

Marras WS, Davis KG, Heaney CA, Maronitis AB, Allread WG (2000) The influence of psychosocial stress, gender, and personality on mechanical loading of the lumbar spine. Spine 25:3045–3054

Briggs-Myers I, McCaulley M, Quenk N, Hammer A (2003) MBTI manual: a guide to the development and use of the Myers–Briggs type indicator, 3rd edn. Consulting Psychologist Press Inc, Mountain View

Lowen A (2007) Il linguaggio del Corpo. Feltrinelli, Milano

Rosário JL, Diógenes MS, Mattei R, Leite JR (2016) Angry posture. J Bodyw Mov Ther 20(3):457–460

Padulo J, Oliva F, Frizziero A, Maffulli N (2016) Muscles, Ligaments and Tendons Journal – Basic principles and recommendations in clinical and field Science Research: 2016 Update. MLTJ 6(1):1–5

Gagey P, Weber B (2005) Posturologie. Régulation et dérèglements de la station debout, 3rd edn. Masson

Penha PJ, Baldini M, João SMA (2009) Spinal postural alignment variance according to sex and in 7- and 8-year-old children. J Manip Physiol Ther 32(2):154–159

Ferreira EAG, Duarte M, Maldonado EP, Bersanetti AA, Marques AP (2011) Quantitative assessment of postural alignment in young adults based on photographs of anterior, posterior and lateral views. J Manip Physiol Ther 34:371–380

De Benedetto A, Galli L, Lucconi G (2015) Fondamenti di gnatologia. In: Lucisano F (ed) Distr. Zanichelli

Gorla M, Mancini D (2016) La visita posturale osteopatica. Correlazione scoliosi e piede disarmonico. In: Cavinato (ed) Brossura, Ill

Caprara GV, Barbaranelli C, Borgogni L (1993) BFQ: BigFive Questionnaire, 2nd edn. Giunti O.S, Florence

Benedetto T (2003) Back school, neck school, bone school. Programmazione, organizzazione, conduzione e verifica. In: Ermes E (ed)

Di Fabio A, Bucci O (2016) Green positive guidance and green positive life counseling for decent work and decent lives: some empirical results. Front Psychol 7:261

Rosário JL, Diógenes MS, Mattei R, Leite JR (2013) Can sadness alter posture? J Bodyw Mov Ther 17(3):328–331

Coco M, Fiore AS, Perciavalle V, Maci T, Petralia MC, Perciavalle V (2015) Stress exposure and postural control in young females. Mol Med Rep 11(3):2135–2140

Arnsten AF (1998) The biology of being frazzled. Science 280:1711–1712

Liston C, McEwen BS, Casey BJ (2009) Psychosocial stress reversibly disrupts prefrontal processing and attentional control. Proc Natl Acad Sci USA 106:912–917 (Oaten M and Cheng K: Academic examination)

Bolmont B, Gangloff P, Vouriot A, Perrin PP (2002) Mood states and anxiety influence abilities to maintain balance control in healthy human subjects. Neurosci Lett 329:96–100

Kitaoka K, Ito R, Araki H, Sei H, Morita Y (2004) Effect of mood state on anticipatory postural adjustments. Neurosci Lett 370:65–68

Adkin AL, Frank JS, Carpenter MG, Peysar GW (2000) Postural control is scaled to level of postural threat. Gait Posture 12:87–93

Brown LA, Polych MA, Doan JB (2006) The effect of anxiety on the regulation of upright standing among younger and older adults. Gait Posture 24:397–405

Carpenter MG, Frank JS, Silcher CP, Peysar GW (2001) The influence of postural threat on the control of upright stance. Exp Brain Res 138:210–218

Carpenter MG, Adkin AL, Brawley LR, Frank JS (2006) Postural, physiological and psychological reactions to challenging balance: does age make a difference? Age Aging 35:298–303

Hauck LJ, Carpenter MG, Frank JS (2008) Task-specific measures of balance efficacy, anxiety, and stability and their relationship to clinical balance performance. Gait Posture 27:676–682

Huffman JL, Horslen BC, Carpenter MG, Adkin AL (2009) Does increased postural threat lead to more conscious control of posture? Gait Posture 30:528–532

Darwin CR (1872) The expression of the emotions in man and animals. John Murray, London

James W (1884) What is emotion. Mind 9:188–205. doi:10.1093/mind/os-IX.34.188

Damasio AR (1999) The feeling of what happens: body and emotion in the making of consciousness. Harcourt Brace, New York

Damasio AR, Grabowski TJ, Bechara A, Damasio H, Ponto LLB, Parvizi J, Hichwa RD (2000) Subcortical and cortical brain activity during the feeling of self-generate demotions. Nat Neurosci 3:1049–1056

Alexander FM (2001) The use of the self: its conscious direction in relation to diagnosis, functioning and the control of reaction, Methuen (London, 1932), E. P. Dutton (New York, 1932), republished by Orion Publishing

Klein SD, Bayard C, Wolf U (2014) The Alexander Technique and musicians: a systematic review of controlled trials. BMC Complement Altern Med 14:414

Kendall K (1993) Muscles, testing and function, 3rd edn. Williams & Wilkins, New York

Nam WD, Chang BS, Lee CK, Cho JH (2014) Clinical and radiological predictive factors to be related with the degree of lumbar back muscle degeneration: difference by gender. Clin Orthop Surg 6(3):318–323

Totton N, Edmondson E (2007) Nuovi sviluppi della terapia di Wilhelm Reich, Red

Edwards IJ, Lall VK, Paton JF, YanagawaY Szabo G, Deuchars SA, Deuchars J (2016) Neck muscle afferents influence oromotor and cardiorespiratory brainstem neural circuits. Brain Struct Funct 220(3):1421–1436
Acknowledgements
The authors thank Brian John Molloy B.A. for language revision.
Ethics declarations
Conflict of interest
All authors declare that they have no conflicts of interest and that they have no competing interests in relation with this manuscript.
Ethical standard
Research was conducted ethically according to international standards.
Informed consent
All subjects gave written informed consent to participate in this study.
About this article
Cite this article
Notarnicola, A., Perroni, F., Maccagnano, G. et al. Is postural asymmetry associated with emotional stability in healthy subjects? A preliminary study. Sport Sci Health 13, 557–563 (2017). https://doi.org/10.1007/s11332-017-0381-6
Received:

Accepted:

Published:

Issue Date:

DOI: https://doi.org/10.1007/s11332-017-0381-6
Keywords