Abstract
Worldwide, there are up to 900 million people over 60 years old, of which more than half are physically inactive. Low physical fitness seems to be the major risk factor for cardiovascular diseases and mortality in this population. Alternative methods of exercise, such as martial arts, may be an option to improve physical fitness in the elderly. This study aimed to verify the effects of Brazilian jiu-jitsu (BJJ) training on the functional fitness of elderly men. Sixty-two elderly men were divided in two groups (experimental and control). The experimental group was submitted to a 12-week intervention of BJJ (2 times week−1; 90-min session−1). Physical fitness tests and anthropometric measurements were performed before and after intervention in both groups. No statistical differences were found between groups before and after the intervention. The experimental group improved in all performed physical fitness tests. Effect size showed that intervention had a small effect on upper body flexibility; a moderate effect for upper body strength, lower body flexibility, and motor agility/dynamic balance; and a large effect on lower body strength and aerobic endurance. BJJ seems to improve functional fitness in elderly men and may be an alternative method to enhance this population's health and quality of life.
Access options
Buy single article
Instant access to the full article PDF.
USD 39.95
Price excludes VAT (USA)
Tax calculation will be finalised during checkout.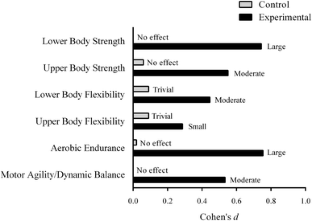 References
United Nations, Department of Economic and Social Affairs, Population Division (2015) World population prospects: the 2015 revision, Methodology of the united nations population estimates and projections, Working paper no. ESA/P/WP.242

Hallal PC, Andersen LB, Bull FC, Guthold R, Haskell W, Ekelund U, Lancet Physical Activity Series Working G (2012) Global physical activity levels: surveillance progress, pitfalls, and prospects. Lancet 380(9838):247–257. doi:10.1016/S0140-6736(12)60646-1

Chinnakali P, Mohan B, Upadhyay RP, Singh AK, Srivastava R, Yadav K (2012) Hypertension in the elderly: prevalence and health seeking behavior. N Am J Med Sci 4(11):558–562. doi:10.4103/1947-2714.103314

Whiting DR, Guariguata L, Weil C, Shaw J (2011) IDF diabetes atlas: global estimates of the prevalence of diabetes for 2011 and 2030. Diabetes Res Clin Pract 94(3):311–321

Tatsuno I, Terano T, Nakamura M, Suzuki K, Kubota K, Yamaguchi J, Yoshida T, Suzuki S, Tanaka T, Shozu M (2013) Lifestyle and osteoporosis in middle-aged and elderly women: Chiba bone survey. Endocr J 60(5):643–650

Blair SN, Kampert JB, Kohl HW, Barlow CE, Macera CA, Paffenbarger RS, Gibbons LW (1996) Influences of cardiorespiratory fitness and other precursors on cardiovascular disease and all-cause mortality in men and women. JAMA 276(3):205–210

Rubenstein LZ (2006) Falls in older people: epidemiology, risk factors and strategies for prevention. Age Ageing 35 Suppl 2:ii37–ii41. doi:10.1093/ageing/afl084

Zhao Y, Chung PK (2016) Differences in functional fitness among older adults with and without risk of falling. Asian Nurs Res (Korean Soc Nurs Sci) 10(1):51–55. doi:10.1016/j.anr.2015.10.007

Roma MFB, Busse AL, Betoni RA, Melo ACd, Kong J, Santarem JM, Jacob Filho W (2013) Effects of resistance training and aerobic exercise in elderly people concerning physical fitness and ability: a prospective clinical trial. Einstein (Sao Paulo) 11(2):153–157

Furtado HL, Sousa N, Simao R, Pereira FD, Vilaca-Alves J (2015) Physical exercise and functional fitness in independently living vs institutionalized elderly women: a comparison of 60- to 79-year-old city dwellers. Clin Interv Aging 10:795–801. doi:10.2147/CIA.S80895

Picorelli AMA, Pereira DS, Felicio DC, Dos Anjos DM, Pereira DAG, Dias RC, Assis MG, Pereira LSM (2014) Adherence of older women with strength training and aerobic exercise. Clin Interv Aging 9:323

Columbus PJ, Rice D (1998) Phenomenological meanings of martial arts participation. J Sport Behav 21(1):16

Ko YJ, Kim YK (2010) Martial arts participation: consumer motivation. Int J Sports Mark Spons 11(2):2–20

Crisafulli A, Vitelli S, Cappai I, Milia R, Tocco F, Melis F, Concu A (2009) Physiological responses and energy cost during a simulation of a Muay Thai boxing match. Appl Physiol Nutr Metab = Physiologie appliquee, nutrition et metabolisme 34(2):143–150. doi:10.1139/H09-002

Melhim AF (2001) Aerobic and anaerobic power responses to the practice of taekwon-do. Br J Sports Med 35(4):231–234

Del Vecchio FB, Bianchi S, Hirata SM, Chacon-Mikahili MPT (2007) Análise morfo-funcional de praticantes de brazilian jiu-jitsu e estudo da temporalidade e da quantificação das ações motoras na modalidade. Movimento e Percepção 7(10):263–281

Andreato LV, Franchini E, de Moraes SM, Pastorio JJ, da Silva DF, Esteves JV, Branco BH, Romero PV, Machado FA (2013) Physiological and technical-tactical analysis in Brazilian jiu-jitsu competition. Asian J Sports Med 4(2):137–143

Queiroz JL, Sales MM, Sousa CV, Neto IVS, Asano RY, Moraes JFVNd, França NM (2015) Brazilian jiu jitsu training as an alternativa method to improve maximal strength of upper limbs in beginners. J Exerc Physiol Online 18(2):7

Andreato LV, de Moraes SMF, de Moraes Gomes TL, Esteves JVDC, Andreato TV, Franchini E (2011) Estimated aerobic power, muscular strength and flexibility in elite Brazilian Jiu-Jitsu athletes. Sci Sports 26(6):329–337

Rikli RE, Jones CJ (1999) Development and validation of a functional fitness test for community-residing older adults. J Aging Phys Activity 7:129–161

Cohen J (2013) Statistical power analysis for the behavioral sciences, 2nd edn. Taylor & Francis, New York

National Research Council (US) Committee on Diet and Health (1989) Diet and health: implications for reducing chronic disease risk. National Academies Press, Washington (DC)

Miller MS, Callahan DM, Toth MJ (2014) Skeletal muscle myofilament adaptations to aging, disease, and disuse and their effects on whole muscle performance in older adult humans. Front Physiol 5:369. doi:10.3389/fphys.2014.00369

Moritani T (1993) Neuromuscular adaptations during the acquisition of muscle strength, power and motor tasks. J Biomech 26(Suppl 1):95–107

Volaklis KA, Halle M, Meisinger C (2015) Muscular strength as a strong predictor of mortality: a narrative review. Eur J Intern Med 26(5):303–310. doi:10.1016/j.ejim.2015.04.013

Ruiz JR, Sui X, Lobelo F, Morrow JR Jr, Jackson AW, Sjostrom M, Blair SN (2008) Association between muscular strength and mortality in men: prospective cohort study. BMJ 337:a439. doi:10.1136/bmj.a439

O'Sullivan K, McAuliffe S, Deburca N (2012) The effects of eccentric training on lower limb flexibility: a systematic review. Br J Sports Med 46(12):838–845. doi:10.1136/bjsports-2011-090835

Lynn R, Morgan DL (1994) Decline running produces more sarcomeres in rat vastus intermedius muscle fibers than does incline running. J Appl Physiol 77(3):1439–1444

Stathokostas L, Little RM, Vandervoort AA, Paterson DH (2012) Flexibility training and functional ability in older adults: a systematic review. J Aging Res 2012:306818. doi:10.1155/2012/306818

Legters K, Verbus NB, Kitchen S, Tomecsko J, Urban N (2006) Fear of falling, balance confidence and health-related quality of life in individuals with postpolio syndrome. Physiother Theory Pract 22(3):127–135

Chang NT, Chi LY, Yang NP, Chou P (2010) The impact of falls and fear of falling on health-related quality of life in Taiwanese elderly. J Community Health Nurs 27(2):84–95. doi:10.1080/07370011003704958

Cruz IBMd, Barreto DCM, Fronza AB, Jung IEdC, Krewer CC, Rocha MIdUM, Silveira AFd (2010) Dinamic balance, lifestyle and emotional states in young adults. Braz J Otorhinolaryngol 76(3):392–398

Granacher U, Muehlbauer T, Gruber M (2012) A qualitative review of balance and strength performance in healthy older adults: impact for testing and training. J Aging Res 2012:708905. doi:10.1155/2012/708905

Pons van Dijk G, Lenssen AF, Leffers P, Kingma H, Lodder J (2013) Taekwondo training improves balance in volunteers over 40. Front Aging Neurosci 5:10. doi:10.3389/fnagi.2013.00010

Myers J, Prakash M, Froelicher V, Do D, Partington S, Atwood JE (2002) Exercise capacity and mortality among men referred for exercise testing. N Engl J Med 346(11):793–801. doi:10.1056/NEJMoa011858

Kokkinos P, Myers J (2010) Exercise and physical activity: clinical outcomes and applications. Circulation 122(16):1637–1648. doi:10.1161/CIRCULATIONAHA.110.948349

Frank P, Andersson E, Ponten M, Ekblom B, Ekblom M, Sahlin K (2015) Strength training improves muscle aerobic capacity and glucose tolerance in elderly. Scand J Med Sci Sports. doi:10.1111/sms.12537
Acknowledgments
The authors are thankful to Coordenação de Aperfeiçoamento de Pessoal de Nível Superior (CAPES) and Conselho Nacional de DesenvolvimentoCientífico e Tecnológico (CNPq) for granting the scholarships in undergraduate research level (CNPq), MSc (CAPES) and PhD (CAPES).
Ethics declarations
Conflict of interest
The authors declare that they have no conflict of interest.
Ethical approval
All procedures performed in studies involving human participants were in accordance with the ethical standards of the institutional and/or national research committee and with the 1964 Helsinki declaration and its later amendments or comparable ethical standards.
Informed consent
Informed consent was obtained from all individual participants included in the study.
About this article
Cite this article
de Queiroz, J.L., Sales, M.M., Sousa, C.V. et al. 12 weeks of Brazilian jiu-jitsu training improves functional fitness in elderly men. Sport Sci Health 12, 291–295 (2016). https://doi.org/10.1007/s11332-016-0287-8
Received:

Accepted:

Published:

Issue Date:

DOI: https://doi.org/10.1007/s11332-016-0287-8
Keywords
Physical fitness

Older men

Martial arts

Fighting sports