Abstract
The aims of the present study were to analyze selected kinematical parameters of free throw shooting in basketball performed during the learning process and identify which one has a greater effect on success. Fifteen FT attempts performed by 10 male college sports students were recorded with a high-speed camera (200 Hz) and analyzed using the system software SIMI-Motion. Statistical analysis showed that the knee angle helped determine success in FT shooting. Comparing various body angles effect on missed to scored baskets, only knee angles showed a significant difference with a higher value in scored baskets (p < 0.05); more specifically only knee angle was highly correlated to the performance and to the hand velocity with p < 0.05 (r = 0.7and −0.75, respectively). In conclusion, the results of the present study suggest that in an inexpert player, the knee angle is the variable in which a teacher or a coach should intervene to improve the learning outcomes (i.e., performance). However, more studies in this field using expert players are necessary to confirm these suggestions in high-level athletes.
This is a preview of subscription content,
to check access.
Access this article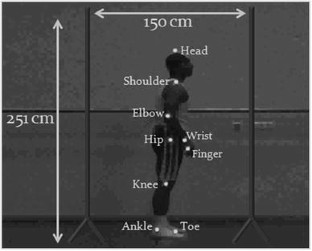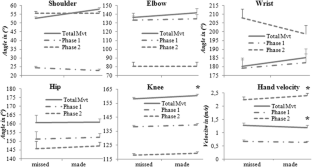 References
Kozar B, Vaughn RE, Lord RH, Whitfield KE, Dve B (1994) Importance of free throws at various stages of basketball games. Percept Motor Skill 78(1):243–248

Okubo H, Hubbard M (2006) Dynamics of the basketball shot with application to the free throw. J Sport Sci 24(12):1303–1314

Krause J, Hayes D (1994) Score on the throw. Krause J (Ed.), Coaching Basketball, pp 138–141

Elliott B (1990) The jump shot: a comparison of male and female shooting techniques. Sports Coach, pp 39–45

Burns FT (1990) Teaching components for shooting improvement in wheelchair basketball-tidbits of information about shooting a basketball. Athletes and Officials; University of Alberta: Rick Hansen Centre, pp 79–83

Brancazio PJ (1981) Physics of basketball. Am J Phys 49(4):356–365

Hudson JL (1985) Prediction of basketball skill using biomechanical variables. Res Q Exercise Sport 56:115–121

Hudson JL (1982) A biomechanical analysis by skill level of free throw shooting. Terauds J (Ed.), Biomechanics in sports, pp 95–102

Owen E (1982) Playing and coaching wheelchair basketball. University of Illinois Press, Urbana, pp 169–187

Hamill J, Knutzen KM (1995) Biomechanical basis of human movement, 3rd Edition. Lippincott Williams & Wilkins, 487–596

Zachry T, Wulf G, Mercer J, Bezodis N (2005) Increased movement accuracy and reduced EMG activity as the result of adopting an external focus of attention. Brain Res Bull 67:304–309

Mullaney D (1957) Free throw technique. Athl J 38:53–55

Cooper JM, Siedentop D (1969) The theory and science of basket-ball. Lea and Febiger, Philadelphia

Cousy B, Power FG (1970) Basketball concepts and techniques. Allyn and Bacon, Boston

Maugh TH (1981) Physics of basketball: those golden arches. Science 81(2):106–107

Mortimer EM (1951) Basketball shooting. Res Q 22:234–243

Tsarouchas K, Kalamaras E, Giavroglou A, Prassas S (1988) Biomechanical analysis of free throw shooting in basketball. Biomech. Sports 6:551–560

Hung KG, Johnson B, Coppa A (2004) Aerodynamics and biomechanics of the free throw. Biomedical Engineering Principles in Sports, pp 367–390

Rush C, Mifflin L (1976) Women's basketball. Hawthorne Books, New York
Acknowledgments
This research was partially supported by the project "Academic Innovation in Sport Science in Network" as part of the "Transformation Partnership" program financed and offered by the German Academic Exchange Service (DAAD).
Ethics declarations
Conflict of interest
The authors declare that they have no conflict of interest.
Ethical approval
All procedures performed in studies involving human participants were in accordance with the ethical standards of the institutional and/or national research committee and with the 1964 Helsinki declaration and its later amendments or comparable ethical standards.
Informed consent
Informed consent was obtained from all individual participants included in the study.
About this article
Cite this article
Ammar, A., Chtourou, H., Abdelkarim, O. et al. Free throw shot in basketball: kinematic analysis of scored and missed shots during the learning process. Sport Sci Health 12, 27–33 (2016). https://doi.org/10.1007/s11332-015-0250-0
Received:

Accepted:

Published:

Issue Date:

DOI: https://doi.org/10.1007/s11332-015-0250-0
Keywords