Abstract
Purpose
We have previously shown that the TT genotype (rs579459 location of the ABO gene) is significantly associated with circulating levels of e-selectin in patients with suspected obstructive sleep apnea (OSA). We hypothesized that this genotype would be associated with incident cardiovascular disease (CVD).
Methods
Patients with suspected OSA who had a full diagnostic polysomnogram from 2003 to 2011 were recruited; CV events occurring within 8 years of polysomnography were identified by linkage to provincial health databases. Cox proportional hazards models were used to evaluate the incidence of first CV events as a function of the rs579459 genotype.
Results
In this targeted study, 408 patients were studied, and 39 incident events were identified. A larger proportion of patients with the TT genotype had an event (31/247; 12.6%) than the CT and CC genotypes (8/161; 5.0%); in univariate analysis, the TT genotype was significantly associated with CV events (HR = 2.53; 95% CI = 1.16–5.51, p = 0.02). After adjustment for age, AHI, sex, smoking, diabetes, statin use, and BMI, the TT genotype remained a significant predictor (HR = 2.35; 95% CI = 1.02–5.42, p = 0.046). No events were found in patients with an absence of both OSA and the TT genotype (N = 30). The effect of the SNP was partially (16.2%) mediated by e-selectin levels.
Conclusion
This is the first study to examine genetic variants as a risk factor for incident CVD in the context of OSA. Although these results are preliminary and in need of replication, it suggests that genetic markers may become useful in helping to guide precision clinical care.
Access options
Buy single article
Instant access to the full article PDF.
USD 39.95
Price excludes VAT (USA)
Tax calculation will be finalised during checkout.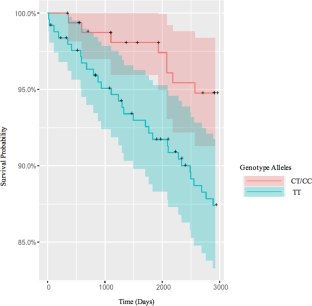 Data availability
The data that support the findings of this study (health administrative data) are available from PopData BC but restrictions apply to the availability of these data, which were used after approval from them for the current study, and so are not publicly available.
References
Mehrtash M, Bakker JP, Ayas N (2019) Predictors of continuous positive airway pressure adherence in patients with obstructive sleep apnea. Lung 197:115–121. https://doi.org/10.1007/s00408-018-00193-1

Gozal D, Kheirandish-Gozal L (2008) Cardiovascular morbidity in obstructive sleep apnea. Am J Respir Crit Care Med 177:369–375. https://doi.org/10.1164/rccm.200608-1190pp

Mazzotti DR, Keenan BT, Lim DC, Gottlieb DJ, Kim J, Pack AI (2019) Symptom subtypes of obstructive sleep apnea predict incidence of cardiovascular outcomes. Am J Respir Crit Care Med 200:493–506. https://doi.org/10.1164/rccm.201808-1509oc

Azarbarzin A, Sands SA, Younes M, Taranto-Montemurro L, Sofer T, Vena D, Alex RM, Kim S, Gottlieb DJ, White DP, Redline S, Wellman A (2021) The sleep apnea–specific pulse-rate response predicts cardiovascular morbidity and mortality. Am J Respir Crit Care Med 203:1546–1555. https://doi.org/10.1164/rccm.202010-3900oc

Peres BU, Hirsch Allen AJ, Daniele P, Humphries KH, Taylor C, Laher I, Almeida F, Jen R, Sandford AJ, van Eeden SF, Ayas NT (2021) Circulating levels of cell adhesion molecules and risk of cardiovascular events in obstructive sleep apnea. PLoS ONE. https://doi.org/10.1371/journal.pone.0255306

Peres BU, Hirsch Allen AJ, Fox N, Laher I, Hanly P, Skomro R, Almeida F, Ayas NT (2019) Circulating biomarkers to identify cardiometabolic complications in patients with obstructive sleep apnea: a systematic review. Sleep Med Rev 44:48–57. https://doi.org/10.1016/j.smrv.2018.12.004

Sandford AJ, Ha A, Ngan DA, Akhabir L, Saferali A, Fox N, Hirsch Allen AJ, Warby SC, van Eeden SF, Ayas NT (2019) Adhesion molecule gene variants and plasma protein levels in patients with suspected obstructive sleep apnea. PLoS ONE. https://doi.org/10.1371/journal.pone.0210732

Gaunt TR, Rodríguez S, Day INM (2007) Cubic exact solutions for the estimation of pairwise haplotype frequencies: implications for linkage disequilibrium analyses and a web tool 'cubex.' BMC Bioinformatics. https://doi.org/10.1186/1471-2105-8-428

Ayas NT, Hirsch Allen AJ, Fox N, Peres B, Mehrtash M, Humphries KH, Jen R, Taylor CM, van Eeden SF (2019) C-reactive protein levels and the risk of incident cardiovascular and cerebrovascular events in patients with obstructive sleep apnea. Lung 197:459–464. https://doi.org/10.1007/s00408-019-00237-0

Baron RM, Kenny DA (1986) The moderator–mediator variable distinction in social psychological research: conceptual, strategic, and statistical considerations. J Pers Soc Psychol 51:1173–1182. https://doi.org/10.1037/0022-3514.51.6.1173

Fairchild AJ, MacKinnon DP (2008) A general model for testing mediation and moderation effects. Prev Sci 10:87–99. https://doi.org/10.1007/s11121-008-0109-6

Li H, Cai Y, Xu A-D (2017) Association study of polymorphisms in the abo gene and their gene-gene interactions with ischemic stroke in Chinese population. J Clin Lab Anal. https://doi.org/10.1002/jcla.22329

Paterson AD, Lopes-Virella MF, Waggott D, Boright AP, Hosseini SM, Carter RE, Shen E, Mirea L, Bharaj B, Sun L, Bull SB (2009) Genome-wide association identifies the ABO blood group as a major locus associated with serum levels of soluble E-selectin. Arterioscler Thromb Vasc Biol 29:1958–1967. https://doi.org/10.1161/atvbaha.109.192971

Gao M, Tang H, Zheng X, Zhou F (2015) Association analysis of GWAS and candidate gene loci in a Chinese population with coronary heart disease. Int J Clin Exp Med 8:1958–1967

Wauters E, Carruthers KF, Buysschaert I, Dunbar DR, Peuteman G, Belmans A, Budaj A, Van de Werf F, Lambrechts D, Fox KA (2012) Influence of 23 coronary artery disease variants on recurrent myocardial infarction or cardiac death: the Grace Genetics Study. Eur Heart J 34:993–1001. https://doi.org/10.1093/eurheartj/ehs389

Vittinghoff E, McCulloch CE (2007) Relaxing the rule of ten events per variable in logistic and cox regression. Am J Epidemiol 165:710–718. https://doi.org/10.1093/aje/kwk052
Funding
This work was supported a BC Lung Association Operating Grant, CIHR (Sleep Disordered Breathing Team Grant), Vancouver Coastal Health Research Institutes Investigator Award for (Dr. Rachel Jen). The sponsor had no role in the design of the study, the collection and analysis of the data, or the preparation of the manuscript.
Ethics declarations
Ethics approval
All procedures performed in studies involving human participants were in accordance with the ethical standards or the institutional and/or national research committee (UBC Clinical Research Ethics Board) and with the 1964 Helsinki declaration and its later amendments or comparable ethical standards.
Consent to participate
Informed consent was obtained from all individual participants included in the study.
Conflict of interest
The authors declare no competing interests.
Additional information
Publisher's note
Springer Nature remains neutral with regard to jurisdictional claims in published maps and institutional affiliations.
Supplementary Information
Below is the link to the electronic supplementary material.
About this article
Cite this article
Hirsch Allen, A.J., Ghafoor, A.A., Liu, Y. et al. The rs579459 ABO gene polymorphism and risk of incident cardiovascular events in obstructive sleep apnea: a pilot study. Sleep Breath (2022). https://doi.org/10.1007/s11325-022-02638-7
Received:

Revised:

Accepted:

Published:

DOI: https://doi.org/10.1007/s11325-022-02638-7
Keywords
Sleep apnea

Cardiovascular disease

Genetics