Purpose
Obstructive sleep apnea (OSA) is a chronic sleep disorder, and its prevalence is increasing worldwide. This disorder has been consistently associated with several comorbidities. Although it is clear that obstructive sleep apnea severity is associated with inflammation, the trigger for this phenomenon continues to puzzle scientists. Here, we investigated the relationship between obstructive sleep apnea severity and immune parameters.
Methods
In this cross-sectional epidemiological research, we analyzed the immune profile of 461 adults according to OSA severity (mild, moderate, and severe) and oxygen saturation.
Results
The hallmark of OSA severity — the apnea–hypopnea index (AHI) — weakly correlated with an inflammatory profile. However, individuals who experienced lower oxygen saturation were more likely to exhibit higher total leukocyte and neutrophil counts, a higher neutrophil–lymphocyte ratio (NLR), and an increased concentration of C-reactive protein.
Conclusion
Our findings indicated that oxygen saturation is a predictor of inflammation during OSA and should be considered crucial in disease diagnostic and treatment strategies.
Access options
Buy single article
Instant access to the full article PDF.
USD 39.95
Price excludes VAT (USA)
Tax calculation will be finalised during checkout.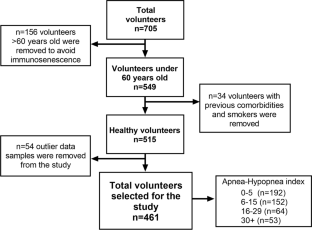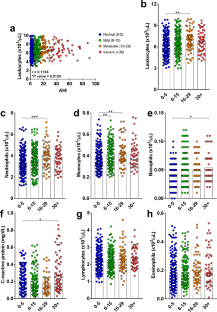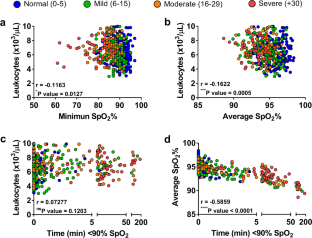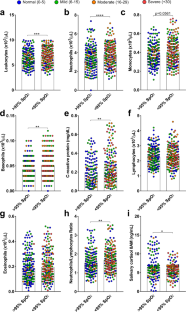 Availability of data and material
The authors declare that all data and material described here is supported by the published claims and comply with field standards.
References
Benjafield AV et al (2019) Estimation of the global prevalence and burden of obstructive sleep apnoea: a literature-based analysis. Lancet Respir Med 7(8):687–698

Gottlieb DJ, Punjabi NM (2020) Diagnosis and management of obstructive sleep apnea: a review. JAMA 323(14):1389–1400

Kheirandish-Gozal L, Gozal D (2019) Obstructive sleep apnea and inflammation: proof of concept based on two illustrative cytokines. Int J Mol Sci 20(3)

Besedovsky L, Lange T, Haack M (2019) The sleep-immune crosstalk in health and disease. Physiol Rev 99(3):1325–1380

Santos-Silva R et al (2009) Sao Paulo Epidemiologic sleep study: rationale, design, sampling, and procedures. Sleep Med 10(6):679–685

Berry R et al (2013) The AASM manual for the scoring of sleep and associated events: rules, terminology and technical specifications. 2.0.2 ed. Darien, IL: American Academy of Sleep Medicine

Fulop T et al (2017) Immunosenescence and inflamm-aging as two sides of the same coin: Friends or Foes? Front Immunol 8:1960

Van der Touw T, Andronicos NM, Smart N (2019) Is C-reactive protein elevated in obstructive sleep apnea? a systematic review and meta-analysis. Biomarkers 24(5):429–435

Li K et al (2017) Is C-reactive protein a marker of obstructive sleep apnea?: a meta-analysis. Medicine (Baltimore). 96(19):e6850

Forget P et al (2017) What is the normal value of the neutrophil-to-lymphocyte ratio? BMC Res Notes 10(1):12

Geovanini GR et al (2018) Association between obstructive sleep apnea and cardiovascular risk factors: variation by age, sex, and race. The Multi-Ethnic Study of Atherosclerosis. Ann Am Thorac Soc 15(8):970–977

Silvestre-Roig C et al (2020) Neutrophils as regulators of cardiovascular inflammation. Nat Rev Cardiol 17(6):327–340

Cummins EP et al (2016) The role of HIF in immunity and inflammation. Mol Aspects Med 47–48:24–34

Garvey JF, Taylor CT, McNicholas WT (2009) Cardiovascular disease in obstructive sleep apnoea syndrome: the role of intermittent hypoxia and inflammation. Eur Respir J 33(5):1195–1205

Schaffer K, Taylor CT (2015) The impact of hypoxia on bacterial infection. FEBS J 282(12):2260–2266

Schulz R et al (2000) Enhanced release of superoxide from polymorphonuclear neutrophils in obstructive sleep apnea. Impact of continuous positive airway pressure therapy. Am J Respir Crit Care Med 162(2 Pt 1):566–70

Lefebvre B et al (2008) Leukotriene B4: early mediator of atherosclerosis in obstructive sleep apnoea? Eur Respir J 32(1):113–120

Dyugovskaya L et al (2008) Delayed neutrophil apoptosis in patients with sleep apnea. Am J Respir Crit Care Med 177(5):544–554

Wu L et al (2019) Tumor-associated neutrophils in cancer: going pro. Cancers (Basel) 11(4)

Woo SJ et al (2011) Elevated systemic neutrophil count in diabetic retinopathy and diabetes: a hospital-based cross-sectional study of 30,793 Korean subjects. Invest Ophthalmol Vis Sci 52(10):7697–7703

Hatanaka E et al (2006) Neutrophils and monocytes as potentially important sources of proinflammatory cytokines in diabetes. Clin Exp Immunol 146(3):443–447

Ray A, Kolls JK (2017) Neutrophilic inflammation in asthma and association with disease severity. Trends Immunol 38(12):942–954

Salvemini D, Cuzzocrea S (2002) Superoxide, superoxide dismutase and ischemic injury. Curr Opin Investig Drugs 3(6):886–895

Pialoux V et al (2009) Effects of exposure to intermittent hypoxia on oxidative stress and acute hypoxic ventilatory response in humans. Am J Respir Crit Care Med 180(10):1002–1009

Almeida GP et al (2017) The role of acute intermittent hypoxia in neutrophil-generated superoxide, sympathovagal balance, and vascular function in healthy subjects. Front Physiol 8:4

Kinnula VL, Crapo JD (2003) Superoxide dismutases in the lung and human lung diseases. Am J Respir Crit Care Med 167(12):1600–1619

Rha MS et al (2020) Association between the neutrophil-to-lymphocyte ratio and obstructive sleep apnea: a meta-analysis. Sci Rep 10(1):10862

Liu Y et al (2020) Neutrophil-to-lymphocyte ratio as an independent risk factor for mortality in hospitalized patients with COVID-19. J Infect 81(1):e6–e12

Jeong HJ et al (2005) Hypoxia-induced IL-6 production is associated with activation of MAP kinase, HIF-1, and NF-kappaB on HEI-OC1 cells. Hear Res 207(1–2):59–67

Chowdhury S et al (2020) Muscle-derived interleukin 6 increases exercise capacity by signaling in osteoblasts. J Clin Invest 130(6):2888–2902
Acknowledgements
We would like to thank AFIP and Instituto do Sono for allowing access to EPISONO data.
Funding
This work was supported by Associação Fundo de Incentivo à Pesquisa (AFIP); Fundação de Amparo à Pesquisa do Estado de São Paulo (FAPESP); and Conselho Nacional de Desenvolvimento Científico e Técnológico (CNPq).
Ethics declarations
Ethics approval
The procedures were conducted in accordance with the ethical standards and thereby approved by The Ethics Committee of Federal University of São Paulo (EPISONO study number 610514/14).
Consent to participate
All the participants read and signed an informed consent form.
Consent for publication
Not applicable.
Conflict of interest
The authors declare no competing interest.
Additional information
Publisher's note
Springer Nature remains neutral with regard to jurisdictional claims in published maps and institutional affiliations.
Supplementary Information
Below is the link to the electronic supplementary material.
About this article
Cite this article
Fernandes, E.R., Pires, G.N., Andersen, M.L. et al. Oxygen saturation as a predictor of inflammation in obstructive sleep apnea. Sleep Breath 26, 1613–1620 (2022). https://doi.org/10.1007/s11325-021-02521-x
Received:

Revised:

Accepted:

Published:

Issue Date:

DOI: https://doi.org/10.1007/s11325-021-02521-x
Keywords