Abstract
Purpose
Insomnia and obstructive sleep apnea (OSA) are among the most prevalent sleep disorders and frequently co-occur, defining the sleep apnea-insomnia syndrome. However, data exploring associations between insomnia and lifestyle habits in patients with OSA are lacking. Therefore, the aim of the present study was to investigate potential associations between insomnia presence and individual lifestyle parameters in patients with mild/moderate-to-severe OSA evaluated by attended polysomnography.
Methods
These are secondary analyses, using data from a cross-sectional study among 269 Greek patients with OSA. Clinical, anthropometric, socioeconomic, and lifestyle data were collected for all participants. Insomnia presence was evaluated through the validated psychometric instrument "Athens Insomnia Scale" (AIS). Adherence to the Mediterranean diet was estimated with the MedDietScale index and physical activity habits were assessed through a validated questionnaire. Backward stepwise multiple logistic regression analysis was used to estimate the association between lifestyle habits (i.e., adherence to the Mediterranean diet and physical activity) and the likelihood of having insomnia, while adjusting for potential confounders.
Results
Of 269 patients newly diagnosed with OSA (aged 21–70 years; 73% men), 146 (54%) were categorized as having insomnia. In multivariable models, higher adherence to the Mediterranean diet and engagement in physical activity for ≥ 30 min/day were both associated with a lower likelihood of having insomnia (odds ratio (95% confidence intervals): 0.40 (0.18–0.91) and 0.49 (0.28–0.86), respectively).
Conclusions
Results add to the limited data on the role of lifestyle in insomnia and should be further explored both in epidemiological and clinical studies.
This is a preview of subscription content,
to check access.
Access this article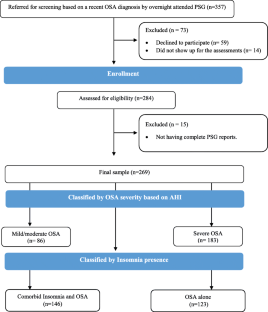 Data availability
The data is available on request from the corresponding author.
References
Schutte-Rodin S, Broch L, Buysse D, Dorsey C, Sateia M (2008) Clinical guideline for the evaluation and management of chronic insomnia in adults. J Clin Sleep Med 4(5):487–504

Benjafield AV, Ayas NT, Eastwood PR, Heinzer R, Ip MSM, Morrell MJ, Nunez CM, Patel SR, Penzel T, Pepin JL, Peppard PE, Sinha S, Tufik S, Valentine K, Malhotra A (2019) Estimation of the global prevalence and burden of obstructive sleep apnoea: a literature-based analysis. Lancet Respir Med 7(8):687–698. https://doi.org/10.1016/S2213-2600(19)30198-5

American Academy of Sleep Medicine (2014) International Classification of Sleep Disorders, 3rd ed. Darien, IL

Ong JC, Crawford MR (2013) Insomnia and obstructive sleep apnea. Sleep Med Clin 8(3):389–398. https://doi.org/10.1016/j.jsmc.2013.04.004

Cho YW, Kim KT, Moon HJ, Korostyshevskiy VR, Motamedi GK, Yang KI (2018) Comorbid insomnia with obstructive sleep apnea: clinical characteristics and risk factors. J Clin Sleep Med 14(3):409–417. https://doi.org/10.5664/jcsm.6988

Luyster FS, Buysse DJ, Strollo PJ Jr (2010) Comorbid insomnia and obstructive sleep apnea: challenges for clinical practice and research. J Clin Sleep Med 6(2):196–204

Javaheri S, Redline S (2017) Insomnia and risk of cardiovascular disease. Chest 152(2):435–444. https://doi.org/10.1016/j.chest.2017.01.026

Badran M, Yassin BA, Fox N, Laher I, Ayas N (2015) Epidemiology of sleep disturbances and cardiovascular consequences. Can J Cardiol 31(7):873–879. https://doi.org/10.1016/j.cjca.2015.03.011

Janson C, Lindberg E, Gislason T, Elmasry A, Boman G (2001) Insomnia in men-a 10-year prospective population based study. Sleep 24(4):425–430

Morgan K (2003) Daytime activity and risk factors for late-life insomnia. J Sleep Res 12(3):231–238

Passos GS, Poyares D, Santana MG, Garbuio SA, Tufik S, Mello MT (2010) Effect of acute physical exercise on patients with chronic primary insomnia. J Clin Sleep Med 6(3):270–275

Tan X, Alen M, Cheng SM, Mikkola TM, Tenhunen J, Lyytikainen A, Wiklund P, Cong F, Saarinen A, Tarkka I, Partinen M, Cheng S (2015) Associations of disordered sleep with body fat distribution, physical activity and diet among overweight middle-aged men. J Sleep Res 24(4):414–424. https://doi.org/10.1111/jsr.12283

Grandner MA, Jackson N, Gerstner JR, Knutson KL (2014) Sleep symptoms associated with intake of specific dietary nutrients. J Sleep Res 23(1):22–34. https://doi.org/10.1111/jsr.12084

Katagiri R, Asakura K, Kobayashi S, Suga H, Sasaki S (2014) Low intake of vegetables, high intake of confectionary, and unhealthy eating habits are associated with poor sleep quality among middle-aged female Japanese workers. J Occup Health 56(5):359–368

Tanaka E, Yatsuya H, Uemura M, Murata C, Otsuka R, Toyoshima H, Tamakoshi K, Sasaki S, Kawaguchi L, Aoyama A (2013) Associations of protein, fat, and carbohydrate intakes with insomnia symptoms among middle-aged Japanese workers. J Epidemiol 23(2):132–138

Hu FB (2002) Dietary pattern analysis: a new direction in nutritional epidemiology. Curr Opin Lipidol 13(1):3–9

Dinu M, Pagliai G, Casini A, Sofi F (2018) Mediterranean diet and multiple health outcomes: an umbrella review of meta-analyses of observational studies and randomised trials. Eur J Clin Nutr 72(1):30–43. https://doi.org/10.1038/ejcn.2017.58

Campanini MZ, Guallar-Castillon P, Rodriguez-Artalejo F, Lopez-Garcia E (2017) Mediterranean diet and changes in sleep duration and indicators of sleep quality in older adults. Sleep 40(3). https://doi.org/10.1093/sleep/zsw083

Jaussent I, Dauvilliers Y, Ancelin ML, Dartigues JF, Tavernier B, Touchon J, Ritchie K, Besset A (2011) Insomnia symptoms in older adults: associated factors and gender differences. Am J Geriatr Psychiatry 19(1):88–97. https://doi.org/10.1097/JGP.0b013e3181e049b6

Castro-Diehl C, Wood AC, Redline S, Reid M, Johnson DA, Maras JE, Jacobs DR Jr, Shea S, Crawford A, St-Onge MP (2018) Mediterranean diet pattern and sleep duration and insomnia symptoms in the Multi-Ethnic Study of Atherosclerosis. Sleep 41(11). https://doi.org/10.1093/sleep/zsy158

Kechribari I, Kontogianni MD, Georgoulis M, Lamprou K, Mourati I, Vagiakis E, Yiannakouris N (2020) Associations between red meat intake and sleep parameters in patients with obstructive sleep apnea. J Acad Nutr Diet 120(6):1042–1053. https://doi.org/10.1016/j.jand.2019.10.016

Berry RB, Gamaldo CE, Harding SM, Brooks R, Lloyd RM, Vaughn BV, Marcus CL (2015) AASM scoring manual version 2.2 updates: new chapters for scoring infant sleep staging and home sleep apnea testing. J Clin Sleep Med 11(11):1253–1254. https://doi.org/10.5664/jcsm.5176

Soldatos CR, Dikeos DG, Paparrigopoulos TJ (2003) The diagnostic validity of the Athens Insomnia Scale. J Psychosom Res 55(3):263–267

Wallace DM, Wohlgemuth WK (2019) Predictors of Insomnia Severity Index profiles in United States veterans with obstructive sleep apnea. J Clin Sleep Med 15(12):1827–1837. https://doi.org/10.5664/jcsm.8094

Bountziouka V, Bathrellou E, Giotopoulou A, Katsagoni C, Bonou M, Vallianou N, Barbetseas J, Avgerinos PC, Panagiotakos DB (2012) Development, repeatability and validity regarding energy and macronutrient intake of a semi-quantitative food frequency questionnaire: methodological considerations. Nutr Metab Cardiovasc Dis 22(8):659–667. https://doi.org/10.1016/j.numecd.2010.10.015

Trichopoulou A, Costacou T, Bamia C, Trichopoulos D (2003) Adherence to a Mediterranean diet and survival in a Greek population. N Engl J Med 348(26):2599–2608. https://doi.org/10.1056/NEJMoa025039

Papathanasiou G, Georgoudis G, Georgakopoulos D, Katsouras C, Kalfakakou V, Evangelou A (2010) Criterion-related validity of the short International Physical Activity Questionnaire against exercise capacity in young adults. Eur J Cardiovasc Prev Rehabil 17(4):380–386. https://doi.org/10.1097/HJR.0b013e328333ede6

World Health Organization (2010) Global recommendations on physical activity for health. WHO Guidelines Approved by the Guidelines Review Committee, Geneva

St-Onge MP, Mikic A, Pietrolungo CE (2016) Effects of diet on sleep quality. Adv Nutr 7(5):938–949. https://doi.org/10.3945/an.116.012336

Yu C, Shi Z, Lv J, Guo Y, Bian Z, Du H, Chen Y, Tao R, Huang Y, Chen J, Chen Z, Li L (2017) Dietary patterns and insomnia symptoms in Chinese adults: the China Kadoorie Biobank. Nutrients 9(3). https://doi.org/10.3390/nu9030232

Estruch R (2010) Anti-inflammatory effects of the Mediterranean diet: the experience of the PREDIMED study. Proc Nutr Soc 69(3):333–340. https://doi.org/10.1017/S0029665110001539

Clark IA, Vissel B (2014) Inflammation-sleep interface in brain disease: TNF, insulin, orexin. J Neuroinflammation 11:51. https://doi.org/10.1186/1742-2094-11-51

Peuhkuri K, Sihvola N, Korpela R (2012) Diet promotes sleep duration and quality. Nutr Res 32(5):309–319. https://doi.org/10.1016/j.nutres.2012.03.009

Auld F, Maschauer EL, Morrison I, Skene DJ, Riha RL (2017) Evidence for the efficacy of melatonin in the treatment of primary adult sleep disorders. Sleep Med Rev 34:10–22. https://doi.org/10.1016/j.smrv.2016.06.005

Haario P, Rahkonen O, Laaksonen M, Lahelma E, Lallukka T (2013) Bidirectional associations between insomnia symptoms and unhealthy behaviours. J Sleep Res 22(1):89–95. https://doi.org/10.1111/j.1365-2869.2012.01043.x

Hartescu I, Morgan K (2019) Regular physical activity and insomnia: an international perspective. J Sleep Res 28(2):e12745. https://doi.org/10.1111/jsr.12745

Gonzalez-Sanchez J, Recio-Rodriguez JI, Gomez-Marcos MA, Patino-Alonso MC, Agudo-Conde C, Garcia-Ortiz L (2019) Relationship between the presence of insomnia and walking physical activity and diet quality: a cross-sectional study in a sample of Spanish adults. Med Clin (Barc) 152(9):339–345. https://doi.org/10.1016/j.medcli.2018.06.029

Passos GS, Poyares DL, Santana MG, Tufik S, Mello MT (2012) Is exercise an alternative treatment for chronic insomnia? Clinics (Sao Paulo) 67(6):653–660. https://doi.org/10.6061/clinics/2012(06)17

Youngstedt SD (2005) Effects of exercise on sleep. Clin Sports Med 24(2):355–365, xi. https://doi.org/10.1016/j.csm.2004.12.003

Morgan WP (1985) Affective beneficence of vigorous physical activity. Med Sci Sports Exerc 17(1):94–100

Nehlsen-Cannarella SL, Nieman DC, Balk-Lamberton AJ, Markoff PA, Chritton DB, Gusewitch G, Lee JW (1991) The effects of moderate exercise training on immune response. Med Sci Sports Exerc 23(1):64–70

Irwin MR, Piber D (2018) Insomnia and inflammation: a two hit model of depression risk and prevention. World Psychiatry 17(3):359–361. https://doi.org/10.1002/wps.20556

Georgoulis M, Yiannakouris N, Kechribari I, Lamprou K, Perraki E, Vagiakis E, Kontogianni MD (2020) The effectiveness of a weight-loss Mediterranean diet/lifestyle intervention in the management of obstructive sleep apnea: Results of the "MIMOSA" randomized clinical trial. Clin Nutr 40:850–859. https://doi.org/10.1016/j.clnu.2020.08.037

Vgontzas AN (2008) Does obesity play a major role in the pathogenesis of sleep apnoea and its associated manifestations via inflammation, visceral adiposity, and insulin resistance? Arch Physiol Biochem 114(4):211–223. https://doi.org/10.1080/13813450802364627

Hargens TA, Kaleth AS, Edwards ES, Butner KL (2013) Association between sleep disorders, obesity, and exercise: a review. Nat Sci Sleep 5:27–35. https://doi.org/10.2147/NSS.S34838
Acknowledgements
The authors would like to thank the staff of the Centre of Sleep Disorders of "Evangelismos" Hospital for their valuable help in data collection.
Funding
This work was partially supported by a grant from the Hellenic Atherosclerosis Society.
Ethics declarations
Ethics approval
This study was performed in line with the principles of the Declaration of Helsinki. Approval was granted by the Ethics Committee of Evangelismos Hospital and by the Bioethics Committee of Harokopio University.
Consent to participate
Informed consent was obtained from all individual participants included in the study.
Conflict of interest
The authors declare no competing interests.
Additional information
Publisher's note
Springer Nature remains neutral with regard to jurisdictional claims in published maps and institutional affiliations.
About this article
Cite this article
Kechribari, I., Kontogianni, M.D., Georgoulis, M. et al. Association of adherence to the Mediterranean diet and physical activity habits with the presence of insomnia in patients with obstructive sleep apnea. Sleep Breath 26, 89–97 (2022). https://doi.org/10.1007/s11325-021-02351-x
Received:

Revised:

Accepted:

Published:

Issue Date:

DOI: https://doi.org/10.1007/s11325-021-02351-x
Keywords