Abstract
Purpose
We aimed to investigate the association between sleep disturbance and menstrual problems in female Chinese university students.
Methods
A convenience sample of 1006 female university students participated in this study. Sleep duration, sleep quality, and insomnia symptoms were assessed by the Pittsburgh Sleep Quality Index and the Insomnia Severity Index. A structured questionnaire was used to assess participants' demographics and menstrual characteristics.
Results
The prevalence rates of irregular menstrual cycle, heavy menstrual bleeding, menstrual flow length ≥ 7 days, period pain, and premenstrual syndrome were significantly higher in participants with sleep disturbance than those without sleep disturbance (all p < 0.05). After adjusting for potential confounding variables, poor sleep quality and insomnia symptoms were significantly associated with menstrual flow length ≥ 7 days (OR = 1.81, 95% CI = 1.23–2.68, OR = 1.67, 95% CI = 1.13–2.45), period pain (OR = 1.55, 95% CI = 1.02–2.35, OR = 1.56, 95% CI = 1.02–2.37), and premenstrual syndrome (OR = 1.71, 95% CI = 1.30–2.24, OR = 1.93, 95% CI = 1.46–2.56). In addition, poor sleep quality was significantly associated with heavy menstrual bleeding (OR = 1.75, 95% CI = 1.12–2.72), and insomnia symptoms were significantly associated with irregular menstrual cycle (OR = 1.36, 95% CI = 1.02–1.80). However, short sleep duration (≤ 6 h) was only associated with premenstrual syndrome.
Conclusion
Our results suggested that sleep disturbance is associated with menstrual problems among female university students. More attention should be paid to improving the sleep quality and insomnia symptoms in individuals with menstrual problems.
Access options
Buy single article
Instant access to the full article PDF.
USD 39.95
Price excludes VAT (USA)
Tax calculation will be finalised during checkout.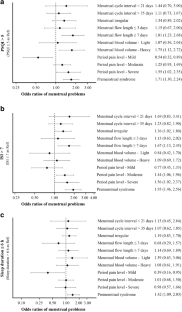 References
Strine TW, Chapman DP, Ahluwalia IB (2005) Menstrual-related problems and psychological distress among women in the United States. J Womens Health 14(4):316–323

Anastasakis E, Kingman CE, Lee CA, Economides DL, Kadir RA (2008) Menstrual problems in university students: an electronic mail survey. Vivo 22(5):617

Sahin S, Ozdemir K, Unsal A, Arslan R (2014) Review of frequency of dysmenorrhea and some associated factors and evaluation of the relationship between dysmenorrhea and sleep quality in university students. Gynecol Obstet Investig 78(3):179–185

Cheng SH, Shih CC, Yang YK, Chen KT, Chang YH, Yang YC (2013) Factors associated with premenstrual syndrome — a survey of new female university students. Kaohsiung J Med Sci 29(2):100–105

Rowland AS, Donna Day B, Stuart L, Ganesa W, Harlow SD, Michael A, Sandler DP (2002) Influence of medical conditions and lifestyle factors on the menstrual cycle. Epidemiology 13(6):668–674

Liu K, He L, Tang X, Wang J, Li N, Wu Y, Marshall R, Li J, Zhang Z, Liu J (2014) Relationship between menopause and health-related quality of life in middle-aged Chinese women: a cross-sectional study. BMC Womens Health 14(1):7–7

Kato I, Toniolo P, Koenig KL, Shore RE, Zeleniuch-Jacquotte A, Akhmedkhanov A, Riboli E (1999) Epidemiologic correlates with menstrual cycle length in middle aged women. Eur J Epidemiol 15(9):809–814

Dorn LD, Sonya N, Bin H, Stephanie P, Jennifer H, Paula B, Susman EJ (2009) Menstrual symptoms in adolescent girls: association with smoking, depressive symptoms, and anxiety. J Adolesc Health 44(3):237–243

Alger SE, Chambers AM, Cunningham T, Payne JD (2014) The role of sleep in human declarative memory consolidation. Curr Top Behav Neurosci 25:269–306

Han-Na K, Juhee C, Yoosoo C, Seungho R, Hocheol S, Hyung-Lae K (2015) Association between personality traits and sleep quality in young Korean women. PLoS One 10(6):e0129599

Bailey BW, Allen MD, LeCheminant JD, Tucker LA, Errico WK, Christensen WF, Hill MD (2014) Objectively measured sleep patterns in young adult women and the relationship to adiposity. Am J Health Promot 29(1):46–54

Nam GE, Han K, Lee G (2017) Association between sleep duration and menstrual cycle irregularity in Korean female adolescents. Sleep Med 35:62–66

Wang Y, Gu F, Deng M, Guo L, Lu C, Zhou C, Chen S, Xu Y (2016) Rotating shift work and menstrual characteristics in a cohort of Chinese nurses. BMC Womens Health 16(1):24

Negriff S, Dorn LD (2009) Morningness/eveningness and menstrual symptoms in adolescent females. J Psychosom Res 67(2):169–172

Kabrita CS, Hajjar-Muça TA, Duffy JF (2014) Predictors of poor sleep quality among Lebanese university students: association between evening typology, lifestyle behaviors, and sleep habits. Nat Sci Sleep 6:11–18

Sara A, Marcos B, Robert M (2009) Gender and socio-economic patterning of self-reported sleep problems in Britain. Soc Sci Med 68(2):281–289

Beck F, Richard JB, Léger D (2013) Insomnia and total sleep time in France: prevalence and associated socio-demographic factors in a general population survey. Rev Neurol 169(12):956–964

Zhang B, Wing YK (2006) Sex differences in insomnia: a meta-analysis. Sleep 29(1):85–93

Judith O (2014) Insufficient sleep in adolescents and young adults: an update on causes and consequences. Pediatrics 134(3):e921

Mortola JF, Girton L, Beck L, Yen S (1990) Diagnosis of premenstrual syndrome by a simple, prospective, and reliable instrument: the calendar of premenstrual experiences. Obstet Gynecol 76(2):302–307

Russell K, Allan S, Beattie L, Bohan J, Macmahon K, Rasmussen S (2019) Sleep problem, suicide and self-harm in university students: a systematic review. Sleep Med Rev 4(44):58–69

Khazaie H, Ghadami MR, Khaledi-Paveh B, Chehri A, Nasouri M (2016) Sleep quality in university students with premenstrual dysphoric disorder. Shanghai Arch Psychiatry 28(3):131–138

Baker FC, Driver HS (2007) Circadian rhythms, sleep, and the menstrual cycle. Sleep Med 8(6):613–622

Yu M, Han K, Nam GE (2017) The association between mental health problems and menstrual cycle irregularity among adolescent Korean girls. J Affect Disord 210 (undefined):43–48

Pei-Jen C, Pau-Chung C, Chia-Jung H, Li-Tan C (2010) Risk factors on the menstrual cycle of healthy Taiwanese college nursing students. Aust N Z J Obstet Gynaecol 49(6):689–694

Jappe LM, Li C, Crosby RD, Crow SJ, Peterson CB, Daniel LG, Engel SG, Wonderlich SA (2014) Stress and eating disorder behavior in anorexia nervosa as a function of menstrual cycle status. Int J Eat Disord 47(2):181–188

Araujo P, Hachul H, Santos-Silva R, Bittencourt LRA, Tufik S, Andersen ML (2011) Sleep pattern in women with menstrual pain. Sleep Med 12(10):1028–1030

Liu X, Chen H, Liu ZZ, Fan F, Jia CX (2017) Early menarche and menstrual problems are associated with sleep disturbance in a large sample of Chinese adolescent girls. Sleep 40(9) undefined

Baker FC, Sassoon SA, Kahan T, Palaniappan L, Nicholas CL, Trinder J, Colrain IM (2012) Perceived poor sleep quality in the absence of polysomnographic sleep disturbance in women with severe premenstrual syndrome. J Sleep Res 21(5):535–545

Romans SE, Kreindler D, Einstein G, Laredo S, Petrovic MJ, Stanley J (2015) Sleep quality and the menstrual cycle. Sleep Med 16(4):489–495
Funding
This work was financially supported by the National Natural Science Foundation of China (81700087).
Ethics declarations
Conflict of interest
The authors declare that they have no conflict of interest
Ethical approval
All procedures performed in studies involving human participants were in accordance with the ethical standards of the institutional and national research committee and with the 1964 Helsinki Declaration and its later amendments or comparable ethical standards.
Informed consent
Informed consent was obtained from all individual participants included in the study.
Additional information
Publisher's note
Springer Nature remains neutral with regard to jurisdictional claims in published maps and institutional affiliations.
Electronic supplementary material
About this article
Cite this article
Xing, X., Xue, P., Li, S.X. et al. Sleep disturbance is associated with an increased risk of menstrual problems in female Chinese university students. Sleep Breath 24, 1719–1727 (2020). https://doi.org/10.1007/s11325-020-02105-1
Received:

Revised:

Accepted:

Published:

Issue Date:

DOI: https://doi.org/10.1007/s11325-020-02105-1
Keywords