Abstract
Purpose
Obstructive sleep apnea (OSA) can induce dramatic nocturnal blood pressure fluctuations (NBPFs) and can be associated with nocturnal hypertension and arterial stiffness. We investigated the effect of short- and long-term continuous positive airway pressure (CPAP) therapy on NBPFs, nocturnal blood pressure (BP), and arterial stiffness in patients with coexisting cardiovascular diseases (CVD) and OSA (CVD/OSA).
Methods
Of 86 patients with CVD, 58 also had OSA, while 28 without OSA served as controls. Nighttime BP was measured continuously using pulse transit time (PTT) and arterial stiffness was measured with pulse wave velocity (PWV). A NBPF was defined as systolic BP elevation > 12 mmHg in a 30 s interval of sleep. All measurements were conducted at baseline, after the first night of CPAP, and after 6 months of CPAP therapy.
Results
In CVD/OSA patients, we observed significantly more frequent NBPFs (p < 0.001) compared with controls. CPAP therapy decreased the frequency of NBPFs (p < 0.001), the maximum systolic BP by 9 mmHg (p = 0.021), and PWV (p < 0.001) even after the first night. After long-term CPAP therapy, there was an additional decrease in average nocturnal systolic BP by 10 mmHg (p = 0.039).
Conclusions
Our findings demonstrate that CPAP therapy reduces NBPFs, nocturnal BP, and arterial stiffness in CVD/OSA patients. This effect was demonstrable after the first night of CPAP and grew more robust after 6 months of CPAP therapy.
Access options
Buy single article
Instant access to the full article PDF.
US$ 39.95
Tax calculation will be finalised during checkout.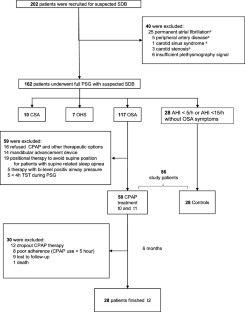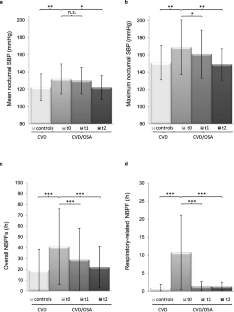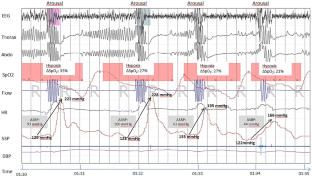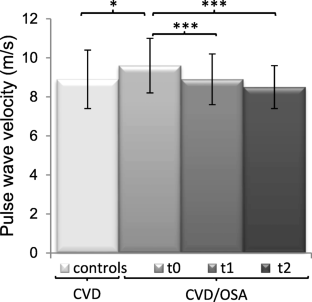 Acknowledgments
We thank Xenia Monreal, Claudia Stelzmann, and Erika Altenhofen who provided help during the research, and we thank the patients who supported this study. We also thank Mataroria Lyndon for proofreading.
Ethics declarations
Conflict of interest
The authors declare that they have no conflict of interest.
Ethical approval
The study protocol was approved by the ethics committee of the Medical Association of Witten/Herdecke (Germany). All procedures were performed in accordance with the ethical standards of the institutional and/or national research committee and with the 1964 Declaration of Helsinki and its later amendment.
Informed consent
Written informed consent was obtained from each participant included in the study.
Additional information
Publisher's note
Springer Nature remains neutral with regard to jurisdictional claims in published maps and institutional affiliations.
About this article
Cite this article
Picard, F., Panagiotidou, P., Weinig, L. et al. Effect of CPAP therapy on nocturnal blood pressure fluctuations, nocturnal blood pressure, and arterial stiffness in patients with coexisting cardiovascular diseases and obstructive sleep apnea. Sleep Breath 25, 151–161 (2021). https://doi.org/10.1007/s11325-020-02075-4
Received:

Revised:

Accepted:

Published:

Issue Date:
Keywords
Obstructive sleep apnea

Continuous positive airway pressure

Nocturnal blood pressure

Nocturnal blood pressure fluctuations

Arterial stiffness

Cardiovascular disease