Abstract
Purpose
The effects of caffeine on drowsiness and reaction time in patients with narcolepsy are unclear. We aimed to assess the effects of caffeine as add-on therapy in narcolepsy patients.
Methods
A randomized, double-blind, placebo-control clinical pilot trial was conducted with a parallel, two-arm trial allocation ratio of 1:1. Participants attended two study visits 7 days apart. The drug was administered orally in a single opaque capsule containing 200 mg caffeine/placebo daily in the morning for 1 week. Sleepiness was assessed objectively using infrared reflectance oculography to measure the percentage of long eye closure (LEC%) and subjectively using two sleepiness scales, the Stanford Sleepiness Scale (SSS) and Karolinska Sleepiness Scale (KSS). Parameters were measured at baseline (BL) prior to taking the drug, after taking the first dose (FD), and after 1 week (WD) of daily caffeine.
Results
Sixteen participants with narcolepsy were included. No significant differences between groups in baseline measurements were observed. LEC% was significantly decreased after the FD and WD compared with baseline levels (BL 1.4 ± 2.1 vs. FD 0.06 ± 0.0.6 and WD 0.03 ± 0.04). Significant improvements in alertness were observed using the KSS when comparing BL with FD and WD (6.3 ± 1.6, 4.9 ± 1.7, and 4.7 ± 1.7, respectively; p = 0.01). No changes in reaction time or SSS scores were noted.
Conclusion
Our findings suggest that a small dose of caffeine has positive effects on alertness in patients with narcolepsy. However, larger trials are required to confirm these findings.
Trial registration no.
ClinicalTrial.gov NCT02832336
Access options
Buy single article
Instant access to the full article PDF.
USD 39.95
Price excludes VAT (USA)
Tax calculation will be finalised during checkout.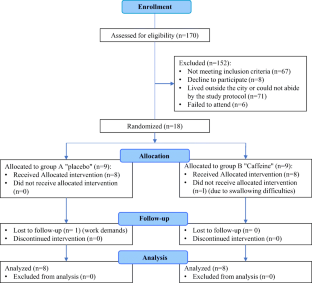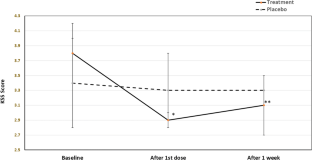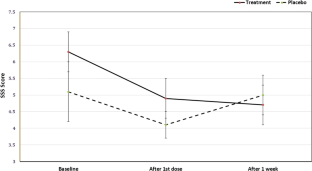 References
AASM (2014) American Academy of sleep medicine (AASM). International classification of sleep disorders (ICSD), 3rd edn. AASM, Darien

Almeneessier AS, Alballa NS, Alsalman BH, Aleissi S, Olaish AH, BaHammam AS (2019) A 10-year longitudinal observational study of cataplexy in a cohort of narcolepsy type 1 patients. Nat Sci Sleep 11:231–239. https://doi.org/10.2147/NSS.S229105

Almeneessier AS, Al-Jebrin S, Labani R, Alkaff H, Al-Rahbeeni O, Al-Ageel M, Olaish AH, Bahammam AS (2019) Medical specialty visits and diagnoses received by Saudi patients prior to a diagnosis of narcolepsy. Sleep Breath 23:(in press. https://doi.org/10.1007/s11325-019-01807-5

Bahammam AS, Alenezi AM (2006) Narcolepsy in Saudi Arabia. Demographic and clinical perspective of an under-recognized disorder. Neurosciences (Riyadh) 11(4):302–307

Takenoshita S, Nishino S (2017) Pharmacologic management of excessive daytime sleepiness. Sleep Med Clin 12(3):461–478. https://doi.org/10.1016/j.jsmc.2017.03.019

Holst SC, Landolt HP (2015) Sleep homeostasis, metabolism, and adenosine. Curr Sleep Medicine Rep 1(1):27–37. https://doi.org/10.1007/s40675-014-0007-3

Cun Y, Tang L, Yan J, He C, Li Y, Hu Z, Xia J (2014) Orexin A attenuates the sleep-promoting effect of adenosine in the lateral hypothalamus of rats. Neurosci Bull 30(5):877–886. https://doi.org/10.1007/s12264-013-1442-8

Liu ZW, Gao XB (2007) Adenosine inhibits activity of hypocretin/orexin neurons by the A1 receptor in the lateral hypothalamus: a possible sleep-promoting effect. J Neurophysiol 97(1):837–848. https://doi.org/10.1152/jn.00873.2006

Daniello A, Fievisohn E, Gregory TS (2012) Modeling the effects of caffeine on the sleep/ wake cycle. Biomed Sci Instrum 48:73–80

Landolt HP, Retey JV, Tonz K, Gottselig JM, Khatami R, Buckelmuller I, Achermann P (2004) Caffeine attenuates waking and sleep electroencephalographic markers of sleep homeostasis in humans. Neuropsychopharmacology 29(10):1933–1939. https://doi.org/10.1038/sj.npp.1300526

Goswami M, Pandi-Perumal SR, Thorpy MJ (2010) Narcolepsy: a clinical guide. Springer-Verlag, New York. https://doi.org/10.1007/978-1-4419-0854-4

Okuro M, Fujiki N, Kotorii N, Ishimaru Y, Sokoloff P, Nishino S (2010) Effects of paraxanthine and caffeine on sleep, locomotor activity, and body temperature in orexin/ataxin-3 transgenic narcoleptic mice. Sleep 33(7):930–942

Cori JM, Anderson C, Shekari Soleimanloo S, Jackson ML, Howard ME (2019) Narrative review: do spontaneous eye blink parameters provide a useful assessment of state drowsiness? Sleep Med Rev 45:95–104. https://doi.org/10.1016/j.smrv.2019.03.004

Caffier PP, Erdmann U, Ullsperger P (2003) Experimental evaluation of eye-blink parameters as a drowsiness measure. Eur J Appl Physiol 89(3–4):319–325. https://doi.org/10.1007/s00421-003-0807-5

Wilkinson VE, Jackson ML, Westlake J, Stevens B, Barnes M, Swann P, Rajaratnam SM, Howard ME (2013) The accuracy of eyelid movement parameters for drowsiness detection. J Clin Sleep Med 9(12):1315–1324. https://doi.org/10.5664/jcsm.3278

Ton TG, Watson NF, Longstreth WT Jr (2010) Associations between narcolepsy and consumption of alcohol and caffeinated beverages among genetically susceptible individuals: a population-based case-control study. J Clin Sleep Med 6(4):406

Blatch-Jones AJ, Pek W, Kirkpatrick E, Ashton-Key M (2018) Role of feasibility and pilot studies in randomised controlled trials: a cross-sectional study. BMJ Open 8(9):e022233. https://doi.org/10.1136/bmjopen-2018-022233

Eldridge SM, Chan CL, Campbell MJ, Bond CM, Hopewell S, Thabane L, Lancaster GA, group Pc (2016) CONSORT 2010 statement: extension to randomised pilot and feasibility trials. BMJ 355:i5239. https://doi.org/10.1136/bmj.i5239

Peall KJ, Robertson NP (2014) Narcolepsy: environment, genes and treatment. J Neurol 261(8):1644–1646. https://doi.org/10.1007/s00415-014-7435-3

Kinirons MT, O'Mahony MS (2004) Drug metabolism and ageing. Br J Clin Pharmacol 57(5):540–544. https://doi.org/10.1111/j.1365-2125.2004.02096.x

Milanez S (2011) Adverse health effects of caffeine: review and analysis of recent human and animal research. USA Food and Drug Administration (FDA): Oak Ridge National Laboratory, Oak Ridge, TN

Johns MW, Tucker AJ, Chapman R, Crowley K, Michael N (2007) Monitoring eye and eyelid movements by infrared reflectance oculography to measure drowsiness in drivers. Somnologie 11(4):234–242

National Sleep Foundation National Sleep Foundation Sleep Diary. National Sleep Foundation. https://www.sleepfoundation.org/sites/default/files/inline-files/SleepDiaryv6.pdf. Accessed May 15 2016

Kamimori GH, Somani SM, Knowlton RG, Perkins RM (1987) The effects of obesity and exercise on the pharmacokinetics of caffeine in lean and obese volunteers. Eur J Clin Pharmacol 31(5):595–600. https://doi.org/10.1007/bf00606637

Hoddes E, Zarcone V, Smythe H, Phillips R, Dement WC (1973) Quantification of sleepiness: a new approach. Psychophysiology 10(4):431–436. https://doi.org/10.1111/j.1469-8986.1973.tb00801.x

Akerstedt T, Gillberg M (1990) Subjective and objective sleepiness in the active individual. Int J Neurosci 52(1–2):29–37. https://doi.org/10.3109/00207459008994241

Tucker AJ, Johns MW (2005) The duration of eyelid movements during blinks: changes with drowsiness. Sleep 28(Suppl):A122

Bahammam AS, Nashwan S, Hammad O, Sharif MM, Pandi-Perumal SR (2013) Objective assessment of drowsiness and reaction time during intermittent Ramadan fasting in young men: a case-crossover study. Behav Brain Funct 9(1):32. https://doi.org/10.1186/1744-9081-9-32

Johns MW, Chapman R, Chapman R, Tucker AJ (2008) A new method for assessing the risks of drowsiness while driving. Somnologie 12(1):66–74

Ftouni S, Sletten TL, Howard M, Anderson C, Lenne MG, Lockley SW, Rajaratnam SM (2013) Objective and subjective measures of sleepiness, and their associations with on-road driving events in shift workers. J Sleep Res 22(1):58–69. https://doi.org/10.1111/j.1365-2869.2012.01038.x

Kinomura S, Larsson J, Gulyas B, Roland PE (1996) Activation by attention of the human reticular formation and thalamic intralaminar nuclei. Science 271(5248):512–515. https://doi.org/10.1126/science.271.5248.512

Büttner-Ennever J, Horn A (2004) The human nervous system

Aramideh M, Ongerboer de Visser BW, Devriese PP, Bour LJ, Speelman JD (1994) Electromyographic features of levator palpebrae superioris and orbicularis oculi muscles in blepharospasm. Brain 117(Pt 1):27–38. https://doi.org/10.1093/brain/117.1.27

Anderson C, Chang AM, Sullivan JP, Ronda JM, Czeisler CA (2013) Assessment of drowsiness based on ocular parameters detected by infrared reflectance oculography. J Clin Sleep Med 9(9):907–920, 920A-920B. https://doi.org/10.5664/jcsm.2992

Akerstedt T, Peters B, Anund A, Kecklund G (2005) Impaired alertness and performance driving home from the night shift: a driving simulator study. J Sleep Res 14(1):17–20. https://doi.org/10.1111/j.1365-2869.2004.00437.x

O'Callaghan F, Muurlink O, Reid N (2018) Effects of caffeine on sleep quality and daytime functioning. Risk Manag Healthc Policy 11:263–271. https://doi.org/10.2147/RMHP.S156404

Hansen DA, Ramakrishnan S, Satterfield BC, Wesensten NJ, Layton ME, Reifman J, Van Dongen HPA (2019) Randomized, double-blind, placebo-controlled, crossover study of the effects of repeated-dose caffeine on neurobehavioral performance during 48 h of total sleep deprivation. Psychopharmacology 236(4):1313–1322. https://doi.org/10.1007/s00213-018-5140-0

Spriet LL (2014) Exercise and sport performance with low doses of caffeine. Sports Med 44(Suppl 2):S175–S184. https://doi.org/10.1007/s40279-014-0257-8

Mitler MM, Walsleben J, Sangal RB, Hirshkowitz M (1998) Sleep latency on the maintenance of wakefulness test (MWT) for 530 patients with narcolepsy while free of psychoactive drugs. Electroencephalogr Clin Neurophysiol 107(1):33–38. https://doi.org/10.1016/s0013-4694(98)00044-3

Michael N, Johns M, Owen C, Patterson J (2008) Effects of caffeine on alertness as measured by infrared reflectance oculography. Psychopharmacology 200(2):255–260. https://doi.org/10.1007/s00213-008-1202-z

Murray BJ (2017) Subjective and objective assessment of hypersomnolence. Sleep Med Clin 12(3):313–322. https://doi.org/10.1016/j.jsmc.2017.03.007

Danker-Hopfe H, Kraemer S, Dorn H, Schmidt A, Ehlert I, Herrmann WM (2001) Time-of-day variations in different measures of sleepiness (MSLT, pupillography, and SSS) and their interrelations. Psychophysiology 38(5):828–835

Kaida K, Takahashi M, Akerstedt T, Nakata A, Otsuka Y, Haratani T, Fukasawa K (2006) Validation of the Karolinska Sleepiness Scale against performance and EEG variables. Clin Neurophysiol 117(7):1574–1581. https://doi.org/10.1016/j.clinph.2006.03.011

Geiger Brown J, Wieroney M, Blair L, Zhu S, Warren J, Scharf SM, Hinds PS (2014) Measuring subjective sleepiness at work in hospital nurses: validation of a modified delivery format of the Karolinska Sleepiness Scale. Sleep Breath 18(4):731–739. https://doi.org/10.1007/s11325-013-0935-z

Riemersma J, Sanders A, Wildervanck C, Gaillard A (1977) Performance decrement during prolonged night driving. In: Mackie R (ed) Vigilance. Plenum Press, New York

Baulk SD, Reyner LA, Horne JA (2001) Driver sleepiness--evaluation of reaction time measurement as a secondary task. Sleep 24(6):695–698. https://doi.org/10.1093/sleep/24.6.695

Dinges D, Kribbs N (1991) Performing while sleepy: effects of experimentally induced sleepiness. In: Monk T (ed) Sleep, sleepiness and performance. Wiley, Winchester, pp 97–128

Foulds RE (2010) Effects of ingesting modafinil, caffeine, or their combination on cognitive and physical performance. York University, Toronto (Master Thesis)

Grimaldi D, Calandra-Buonaura G, Provini F, Agati P, Pierangeli G, Franceschini C, Barletta G, Plazzi G, Montagna P, Cortelli P (2012) Abnormal sleep-cardiovascular system interaction in narcolepsy with cataplexy: effects of hypocretin deficiency in humans. Sleep 35(4):519–528. https://doi.org/10.5665/sleep.1738

Fronczek R, Thijs RD (2013) Autonomic alterations in narcolepsy-contrasting results in mice and men. Sleep 36(1):9–10. https://doi.org/10.5665/sleep.2286

Mesas AE, Leon-Munoz LM, Rodriguez-Artalejo F, Lopez-Garcia E (2011) The effect of coffee on blood pressure and cardiovascular disease in hypertensive individuals: a systematic review and meta-analysis. Am J Clin Nutr 94(4):1113–1126. https://doi.org/10.3945/ajcn.111.016667

Heatherley SV (2011) Caffeine withdrawal, sleepiness, and driving performance: what does the research really tell us? Nutr Neurosci 14(3):89–95. https://doi.org/10.1179/147683011X13019262348785

Rhee JJ, Qin F, Hedlin HK, Chang TI, Bird CE, Zaslavsky O, Manson JE, Stefanick ML, Winkelmayer WC (2016) Coffee and caffeine consumption and the risk of hypertension in postmenopausal women. Am J Clin Nutr 103(1):210–217. https://doi.org/10.3945/ajcn.115.120147
Funding
The study was funded by:
1) The Strategic Technologies Program of the National Plan for Sciences and Technology and Innovation in the Kingdom of Saudi Arabia (08-MED511-02).
2) King Abdul-Aziz City for Science and Technology in Riyadh, Saudi Arabia (National Plan for Science and Technology), Grant Student Project (GSP), fund number: GSP -37-47, and the Sleep Disorders Center at KSU University, Riyadh, Saudi Arabia.
Ethics declarations
Research involving human subjects
This study was approved by the Ethics Committee of the College of Medicine, King Saud University. All procedures performed in studies involving human participants were in accordance with the ethical standards of the institutional and/or national research committee and with the 1964 Helsinki declaration and its later amendments or comparable ethical standards.
The study was registered at clinical trial.gov (registration number: NCT02832336).
Informed consent
Written informed consent was obtained from all individual participants included in the study.
Conflict of interest
The authors declare that they have no conflict of interest.
Additional information
Publisher's note
Springer Nature remains neutral with regard to jurisdictional claims in published maps and institutional affiliations.
Electronic supplementary material
About this article
Cite this article
Aldosari, M.S., Olaish, A.H., Nashwan, S.Z. et al. The effects of caffeine on drowsiness in patients with narcolepsy: a double-blind randomized controlled pilot study. Sleep Breath 24, 1675–1684 (2020). https://doi.org/10.1007/s11325-020-02065-6
Received:

Revised:

Accepted:

Published:

Issue Date:

DOI: https://doi.org/10.1007/s11325-020-02065-6
Keywords