Abstract
Purpose
The Epworth sleepiness scale (ESS) is a widely used tool which has been validated as a measure of sleepiness. However, the scores within individual patients referred for clinical sleep services vary considerably which may limit the clinical use of the ESS. We sought to determine the test-retest reliability of the ESS if scores were classified as either normal or sleepy.
Methods
We measured the ESS in patients presenting to our sleep center at a clinical visit and again when a sleep study was done. Demographic and clinical information was extracted from the electronic medical record.
Results
Average ESS scores were similar on 2 administrations, mean (SD) of 9.8 (5.4) and 10.2 (6.2). Bland-Altman analysis showed upper and lower limits of agreement of 7.5 and − 6.7, respectively. No demographic or clinical variables were identified which contributed to the intra-individual variability. Of the patients who presented with an initial ESS < 11, 80% had a second ESS < 11. Of the patients who presented with an initial ESS ≥ 11, 89% had a second ESS ≥ 11. Cohen's kappa for the two administrations of the ESS was 0.67 (95% CI of 0.51–0.83). Using previously published reports, we calculated Cohen's kappa for polysomnographic determination of the apnea-hypopnea index (AHI) with values ranging from 0.26 to 0.69.
Conclusions
Individual ESS scores varied considerably within individual patients, but with classification into either normal or sleepy, the test-retest reliability was substantial and in line with other clinical measures including polysomnographic determination of the AHI.
This is a preview of subscription content, log in to check access.
Access options
Buy single article
Instant access to the full article PDF.
US$ 39.95
Tax calculation will be finalised during checkout.
Subscribe to journal
Immediate online access to all issues from 2019. Subscription will auto renew annually.
US$ 79
Tax calculation will be finalised during checkout.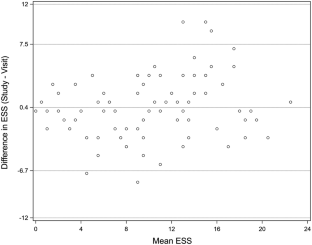 Abbreviations
AHI :

apnea-hypopnea index

BMI:

body mass index

ESS:

Epworth sleepiness scale

OSA:

obstructive sleep apnea
References
1.

Johns MW (1991) A new method for measuring daytime sleepiness: the Epworth sleepiness scale. Sleep 14(6):540–545

2.

Johns MW (1992) Reliability and factor analysis of the Epworth sleepiness scale. Sleep 15(4):376–381

3.

Nguyen AT, Baltzan MA, Small D, Wolkove N, Guillon S, Palayew M (2006) Clinical reproducibility of the Epworth sleepiness scale. J Clin Sleep Med 2(2):170–174

4.

Campbell AJ, Neill AM, Scott DAR (2018) Clinical reproducibility of the Epworth sleepiness scale for patients with suspected sleep apnea. J Clin Sleep Med 14(5):791–795. https://doi.org/10.5664/jcsm.7108

5.

Taylor E, Zeng I, O'Dochartaigh C (2019) The reliability of the Epworth sleepiness score in a sleep clinic population. J Sleep Res 28(2):e12687. https://doi.org/10.1111/jsr.12687

6.

Ayappa I, Norman RG, Seelall V, Rapoport DM (2008) Validation of a self-applied unattended monitor for sleep disordered breathing. J Clin Sleep Med 4(1):26–37

7.

Aber WR, Block AJ, Hellard DW, Webb WB (1989) Consistency of respiratory measurements from night to night during the sleep of elderly men. Chest 96(4):747–751

8.

Levendowski DJ, Zack N, Rao S, Wong K, Gendreau M, Kranzler J, Zavora T, Westbrook PR (2009) Assessment of the test-retest reliability of laboratory polysomnography. Sleep Breath 13(2):163–167. https://doi.org/10.1007/s11325-008-0214-6

9.

Ma J, Zhang C, Zhang J, Hu J, Fang J, Zhang J, Jia P, Wang GF (2011) Prospective study of first night effect on 2-night polysomnographic parameters in adult Chinese snorers with suspected obstructive sleep apnea hypopnea syndrome. Chin Med J 124(24):4127–4131

10.

Chediak AD, Acevedo-Crespo JC, Seiden DJ, Kim HH, Kiel MH (1996) Nightly variability in the indices of sleep-disordered breathing in men being evaluated for impotence with consecutive night polysomnograms. Sleep 19(7):589–592

11.

Newell J, Mairesse O, Verbanck P, Neu D (2012) Is a one-night stay in the lab really enough to conclude? First-night effect and night-to-night variability in polysomnographic recordings among different clinical population samples. Psychiatry Res 200(2–3):795–801. https://doi.org/10.1016/j.psychres.2012.07.045

12.

Bittencourt LR, Suchecki D, Tufik S, Peres C, Togeiro SM, Bagnato MC, Nery LE (2001) The variability of the apnoea-hypopnoea index. J Sleep Res 10(3):245–251

13.

White LH, Lyons OD, Yadollahi A, Ryan CM, Bradley TD (2015) Night-to-night variability in obstructive sleep apnea severity: relationship to overnight rostral fluid shift. J Clin Sleep Med 11(2):149–156. https://doi.org/10.5664/jcsm.4462

14.

Selwa LM, Marzec ML, Chervin RD, Weatherwax KJ, Vaughn BV, Foldvary-Schaefer N, Wang L, Song Y, Malow BA (2008) Sleep staging and respiratory events in refractory epilepsy patients: is there a first night effect? Epilepsia 49(12):2063–2068. https://doi.org/10.1111/j.1528-1167.2008.01681.x

15.

Efron B, R.J T (1994) An introduction to the bootstrap. Chapman & Hall/CRC Monographs on Statistics and Applied Probability Series. Taylor & Francis,

16.

Johns M, Hocking B (1997) Daytime sleepiness and sleep habits of Australian workers. Sleep 20(10):844–849

17.

Landis JR, Koch GG (1977) The measurement of observer agreement for categorical data. Biometrics 33(1):159–174

18.

Herzog M, Bedorf A, Rohrmeier C, Kuhnel T, Herzog B, Bremert T, Plontke S, Plossl S (2017) Circadian rhythm : influence on Epworth sleepiness scale score. HNO 65(2):154–162. https://doi.org/10.1007/s00106-016-0270-3

19.

Williams JB, Gibbon M, First MB, Spitzer RL, Davies M, Borus J, Howes MJ, Kane J, Pope HG Jr, Rounsaville B et al (1992) The structured clinical interview for DSM-III-R (SCID). II Multisite test-retest reliability Arch Gen Psychiatry 49(8):630–636

20.

Wittchen HU, Lachner G, Wunderlich U, Pfister H (1998) Test-retest reliability of the computerized DSM-IV version of the Munich-composite international diagnostic interview (M-CIDI). Soc Psychiatry Psychiatr Epidemiol 33(11):568–578

21.

Zanarini MC, Frankenburg FR, Chauncey DL, Gunderson JG (1987) The diagnostic interview for personality disorders: interrater and test-retest reliability. Compr Psychiatry 28(6):467–480

22.

Selin KH (2003) Test-retest reliability of the alcohol use disorder identification test in a general population sample. Alcohol Clin Exp Res 27(9):1428–1435. https://doi.org/10.1097/01.Alc.0000085633.23230.4a

23.

Kim JH, Cheong HK, Lee CS, Yi SE, Park KW (2010) The validity and reliability of a screening questionnaire for Parkinson's disease in a community. J Prev Med Public Health 43(1):9–17. https://doi.org/10.3961/jpmph.2010.43.1.9

24.

Teculescu D, Guillemin F, Virion JM, Aubry C, Hannhart B, Michaely JP, Gueguen R (2003) Reliability of the Wisconsin sleep questionnaire: a French contribution to international validation. J Clin Epidemiol 56(5):436–440

25.

Girschik J, Heyworth J, Fritschi L (2012) Reliability of a sleep quality questionnaire for use in epidemiologic studies. J Epidemiol 22(3):244–250

26.

Bliwise DL, Benkert RE, Ingham RH (1991) Factors associated with nightly variability in sleep-disordered breathing in the elderly. Chest 100(4):973–976

27.

Peppard PE, Young T, Palta M, Skatrud J (2000) Prospective study of the association between sleep-disordered breathing and hypertension. N Engl J Med 342(19):1378–1384. https://doi.org/10.1056/NEJM200005113421901

28.

Redline S, Yenokyan G, Gottlieb DJ, Shahar E, O'Connor GT, Resnick HE, Diener-West M, Sanders MH, Wolf PA, Geraghty EM, Ali T, Lebowitz M, Punjabi NM (2010) Obstructive sleep apnea-hypopnea and incident stroke: the sleep heart health study. Am J Respir Crit Care Med 182(2):269–277. https://doi.org/10.1164/rccm.200911-1746OC

29.

Marin JM, Carrizo SJ, Vicente E, Agusti AG (2005) Long-term cardiovascular outcomes in men with obstructive sleep apnoea-hypopnoea with or without treatment with continuous positive airway pressure: an observational study. Lancet 365(9464):1046–1053. https://doi.org/10.1016/S0140-6736(05)71141-7

30.

Young T, Finn L, Peppard PE, Szklo-Coxe M, Austin D, Nieto FJ, Stubbs R, Hla KM (2008) Sleep disordered breathing and mortality: eighteen-year follow-up of the Wisconsin sleep cohort. Sleep 31(8):1071–1078

31.

Newman AB, Spiekerman CF, Enright P, Lefkowitz D, Manolio T, Reynolds CF, Robbins J (2000) Daytime sleepiness predicts mortality and cardiovascular disease in older adults. The cardiovascular health study research group. J Am Geriatr Soc 48(2):115–123

32.

Ronksley PE, Hemmelgarn BR, Heitman SJ, Hanly PJ, Faris PD, Quan H, Tsai WH (2009) Obstructive sleep apnoea is associated with diabetes in sleepy subjects. Thorax 64(10):834–839. https://doi.org/10.1136/thx.2009.115105

33.

Gooneratne NS, Richards KC, Joffe M, Lam RW, Pack F, Staley B, Dinges DF, Pack AI (2011) Sleep disordered breathing with excessive daytime sleepiness is a risk factor for mortality in older adults. Sleep 34(4):435–442
Acknowledgments
The authors thank the staff of the Comprehensive Sleep Disorders Center at Rutgers Robert Wood Johnson Medical School for assistance in data collection. This research did not receive any specific grant from funding agencies in the public, commercial, or not-for-profit sectors.
Ethics declarations
Conflict of interest
The authors declare that they have no conflicts of interest.
Ethical approval
All procedures performed in studies involving human participants were in accordance with the ethical standards of the institutional review board and with the 1964 Helsinki declaration and its later amendments or comparable ethical standards.
Additional information
Publisher's note
Springer Nature remains neutral with regard to jurisdictional claims in published maps and institutional affiliations.
About this article
Cite this article
Walker, N.A., Sunderram, J., Zhang, P. et al. Clinical utility of the Epworth sleepiness scale. Sleep Breath 24, 1759–1765 (2020). https://doi.org/10.1007/s11325-020-02015-2
Received:

Revised:

Accepted:

Published:

Issue Date:
Keywords
Epworth sleepiness scale

Test-retest reliability

Variability

Kappa

Polysomnogram