Abstract
Purpose
Patients with obstructive sleep apnea (OSA) have a higher risk of Behçet's disease (BD) and Sjögren syndrome (SS). However, the bidirectional relationship between these autoimmune diseases and OSA is unclear. We investigated the relationship between autoimmune diseases (SS and BD) and OSA.
Methods
SS and BD patients were identified through the Taiwan National Health Insurance Research Database from 2002 to 2012. Patients with SS or BD were matched according to age and sex with a control group in a ratio of 1:4. The study included 12,926 patients with SS and 51,704 non-SS controls. Similarly, 1221 patients with BD were matched with 4884 non-BD controls. We used a Cox regression model, stratified by age, gender, and comorbidities, to assess the risk of OSA.
Results
OSA was diagnosed in 0.61% of the SS cohort and 1.23% of the BD cohort. The higher overall risk for OSA was observed significantly in patients with SS than in controls (adjusted hazard ratio [HR] = 2.48, 95% confidence interval [CI] = 1.89–3.24). The higher risk was also observed significantly in BD patients than in controls (HR = 1.99, 95% CI = 1.06–3.72). Furthermore, men with SS or BD exhibited HR of 2.62 (95% CI 1.89 to 3.62) and 6.40 (95% CI 2.96 to 13.84) for developing OSA, respectively.
Conclusion
Risk of OSA was significantly elevated in SS or BD patients compared with controls. Further study is warranted to elucidate underlying mechanisms.
Access options
Buy single article
Instant access to the full article PDF.
US$ 39.95
Tax calculation will be finalised during checkout.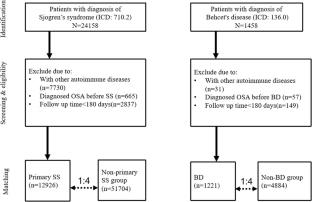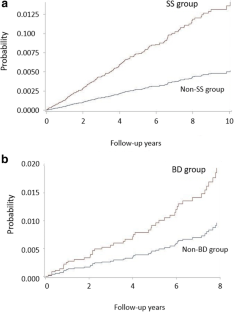 References
1.

Pretto JJ, Gyulay SG, Hensley MJ (2010) Trends in anthropometry and severity of sleep-disordered breathing over two decades of diagnostic sleep studies in an Australian adult sleep laboratory. Med J Australia 193:213–216

2.

Punjabi NM, Caffo BS, Goodwin JL, Gottlieb DJ, Newman AB, O'Connor GT (2009) Sleep-disordered breathing and mortality: a prospective cohort study. PLoS Med 6:e1000132

3.

Nieto FJ, Young TB, Lind BK, Shahar E, Samet JM, Redline S (2000) Association of sleep-disordered breathing, sleep apnea, and hypertension in a large community-based study. JAMA 283:1829–1836

4.

Peker Y, Carlson J, Hedner J (2006) Increased incidence of coronary artery disease in sleep apnoea: a long-term follow-up. Eur Respir J 28:596–602

5.

Punjabi NM, Vsevolod YV (2005) Disorders of glucose metabolism in sleep apnea. J Appl Physiol 99:1998–2007

6.

Heinzer R, Vat S, Marques-Vidal P, Marti-Soler H, Andries D, Tobback N, Mooser V (2015) Prevalence of sleep-disordered breathing in the general population: the HypnoLaus study. Lancet Respir Med 3:310–318

7.

Rose NR (2016) Prediction and prevention of autoimmune disease in the 21st century: a review and preview. Am J Epidemiol 183:403–406

8.

Haugen AJ, Peen E, Hulten B, Johannessen AC, Brun JG, Halse AK (2008) Estimation of the prevalence of primary Sjögren's syndrome in two age-different community-based populations using two sets of classification criteria: the Hordaland Health Study. Scand J of Rheumatol 37:30–34

9.

Mavragani CP, Moutsopoulos HM (2010) The geoepidemiology of Sjögren's syndrome. Autoimmun Rev 9(5):A305–A310

10.

O'Duffy JD (1994) Behçet's disease. Curr Opin Rheumatol 6:39–34

11.

Abad VC, Sarinas PS, Guilleminault C (2008) Sleep and rheumatologic disorders. Sleep Med Rev 12:211–228

12.

Minoguchi K, Yokoe T, Tazaki T, Minoguchi H, Tanaka A, Oda N (2005) Increased carotid intima-media thickness and serum inflammatory markers in obstructive sleep apnea. Am J Respir Crit Care Med 172:625–630

13.

Baessler A, Nadeem R, Harvey M, Madbouly E, Younus A, Sajid H (2013) Treatment for sleep apnea by continuous positive airway pressure improves levels of inflammatory markers--a meta-analysis. J Inflamm (Lond) 10:13

14.

Kang JH, Lin HC (2012) Obstructive sleep apnea and the risk of autoimmune diseases: a longitudinal population-based study. Sleep Med 13:583–588

15.

National Health Insurance. Taiwan public health report 2007. Taipei City: Department of Health, R.O.C.2008 (Taiwan),103.

16.

Vitali C, Bombardieri S, Jonsson R, Moutsopoulos HM, Alexander EL, Carsons SE, Daniels TE (2002) Classification criteria for Sjogren's syndrome: a revised version of the European criteria proposed by the American-European Consensus Group. Ann Rheum Dis 61:554–558

17.

International Study Group for Behçet's Disease (1990) Criteria for diagnosis of Behçet's disease. Lancet 335:1078–1080

18.

McNicholas W (2009) Chronic obstructive pulmonary disease and obstructive sleep apnea: overlaps in pathophysiology, systemic inflammation, and cardiovascular disease. Am J Respir Crit Care Med 180:692–700

19.

Hatipoğlu U, Israel R (2004) Inflammation and obstructive sleep apnea syndrome pathogenesis: a working hypothesis. Respiration 70:665–671

20.

Haensel A, Bardwell WA, Mills PJ, Loredo JS, Ancoli-Israel S, Morgan EE (2009) Relationship between inflammation and cognitive function in obstructive sleep apnea. Sleep Breath 13:35–41

21.

Chen WS, Chang YS, Chang CC, Chang DM, Chen YH, Tsai CY, Chen JH (2016) Management and risk reduction of rheumatoid arthritis in individuals with obstructive sleep apnea: a nationwide population-based study in Taiwan. Sleep. 39:1883–1890

22.

Karadağ Ö, Nakas D, Kalyoncu U, Akdoğan A, Kiraz S, Ertenli I (2012) Effect of anti-TNF treatment on sleep problems in ankylosing spondylitis. Rheumatol Int 32:1909–1913

23.

Chandrasekhara PK, Jayachandran NV, Rajasekhar L, Thomas J, Narsimulu G (2009) The prevalence and associations of sleep disturbances in patients with systemic lupus erythematosus. Mod Rheumatol 19:407–415

24.

Mirrakhimov AE (2013) Obstructive sleep apnea and autoimmune rheumatic disease: is there any link? Inflamm Allergy Drug Targets 12:362–367

25.

Kamath J, Galina P, Sarah J (2015) Sleep disturbances in patients with medical conditions. Psych Clin North Am 38:825–841

26.

Usmani ZA, Hlavac M, Rischmueller M, Heraganahally SS, Hilditch CJ, Lester S, Catcheside PG (2012) Sleep disordered breathing in patients with primary Sjögren's syndrome: a group controlled study. Sleep Med 13:1066–1070

27.

Cai FZ, Lester S, Lu T, Boundy K, Proudman SM, Tonkin A, Rischmueller M (2008) Mild autonomic dysfunction in primary Sjögren's syndrome: a controlled study. Arthritis Res Ther 10:R31

28.

Gudbjörnsson B, Broman JE, Hetta J, Hällgren R (1993) Sleep disturbances in patients with primary Sjögren's syndrome. Br J Rheumatol 32:1072–1076

29.

Oksenberg A, Froom P, Melamed S (2006) Dry mouth upon awakening in obstructive sleep apnea. J Sleep Res 15:317–320

30.

Tascilar NF, Tekin NS, Ankarali H, Sezer T, Atik L, Emre U, Duysak S, Cinar F (2012) Sleep disorders in Behçet's disease, and their relationship with fatigue and quality of life. J Sleep Res 21:281–288

31.

Uygunoğlu U, Benbir G, Saip S, Kaynak H, Siva A (2014) A polysomnographic and clinical study of sleep disorders in patients with Behçet and neuro-Behçet syndrome. Eur Neurol 71:115–119
Acknowledgments
We would like to thank the Bureau of National Health Insurance and National Health Research Institutes for providing the research database analyzed in this study.
Ethics declarations
Conflict of interest
The authors declare that they have no conflict of interest.
Ethical approval
All procedures conducted in this study including human participants are according to the Helsinki declaration and its subsequent amendments as well as the ethical standards of the institutional and/or national research council.
Additional information
Publisher's note
Springer Nature remains neutral with regard to jurisdictional claims in published maps and institutional affiliations.
About this article
Cite this article
Yeh, TC., Chen, WS., Chang, YS. et al. Risk of obstructive sleep apnea in patients with Sjögren syndrome and Behçet's disease: a nationwide, population-based cohort study. Sleep Breath 24, 1199–1205 (2020). https://doi.org/10.1007/s11325-019-01953-w
Received:

Revised:

Accepted:

Published:

Issue Date:
Keywords
Obstructive sleep apnea

Sjögren syndrome

Behçet's disease