Abstract
Purpose
We assessed the prevalence of positional patients (PPs) and the main predictors of positional dependency in severe obstructive sleep apnea (OSA). A simulated effect of positional therapy (PT) vs. continuous positive airway pressure (CPAP) was also assessed.
Methods
Polysomnographic recordings of 292 consecutive patients with severe OSA (Apnea-Hypopnea Index (AHI) ≥ 30) who slept > 4 h and had ≥ 30 min sleep in both supine and lateral positions were assessed. PPs were defined to have a supine AHI/lateral AHI ratio ≥ two and non-positional patients (NPPs) a supine AHI/lateral AHI ratio < two.
Results
A total of 35.3% of the severe OSA patients were PPs. They were less obese and had less severe OSA (p < 0.001) compared with NPPs. The percentage of total apnea-hypopnea time from total sleep time (AHT%) was the most significant predictor for positional dependency. By sleeping in the lateral posture (i.e. after simulated PT), 78 (75.7%) PPs obtained significant improvement of their OSA severity and 9 (8.7%) of them became "non-OSA". Moreover, if CPAP was used only for 50% of total sleep time, 53 patients (18.2%) gained more benefit from avoiding the supine posture than from CPAP therapy.
Conclusions
More than a third of the studied severe OSA patients were PPs. These patients could achieve a significant decrease in the number and severity of apneas and hypopneas by adopting the lateral posture, suggesting that PT may be a valuable therapy for a significant portion of these severe OSA patients who for whatever reason are not being treated by CPAP.
Trial Registry
ClinicalTrials.gov Identifier: NCT03232658
Access options
Buy single article
Instant access to the full article PDF.
USD 39.95
Price excludes VAT (USA)
Tax calculation will be finalised during checkout.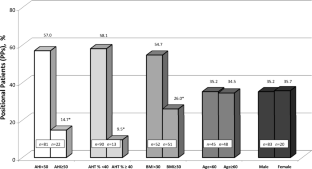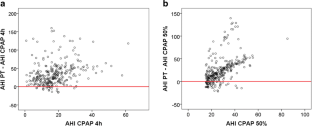 Abbreviations
AHI:

apnea hypopnea index

AHT%:

apnea + hypopnea time as percentage of total sleep time

AUC:

area under a ROC curve

β:

a partial regression coefficient

BMI:

body mass index

CI:

confidence interval

CPAP:

continuous positive airway pressure

ENT:

ear, nose, and throat

ESS:

epworth sleepiness scale

df:

degree of freedom

NPP:

non-positional patient

non-REM:

non-rapid eye movement sleep

OR:

odds ratio

OSA:

obstructive sleep apnea

POSA:

positional obstructive sleep apnea

PSG:

polysomnography

PP:

positional patient

PT:

positional therapy

REM:

rapid eye movement sleep

ROC:

receiver operating characteristic

SE:

a variation of a partial regression coefficient

TAT:

total apnea time

THT:

total hypopnea time

TST:

total sleep time
References
Oksenberg A, Silverberg DS, Arons E, Radwan H (1997) Positional vs. non-positional obstructive sleep apnea patients. Anthropomorphic, nocturnal polysomnographic and multiple sleep latency test data. Chest 112:629–639

Heinzer R, Petitpierre NJ, Marti-Soler H, Haba-Rubio J (2018) Prevalence and characteristics of positional sleep apnea in the HypnoLaus population based - cohort. Sleep Med 48:157–162

Weaver TE, Sawyer AM (2010) Adherence to continuous positive airway pressure treatment for obstructive sleep apnoea: implications for future interventions. Indian J Med Res 131:245–258

Yang MC, Lin CY, Lan CC, Huang CY, Huang YC, Lim CS, Liu YC, Wu YK (2013) Factors affecting CPAP acceptance in elderly patients with obstructive sleep apnea in Taiwan. Respir Care 58:1504–1513

Weaver TE, Grunstein RR (2008) Adherence to continuous positive airway pressure therapy: the challenge to effective treatment. Proc Am Thorac Soc 5:173–178

Tan B, Tan A, Chan YH, Mok Y, Wong HS, Hsu PP (2018) Adherence to continuous positive airway pressure therapy in Singaporean. Am J Otolaryngol 39:501–506

Rotenberg BW, Murariu D, Pang KP (2016) Trends in CPAP adherence over twenty years of data collection: a flattened curve. J Otolaryngol Head Neck Surg 45(43):1–9

Barbé F, Mayoralas LR, Duran J et al (2001) Treatment with continuous positive airway pressure is not effective in patients with sleep apnea but no daytime sleepiness. A randomized, controlled trial. Ann Intern Med 134:1015–1023

Rosenthal L, Gerhardstein R, Lumley A, Guido P, Day R, Syron ML, Roth T (2000) CPAP therapy in patients with mild OSA: implementation and treatment outcome. Sleep Med 1:215–220

Kendzerska T, Mollayeva T, Gershon AS, Leung RS, Hawker G, Tomlinson G (2014) Untreated obstructive sleep apnea and the risk for serious long-term adverse outcomes: a systematic review. Sleep Med Rev 18:49–59

Lorenzi-Filho G, Almeida FR, Strollo PJ (2017) Treating OSA: current and emerging therapies beyond CPAP. Respirology 22:1500–1507

Oksenberg A, Khamaysi Y, Silverberg DS, Tarasiuk A (2000) Association of body position with severity of apneic events in patients with severe non-positional obstructive sleep apnea. Chest 118:1018–1024

Cartwright RD (1984) Effect of sleep position on sleep apnea severity. Sleep 7:110–114

Iber C, Ancoli-Israel S, Chesson A, Quan S (2007) The AASM manual for the scoring of sleep and associated events: rules, terminology, and technical specifications. American Academy of Sleep Medicine, Westchester Il, pp 17–59

Berry RB, Budhiraja R, Gottlieb DJ et al (2012) Rules for scoring respiratory events in sleep: update of the 2007 AASM manual for the scoring of sleep and associated events. J Clin Sleep Med 8:597–619

Johns MW (1991) A new method for measuring daytime sleepiness: the Epworth Sleepiness Scale. Sleep 14:540–545

Kulkas A, Leppänen T, Nikkonen S, Oksenberg A, Duce B, Mervaala E, Töyräs J (2018) Required CPAP usage time to normalize AHI in obstructive sleep apnea patients: a simulation study. Physiol Meas 39(11):115009. https://doi.org/10.1088/1361-6579/aae7fe

Yingjuan M, Siang WH, Leong Alvin TK, Poh HP (2019) Positional therapy for positional obstructive sleep apnea. Sleep Med Clin 14:119–133

Ravesloot MJ, Frank MH, van Maanen JP et al (2016) Positional OSA part 2: retrospective cohort analysis with a new classification system (APOC). Sleep Breath 20:881–888

McEvoy RD, Antic NA, Heeley E et al (2016) CPAP for prevention of cardiovascular events in obstructive sleep apnea. New Engl J Med 375:919–931

Alzoubaidi M, Mokhlesi B (2016) Obstructive sleep apnea during rapid eye movement sleep: clinical relevance and therapeutic implications. Curr Opin Pulm Med 22(6):545–554

Leppänen T, Töyräs J, Muraja-Murro A, Kupari S, Tiihonen P, Mervaala E, Kulkas A (2016) Length of individual apnea events is increased by supine position and modulated by severity of obstructive sleep apnea. Sleep Disorders 2016:9645347

Peter G, Terri W, Daniel L, Conrad I (2006) Evaluation of Positive Airway Pressure Treatment for Sleep Related Breathing Disorders in Adults. Sleep 29 (3):381-401

Gadoth N, Oksenberg A. (2015). Positional therapy in obstructive sleep apnea: for whom and for whom not. In: N de Vries et al (eds) positional therapy in obstructive sleep apnea. Springer international publishing Switzerland, pp 383-394

Bignold JJ, Deans-Costi G, Goldsworthy MR, Robertson CA, McEvoy D, Catcheside PG, Mercer JD (2009) Poor long-term patient compliance with the tennis ball technique for treating positional obstructive sleep apnea. J Clin Sleep Med 5:428–430

de Ruiter MHT, Benoist LBL, de Vries N, de Lange J (2018) Durability of treatment effects of the sleep position trainer versus oral appliance therapy in positional OSA: 12-month follow-up of a randomized controlled trial. Sleep Breath 22:441–450

Levendowski D, Cunnington D, Swieca J, Westbrook P (2018) User compliance and behavioral adaptation associated with supine avoidance therapy. Behav Sleep Med 16:27–37

Ravesloot MJ, White D, Heinzer R, Oksenberg A, Pépin JL (2017) Efficacy of the new generation of devices for positional therapy for patients with positional obstructive sleep apnea: a systematic review of the literature and meta-analysis. J Clin Sleep Med 13:813–824

Beyers J, Vanderveken OM, Kastoer C, Boudewyns A, De Volder I, Van Gastel A, Verbraecken JA, De Backer WA, Braem MJ, Van de Heyning PH, Dieltjens M. (2019).Treatment of sleep-disordered breathing with positional therapy: long-term results. Sleep Breath 2019 https://doi.org/10.1007/s11325-019-01792-9

Joosten SA, O'Donoghue FJ, Rochford PD, Barnes M, Hamza K, Churchward TJ et al (2014) Night-to-night repeatability of supine-related obstructive sleep apnea. Ann Am Thorac Soc 11:761

Van Kesteren ER, van Maanen JP, Hilgevoord AA, Laman DM, de Vries N (2011) Quantitative effects of trunk and head position on the apnea hypopnea index in obstructive sleep apnea. Sleep 34:1075–1081

Levendowski DJ, Oksenberg A, Vicini C, Penzel T, Levi M, Westbrook PR (2018) A systematic comparison of factors that could impact treatment recommendations for patients with positional obstructive sleep apnea (POSA). Sleep Med 50:145–151. https://doi.org/10.1016/j.sleep.2018.05.012
Funding
This research was supported by the Academy of Finland (decision number 313697), Finnish-Norwegian Medical Foundation, the Research Committee of the Kuopio University Hospital Catchment Area for the State Research Funding (projects 5041767 and 5041768), Tampere Tuberculosis Foundation, and the Respiratory Foundation of Kuopio Region.
Ethics declarations
Conflict of interest
The authors declare that they have no conflicts of interest.
Informed consent
This study was approved by the Helsinki ethical committee of the Loewenstein Hospital Rehabilitation Center (protocol 0006–17-LOE). For retrospective chart reviews, formal consent is not required.
Ethical approval
All procedures performed in studies involving human participants were in accordance with the ethical standards of the institutional and/or national research committee and with the 1964 Helsinki Declaration and its later amendments or comparable ethical standards.
Additional information
Publisher's note
Springer Nature remains neutral with regard to jurisdictional claims in published maps and institutional affiliations.
About this article
Cite this article
Oksenberg, A., Gadoth, N., Töyräs, J. et al. Prevalence and characteristics of positional obstructive sleep apnea (POSA) in patients with severe OSA. Sleep Breath 24, 551–559 (2020). https://doi.org/10.1007/s11325-019-01897-1
Received:

Revised:

Accepted:

Published:

Issue Date:

DOI: https://doi.org/10.1007/s11325-019-01897-1
Keywords
Obstructive sleep apnea (OSA)

Severe OSA patients

Positional patients

Positional therapy

Supine posture

Lateral position

OSA treatment