Abstract
Purpose
The aim of this study was to analyze actigraphy-based sleep quantity and quality in sedentary and overweight/obese adults with primary hypertension (HTN) divided by sex and cardiorespiratory fitness (CRF) and to assess the association of sleep parameters with body composition, blood pressure (BP), and CRF.
Methods
This is a cross-sectional design utilizing data from the EXERDIET-HTA study conducted in 154 non-physically, obese adults with HTN (53.3 ± 7.8 years). Sleep parameters (total bedtime; total sleep time, TST; and sleep efficiency = (TST/total bedtime) × 100)) were calculated from raw accelerometer data (ActiGraph GT3X+). Peak oxygen uptake (V̇O2peak) determined the CRF. Blood pressure was assessed with the 24-h ambulatory BP monitoring. The distributions of V̇O2peak were divided into tertiles (low, medium, and high CRF) in each sex. Series of linear regression analyses were conducted between sleep, fitness, and health-related variables.
Results
Short sleep duration (6.2 h) both on weekdays and weekends, poor sleep quality (< 85% of efficiency), and no significant differences in sleep variables between women and men, nor among CRF groups, were observed. The short sleeping pattern was negatively associated (P < 0.05) with mean and night systolic BP (mmHg, β = − 0.2), and sleep efficiency with waist circumference (cm, β = − 0.08, P = 0.05).
Conclusions
Actigraphy-based sleep analysis reinforces that sleep disorders, such as short sleep duration and poor sleep quality, are associated with high BP and abdominal obesity in sedentary adults with overweight/obesity and HTN. Sleep pattern did not appear to be related with CRF level in this population.
Access options
Buy single article
Instant access to the full article PDF.
US$ 39.95
Tax calculation will be finalised during checkout.
Subscribe to journal
Immediate online access to all issues from 2019. Subscription will auto renew annually.
US$ 79
Tax calculation will be finalised during checkout.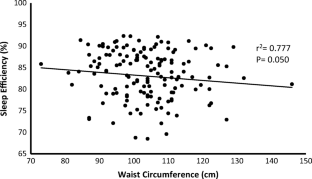 References
1.

Calhoun DA, Harding SM (2010) Sleep Hypertens 138:434–443

2.

Cappuccio FP, D'Elia L, Strazzullo P, Miller MA (2010) Sleep duration and all-cause mortality: a systematic review and meta-analysis of prospective studies. Sleep 33:585–592

3.

Schutte-Rodin S, Broch L, Buysse D, Dorsey C, Sateia M (2008) Clinical guideline for the evaluation and management of chronic insomnia in adults. J Clin Sleep Med 4:487–504

4.

Wang Y, Mei H, Jiang YR, Sun WQ, Song YJ, Liu SJ, Jiang F (2015) Relationship between duration of sleep and hypertension in adults: a meta-analysis. J Clin Sleep Med 11:1047–1056. https://doi.org/10.5664/jcsm.5024

5.

Vgontzas AN, Liao D, Bixler EO, Chrousos GP, Vela-Bueno A (2009) Insomnia with objective short sleep duration is associated with a high risk for hypertension. Sleep 32:491–497

6.

Bayon V, Leger D, Gomez-Merino D, Vecchierini MF, Chennaoui M (2014) Sleep debt and obesity. Ann Med 46:264–272. https://doi.org/10.3109/07853890.2014.931103

7.

Vanhecke TE, Franklin BA, Ajluni SC, Sangal RB, McCullough PA (2008) Cardiorespiratory fitness and sleep-related breathing disorders. 6:745–758

8.

Chennaoui M, Arnal PJ, Sauvet F, Leger D (2015) Sleep and exercise: a reciprocal issue? Sleep Med Rev 20:59–72. https://doi.org/10.1016/j.smrv.2014.06.008

9.

Bonomi AG, Goris AH, Yin B, Westerterp KR (2009) Detection of type, duration, and intensity of physical activity using an accelerometer. Med Sci Sports Exerc 41:1770–1777. https://doi.org/10.1249/MSS.0b013e3181a24536

10.

Zinkhan M, Kantelhardt JW (2016) Sleep assessment in large cohort studies with high-resolution accelerometers. Sleep Med Clin 11:469–488

11.

Full KM, Kerr J, Grandner MA, Malhotra A, Moran K, Godoble S, Natarajan L, Soler X (2018) Validation of a physical activity accelerometer device worn on the hip and wrist against polysomnography. 4:209–216

12.

Maldonado-Martín S, Gorostegi-Anduaga I, Aispuru G, Illera-Villas M, Jurio-Iriarte B (2016) Effects of different aerobic exercise programs with nutritional intervention in primary hypertensive and overweight/obese adults: EXERDIET-HTA controlled trial. 6:2167–0870.1000252

13.

Cole RJ, Kripke DF, Gruen W, Mullaney DJ, Gillin JC (1992) Automatic sleep/wake identification from wrist activity. Sleep 15:461–469

14.

Chung F, Abdullah HR, Liao P (2016) STOP-Bang questionnaire: a practical approach to screen for obstructive sleep apnea. Chest 149:631–638

15.

Maugeri A, Medina-Inojosa JR, Kunzova S, Agodi A, Barchitta M, Sochor O, Lopez-Jimenez F, Geda YE, Vinciguerra M (2018) Sleep duration and excessive daytime sleepiness are associated with obesity independent of diet and physical activity. Nutrients 10. https://doi.org/10.3390/nu10091219

16.

Gorostegi-Anduaga I, Corres P, Jurio-Iriarte B, Martinez-Aguirre A, Perez-Asenjo J, Aispuru GR, Arenaza L, Romaratezabala E, Arratibel-Imaz I, Mujika I, Francisco-Terreros S, Maldonado-Martin S (2018) Clinical, physical, physiological, and dietary patterns of obese and sedentary adults with primary hypertension characterized by sex and cardiorespiratory fitness: EXERDIET-HTA study. Clin Exp Hypertens 40:141–149. https://doi.org/10.1080/10641963.2017.1346111

17.

Pearson PJ, Evora PR, Seccombe JF, Schaff HV (1998) Hypomagnesemia inhibits nitric oxide release from coronary endothelium: protective role of magnesium infusion after cardiac operations. Ann Thorac Surg 65:967–972

18.

Whelton PK, Carey RM, Aronow WS, Casey DE Jr, Collins KJ, Dennison Himmelfarb C, DePalma SM, Gidding S, Jamerson KA, Jones DW, MacLaughlin EJ, Muntner P, Ovbiagele B, Smith SC Jr, Spencer CC, Stafford RS, Taler SJ, Thomas RJ, Williams KAS, Williamson JD, Wright JT Jr (2017) 2017 ACC/AHA/AAPA/ABC/ACPM/AGS/APhA/ASH/ASPC/NMA/PCNA guideline for the prevention, detection, evaluation, and management of high blood pressure in adults: a report of the American College of Cardiology/American Heart Association Task Force on Clinical Practice Guidelines. J Am Coll Cardiol

19.

Ben-Dov IZ, Kark JD, Ben-Ishay D, Mekler J, Ben-Arie L, Bursztyn M (2007) Predictors of all-cause mortality in clinical ambulatory monitoring: unique aspects of blood pressure during sleep. Hypertension 49:1235–1241 https://doi.org/HYPERTENSIONAHA.107.087262

20.

Mong JA, Cusmano DM (2016) Sex differences in sleep: impact of biological sex and sex steroids. Philos Trans R Soc Lond Ser B Biol Sci 371:20150110. https://doi.org/10.1098/rstb.2015.0110

21.

Hwangbo Y, Kim W, Chu MK, Yun C, Yang KI (2013) Association between weekend catch-up sleep duration and hypertension in Korean adults. Sleep Med 14:549–554

22.

Dishman RK, Sui X, Church TS, Kline CE, Youngstedt SD, Blair SN (2015) Decline in cardiorespiratory fitness and odds of incident sleep complaints. Med Sci Sports Exerc 47:960–966. https://doi.org/10.1249/MSS.0000000000000506

23.

Oudegeest-Sander MH, Eijsvogels TH, Verheggen RJ, Poelkens F, Hopman MT, Jones H, Thijssen DH (2013) Impact of physical fitness and daily energy expenditure on sleep efficiency in young and older humans. Gerontology 59:8–16. https://doi.org/10.1159/000342213

24.

Lavie CJ, McAuley PA, Church TS, Milani RV, Blair SN (2014) Obesity and cardiovascular diseases: implications regarding fitness, fatness, and severity in the obesity paradox. J Am Coll Cardiol 63:1345–1354. https://doi.org/10.1016/j.jacc.2014.01.022

25.

Yumuk V, Tsigos C, Fried M, Schindler K, Busetto L, Micic D, Toplak H, Obesity Management Task Force of the European Association for the Study of Obesity (2015) European guidelines for obesity management in adults. Obes Facts 8:402–424. https://doi.org/10.1159/000442721

26.

Vgontzas AN, Bixler EO, Basta M (2010) Obesity and sleep: a bidirectional association? Sleep 33:573–574

27.

Leproult R, Van Cauter E (2010) Role of sleep and sleep loss in hormonal release and metabolism. Endocr Dev 17:11–21. https://doi.org/10.1159/000262524

28.

Dinges DF, Pack F, Williams K, Gillen KA, Powell JW, Ott GE, Aptowicz C, Pack AI (1997) Cumulative sleepiness, mood disturbance, and psychomotor vigilance performance decrements during a week of sleep restricted to 4-5 hours per night. Sleep 20:267–277

29.

Levine JA, Eberhardt NL, Jensen MD (1999) Role of nonexercise activity thermogenesis in resistance to fat gain in humans. Science 283:212–214

30.

Spiegel K, Knutson K, Leproult R, Tasali E, Van Cauter E (2005) Sleep loss: a novel risk factor for insulin resistance and type 2 diabetes. J Appl Physiol (1985) 99:2008–2019
Acknowledgments
Our special thanks to Javier Pérez-Asenjo, the cardiologist who has promoted and taken part in this project with medical assessment. Also, thanks to the Department of Physical Education and Sport and Faculty of Physical Education and Sport-Physical Activity and Sport Sciences Section (University of the Basque Country, UPV/EHU) for believing in our project and providing the material and facilities to start with.
Funding
The University of the Basque Country (EHU14/08, PPGA18/15) supported this study and The Basque Government to AMAB, PC and IGA with predoctoral grants.
Ethics declarations
Conflict of interest
The authors declare that they have no conflict of interest.
Ethical approval
All procedures performed in studies involving human participants were in accordance with the ethical standards of the institutional and/or national research committee and with the 1964 Helsinki declaration and its later amendments or comparable ethical standards.
Informed consent
Informed consent was obtained from all individual participants included in the study.
Additional information
Publisher's note
Springer Nature remains neutral with regard to jurisdictional claims in published maps and institutional affiliations.
About this article
Cite this article
MartinezAguirre-Betolaza, A., Maldonado-Martín, S., Corres, P. et al. Actigraphy-based sleep analysis in sedentary and overweight/obese adults with primary hypertension: data from the EXERDIET-HTA study. Sleep Breath 23, 1265–1273 (2019). https://doi.org/10.1007/s11325-019-01813-7
Received:

Revised:

Accepted:

Published:

Issue Date:
Keywords
Actigraphy

Ambulatory blood pressure

Sleep quantity

Sleep quality

Cardiorespiratory fitness